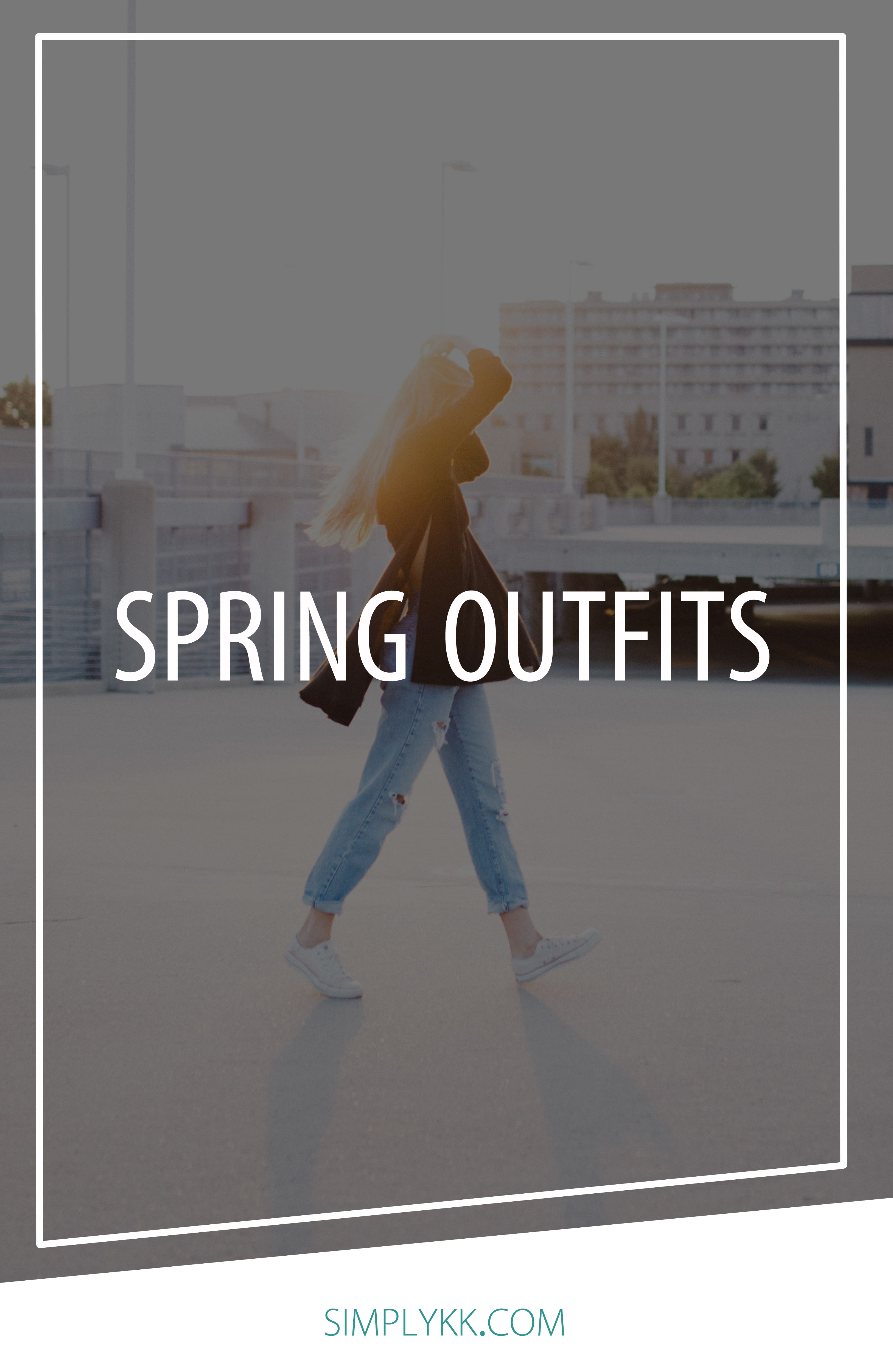 Note to self: never comment on how the weather is warming up in February. It will hear you, and it will snow. Lesson learned. Despite the fact that there's still a definite chill in the air, I'm feeling hopeful for the upcoming spring. No matter what stage of the season you're in – not really spring, almost spring, or definitely spring – I've got the perfect spring outfits for you.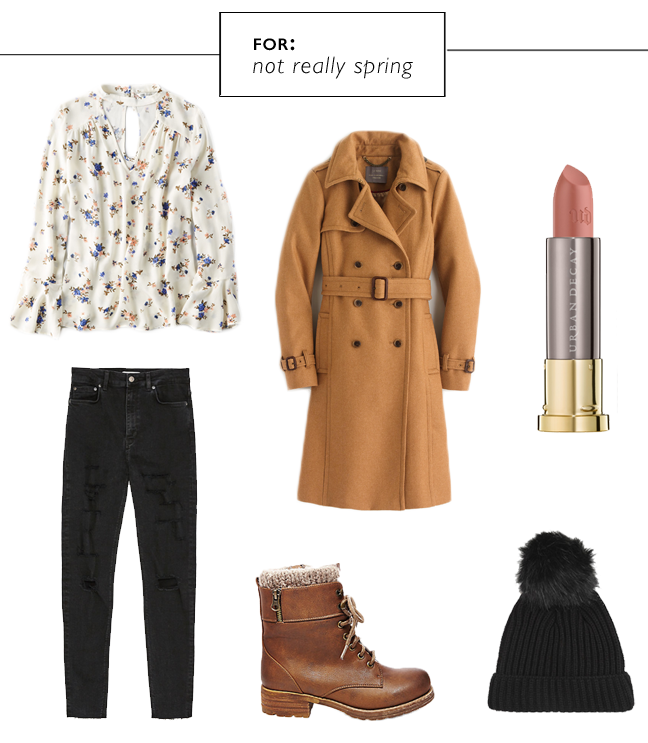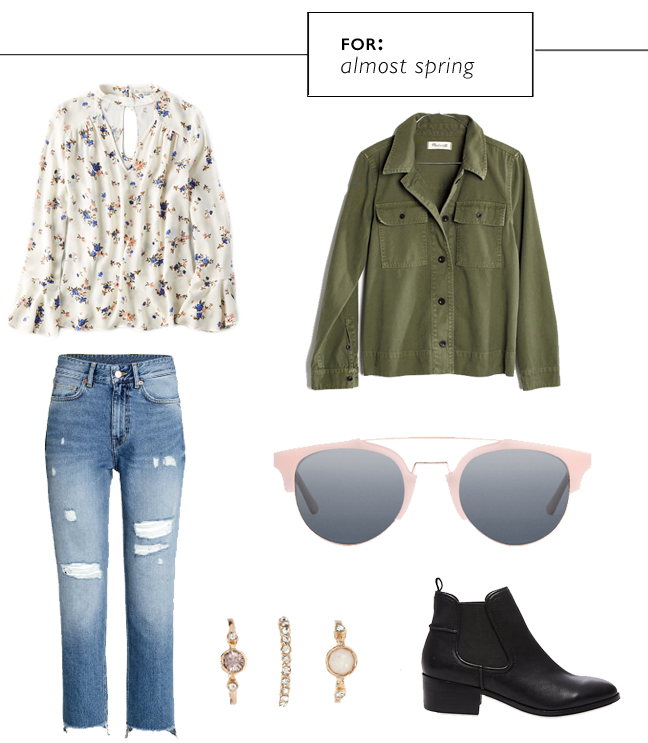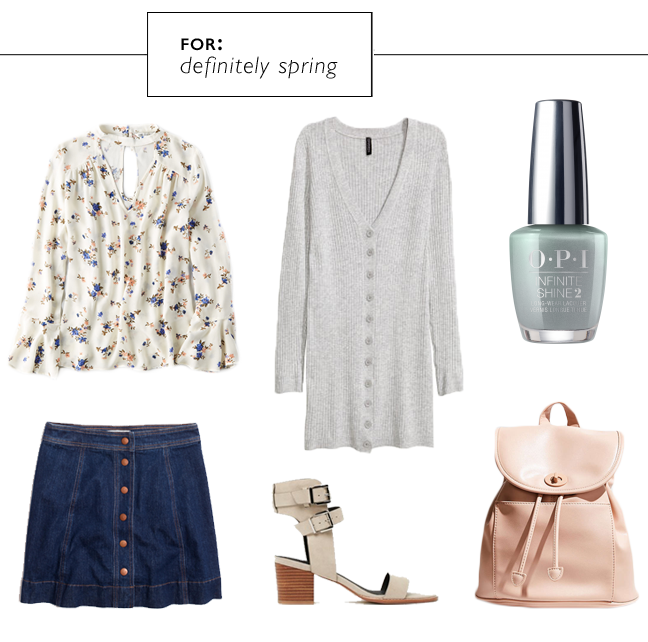 Not Really Spring
Blouse, black denim, coat, boots, lipstick, beanie
Let's face it – for a lot of places, it's just not really spring, and it won't be, for a little while longer. Thankfully, you can still take this floral choker top (with those sleeves!!) and incorporate it into your winter wear to create a look that feels decidedly spring inspired. Black denim, warm boots, and a basic black beanie are all necessary, while the floral print and matte nude lipstick sweeten up the look so you can at least pretend it's spring.
Almost Spring
Blouse, cropped denim, utility jacket, sunglasses, rings, booties
We've all been there: the sun is out, the sky is clear… and it's still rather cold. I dedicate this look to those optimistic wearers of spring outfits who are ready to occasionally accept the consequences of an "almost spring" outfit when the weather is indeed only "almost spring". (Basically everyone in the Pacific Northwest). Adding layers that are light in both color and weight is the perfect way to dress for unpredictable weather when you still want to rock those spring outfits. Cropped flares paired with a utility jacket keeps the look fresh, while the little black boots keeps it classic. Double yes.
Definitely Spring
Blouse, skirt, sweater, block heels, nail polish, backpack
Call me dramatic, but it's a beautiful feeling when the weather warms up enough to wear a skirt with bare legs for the first time of the season. If you live in a warm climate (I've been there, I get it) just let us have our moment, OK?! Even when it's definitely spring, though, a light sweater is an essential piece. Pair the blouse with a button up jean skirt for those 70's vibes, and add a slightly unexpected nail color to finish off the look.
Ok, I'm officially ready for spring.