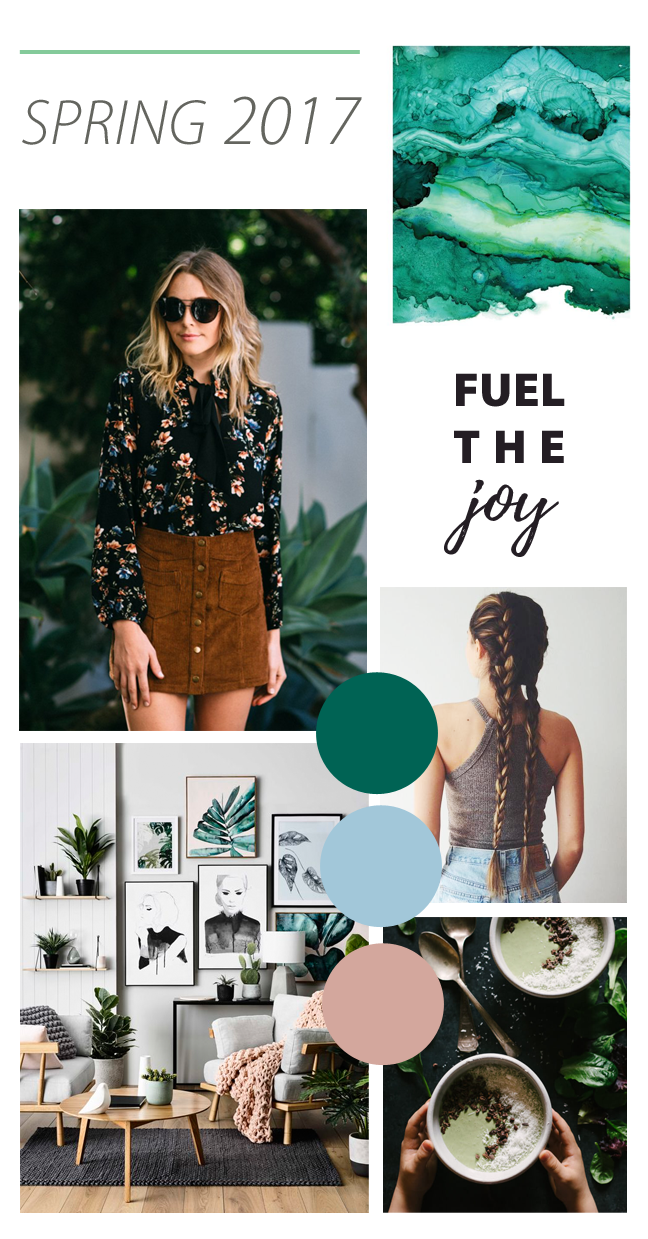 Spring. Is. Here. Spring is here! I am so pumped. The days are lighter, the sun is (sort of) showing up more, and the flowers are on their way up. Honestly, spring is probably one of my favorite seasons! A major perk that comes with the weather changing is the chance to break out more spring pieces. When you live in the Pacific Northwest, the first day that you're able to "comfortably" (relative word, obviously) break out bare legs is a truly magical moment. With the changing of the seasons, of course, comes a new set of inspiration, which brings us to the 2017 spring mood board.
Spring Things
The color green, floral pieces, and smoothie bowls. Yes, yes, and yes! As the weather warms up (slightly) I'm looking forward to being able to drink a smoothie in the morning without ending up freezing cold and sitting by the fire (yes, this is currently what happens), and break out a new button front skirt without tights. I also really need to perfect my braiding skills because honestly being nearly 23 and not a pro just isn't going to cut it anymore! You know what else isn't going to cut it for me this spring? My succulents dying. I 100% believed it would be impossible to kill one, and yet I have one already on its last legs. Having some greenery in my space is one of my new favorite things, so if you have any tips on healing succulents let me know! What's spring without some plants inside, right!?
Looking Ahead
This season is going to fly by, I can guarantee it. I mean, spring always does, but this year especially is going to be crazy. Long story short (I'll save the long post for a later time) : from June through August of this summer, I am going to be a mountain guide at Beyond Malibu, a Christian camp done through the Young Life ministry. Until then, I'll be packing in training weekends, readings, and lots of preparation. I repeat: the time. will. fly! Until then, I'm excited to keep blogging, keep sharing, and keep inspiring. Happy spring, my friends!
What are you looking forward to this spring?
The Details
Texture, look one, gallery wall, braids, smoothie bowl