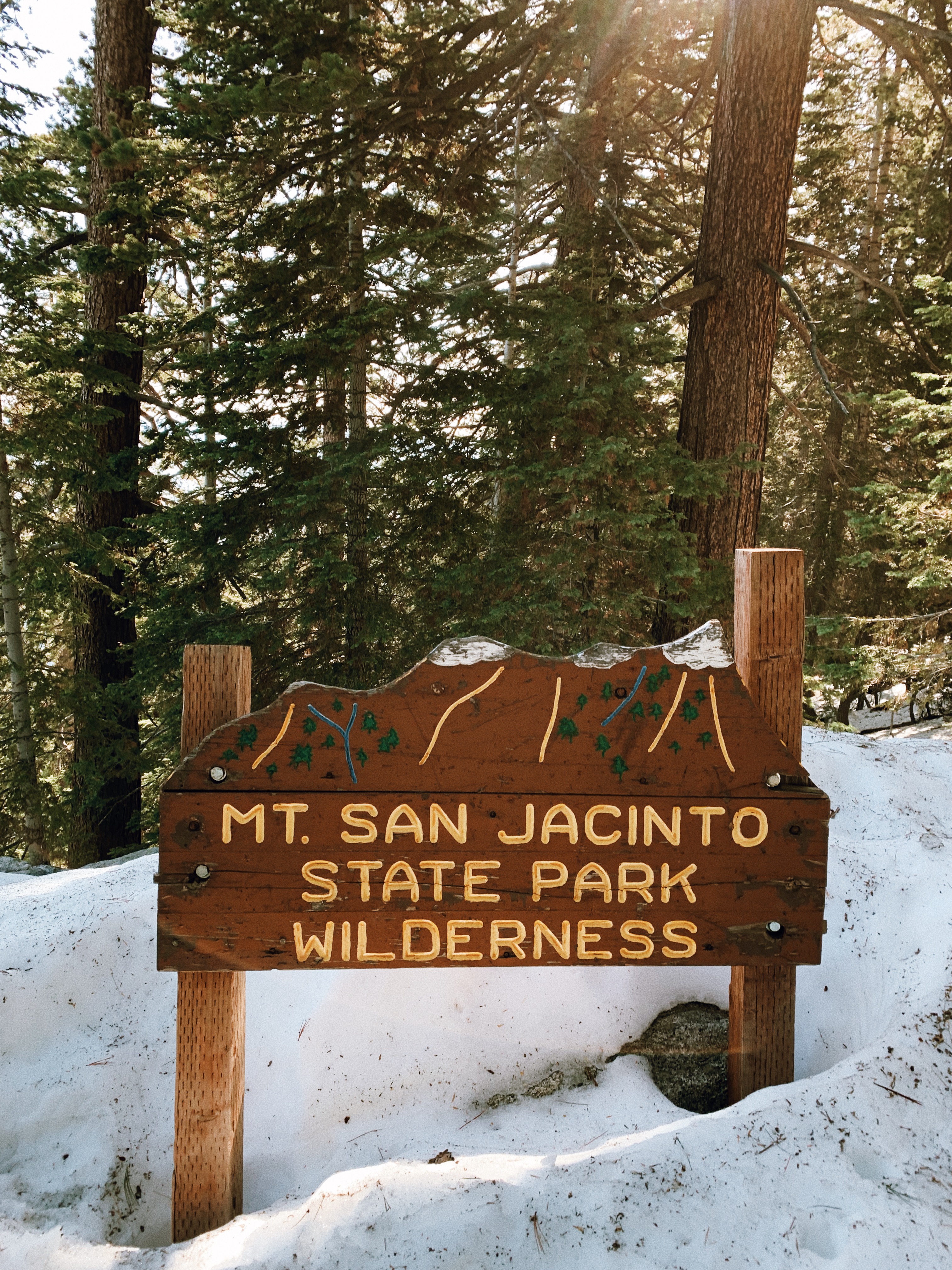 Day 14
Idyllwild to Mile 187.8 via San Jacinto, about 12 total miles
Left town on an 8:15 shuttle to the trailhead, then headed up the 2.5 miles to rejoin the PCT at Saddle Junction. It was a slow and steady morning, but it felt good. Leaving town is a bittersweet thing – I'm happy to be back on the trail but it can be hard to leave the bed, the comfort, the ease of town. After another two miles we hit the junction of the PCT and San Jacinto. A few headed the PCT route and a few of us up to summit Jacinto and then continue on the other side with the PCT.
I had changed my mind about 12 times on whether or not I was going to summit. There was body recovering from heat rash to consider, micro spikes, and in general whether I wanted to or not. After finding a pair of spikes to borrow, though, I went for it and am quite happy I did. The rest of the time up to the summit was a mix of slushy snow, trail, and elevation gain. Again, slow and steady. My body is feeling much better now that the heat rash is healing but I still don't feel 100%.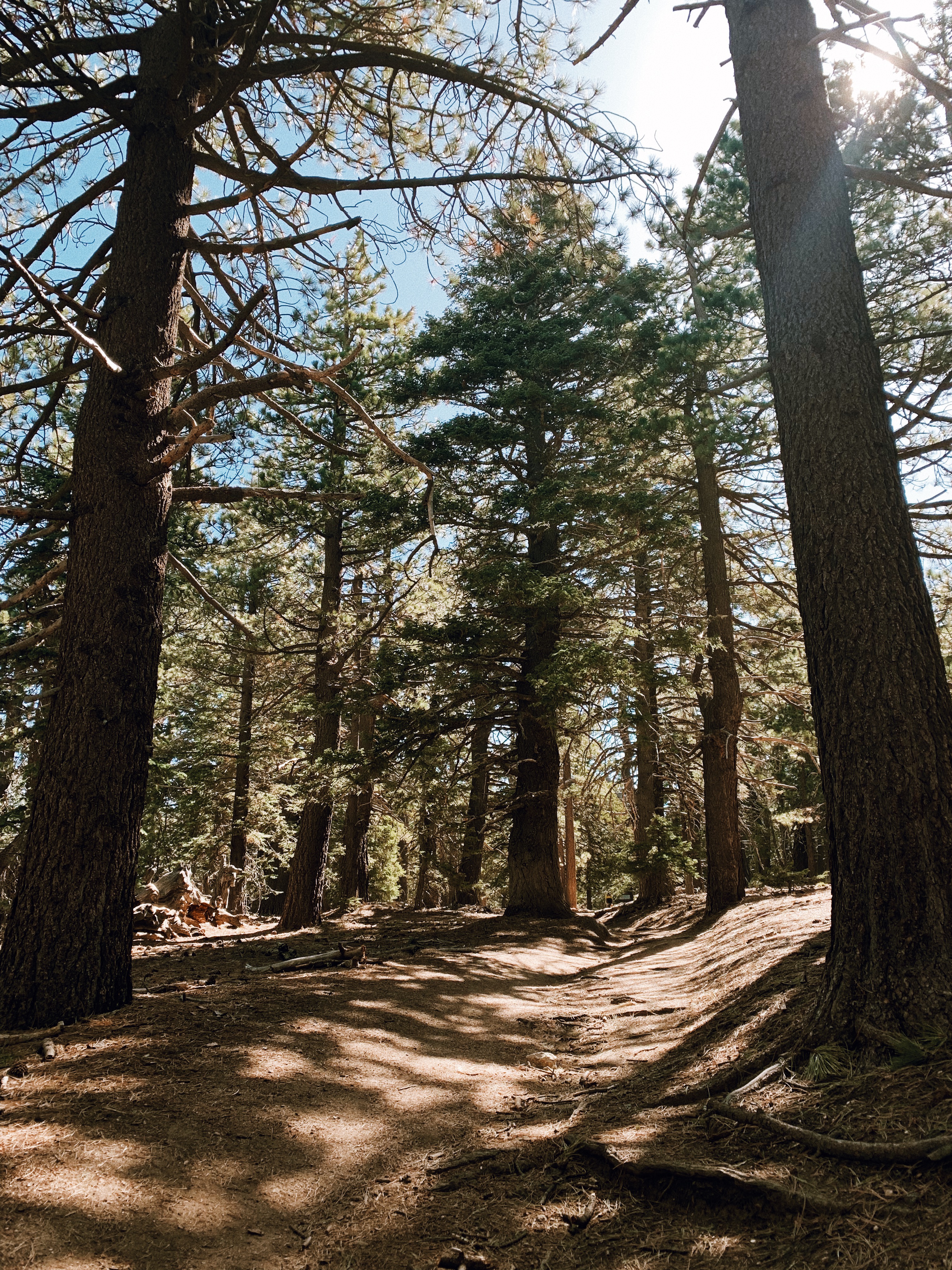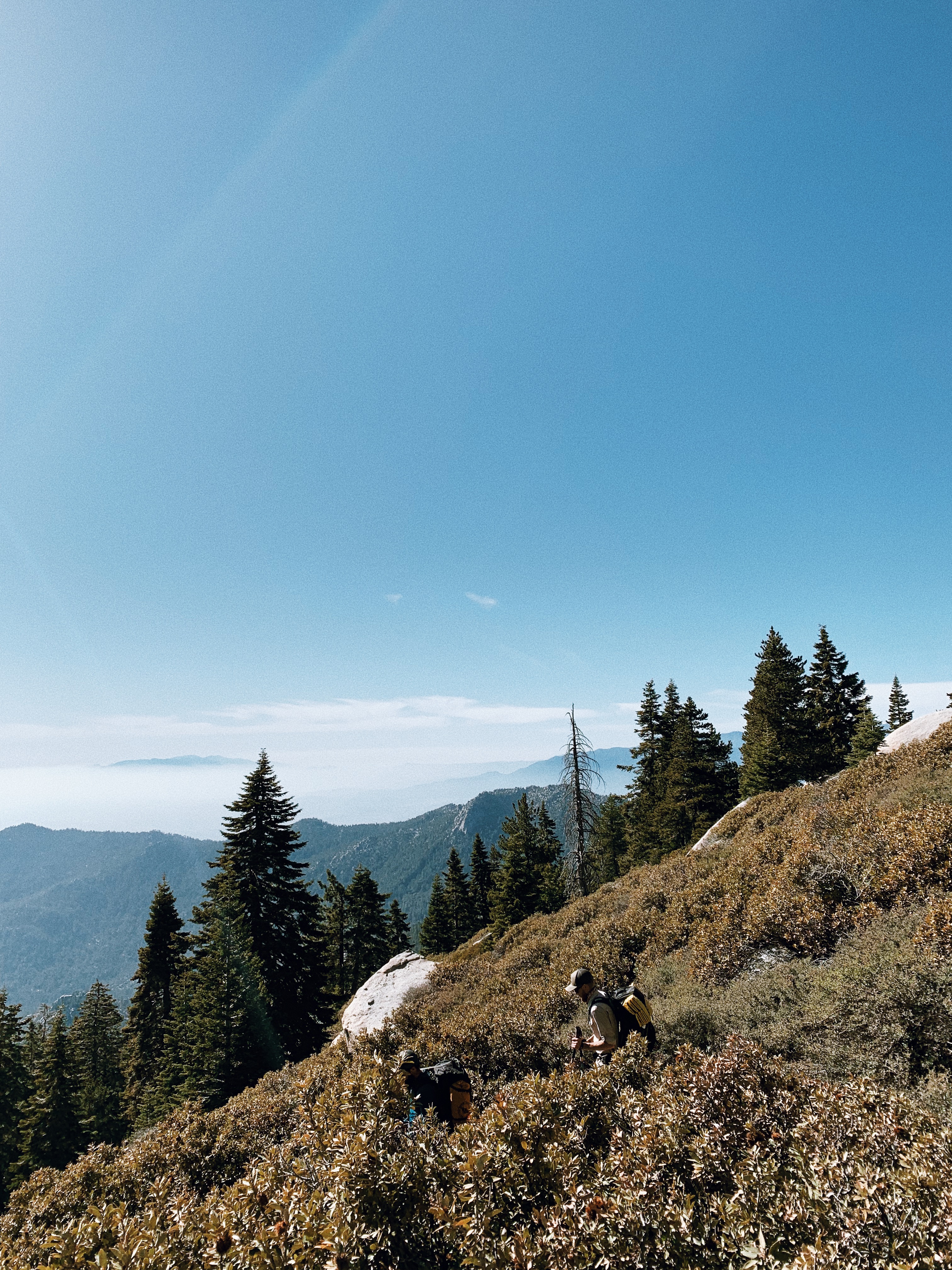 Then, the summit. Sweet views all the way down to the desert floor. That feeling of happiness that seems to be brought about by being on top of a mountain. Since I've been trying to keep the heat rash away from the sun, I rocked up to the summit in my all gray outfit, my space suit as I've taken to calling it. I am the definition of fashion here.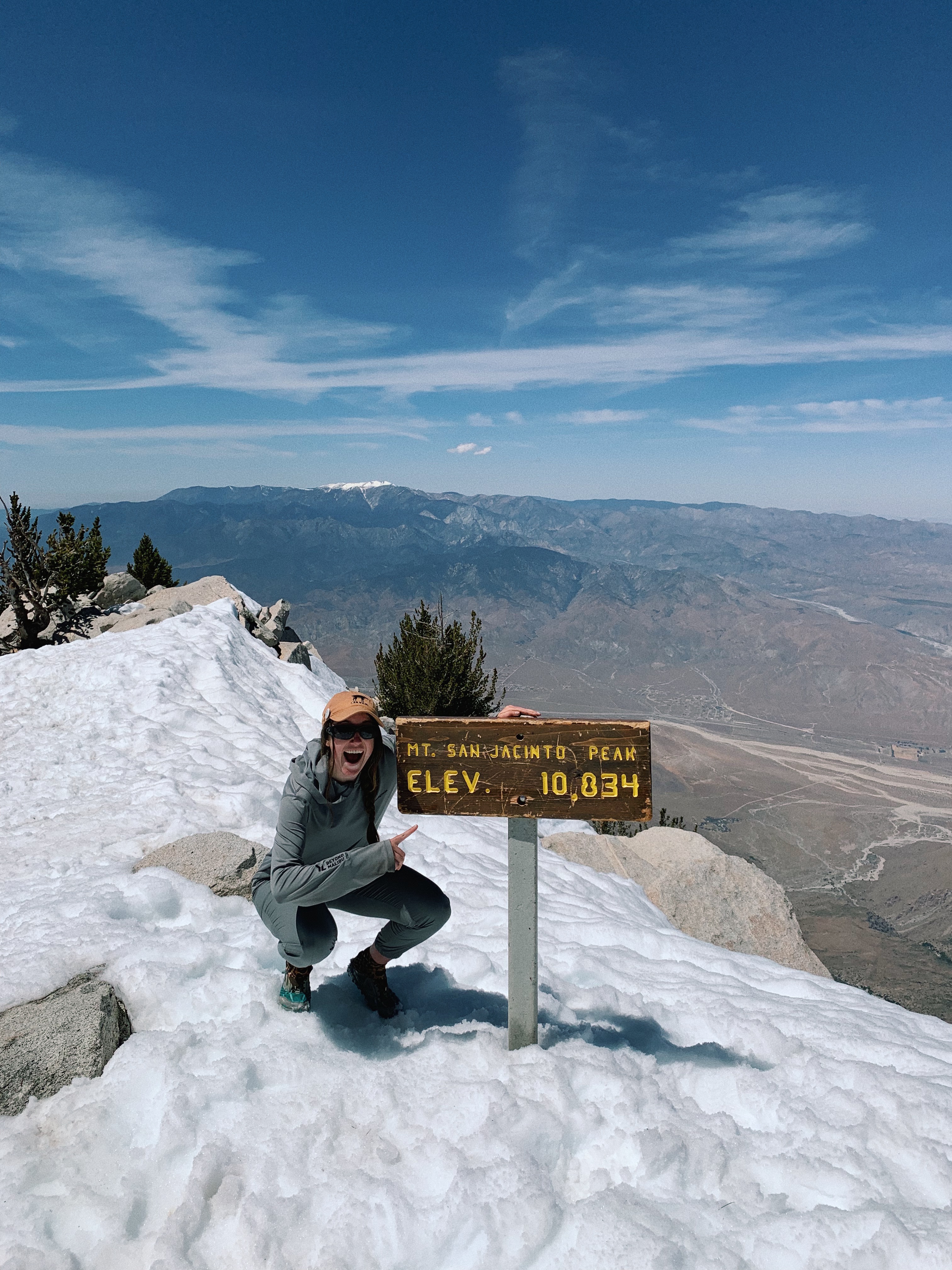 A woman at the top wanted to do an impromptu interview for her podcast with us, we ate a quick lunch, and started to descend, knowing it would be a slushy, slow process. And, it was. Moat city all the way down. That being said, the snow was a fun challenge and I wasn't hiking alone, so all was well. We rejoined the PCT after helping a couple get back to the trail (they looked so lost??) and then a quick 2 miles to our camp – abundant water sources, patches of snow, a beautiful evening. The sunset was maybe the best trail one yet, I felt completely struck by how awesome God is and how truly incredible His creation is. We're camping pretty high up and I'm hoping this wind doesn't blow me away.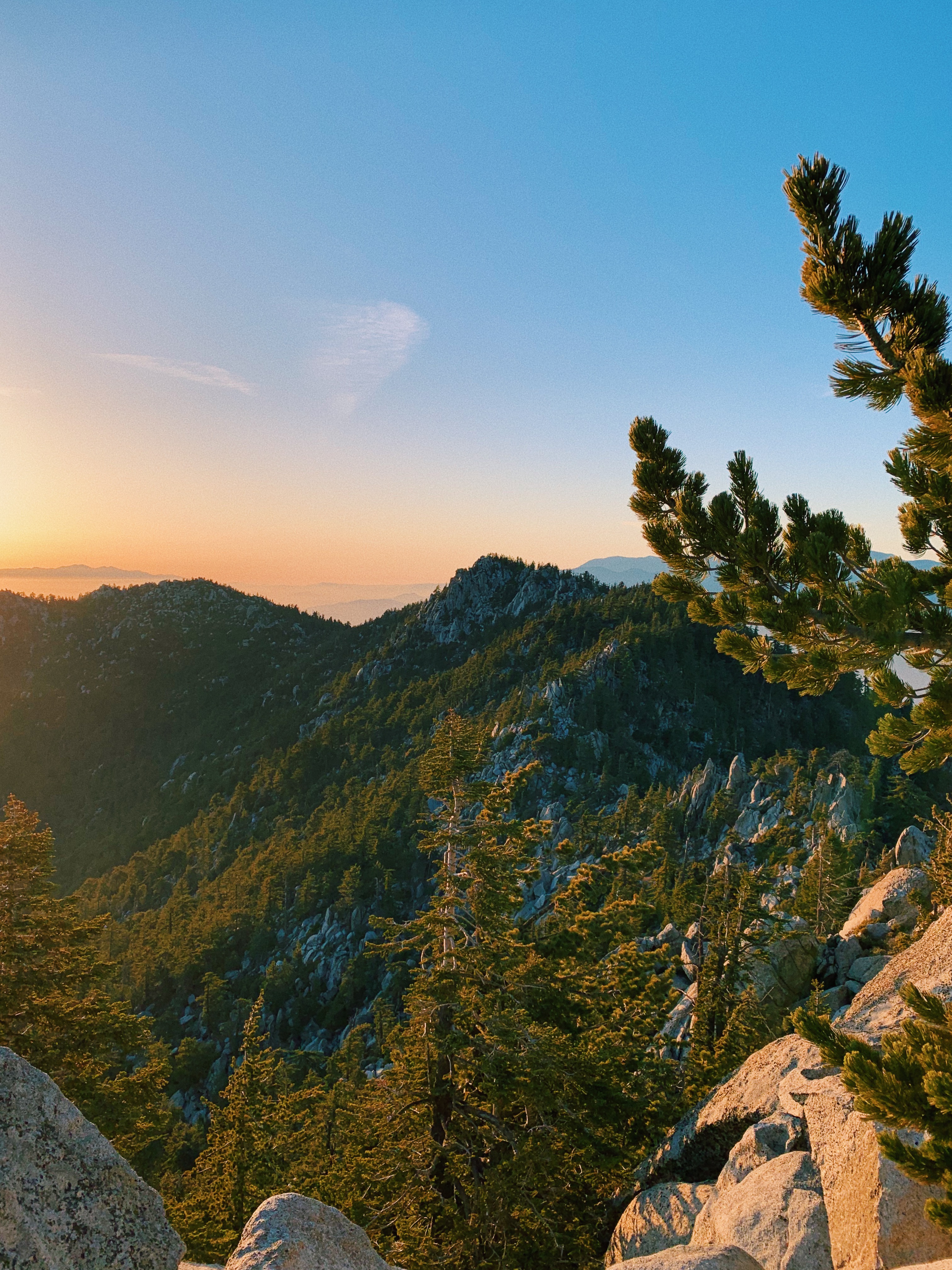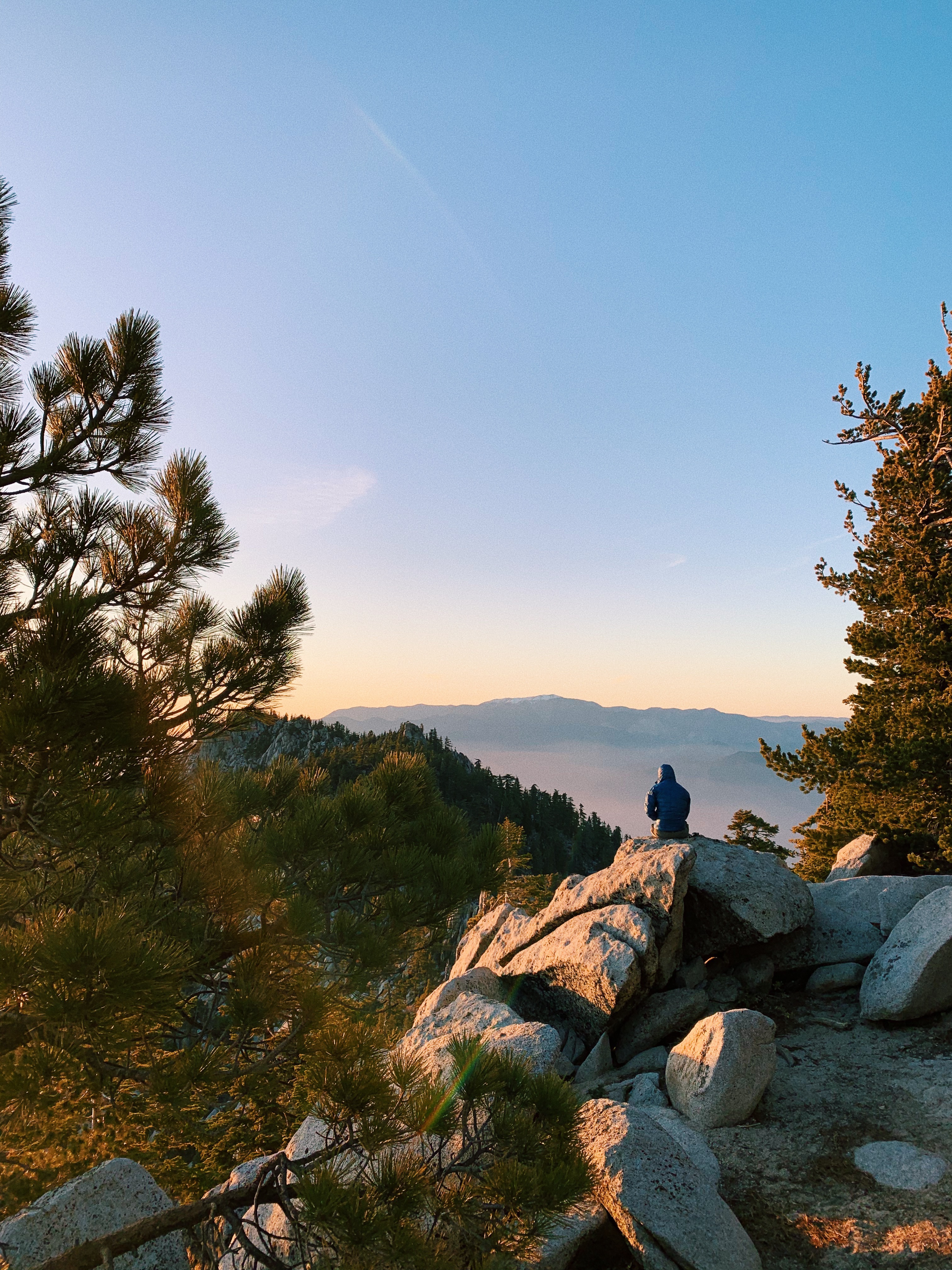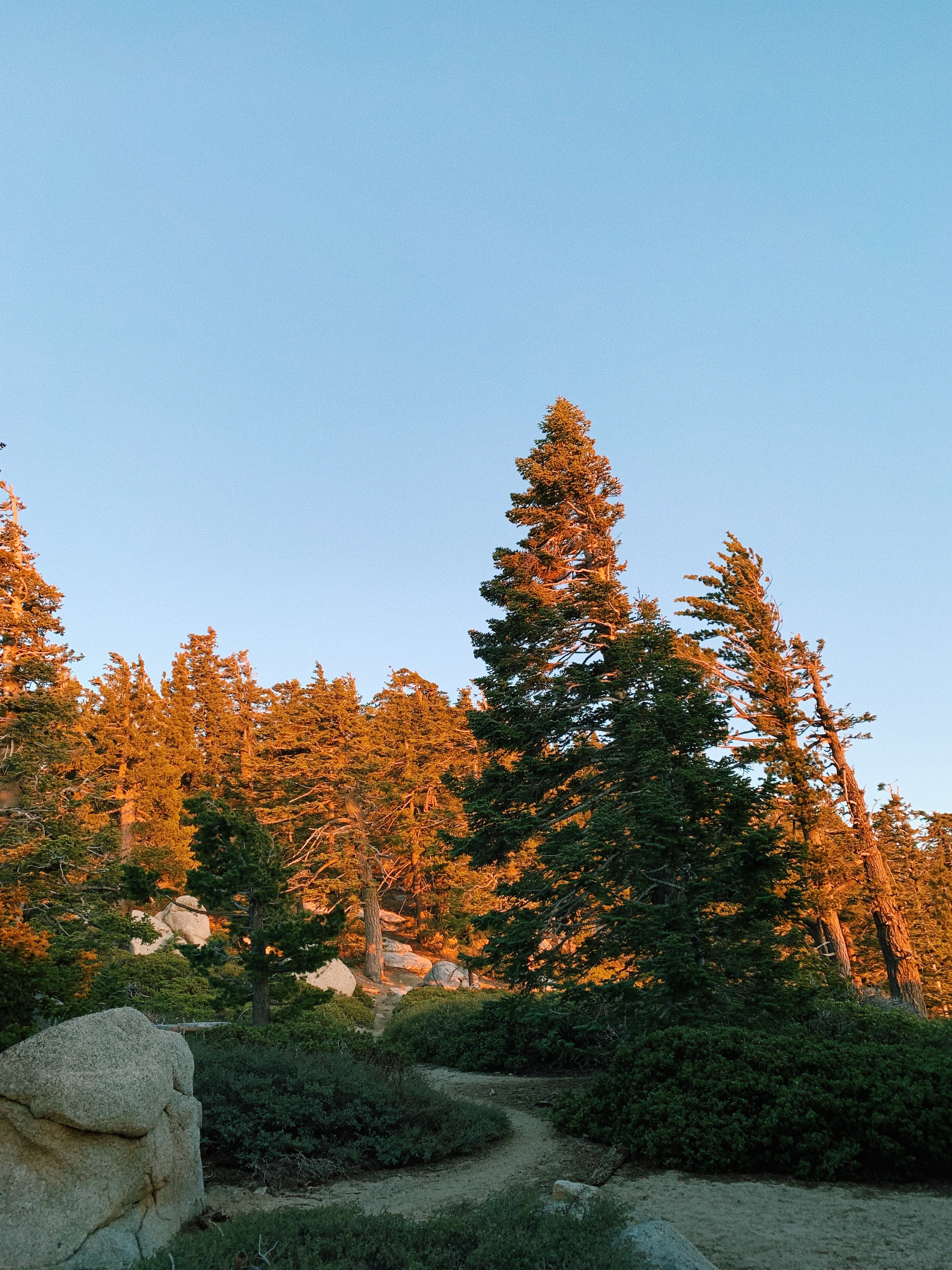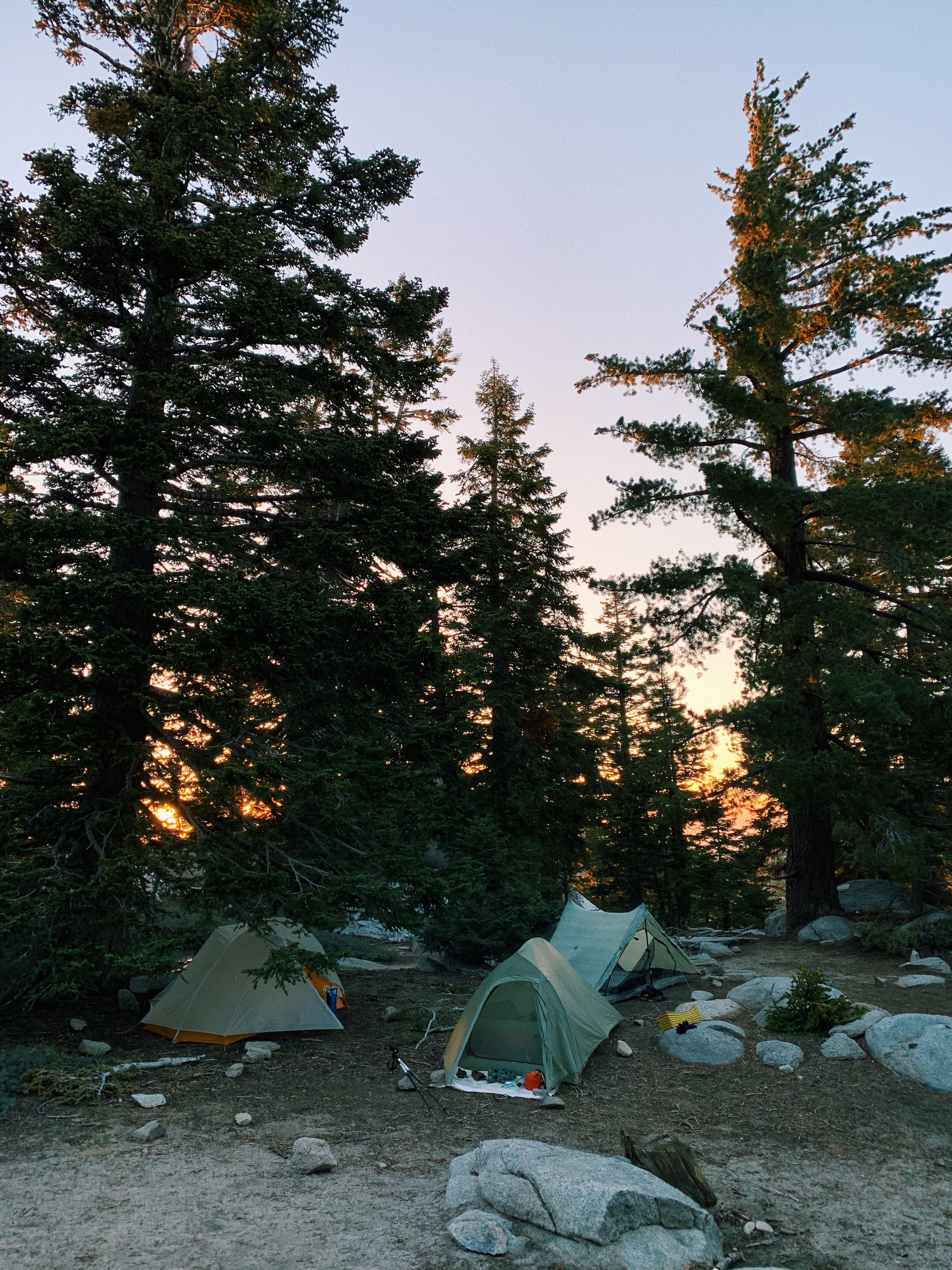 For now, I am snuggly in bed. Sleepy. Who needs big mile days when you have a day like this.
Day 15
Mile 187.8 to I10, 21.7 Miles
A long day of down, down, down. It's wild that yesterday I was on the top of San Jacinto, and am now under an interstate overpass on the desert floor. In theory, a day of downhill sounds nice…and parts really were. After a few slow miles of snow covered trail, I was finally able to stretch my legs. Smooth graded trail, gentle downhill, comfortable temperature, the smell of pine. My feet were feeling good, probably after all of the rest in town and the lower mileage day yesterday. Plus, with cooler weather they were all around more comfortable despite the snow. All good things.
The weather continued to heat up as I picked my way down trail, though. I stopped at the first water source, around 5 miles into my day, and it was a good stop because I ran into a PCT pup! She had her own backpack and seemed really comfortable out here. I would never want to hike this whole thing, especially the desert, with a dog…but I admire people who do. Even so, I tried to play it as ~cool~ as I could but the truth is it was so great to see a dog out here.
On I went.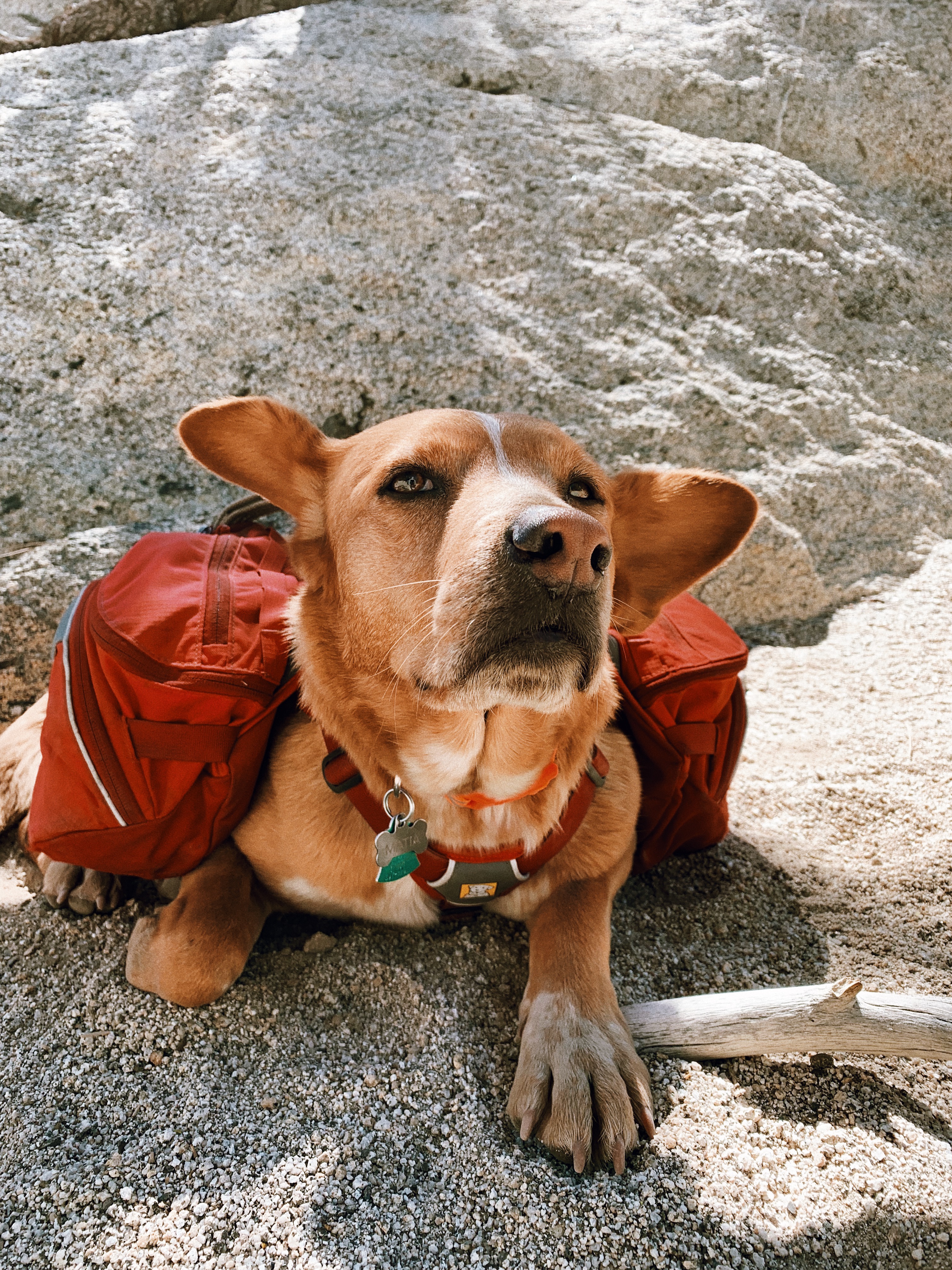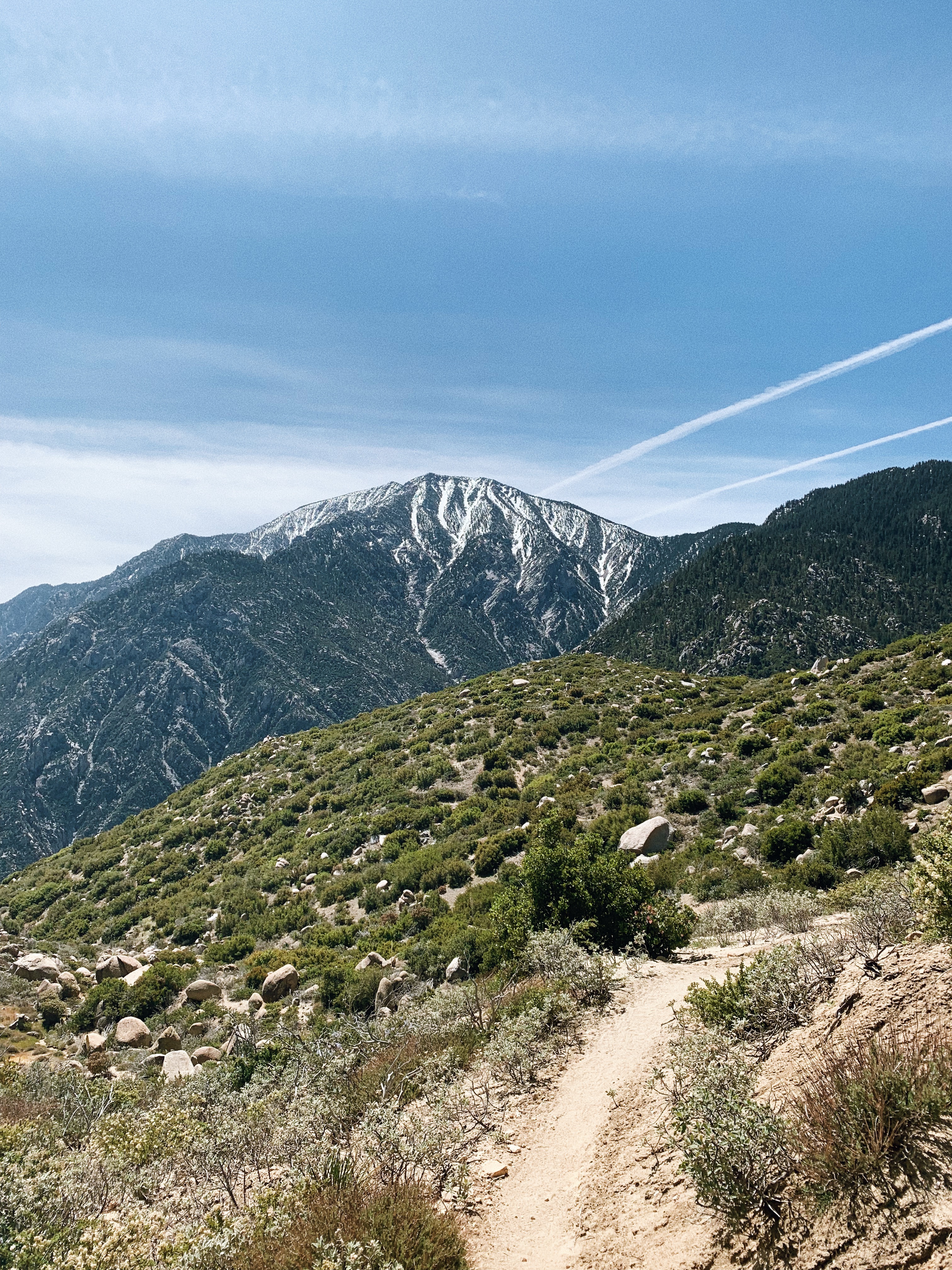 More down, down, down. The minute the temperature began to increase I felt my feet become more uncomfortable – must be just from them being more hot and sweaty 🤷🏻‍♀️ When I hit around 10-11 miles for the day, I was 100% ready for a long lunch break. Stopping points, though, are dictated by shade for me when it's warm out. As I was walking, hoping to come across a good spot, I started thinking to myself how crazy it was that I was almost at mile 200 and hadn't seen a single rattlesnake.
Ah, my friends, never count those chickens before they hatch. I was at mile 199.5, a mere half mile from 200, and I came across a large snake perched across a trail side bush. It startled me, of course, but I was more so thankful to just have seen it before I walked right up on it. It never coiled, never rattled, just took it's sweet time sliding onto the trial, moving down the way I was walking. Finally, after I stood there in the sun with my feet baking on the ground for what felt like an eternity but was probably only 4 minutes, it crossed over to the downhill side of the trail and I was able to pass. Definitely time to find some shade and sit now.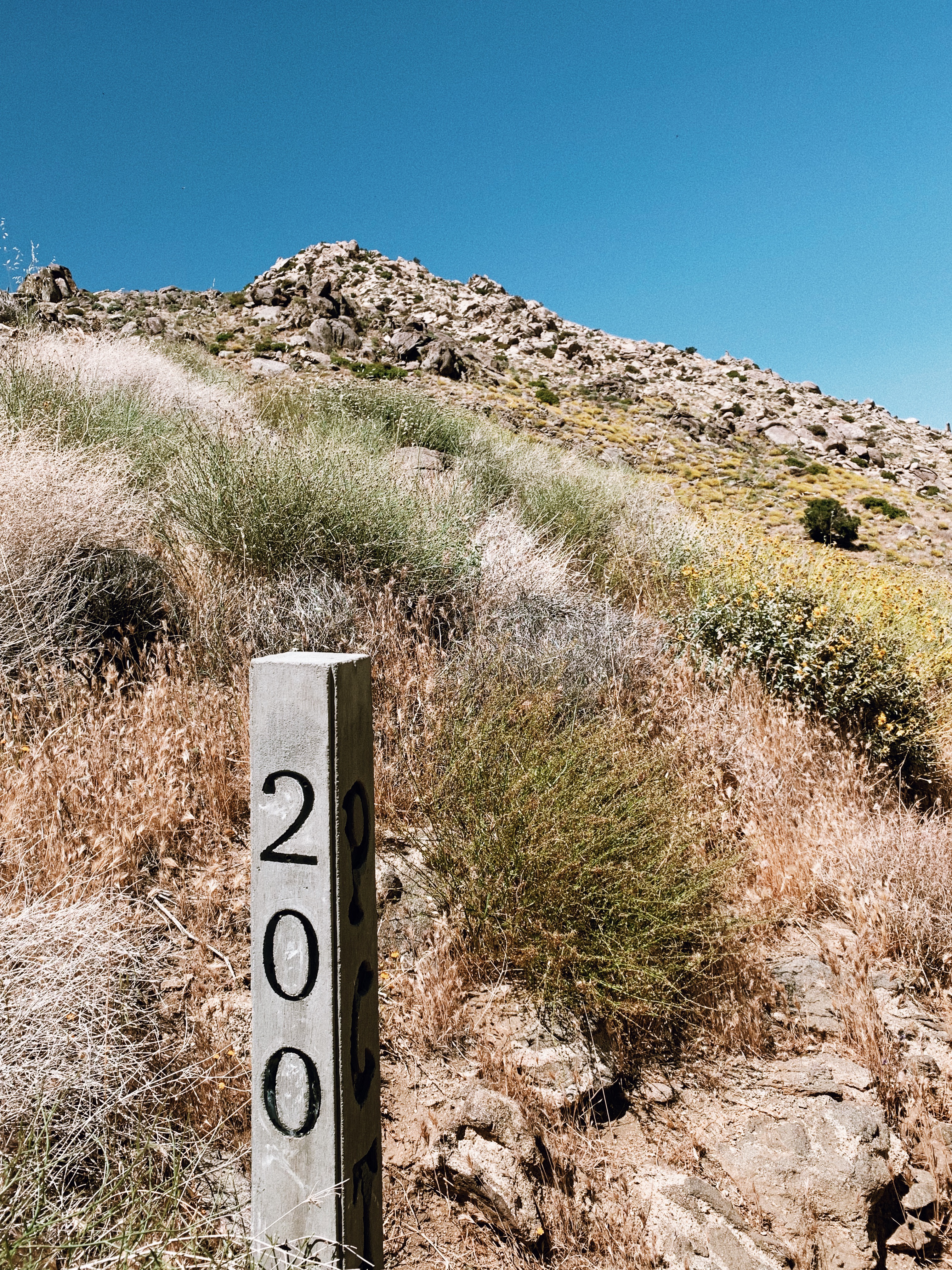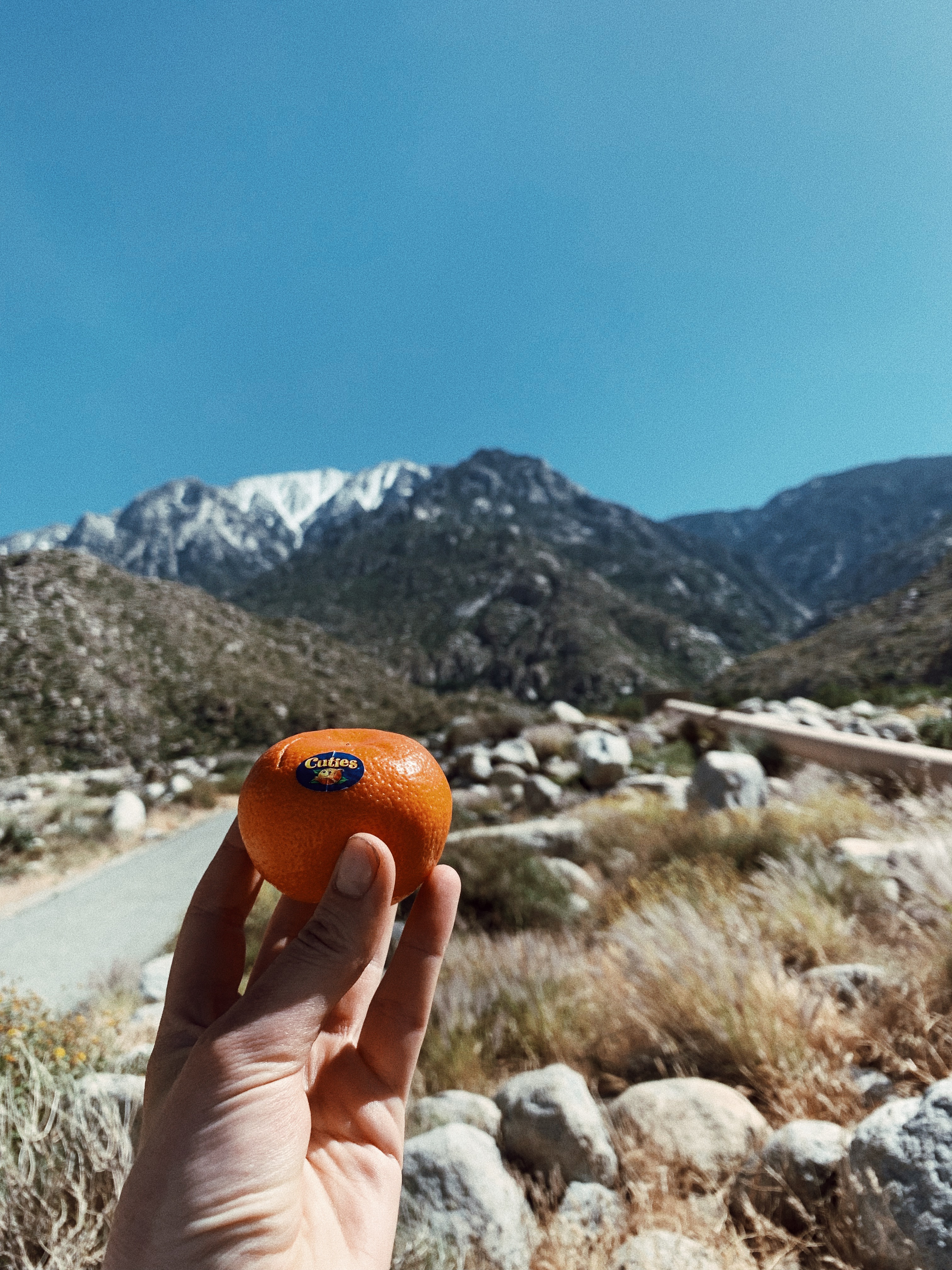 A few minutes later I came across a rock outcropping in the shade and took it. A sweet resting spot as I ate, rested my feet, and pretended to not be concerned that snakes like rocks just like the ones I was sitting on. The next 5-6 miles or so were just fine. Windy, hot, dry. Still interesting rocks, and plants, and more snakes (but the harmless kind), but nothing struck me as exceptional. The water source I hit next was a faucet by a road, followed by a little bit of trail magic (yay bananas and mandarins), and a sandy slog to the I10 overpass.
In N Out was only a few miles away, and the thought of a meal complete with a cold shake was one I was not going to give up. Plus, a real bathroom? You should never pass on that. A few of us took an Uber, and life just felt a bit better after dinner. Plus, I met up with my friend Savannah from Mazama – she's already done the PCT but is out here for a time to do sections again. It's been incredibly fun and uplifting to have a friend from back home here, and I'm looking forward to the parts we'll get to hike together.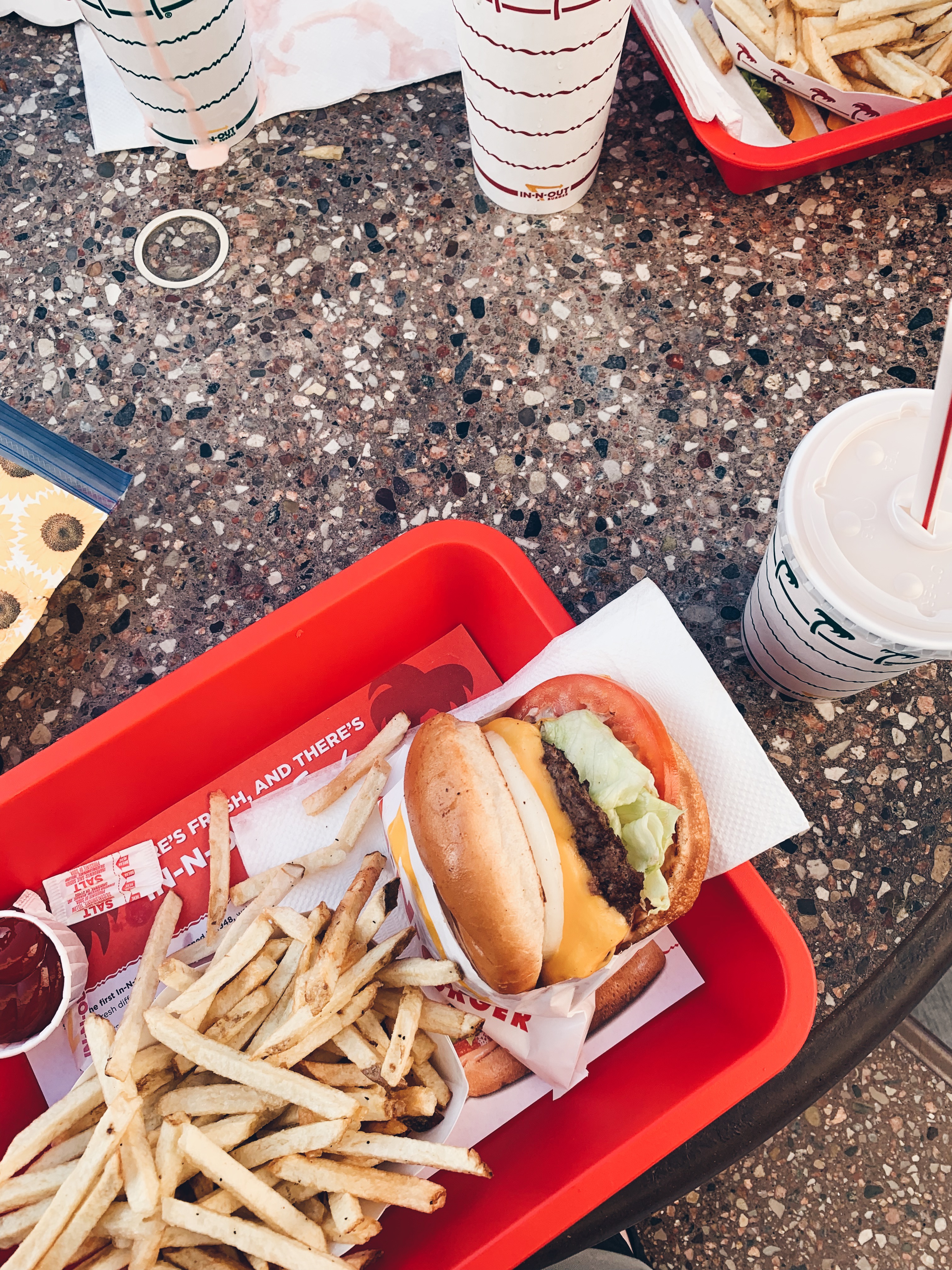 Day 16
I10 to mile 229, 19.5 miles
Would not recommend sleeping beneath an overpass. It went about as well as expected – some moments of sleep, some tossing and turning to the tune of pounding traffic overhead. Oh well. Savannah (Jet) and I were out of camp around 7, not in any huge rush. In fact, I really didn't want to get out of my tent this morning. Hiking sounding like a so-so idea. But, away we went. It was a really enjoyable morning. The clouds kept looking dark and ominous, despite the bright rainbow peaking out, but thankfully we stayed to the edge of it all morning. The wind, though! It's so windy here, windy enough that it makes you think "maybe if I lift my raincoat above my head I can leap with the next gust and skip a few switchbacks down."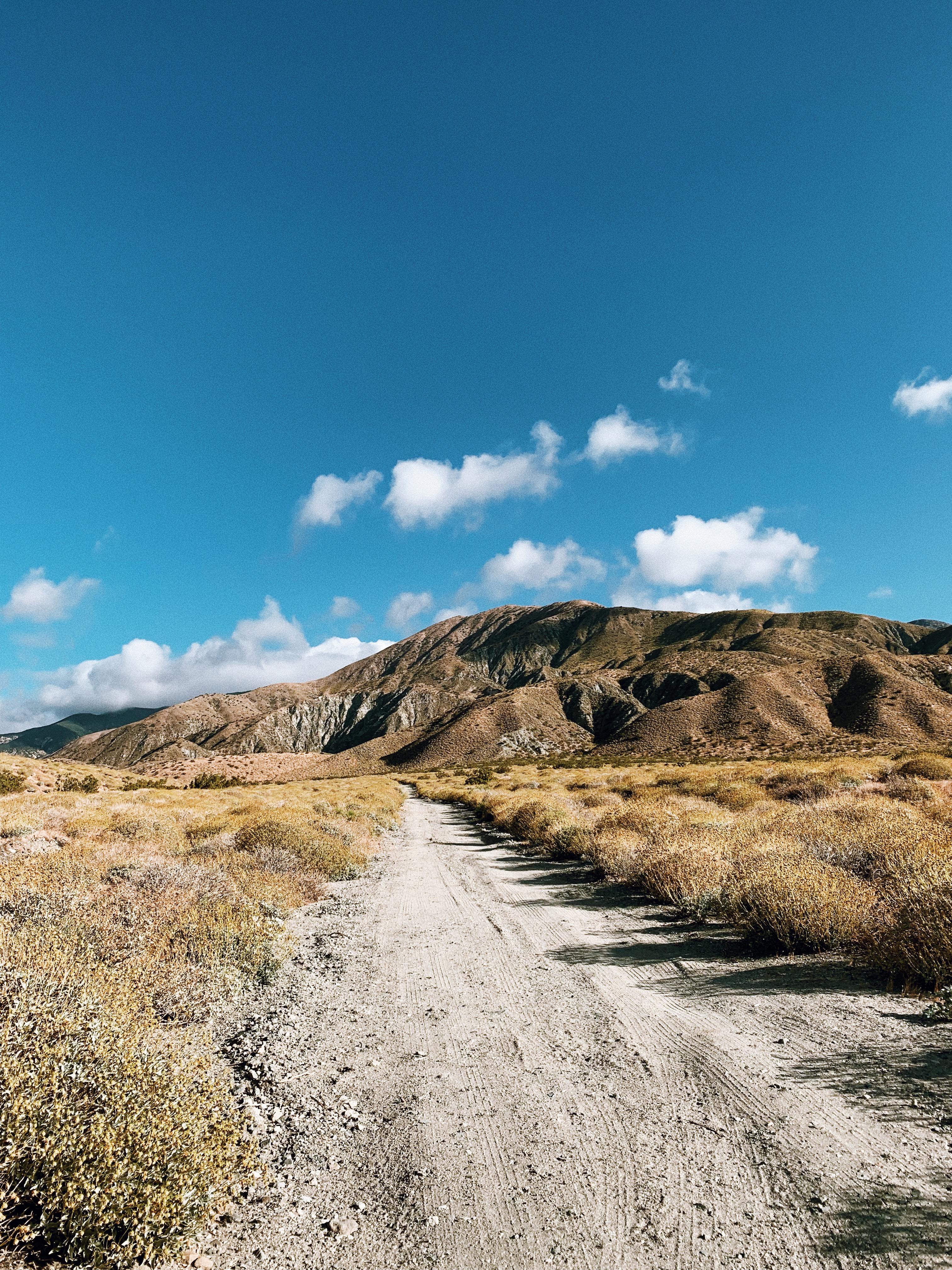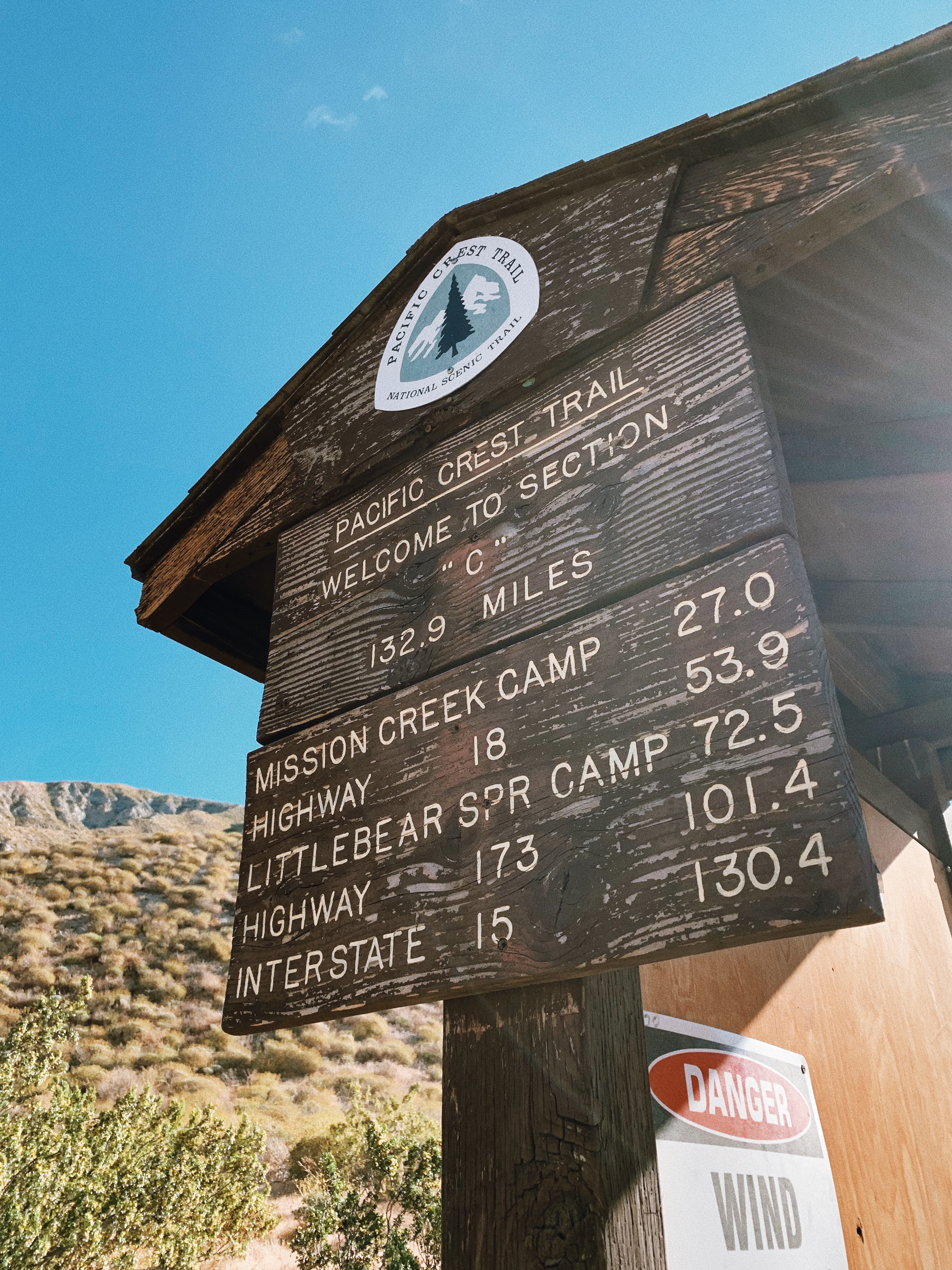 We cruised through 5 miles, took a small break, then headed out for the next 5 to get to our lunch spot. I decided that the PCT was designed this way: someone took a wet spaghetti noodle, threw it at the wall, and then based the trail off of all those squiggles and curves. No straight lines here.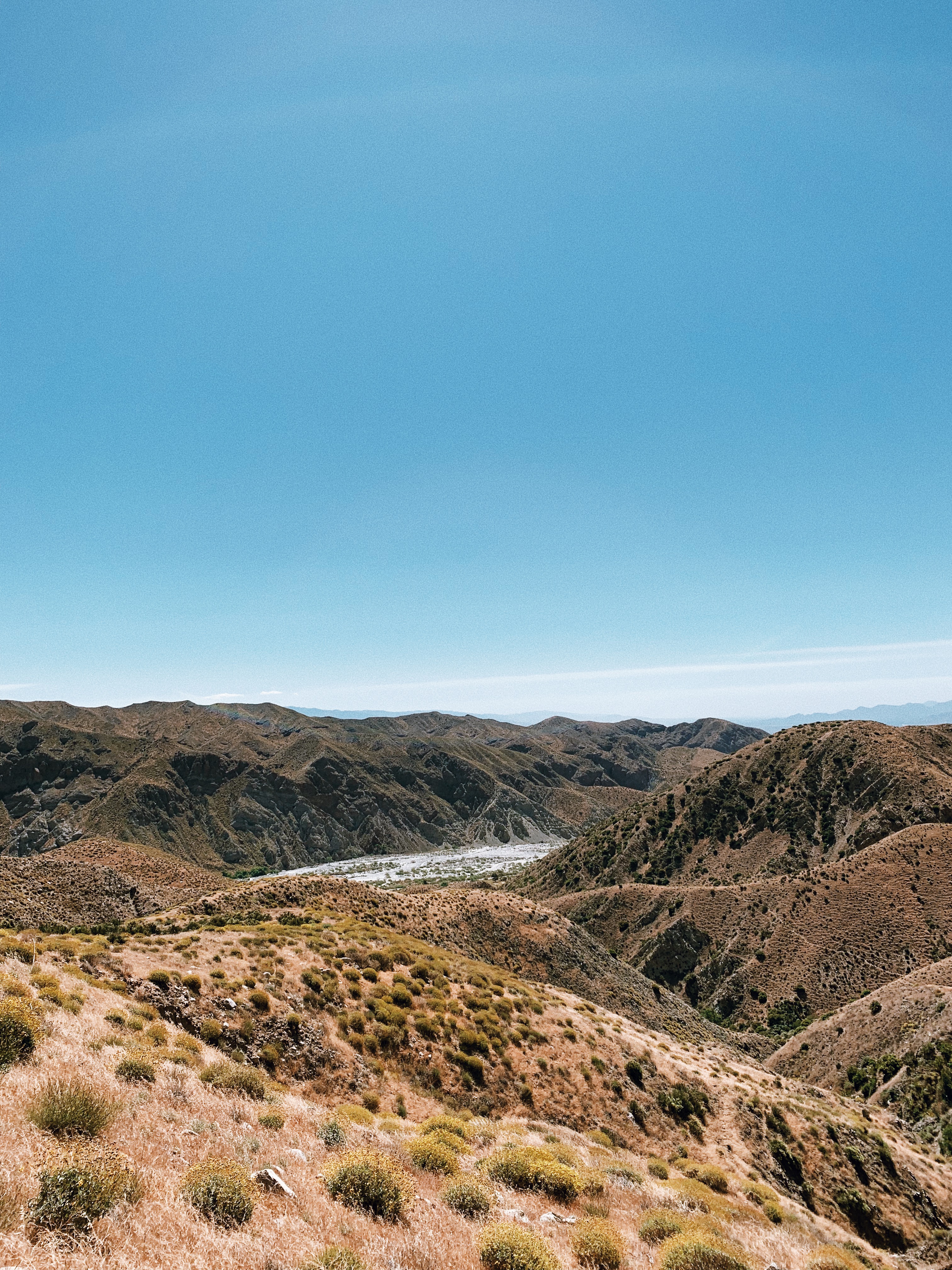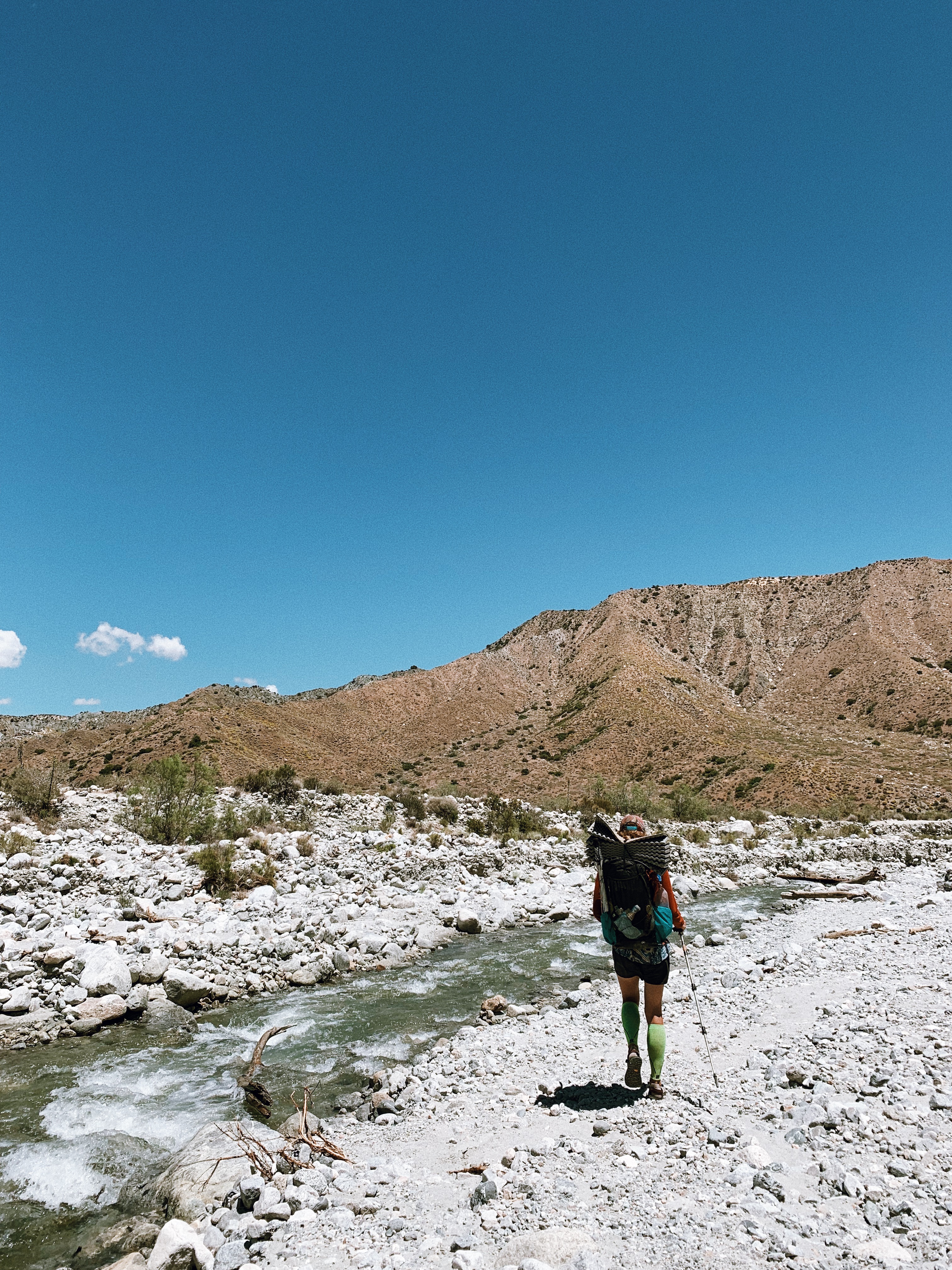 We had a pretty sweet lunch spot – a shaded seat by an actual river. Food, water, mini nap. Then we got blasted by a little sand storm and the moment was over. Time to leave. A bit of routefinding once we crossed the river. The trail goes through a wash of sorts so it took some looking, but between the two of us it was pretty straightforward. 6 miles to our next water, where we sat for a bit, then the final three to camp. Again, a bit slower on these last three miles as the trail had sections washed out. Apparently there were some big floods earlier this year. Nothing too challenging, though. It actually was a nice change of pace because in hard moments I get really tired of the monotony of the desert – you can look ahead to see all the trail you have to cover and it gets boring plodding along in the heat. So…the creek and washed out portions were something new.
At camp, still no rain but hovering clouds. Annie's Mac for dinner tonight, so far a personal favorite on trail. I add a salmon packet because I'm ~fancy~. I brushed my hair at camp, too, and an unsettling amount of sand came out. Just girly things. And now, in bed, maybe the most rewarding time of day where I can look back at all I hiked today and feel accomplished.