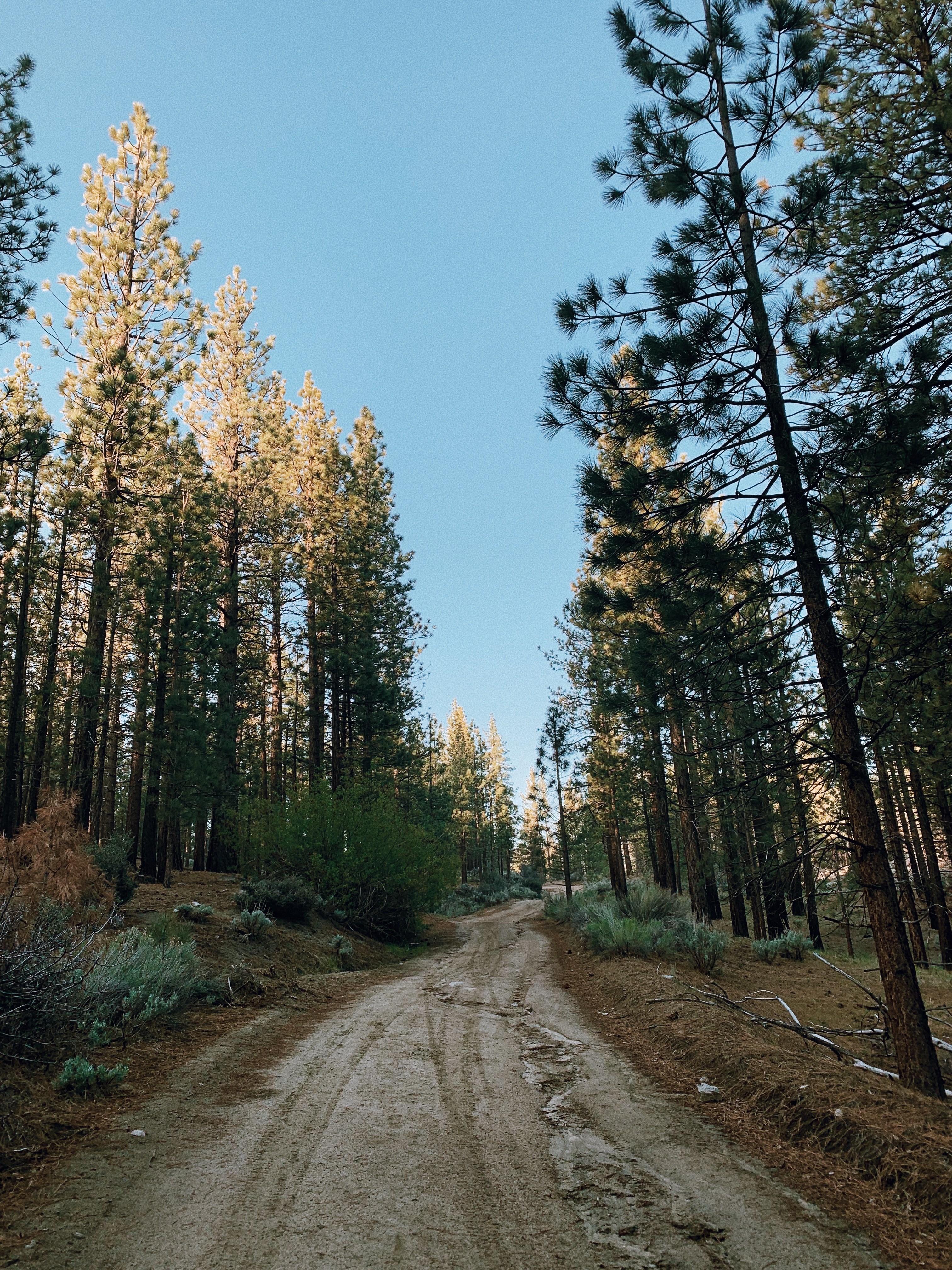 Day 41
Landers Meadow Camp to Bird Spring Pass, 22.2 Miles
Last night I dream I am on a flight home. On this flight, they didn't serve the free drinks, nor did they provide the tiny little free snacks. I remember feeling incredibly angry that they didn't have either, and that, my friends, says a lot about where my head is at these days. Food and beverages.
Anyways…today is again what I thought the desert would be. Hot, shadeless, so much sweat that I have salt lines on my shirt and wonder if I'll ever pee again. What's it going to be like at home when I only need 2-3 liters of water over the course of my entire day?! These days I'm at 4 as a bare minimum, but ideally aim for 5-6, drinking an entire liter of water at lunch if I can.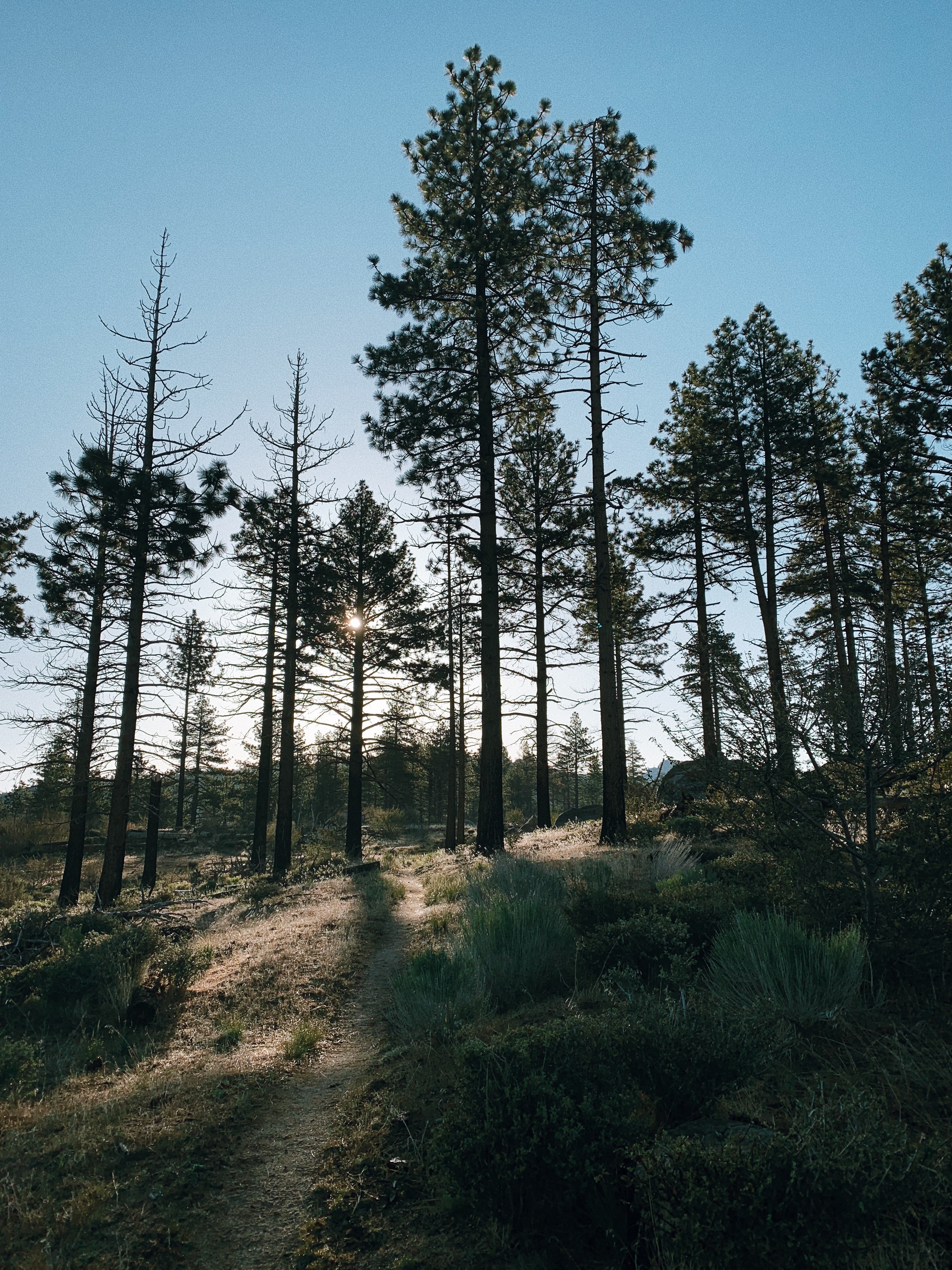 The vastness of the desert is amazing and slightly terrifying st the same time – something about how exposed and open the landscape is. Views are sweeping, a horizon that never seems to end. As I hike, there's a sweet breeze. It's funny how the wind is either my best friend or worst enemy out here. Today, I am thankful for it.
The trail today starts in a wooded, almost mountainous feeling place, but then I come around a corner and quietly gasp. The Mojave is laid out before me, a shimmering sea of heat and dryness and cacti and dirt. Shortly after, at 7 miles in, I get to a water cache by a road. I am so incredibly thankful for the people who maintain these. If not for them, I'd be looking at a 35+ mile water carry, which would mean carrying over 10 pounds of water (at least). That's not ideal no matter how you look at it. So…I drink some water and fill my bottles, sitting for a bit but quickly getting too warm, so I press on. At 13 miles for the day, I come across a road crossing with slivers of shade beneath a sign. Lunch.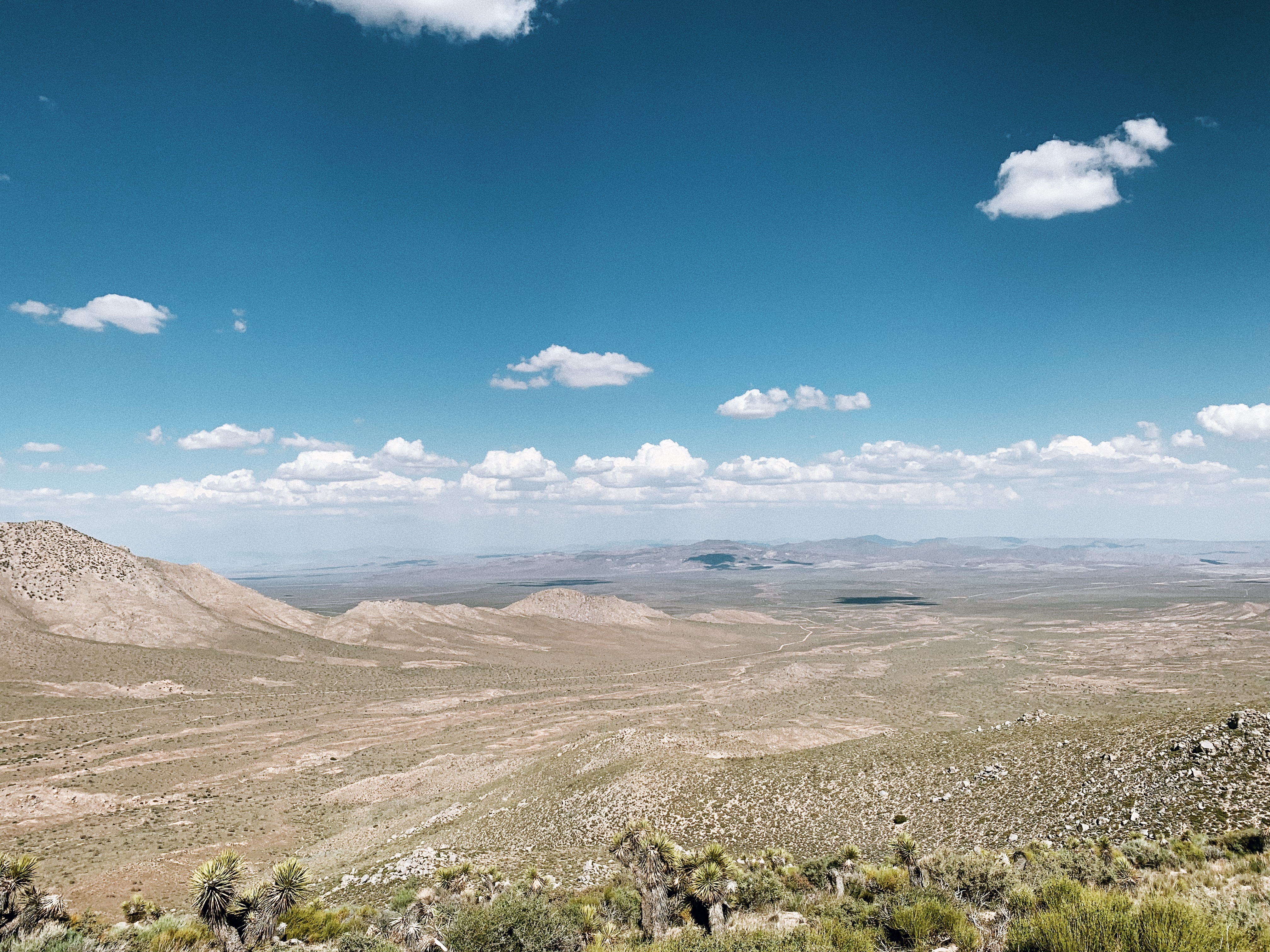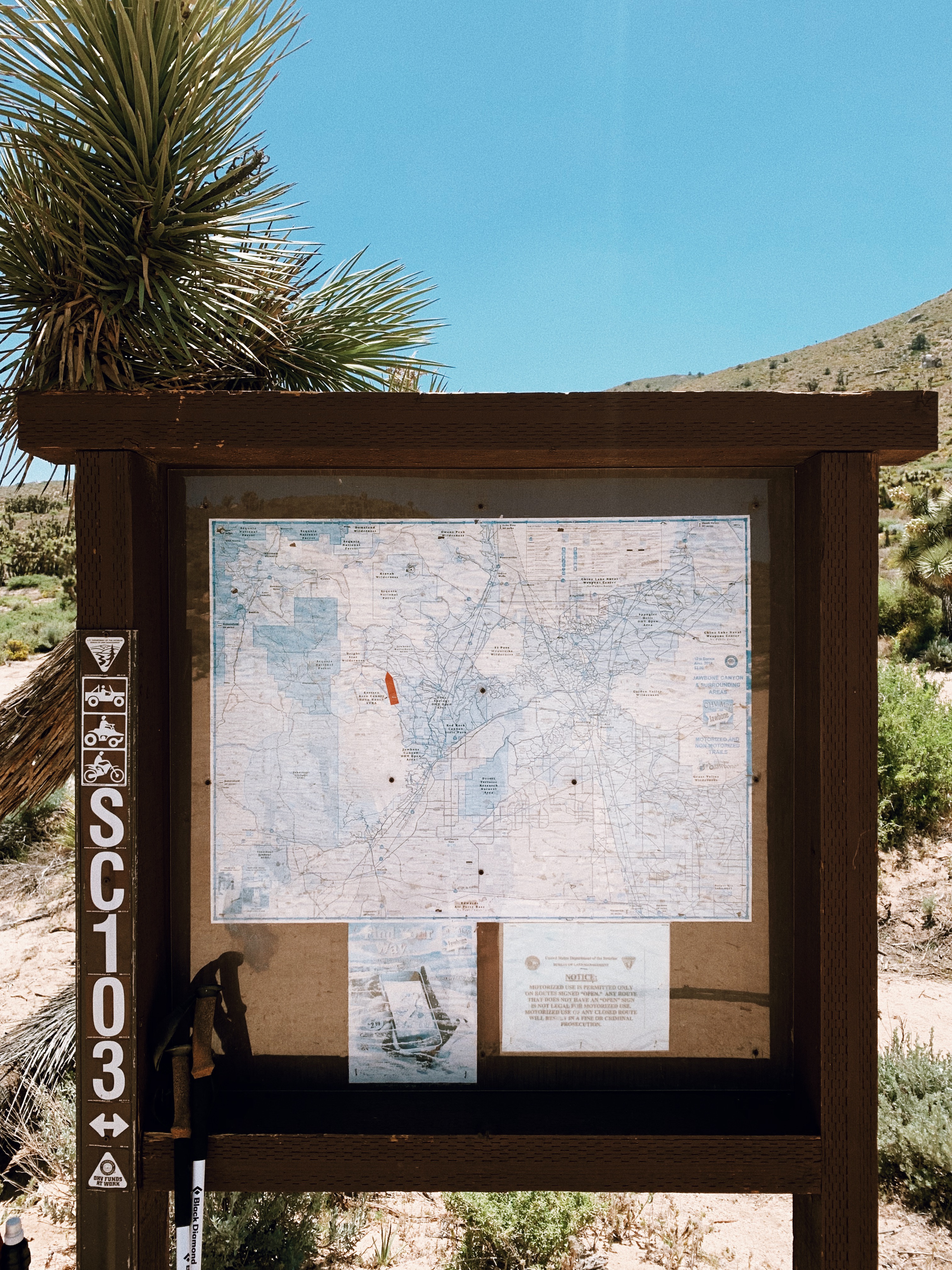 I never want to leave my seat beneath this sign. I am shaded and cool, my feet are comfortable, and I have a post to lean on. It's a long lunch, my attempt to rest up before tackling the rest of the day in the heat that only seems to be building. Finally, I pull myself up from my seat and start in on the last 9 miles of the day. The first three go by quickly, while the last 6 seem to take an absolute eternity. I'm a firm believer that not all miles are equal. Everything from the trail itself to the weather, my mental state, to how my body is feeling can impact how a mile feels out here.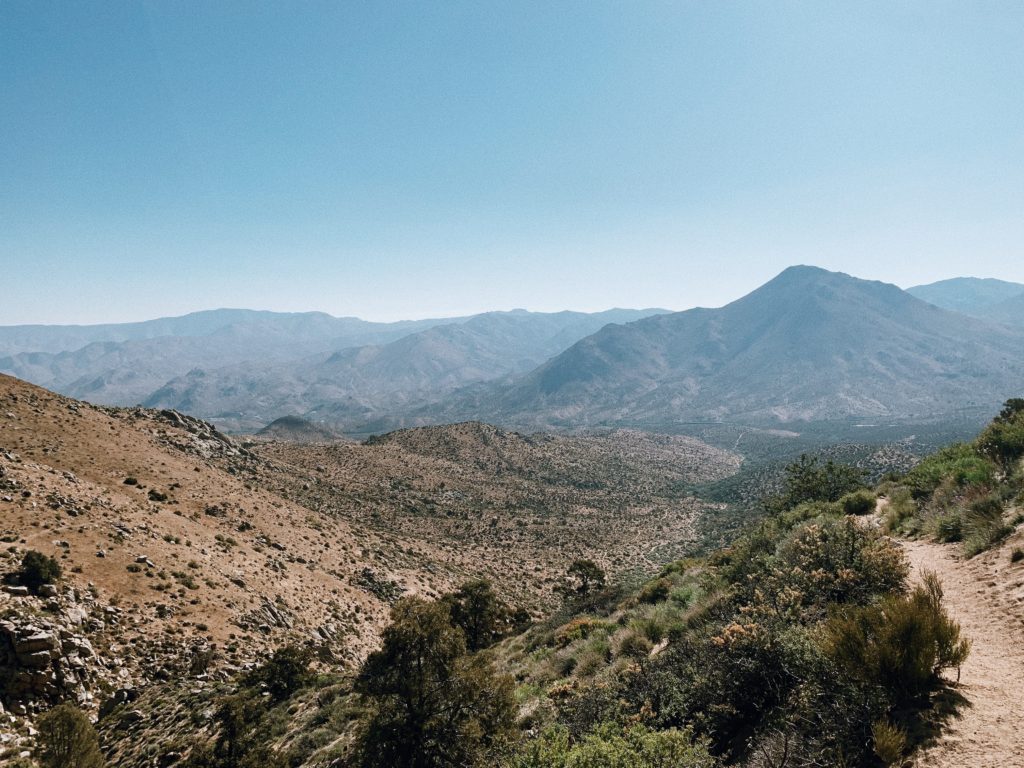 Today, with the heat and a general mental fatigue, the miles are harder. Shoutout to Joshua trees for providing pockets of shade in the midst of a climb that basically slapped me in the face. I sat for a while in the shade mid climb…in the only shade, actually, on this particular climb. Then, I get myself back up again so I can finish the day and truly rest.
I spend the last few miles thinking way too much about Disneyland Dole Whips. I think way too much about cold beverages in general, for that matter. You know you're hot when even an AM/PM icee sounds amazing.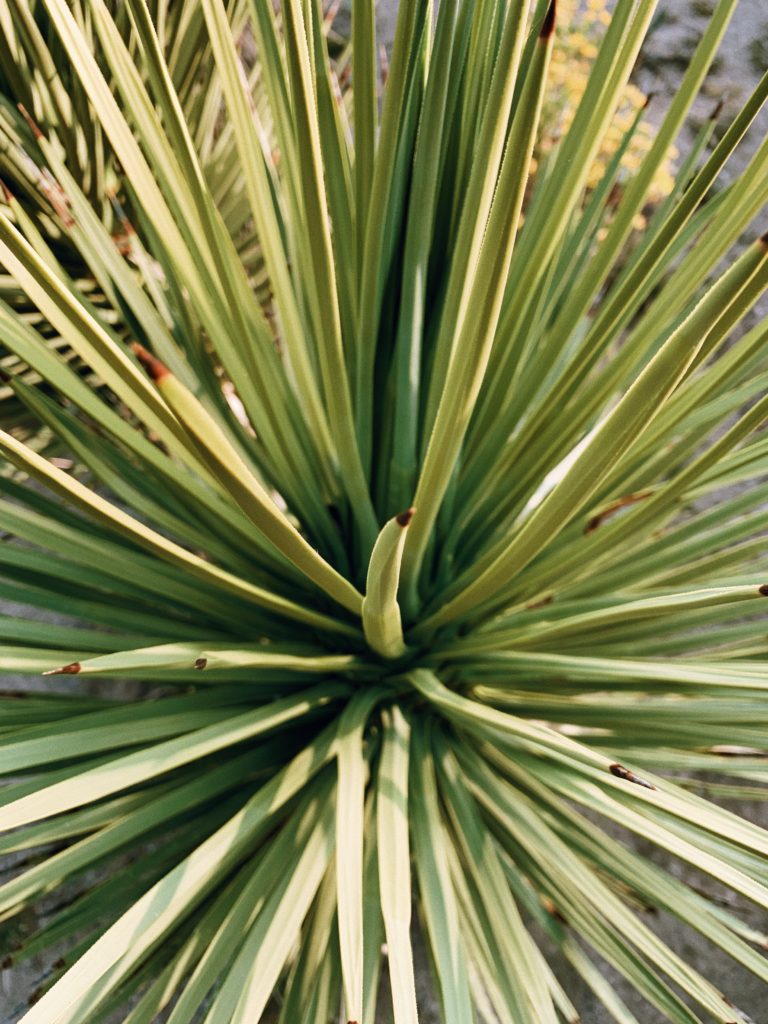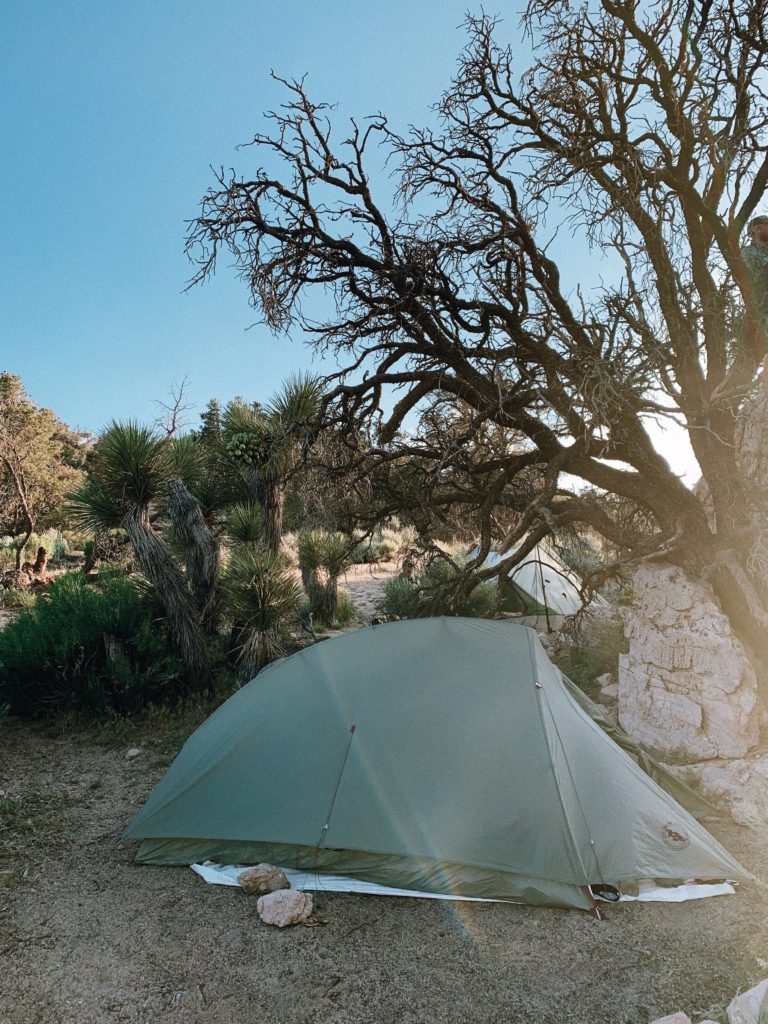 But, all those thoughts aside, I make it to my tent site for night and feel thankful that I at least have water. There's another cache here, and I am still so appreciative. I find a spot nestled up between some plants and a boulder, and I think it'll be a nice protected spot from the wind. Then, cooking and eating with the crew: a good way to end the day. I am tired, slightly crispy from the sun, happy that I can tackle a big climb tomorrow morning before the day heats up too much.
Day 42
Bird Spring Pass to Walker Pass Campground, 20.5 miles
Yesterday was so hot that I decide to get an earlier start on my day. By 5:45am, I'm on my way up the climb straight out of my tent site. It's another slow, but mostly steady, trek upwards and away from the road. This side of the mountain is still in the shade this early in the morning, so I savor the lack of sun and heat. It's quiet.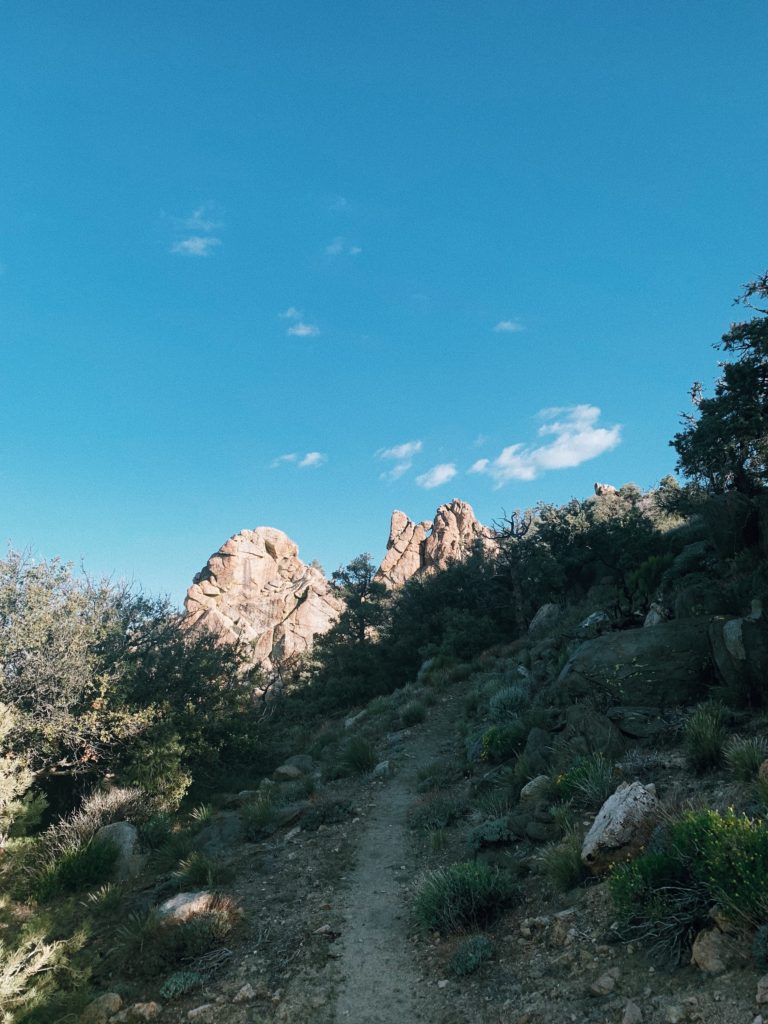 After 3 miles of up, I begin to hit some flat and downhill sections, and can stretch my legs a bit and cruise. Even so, I stop 7 miles in to sit and finish my overnight oats from this morning. My feet are still hurting, more than they have this entire trail, and a 30 minute break at least helps for a little while. Plus, it's nice to sit in this wooded section of the trail – shaded but with pockets of sun breaking through the trees. Breaks can make a person start to feel antsy, as a few people pass me while I sit, but it doesn't bother me. 42 days in and I still love the ability I have out here to go through a day of hiking on my own terms. From here, it's five miles until my next water. My music goes on, headphones in (well, a single earbud goes in) and I'm off.
The trail goes from forest to forest service type road, which I wind up and down and around for the next few miles. Then, water, and – even though it's not even 11am quite yet – lunch. I sit at this little creek in the shade, just off the dirt road. A few dirt bikes come blasting by, and other hikers start to make it to the creek. It's a nice spot, but I'm distracted by the looming, building clouds that seem to be getting closer and closer. I tell myself that I will not get rained on today, at least not until my tent is up, so I cut my lunch a little short and head out.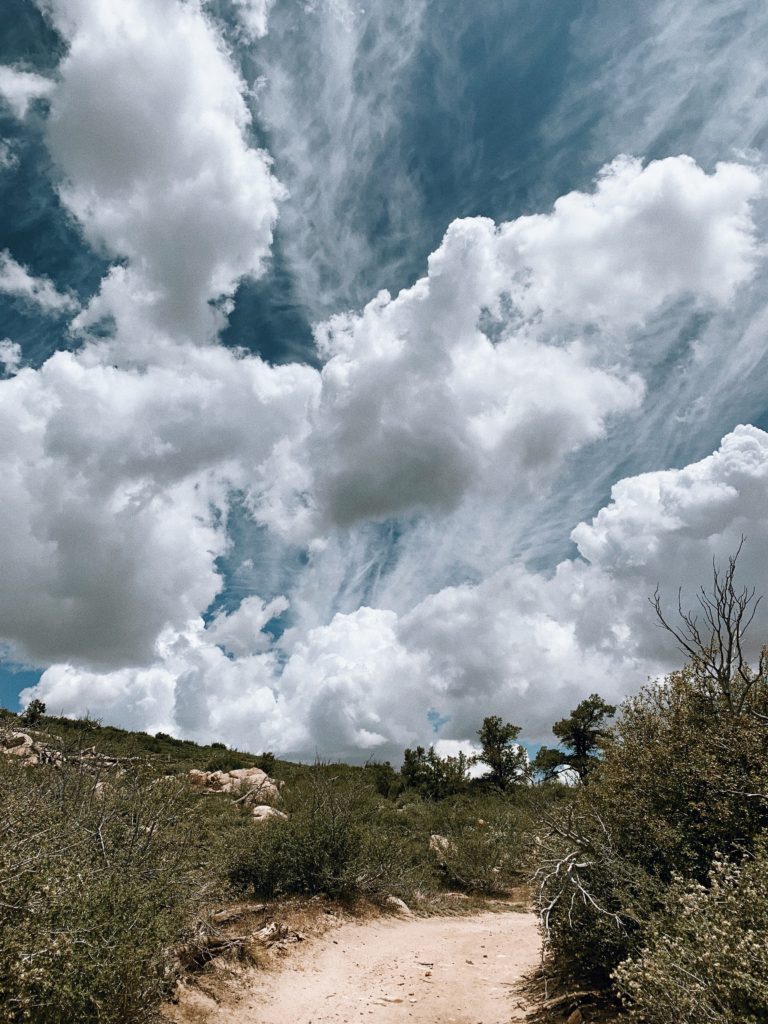 I'll tell you this, it's tiring to try to race the weather. It's also sort of pointless, but that doesn't stop me today from trying. From the creek to where I'll be camping is 8 miles of downhill, but I hike so hard that despite the descent, I'm exhausted and sweaty and breathing hard by the time I'm at my tent site. But…I beat the rain. At Walker Pass Campground there is a man doing trail magic – he has Gatorade, beers, and snacks. Cold drinks alone are always a treat, as is trail magic in general.
The clouds, though, are still moving in from above the mountains around us, so I quickly move on to finding a flat spot to set my tent up for the night. As I find a nice one, I see a woman and her dog who I had passed on the trail. With a mile to go earlier today, I saw her sitting in the shade in the middle of the trail. I thought it was sort of strange, but weirder things happen out here, so when I hiked past her I gave my usual "hi, how's it going" greeting. She said she'd been hiking with her dog and the dog started to overheat, so they were just sitting in the shade for a while. Ah. I asked her if everything was ok and if she needed anything, but when she said all was well, I pushed on for the final mile of my day.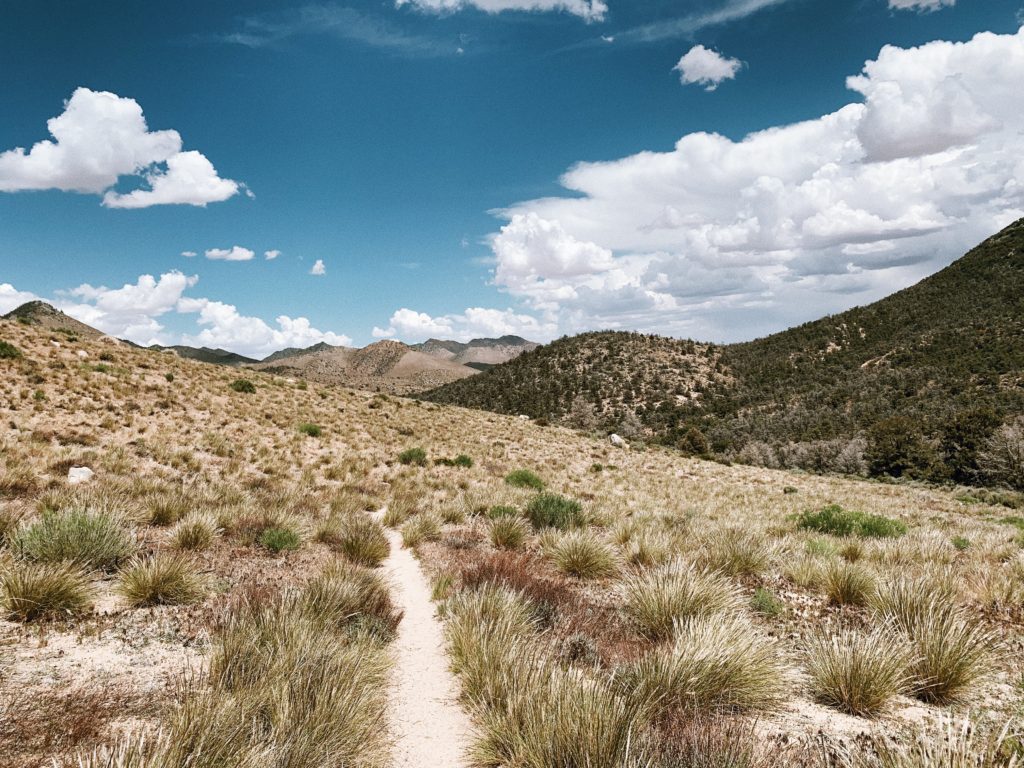 Now that I'm seeing her again, I ask how her and her dog are doing. Everything is fine, she tells me, and then she goes on to offer me a ride into town. I thank her, but tell her I don't actually need to head into town. There's enough food in my pack to get me to Kennedy Meadows, and with town being a 30 minute drive away, I don't really want to deal with the hassle of getting a ride back to trail the next day. Some of the friends I'd been hiking with join us at this point and we continue chatting. This woman then goes on to again offer us a ride, and since she's an avid hiker herself, says she could bring us back to the trail early the next morning too. At this point, I'm starting to be convinced that I should just go into town. It's only 2:30pm or so, and with a ride back to trail, it wouldn't be too inconvenient. In my head, I'm mulling over whether or not I want to spend the money on a place in town when the woman says "Now, if you all don't have a place to stay you're welcome to stay at my place. It's an apartment, but there's plenty of floor space."
Sold. I mean, you really can't turn down a town trip when you have a place to stay, and rides to and from the trail. The three of us hikers pile into her car with her dog Chance, and start heading into town. We drive away from the mountains we just came down from, and as I look back it seems to get darker and darker. I'm glad I'll be staying inside tonight. As we're driving, she mentions that I was the only one to stop and ask her if she was ok. And, ok, I still would have checked on her even if I had to stay at the campground, but after hearing this I'm especially glad I took the moments to see how she was doing.
This woman (her name is Melanie) takes us to get burgers and milkshakes, then it's back to her apartment where I get to shower AND do laundry. What! A! Treat! I could really go on and on about how incredible she was, and all of the little and big things she did for us, but the bottom line is this: the kindness of strangers that I have experienced while hiking is absolutely wild. She opened up her home, her laundry machine, and her schedule to allow us in. This is what serious trail magic looks like, and on this long, hot stretch of trail it was a complete morale booster. When she takes us back to trail the next day, I make sure to get a picture with her (from the left it's me, Dink, Melanie, K2, and Chance the dog). I'm not even sure my eyes are open in the picture, but that's beside the point. Having photos with people who have gone out of their way to give me a hand while hiking is a pretty special thing to take away from the trail.