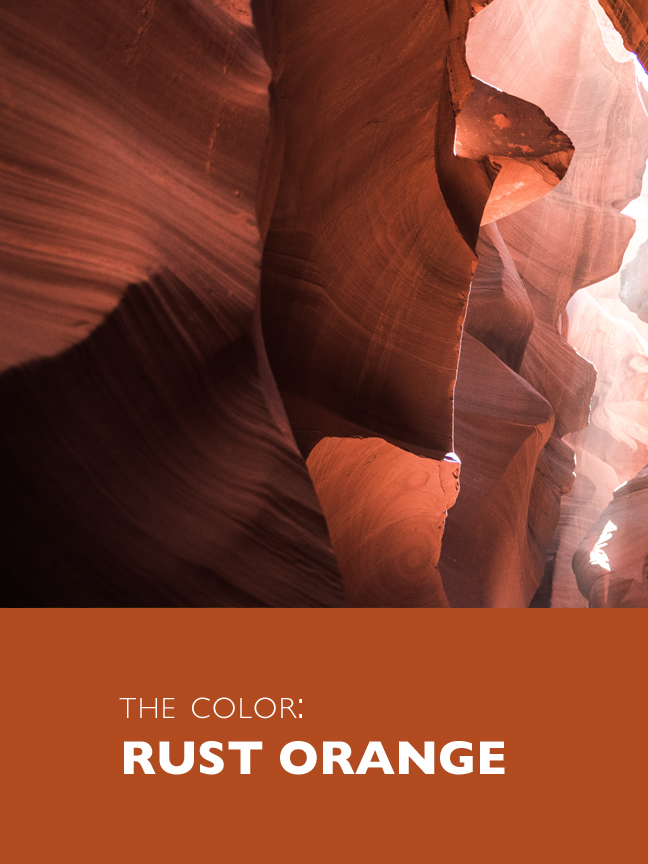 I don't think I have ever owned any orange colored clothing. Like, ever. It's not really my style, anyways, and has never seemed to be super flattering on my pale skin. As these things go, though, I am changing my mind (kind of). This muted rust (or burnt, if you will) orange has a totally different look than regular ol' orange. After mentioning it briefly in a previous mood board, I decided to dive more into some rust orange inspiration.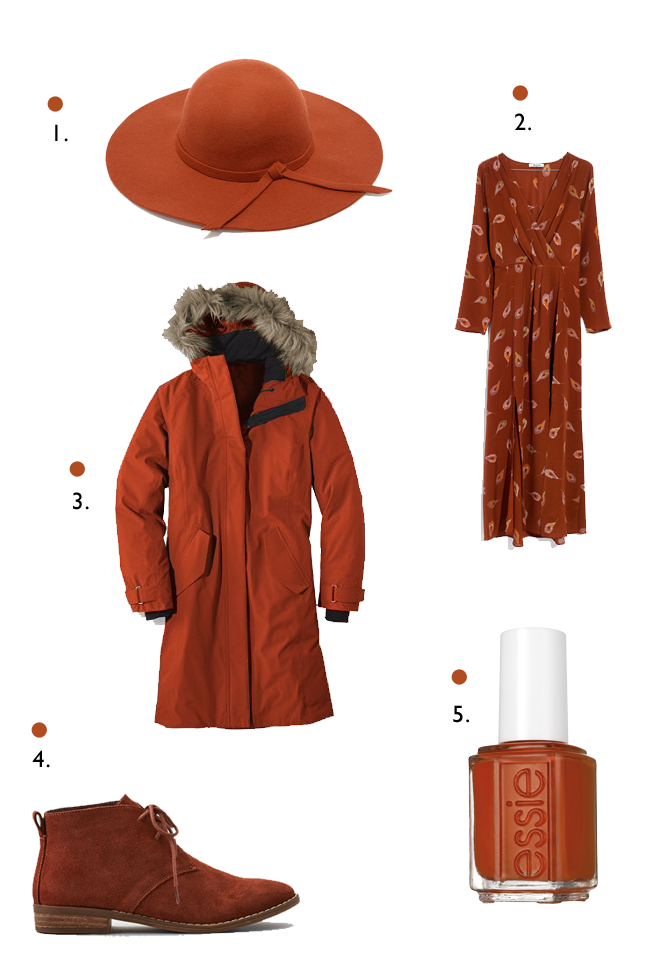 Floppy Hat
Floppy hats probably make you think of summer. I mean, they're kind of like sun hats, right? Sure. BUT a floppy hat in this rust orange color has to be meant for fall and winter. There's just something about this color tone that seems like the perfect bright (well, muted, really, but you get the idea) spot this season.
Maxi Dress
When it comes to the dresses in my closet, it's pretty clear that the majority of them are geared towards summer. Whether by color, shape, or length, they all just give off more of that warm weather feeling. Enter this dress. This color. That shape. This print. Is it possible to have winter dress perfection? Because if it then this dress is it. Notice the side slits, too!
Winter Parka
I'm pretty big on having neutral colored outerwear, because it will actually never go out of style. Because I like to contradict myself, though, I also kind of like the idea of having something that adds a bit more pop to your look. Especially in the winter, when my wardrobe palette seems to get darker, a rust orange winter parka would be a fun way to mix it up.
Ankle Boot
Winter and ankle boots. Ankle boots and winter. Winter and rust orange AND ankle boots. Some things just work, and in my quest for rust orange inspiration, I came across these babies. The shape and color combo seem a little quirky compared to all of my classic black shoes (LOL maybe I have a problem I don't want to talk about it OK stop asking!!) but I think they'd be a fun way to incorporate color.
Nail Polish
When in doubt, start small and try just a hint of a new color. Sometimes I find that little accents like nail polish either make me go "Yes to this color. Go out and gather anything you see in this color!" or "Nope nope nope, do not pass go with this color" (or something less dramatic). It's better than trying out a pricey piece only to realize it's not your jam so much.
What colors have you been loving this season? 
The Details
SaveSaveSaveSave
SaveSaveSaveSaveSaveSaveSaveSaveSaveSaveSaveSave