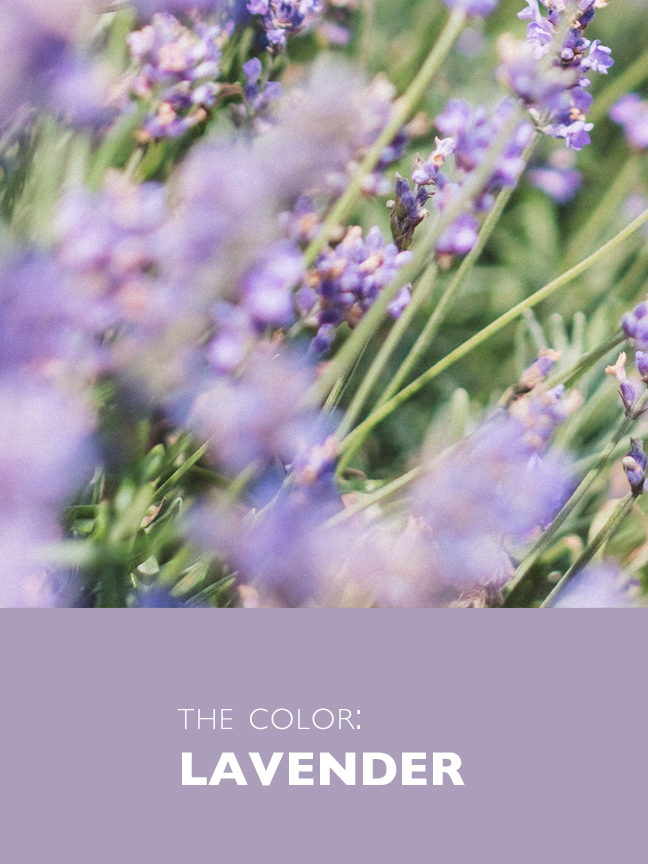 Happy Friday! Did you guys hear? Pantone's color of the year is Ultra Violet. It's a luxurious looking color, that's for sure – bold, elegant, and quite beautiful. I can get on board with this, ya'll, but when it comes to actually incorporating the color into my life, I find myself leaning towards something lighter (because then it's closer to a neutral, ok, you got me). Really, though, the color I'm interested in more lavender and less galactic. Depending on the shade, it's this dusty purple/mauve, almost blush looking color that is equally soft and statement making. I don't want to jump the gun or anything, but… this kind of has me feeling the spring excitement. Here's the lavender color inspiration for life and style that may have you feeling it too.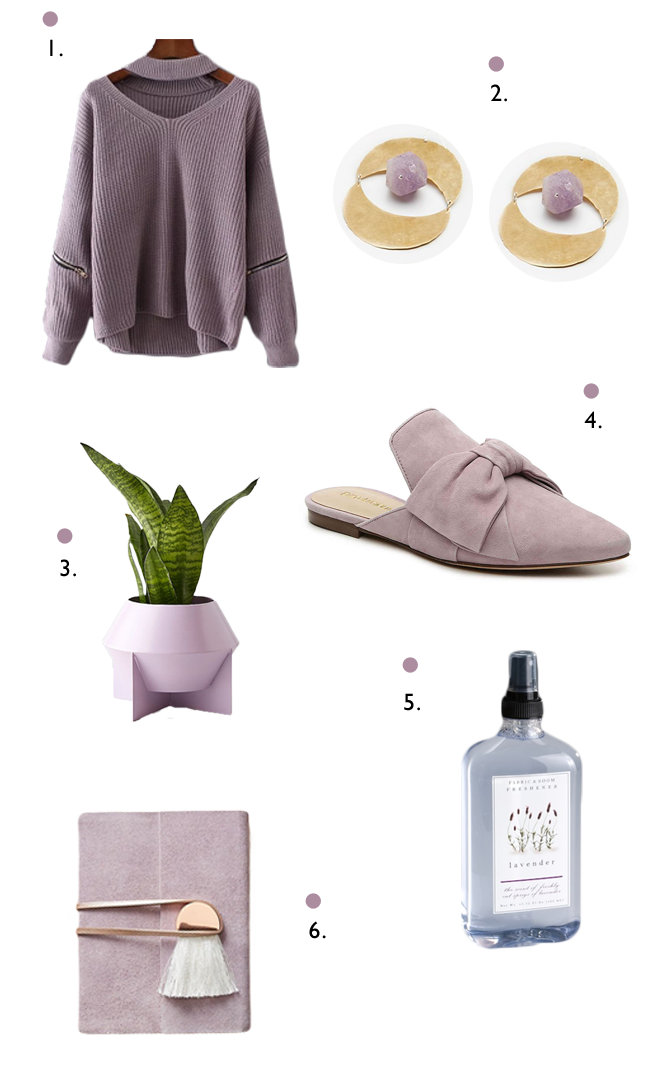 Sweater
My heart says spring but my body temp still says winter. Sigh. At least with a lighter colored piece (and a sweet cutout at the neckline) we can get excited about spring while still surviving winter weather. Also, the part of me that wants to be edgy (but totally isn't) is kind of in to the zipper detail. Anyone else?!
Earrings
Statement earrings, yes please! I have placed myself back onto the earrings train (more on that later) and love the lavender / gold combination here. Pieces like this that are so simple but bold at the same time have really been catching my eye.
Planter
Plants are supposed to be calming. Lavender is supposed to be calming. A plant in a lavender planter must be the ultimate calm, then. Granted, it stresses me out because I can count on one hand the number of plants I have successfully kept alive (and it's one. Literally just one). That being said, I love this muted planter. It'd add a pop of color without being too much for a neutral color scheme. Also digging the geometric shape it has.
Mules
Right, so, as per usual I'm about two seasons (at least) behind on my love for mules…but they somehow fell into the category of "IDK how I feel about this" for a good amount of time. I'm on board now, though! I love how soft the color is one these ones, plus the front bow detail is such a nice, simple addition! Currently feeling some spring fever and wishing I could wear mules without ruining them in the rain.
Room Spray
It just feels wrong to talk about lavender without involving the scent. I'm personally a big fan (I currently still use this spray) and I think there's a lot to say for using scents to create a calming and creative space.
Journal
As a pretty avid journal writer, I can attest to the power in a nice journal vs. a regular notebook. Sounds weird but trust me on this one. Bonus: can count as decor if you leave it out because it's so dang pretty. Love the rose gold detail on this one!
The Details
SaveSaveSaveSaveSaveSave
SaveSave