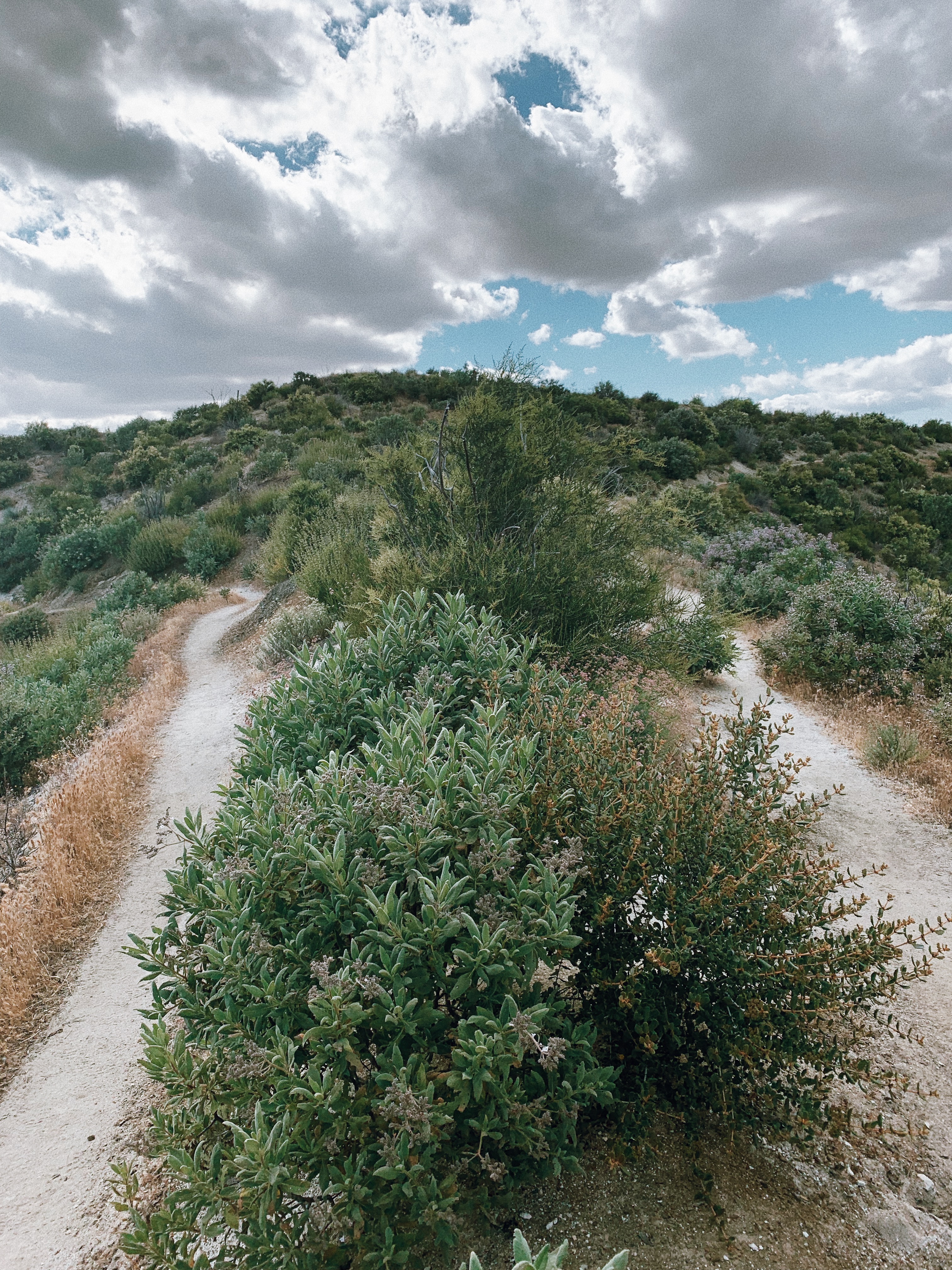 Day 30
Mill Creek Fire Station to Acton KOA, 26 miles
Fresh off the sub 12 mile day and sleeping in a bed, we pull a marathon. I love how perspective changes out here and things that once seemed absurd become a new sort of normal. It feels pretty good to get this amount of miles in given that we wake up in a hotel in a town not on trail, coordinate a ride to the trail, and are somehow hiking by 7:30am or so. It's cold – rain jacket and beanie hiking weather – but it's not actually raining so I count it as a win. The trail climbs for a bit and then is a mix of moderate ups and downs. I don't really feel like thinking much about anything in particular (I think a lot as is, let alone given days upon days to do so) so I alternate between podcasts and music.
The first water source is 7.5 miles in, and despite making a noted effort to drink my water, I realize I packed out too much from the hotel. Oh well, saves having to filter, and I continue on. There's a decent sized climb from the creek, but I'm happy to be out hiking. The sun is starting to bust through the clouds and blue sky is showing up. It feels good to be out here today. My goal was to do another 10 from the water source to get to s ranger station for lunch, and I do. 17 miles by 1:30 or so isn't too bad, especially when you consider our later start this morning.
I eat. Probably too much (how is that even possible) as I feel weighted down when we hike out. But the break was needed, sitting in the sun finally feeling warmth from it, not shivering in a trailhead pit toilet. An improvement.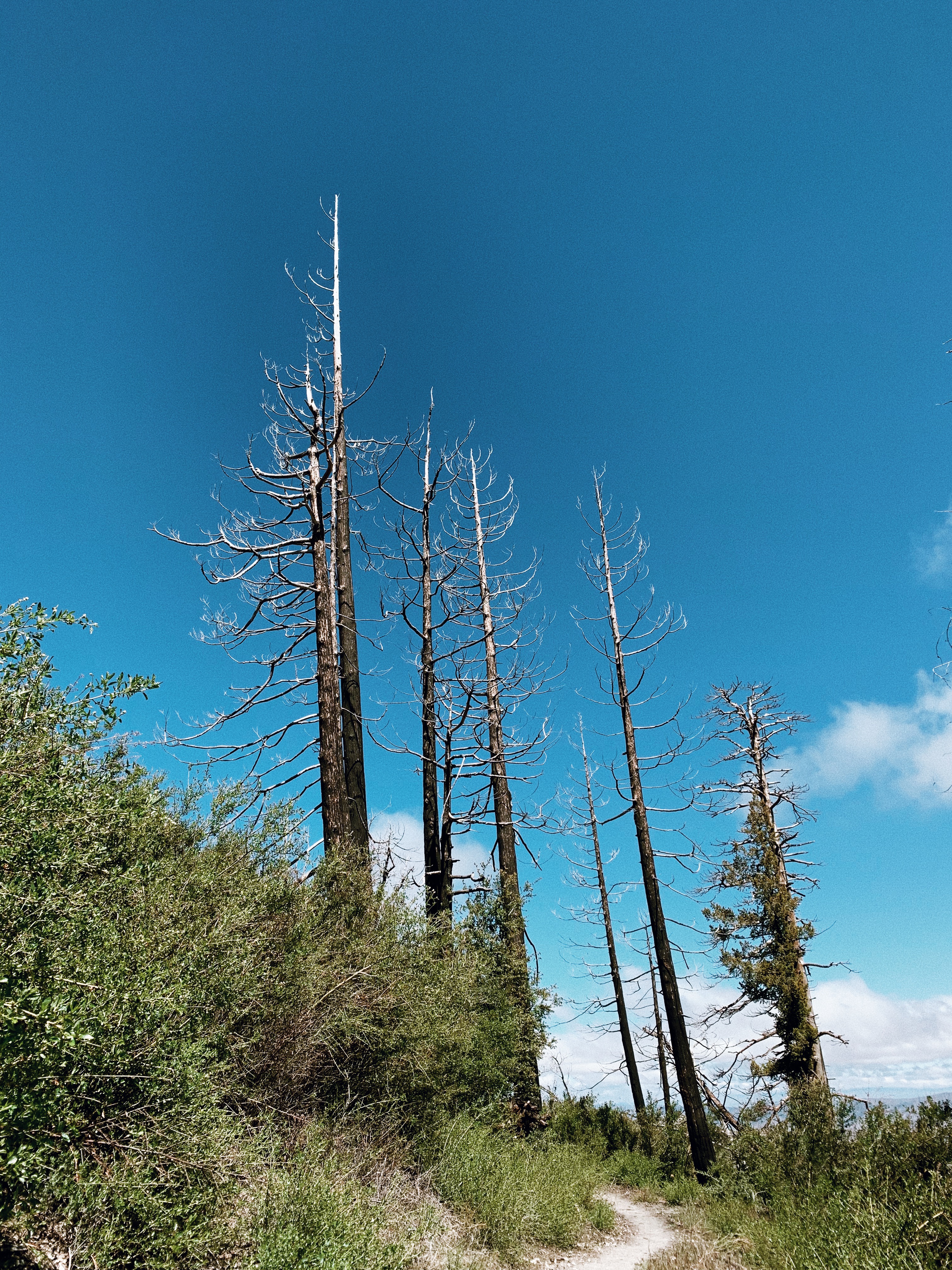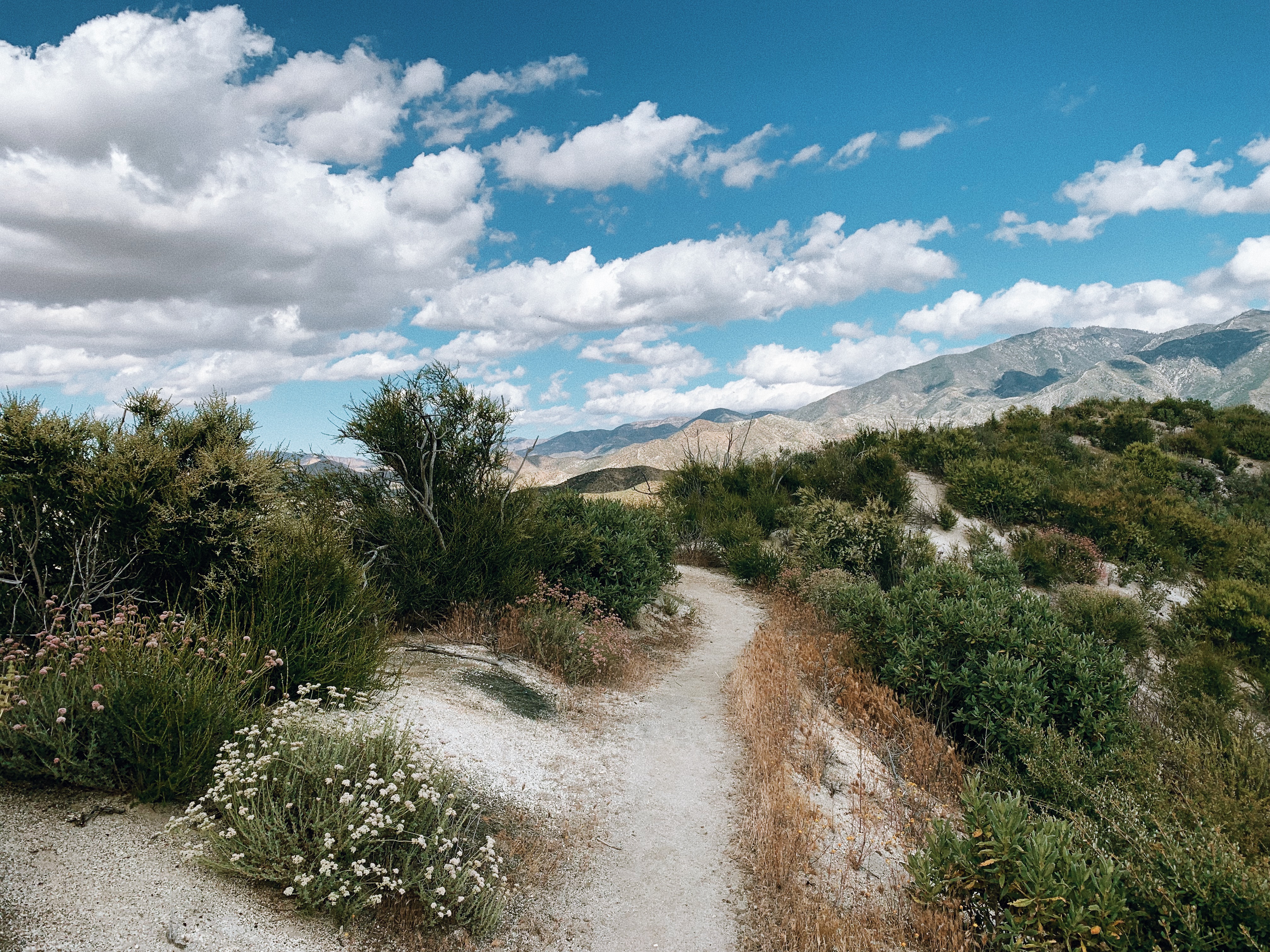 The final 8.5 miles are full of sweeping views and frustrating trail that seems to take the most roundabout way to get anywhere. For the last 4 miles or so I can SEE where I'm trying to go but the trail constantly winds around and away, anything but a direct line. Oh well, I get here eventually. I'm camping at the KOA, and the tomorrow will head to Hiker Heaven. We hope to celebrate as it's been one month on trail for me and those I've been hiking with.
Day 31
KOA to Hiker Heaven, 10.5 miles
Things to note from today: it is one month on trail, I crossed the 450 mile mark, and I am still on my A game as far as hiking from margarita to margarita goes. I joked about opening a Margs by Moseley while I was in Mazama, so I'll just consider this research.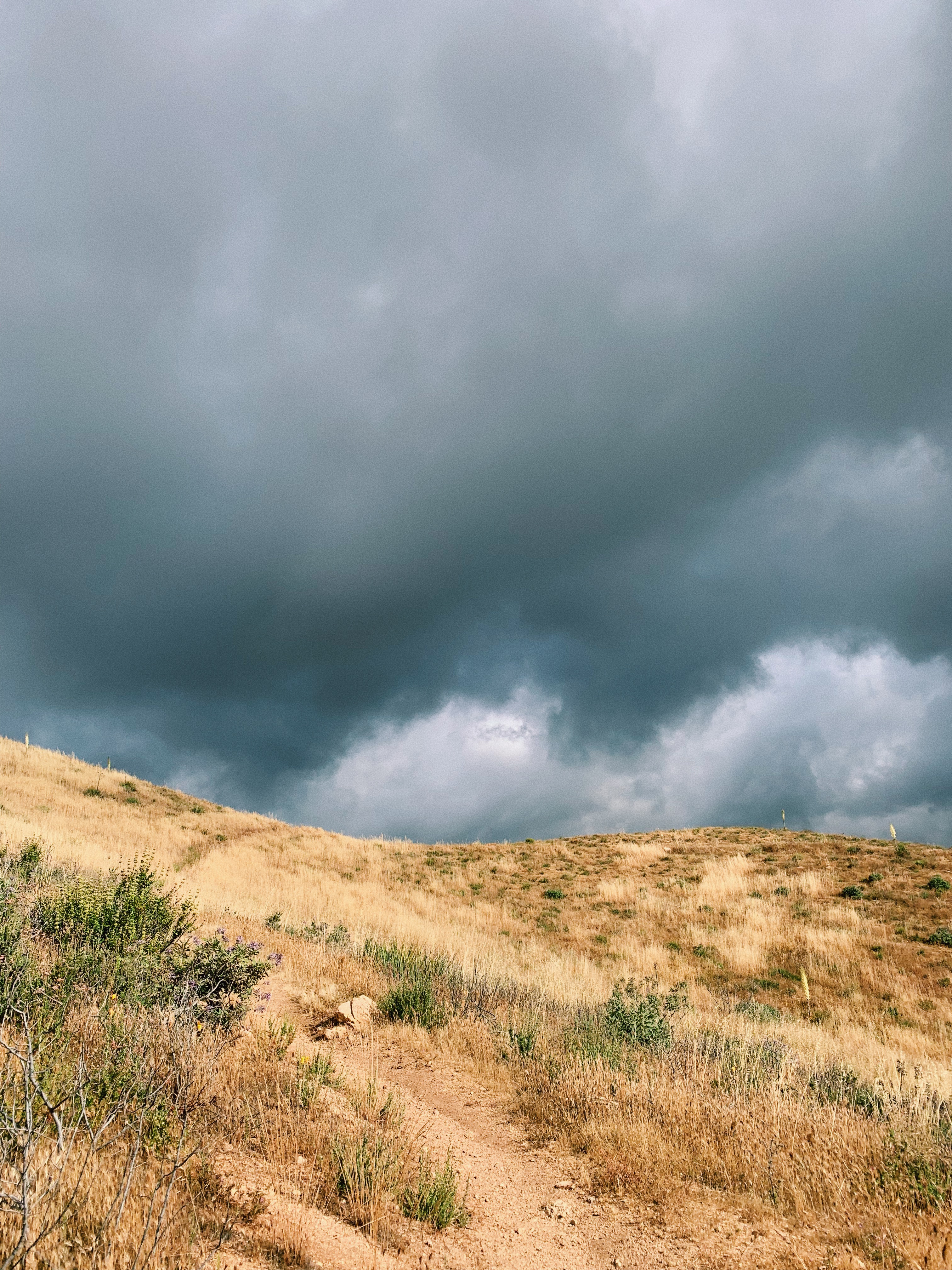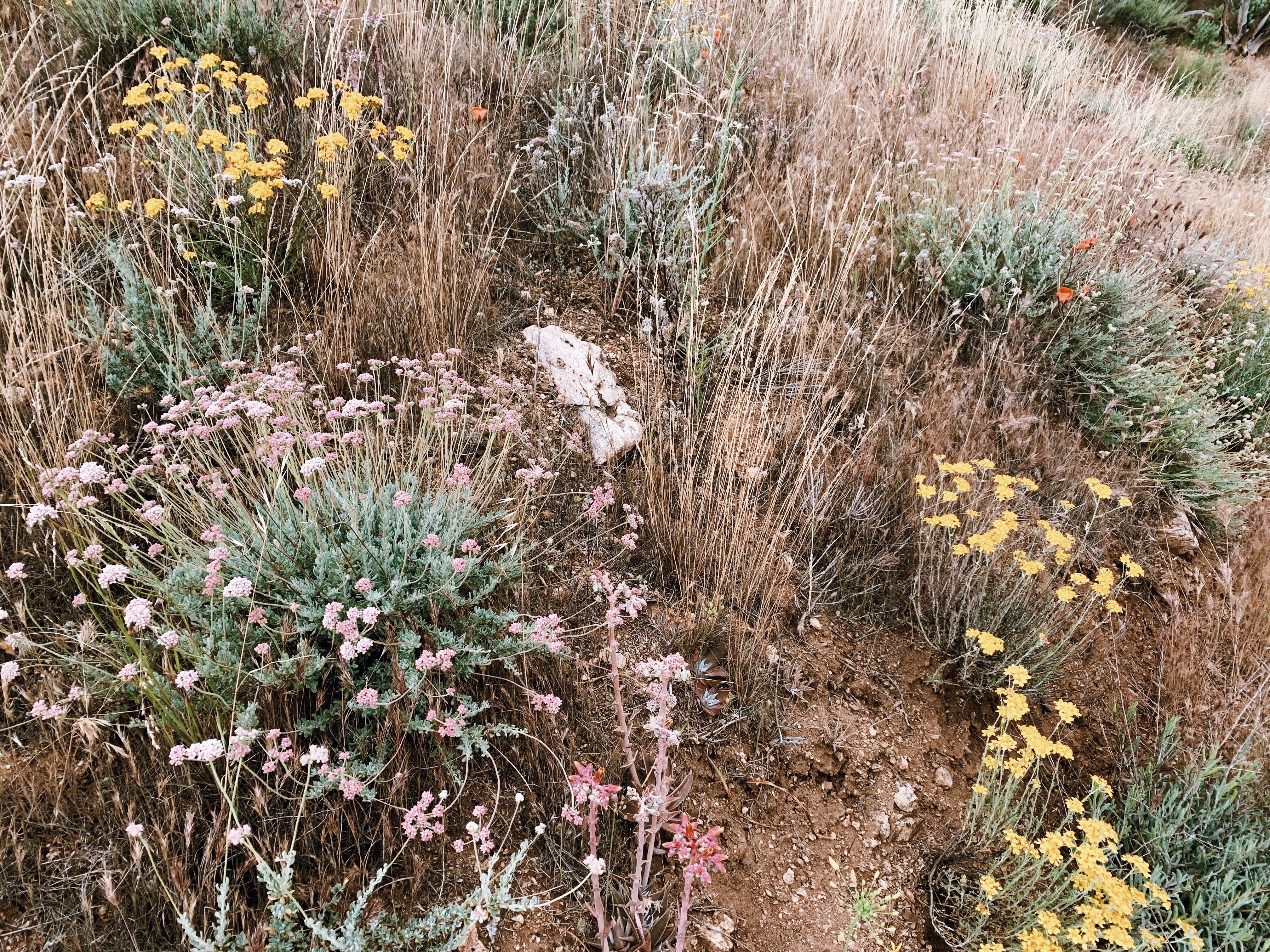 I was out of camp today around 6:45. Thankfully it wasn't rainy, just cool and breezy. Dark clouds loomed ahead though – but as far as hiking weather, I'd take this over blistering heat. The crazy hot days almost feel like a lifetime ago, since it hasn't been too insanely warm in a little while now.
The morning is one where I can cruise – gentle climbs up, then down, then back up, and finally descending down again. Some parts are scenic and others skirt the highway – less than scenic. Eventually we hit Vasquez Rocks, and it seems like I'm stopping every few minutes to take more pictures. There's been a lot of things filmed here – I even see some sort of film or photo shoot happening in the distance.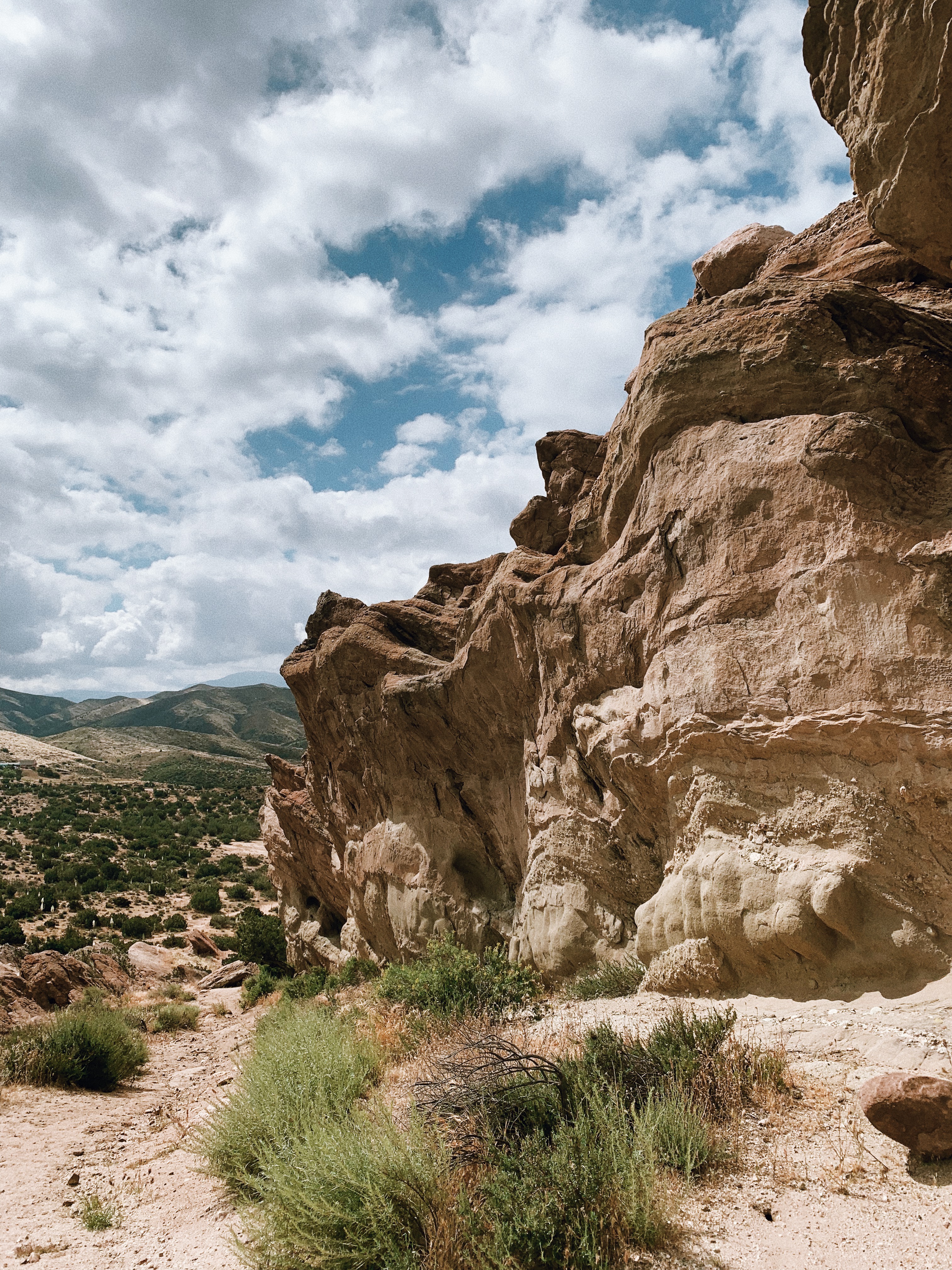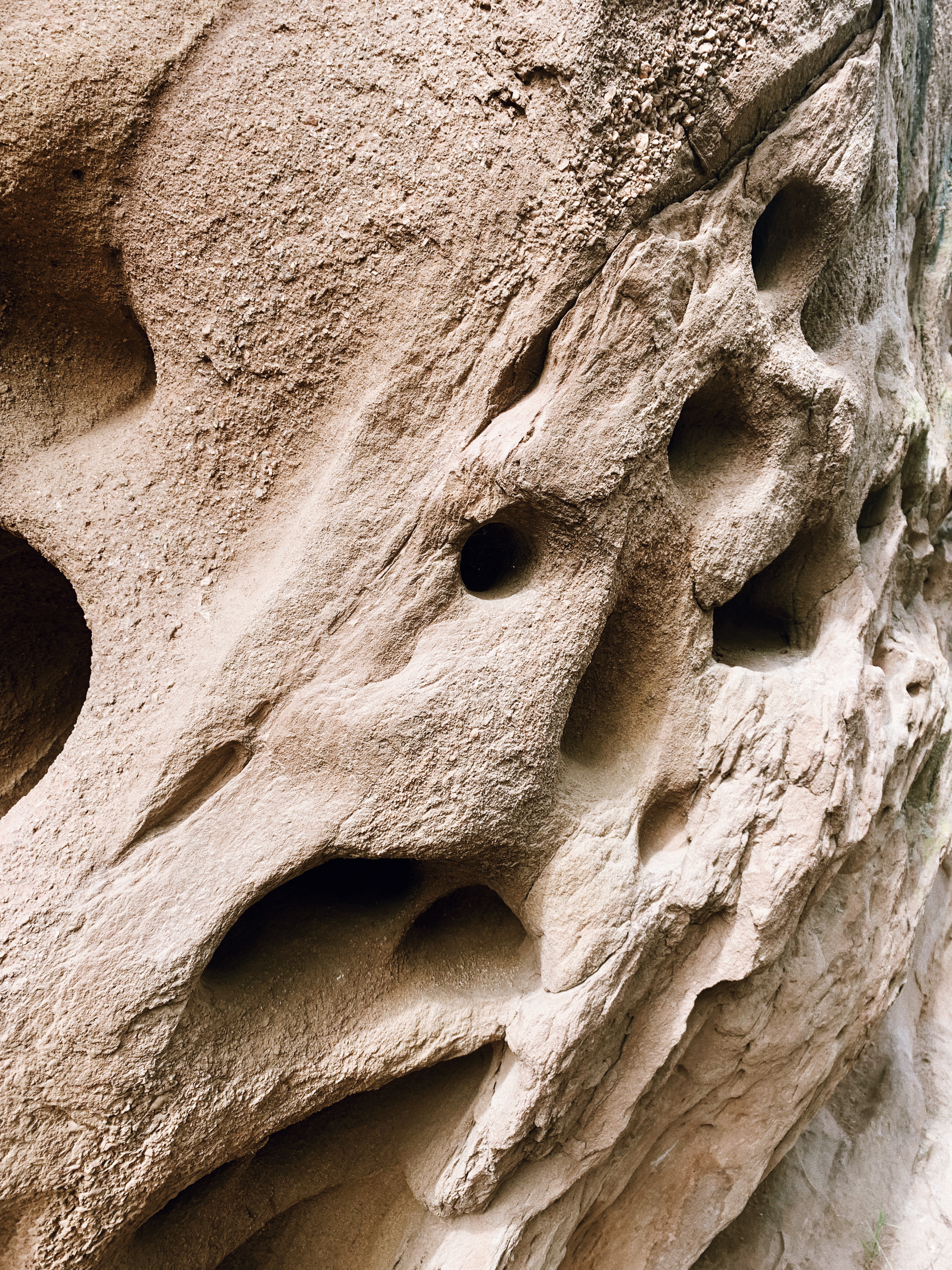 After winding through and around these rock formations, I hit the road walk and head towards Hiker Heaven. Hiker Heaven is a famous trail angel's place, where we can set up our tents in their backyard. They have laundry, showers, and loaner clothes to wear. Sweet, sweet cotton. Oh, and they have dogs. YES!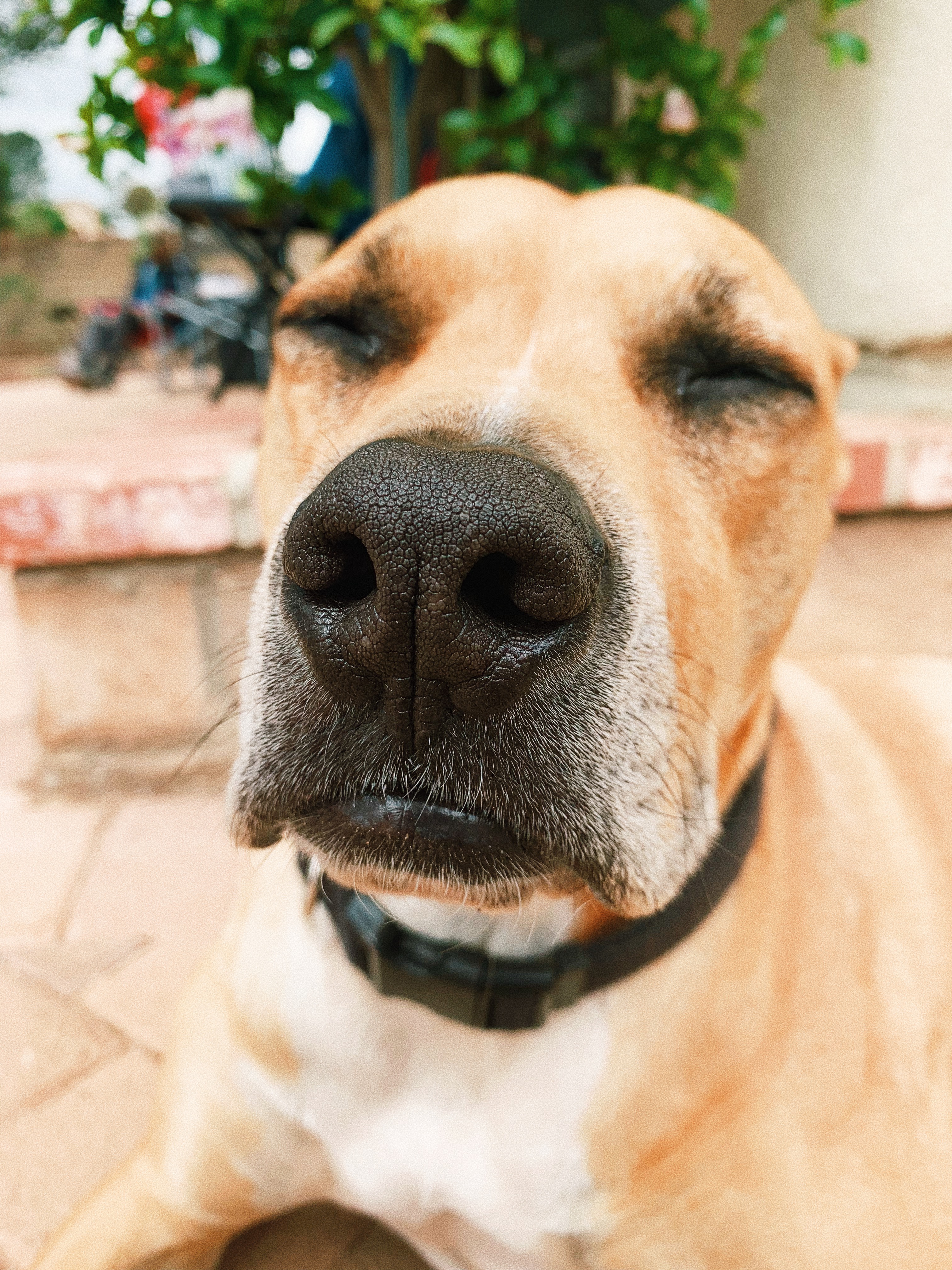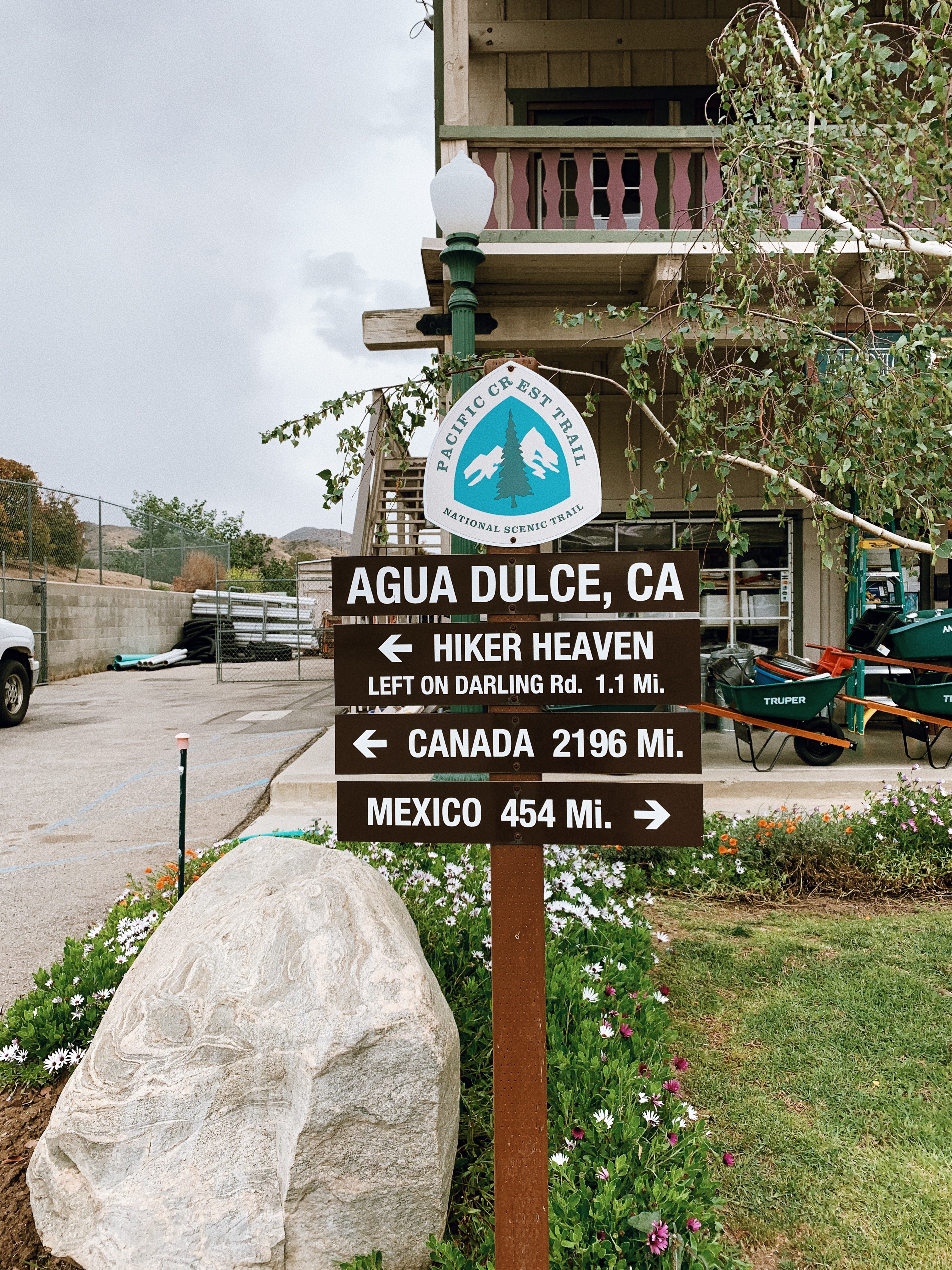 We get a ride into town and get Mexican food (naturally) to celebrate one month on trail. One month?! It feels like no time at all and also like a lifetime – in a good way. It seems like it's taken a month to get into rhythms and routines on trail, so that now it has begun to feel familiar.
As I finish writing, I hear erratic rain drops hit my tent. At home I love to fall asleep to the sound of rain, but out here it's not as soothing. Instead, I hear it and start running through all the logistics – did I secure my tent well enough to stay dry? I wonder if it will be raining in the morning? Will the sun ever come out again in the desert? I guess I'll find out in the morning.
Day 32
Hiker Heaven to Bouquet Canyon Road, 11.2 Miles
I sleep in this morning which means 6 o'clock. Heavy sigh. Between the rooster, the other hikers, and the fact that I have had to pee since midnight but refused to leave my tent, I'm moving around early. Still, it's nice to not have to immediately spring into action this early. I make breakfast for myself, charge devices, work on some writing, and sit around. No rush, no agenda.
Most of the morning and afternoon is like this – snacking and making food, drying out my rain fly as it did indeed rain some last night, and doing nothing in particular. As the afternoon moves on, clouds roll in bringing bouts of rain and wind. It seems we cannot catch much of a break out here. I still am planning on hiking out today, though, so around 1:45 I get a ride into town where trail resumes. There's thunder as we drive away from Hiker Heaven, and I seriously debate turning back. The direction we're heading looks like it's getting absolutely wrecked with some rain or snow or wind or all three, I don't really know. With the two people I'm with, we decide to take a minute at the bar and grill to see if the weather might clear. I don't feel hopeful that it will but I enjoy my hot drink anyway.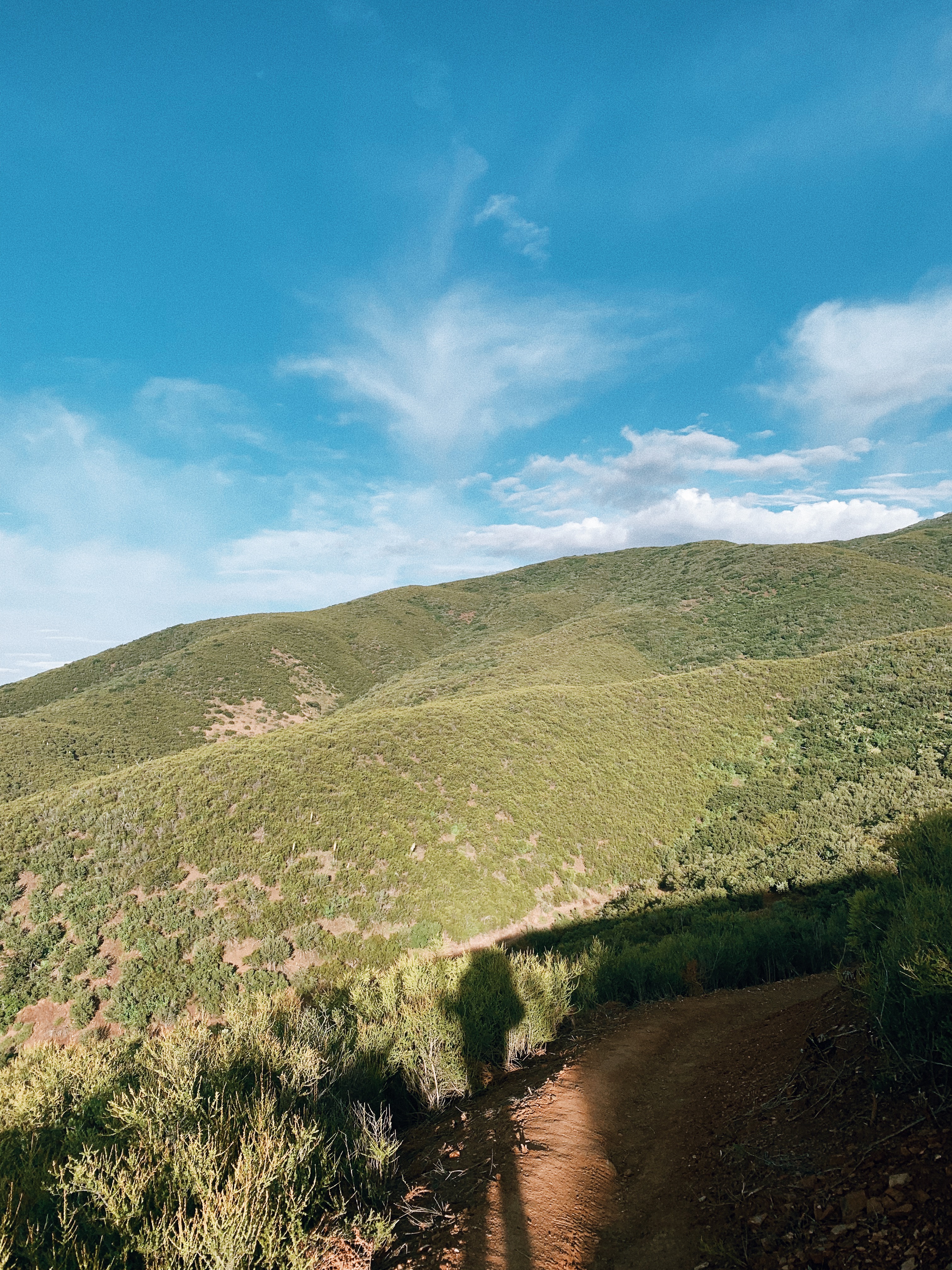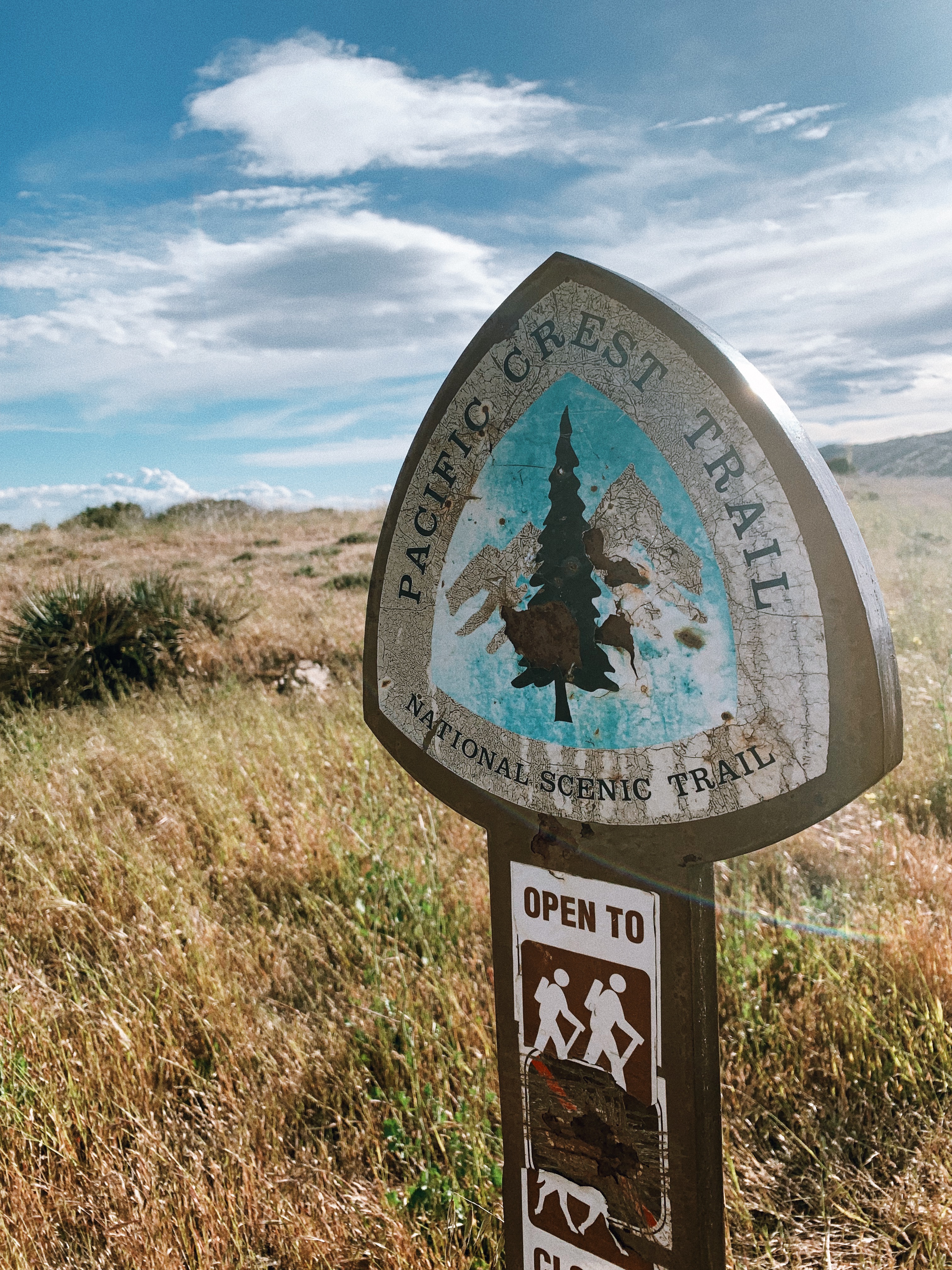 We spend maybe 35, 40 minutes inside and by the time we get back outside there is blue sky. What?! Absolutely no idea where the terrible weather went to but it's not here, so I don't ask questions. It's turned into a beautiful evening and beautiful hiking weather. From 3-7pm we hike the 11.2 miles – just under 2 miles on the road and then 7 or so a mostly steady leg burner up out of Agua Dulce, followed by 3 downhill to where we're camping. It feels like I'm in a monstrous game of "everything green is lava." If it's not Poodle Dog Bush (poison oak on steroids) it's poison oak itself, or cacti of all shapes and sizes, among various other poky, spiky, dangerous things.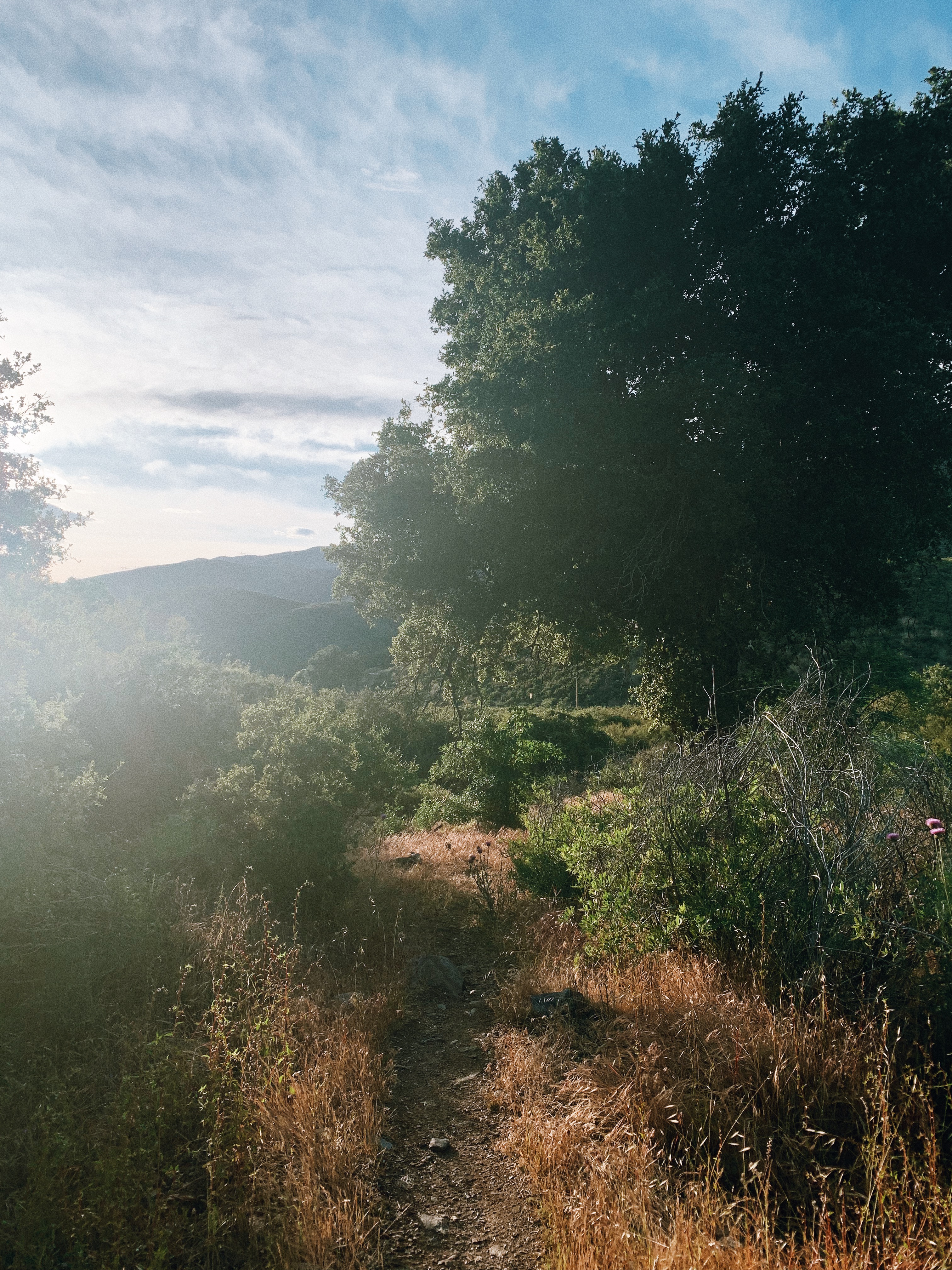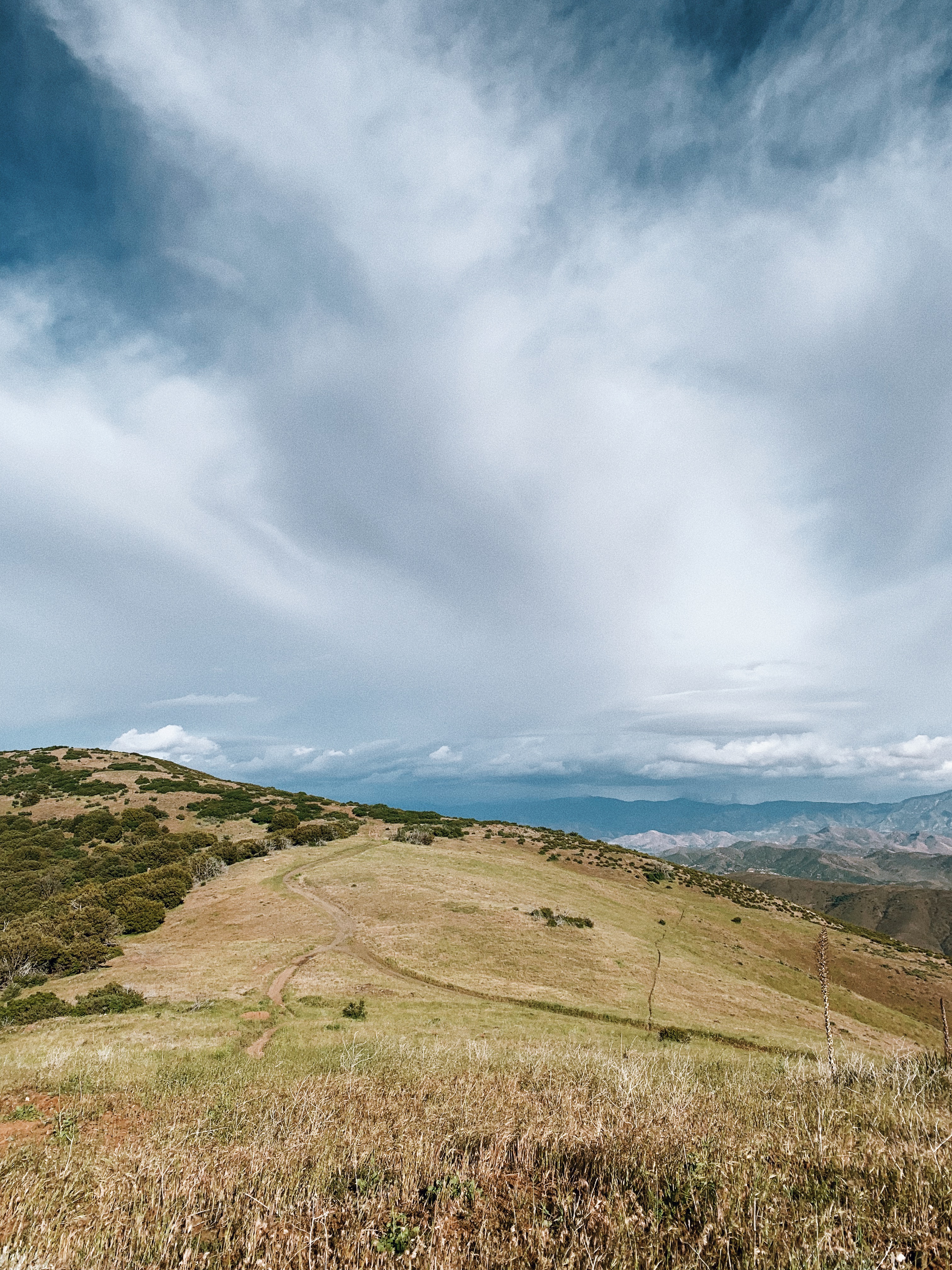 The sun, glorious sun, is out. Not much wind, a bit chilly, so far no rain. The mountains across from us looked like they were getting hammered and I'm thankful I'm not over there. I'm not sure what tomorrow holds weather wise, but it's just under 13 miles to another trail angel, Casa de Luna. These shorter days are sweet for my feet and yet I'm still just as tired at the end of the day. Sleeeeepy. Goodnight.