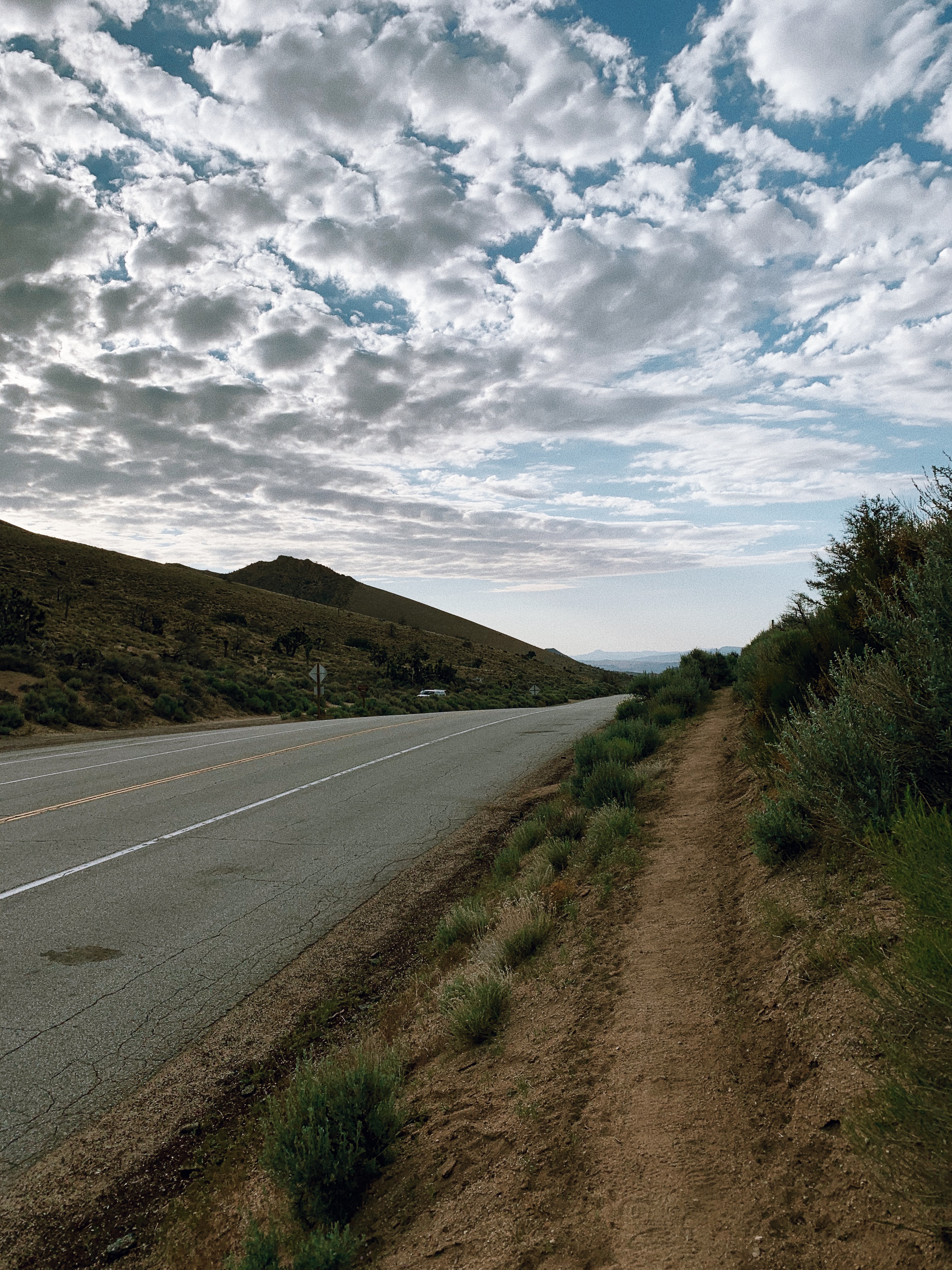 Day 43
Walker Pass Campground to Spanish Needle Creek, 17.4 miles
Oh to be as young and optimistic as I was yesterday. The weather started out promising but by the time I was done hiking for the day, I was using my trowel to dig a trench in front of my tent as the rain came down because my campsite became the site of The Great Spanish Needle Vestibule River of 2019. But more on that later.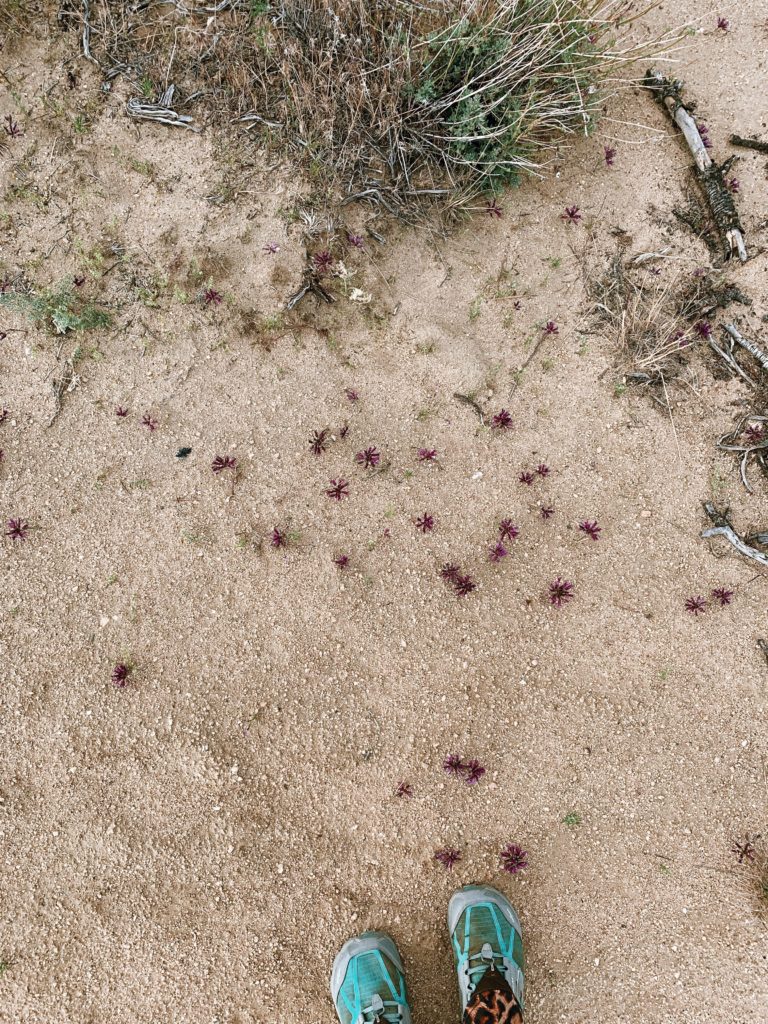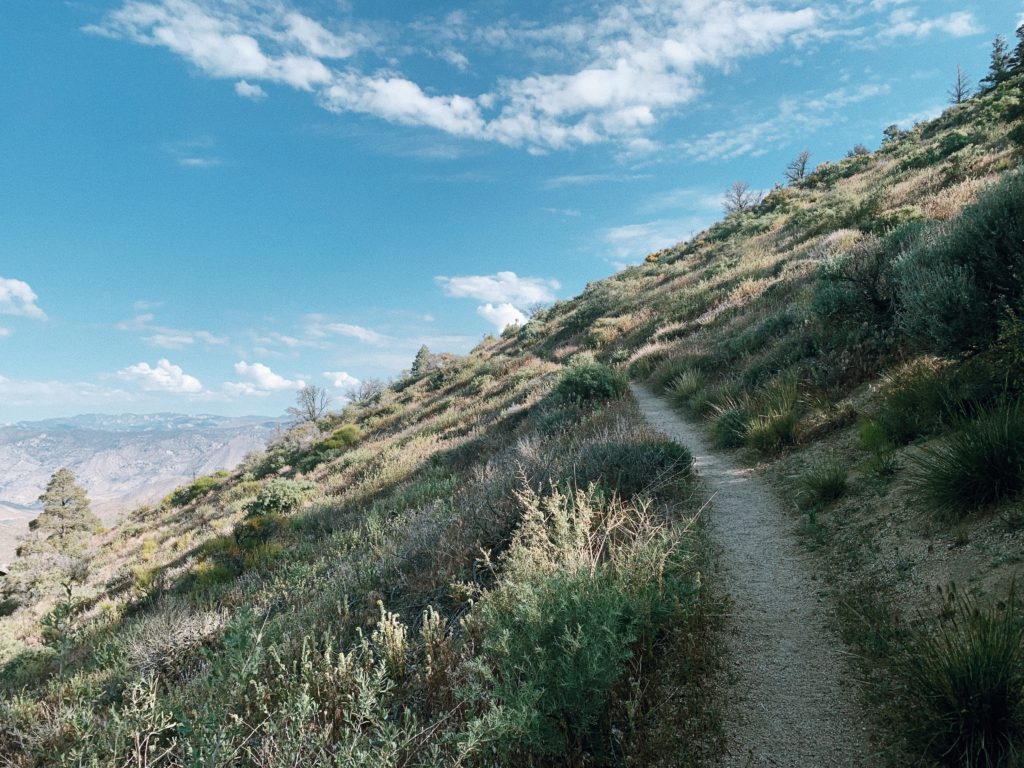 Melanie dropped us off at Walker Pass early this morning after making us breakfast (!!). She was so good to us. The morning is cool, and I have more climbing to do today, so with my feet still aching I set off. I wasn't planning to do many miles today, and with that in mind I didn't focus on my speed at all, instead letting my mind wander and stopping to take a long break just 6 miles in. Note to self: packing out an apple from town is always a good idea. Today it made my break just that much better.
There wasn't too much to remark upon today. Lots of little sections with loose rocks that forced me to watch every step, the beginnings of some expansive mountain views, and hitting the 1/4 mark for the trail (ok, that was exciting).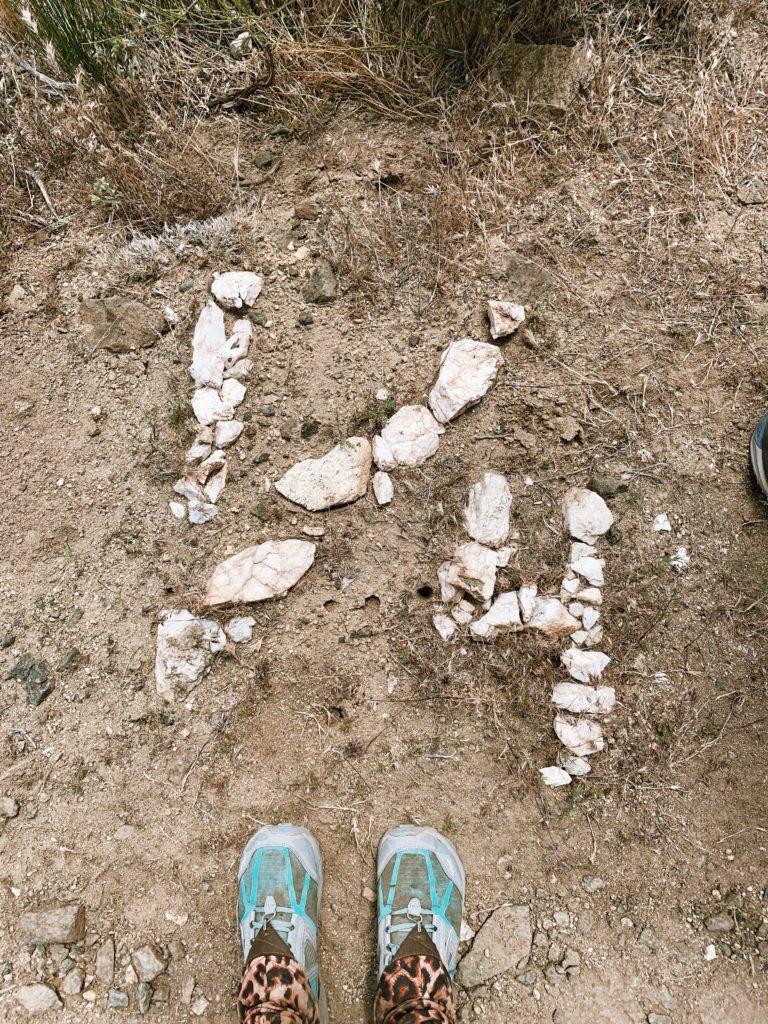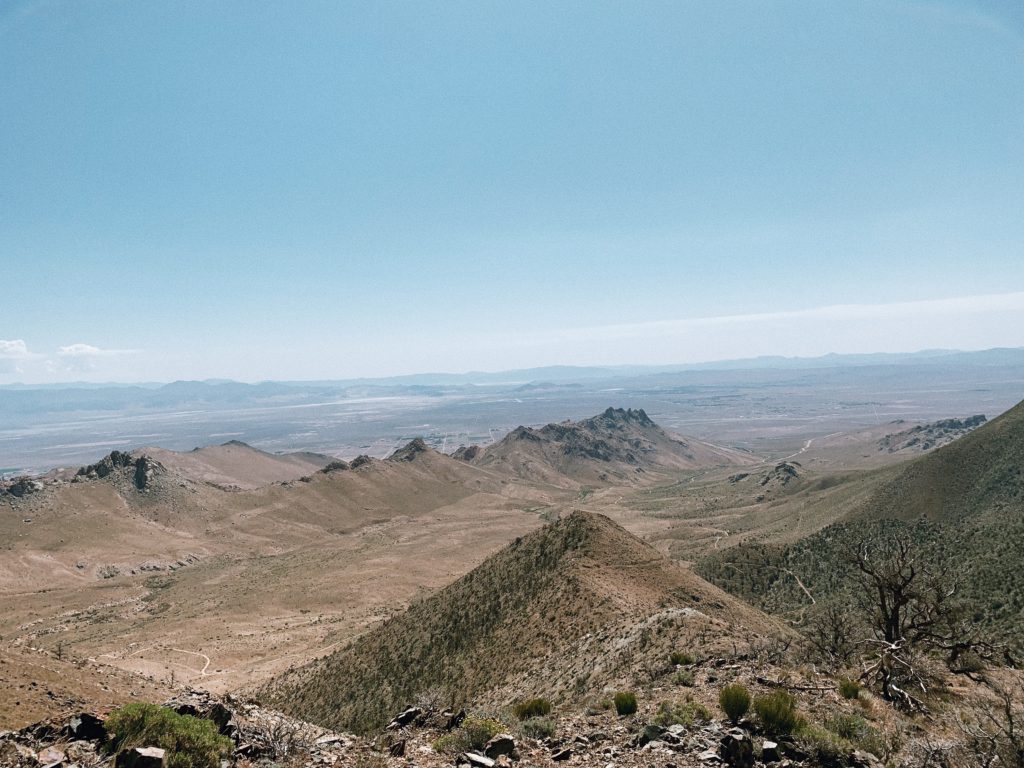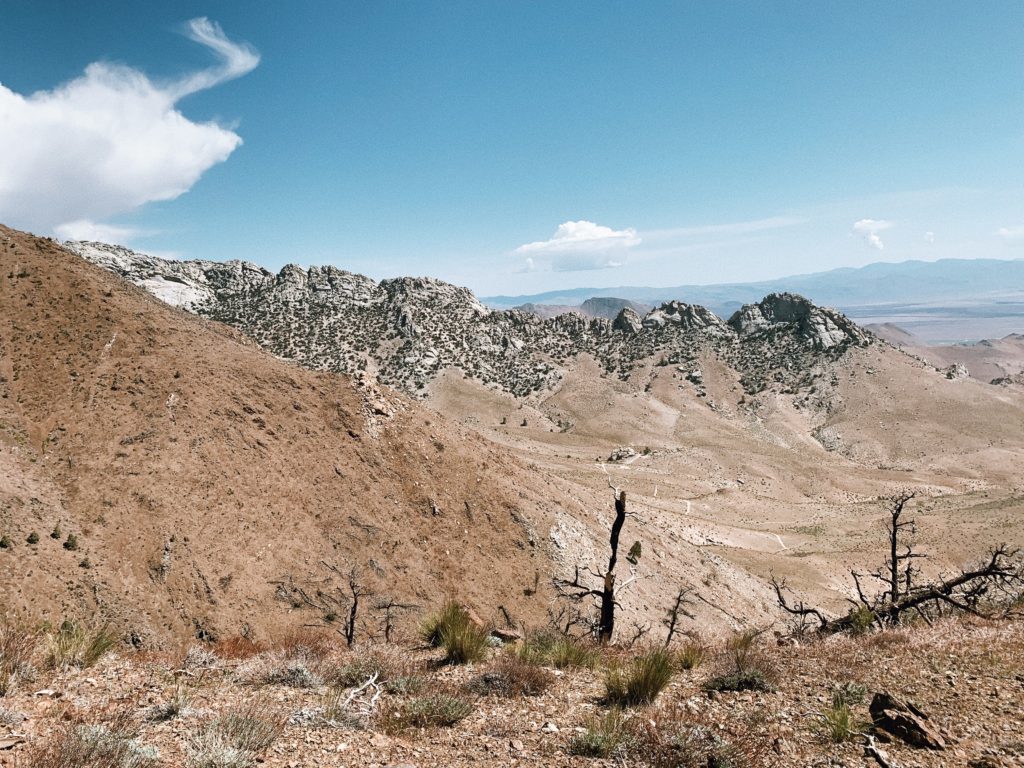 All afternoon I saw these dark clouds gathering again. Ugh. I thought we just might skirt the storm, and for the most part we did. The lightning I see is far off in the distance, and we get a few rain drops, but nothing serious. Then, with about 2-3 miles to go, the clouds started really coming in. Dark, ominous storm clouds. This is my cue to start hauling, so I pick up my pace and semi-jog the remaining miles to camp. There's a woman camping up on the ridge, and I admire her guts. There's no way in heck I'd want to be up there in a thunderstorm. I just want to beat the rain so I can be dry and get into a dry tent. And I do! I get to a tent spot, and am able to set up my tent, throw my things inside, AND filter water before the rain starts really coming down.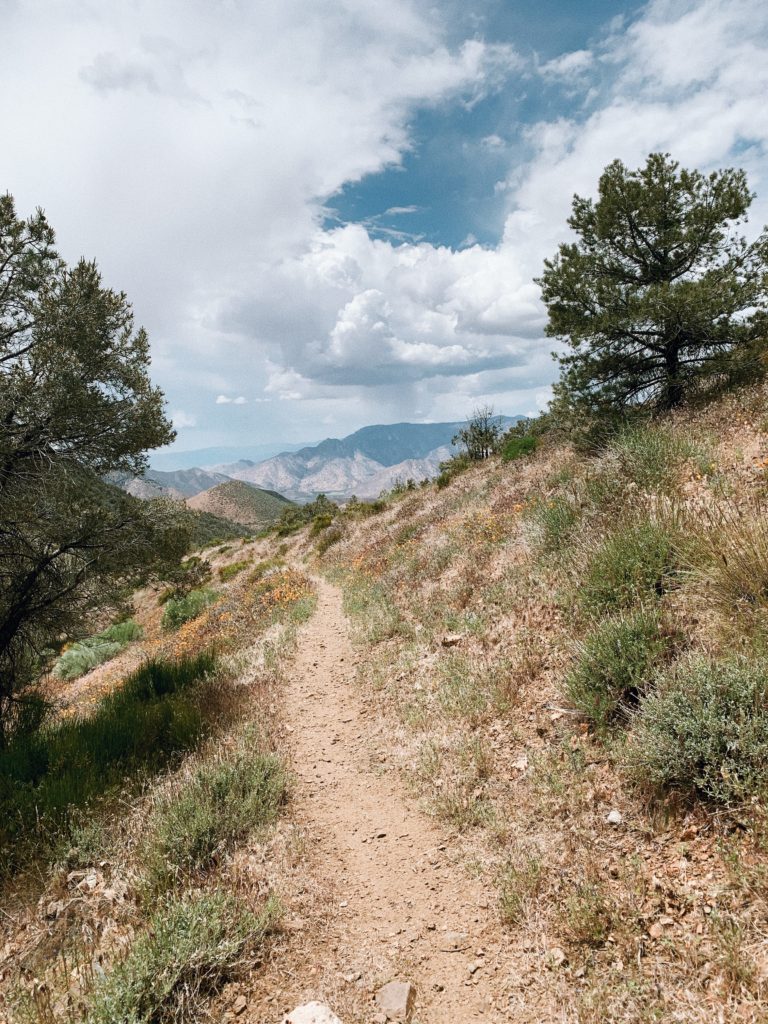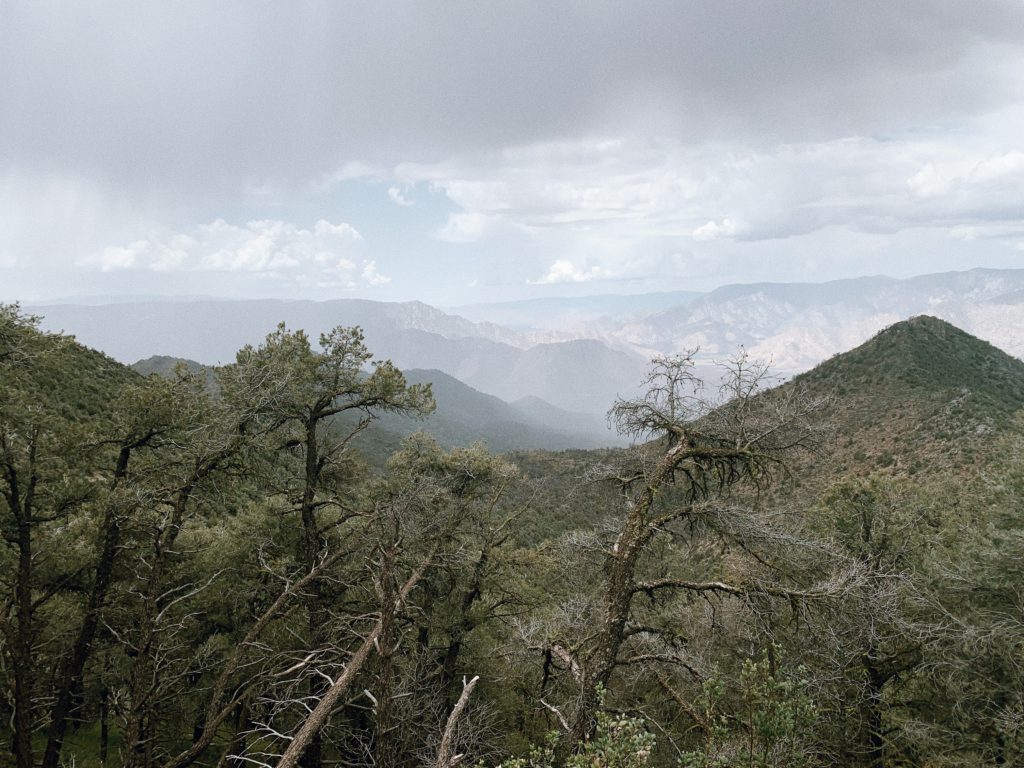 So there I am, sitting in my tent, feeling so smug and happy that all went according to plan. I can handle the rain, I'm warm and dry in my tent. Noooo worries.
No.
Incorrect.
I'm in my tent eating snacks because I never stopped in the afternoon to eat any (with so few miles today I'm done by 3ish anyway) when I notice it's getting dark underneath my tent. What the?! And then. I poke the dark spots. The realization that there is water pooling underneath my tent. I peak outside the front of my tent and am horrified to see that theres a straight up river flowing through my vestibule. It's as though a mud slide has slammed into the front- my water bottles are covered in dirt, my shoes are about to float away, and water is pooling. Pooling everywhere.
I try yelling at the friends I'm camped with – mostly because I want to know if they have the river too (misery loves company, of course, and they do have a river) but also to see if they're ok. At this point it is hailing and thundering, and despite our tents being right next to each other, I can barely hear them. I'm trying not to be ~alarmed~  but my tent is going to flood if the rain doesn't stop, or at least slow down.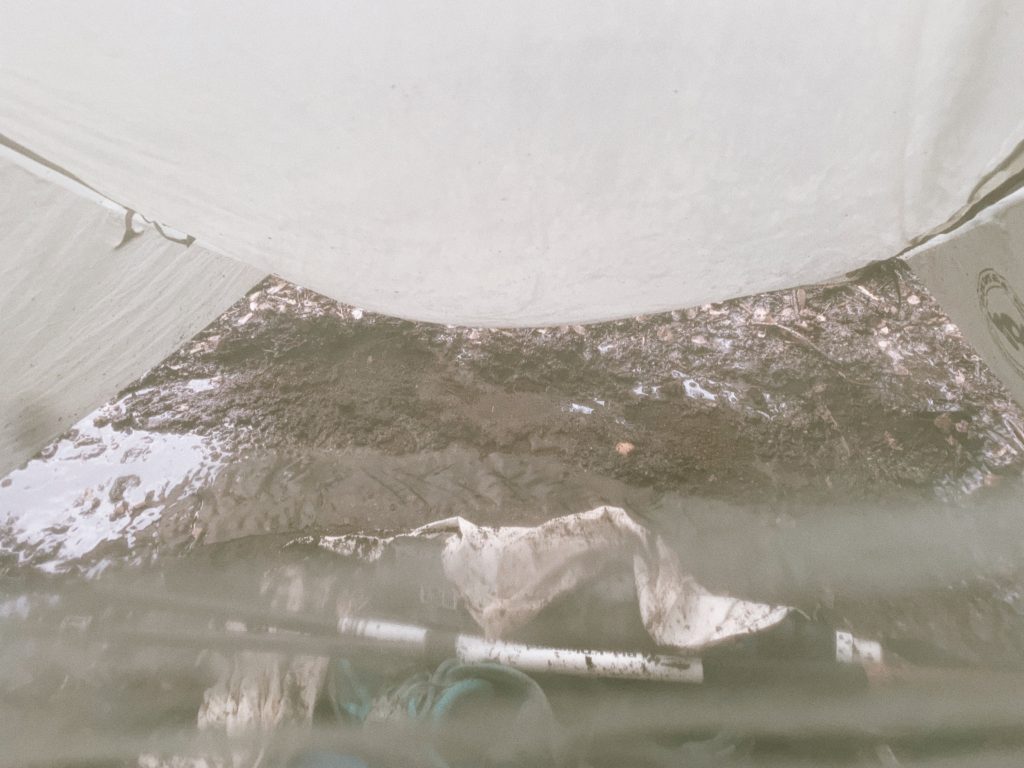 This is where the trowel comes in. As it's dumping rain on me, I'm frantically trying to dig a channel so the water flows around my tent. It's quite the scene – me with a Deuce of Spades bailing my vestibule out, wide eyed with hands covered in dirt. I probably would have laughed in the moment if I weren't so worried. I should note, the above picture is once I already had a bit of a trench dug. Imagine, if you will, what it looked like, then, before the trench. Finally the rain starts to slow down so I hop outside to continue the trench digging. Isn't backpacking fun?! As I'm digging, I say hello to a man that just arrived. I ask him how he's doing and all he says in response before walking away is "Shit." Fair enough.
Whoever said that life is always better outside must not have ever been in bad weather. Life is not better right now. Can I speak to a manager here? It's June and I didn't order this rain. Or the thunderstorms…and I DEFINITELY didn't order the hail. I remember earlier in this hike a woman in town asked where I'm from, and when I told her Washington, she responded by saying all this rain then probably doesn't bother me. I didn't have the heart to remind her that when I'm living in Washington, I get to live in a house. You know, the kind of shelter that isn't affected by the rain? The one where I can get dry or take a hot shower if I've been out in the rain?
As the rain begins to slow and the sun blissfully comes out, I survey the damage. The inside of my tent is definitely not bone dry but it's not really wet either, which is a gift. It's going to be a wreck to pack up tomorrow with how dirty it is, but as long as the rain stays away, I feel hopeful. With the sun making an appearance, we cautiously make our way out from our tents. Nervous laughter. Did that just happen? Up above me, in the patch of sky I can see through the trees, dark clouds are rolling further away and a sweet, clear blue comes into view. I cook dinner then, even though it's just past four, because I want to eat in case the rain returns. In previous bad weather, I've cooked in my vestibule but given the whole vestibule river situation, that won't be a possibility this evening. After dinner I go back to work on my trench, but I'm hoping it won't get tested. Bittersweet, really, since by now I've put a lot of time into this masterpiece.  ¯\_(ツ)_/¯
Day 44
Spanish Needle Spring to Manter Creek, 24.9 Miles
The first thing of note is that the rain never returned last night. Can I get an "Amen"?! I slept pretty well, and was out hiking by 6:30. I'm moving slow this morning, but try to at least make it a steady sort of slow. It's nice that the trail hasn't yet been hit by the sun…the cool of the morning is refreshing.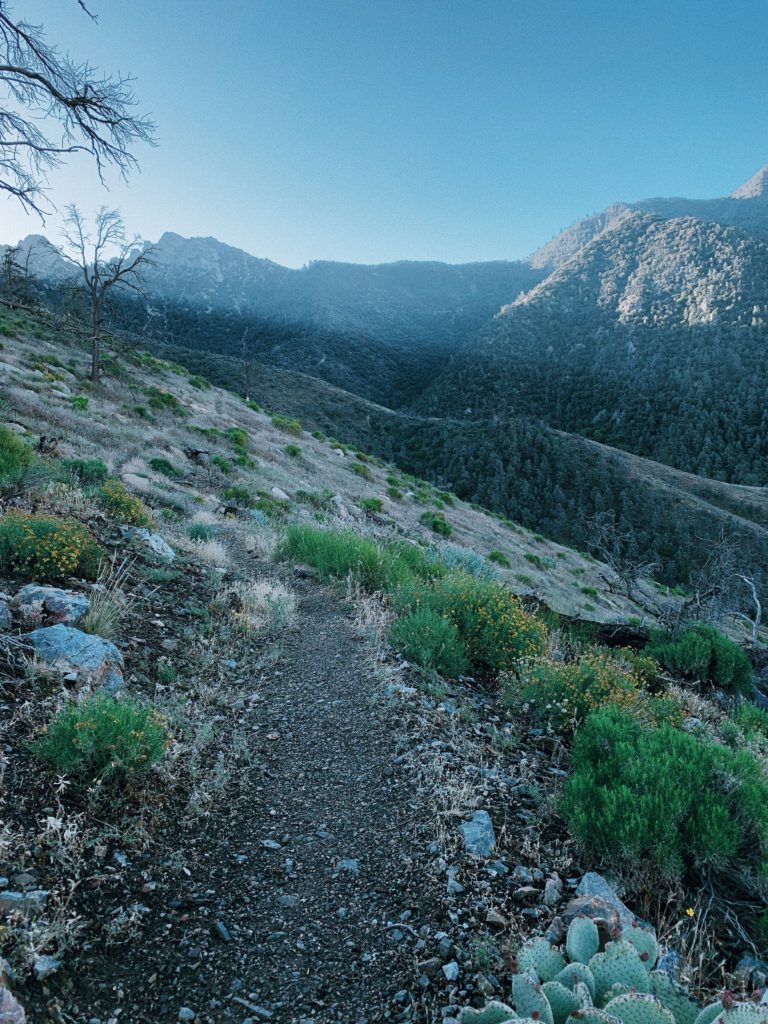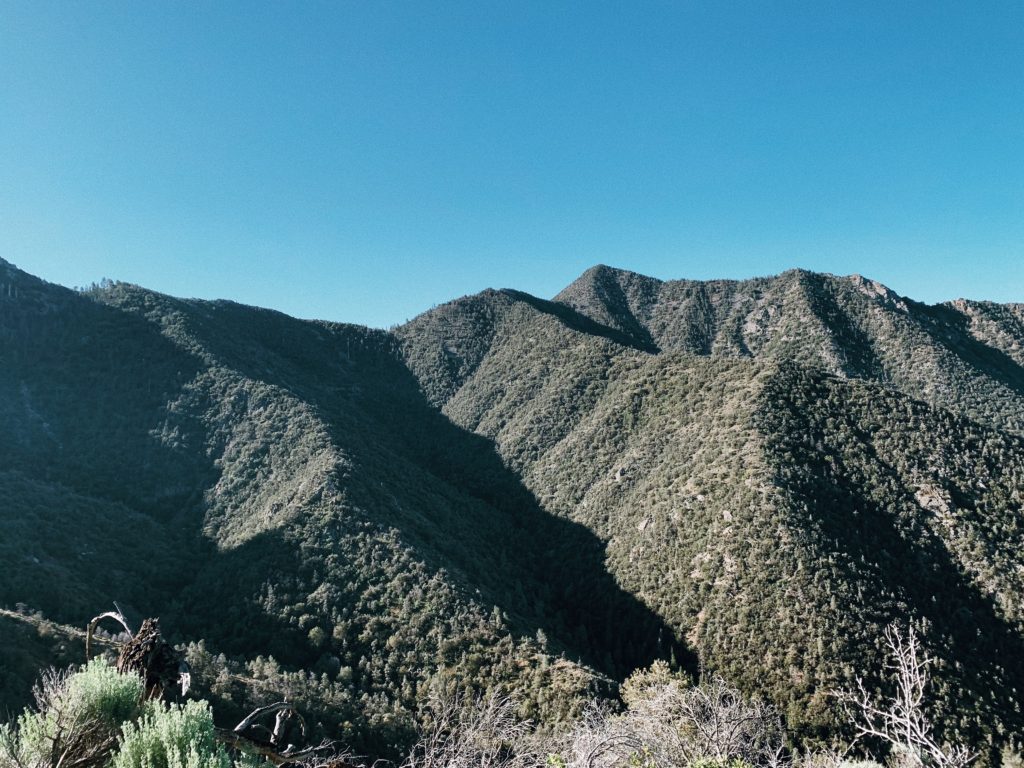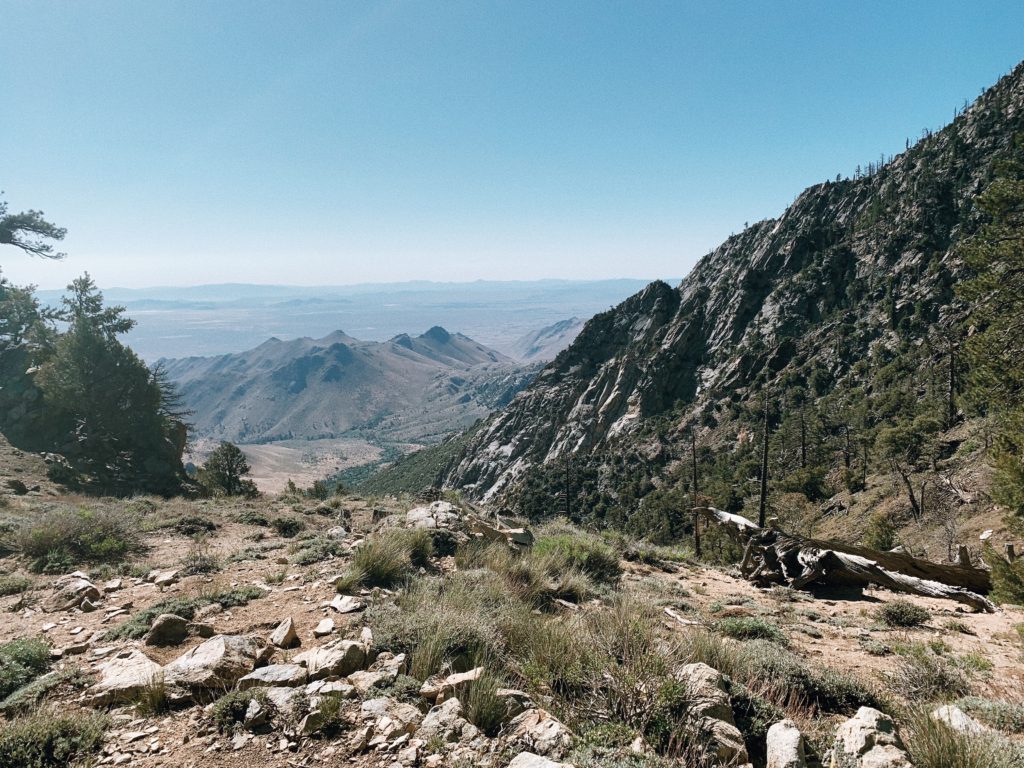 According to Guthooks, my total ascent today was 5,200 feet and total descent was 4,400. That really says all there is to say about the day – a lot of up, and then a lot of coming right back down. On top of that, this is one of the longer days I've done in a little while. It feels good to remind myself that I'm completely capable of doing more than 20 miles in a day – even if my feet have yet to feel better. As far as the weather goes, it's another strange day in the desert. A mild morning, cloudy but dry for the beginning of the afternoon, then an afternoon/evening with both a light drizzle and oppressive heat. Despite the clouds and occasional light rain, I refuse to race the weather. Being so close to Kennedy Meadows, I feel resigned to whatever the clouds are going to drop on me. If I get wet, I get wet, and I'll be in "town" tomorrow.
It's just about 11 miles or so until my first water source of the day, but since I still have extra water I push on two more miles to the next one. This means that I can stop and have lunch there, and be more than halfway through my miles for the day – plus, not have to face a big climb right after eating. For me, it can be pretty difficult mentally to stop for a long lunch break if I'm not at least halfway done with hiking for the day. These two miles to the water source are hard – almost 2,000 feet of elevation gain in just over two miles. I wouldn't describe myself as an aggressive person, but for some reason I hike aggressively up, up, up, until I get to water. In just over 45 minutes I've knocked out the short but big climb, which is pretty good considering the elevation gain, and plop myself down onto the ground for lunch. It's a good reminder to myself of how I can really move if I set my mind on getting somewhere fast.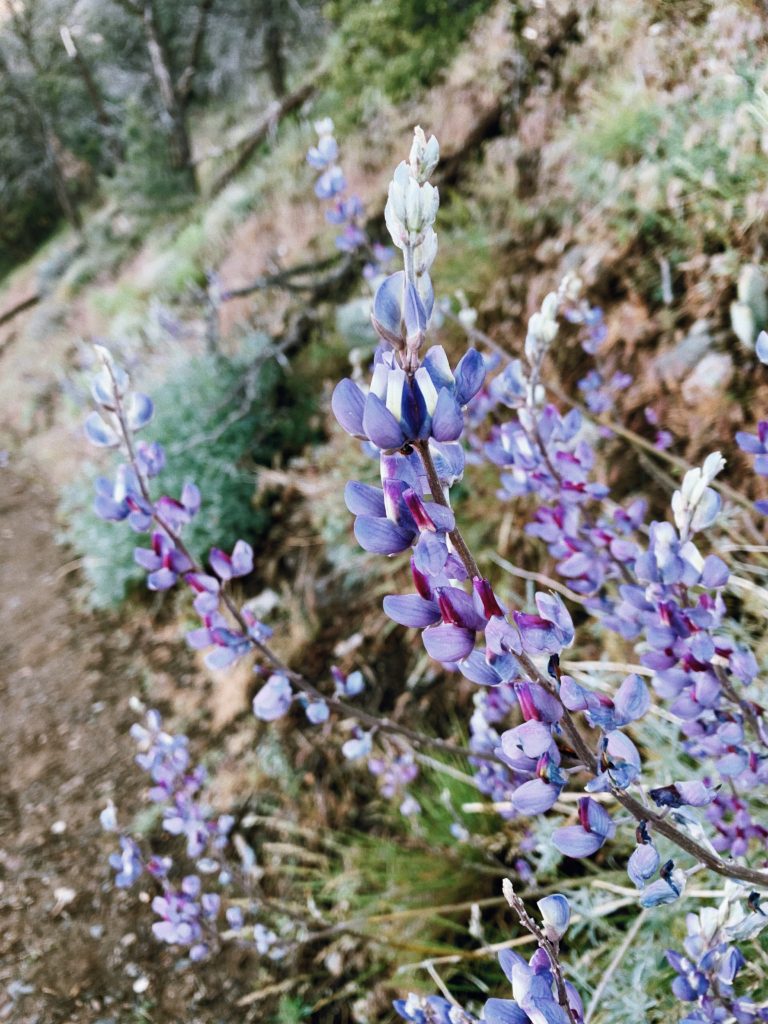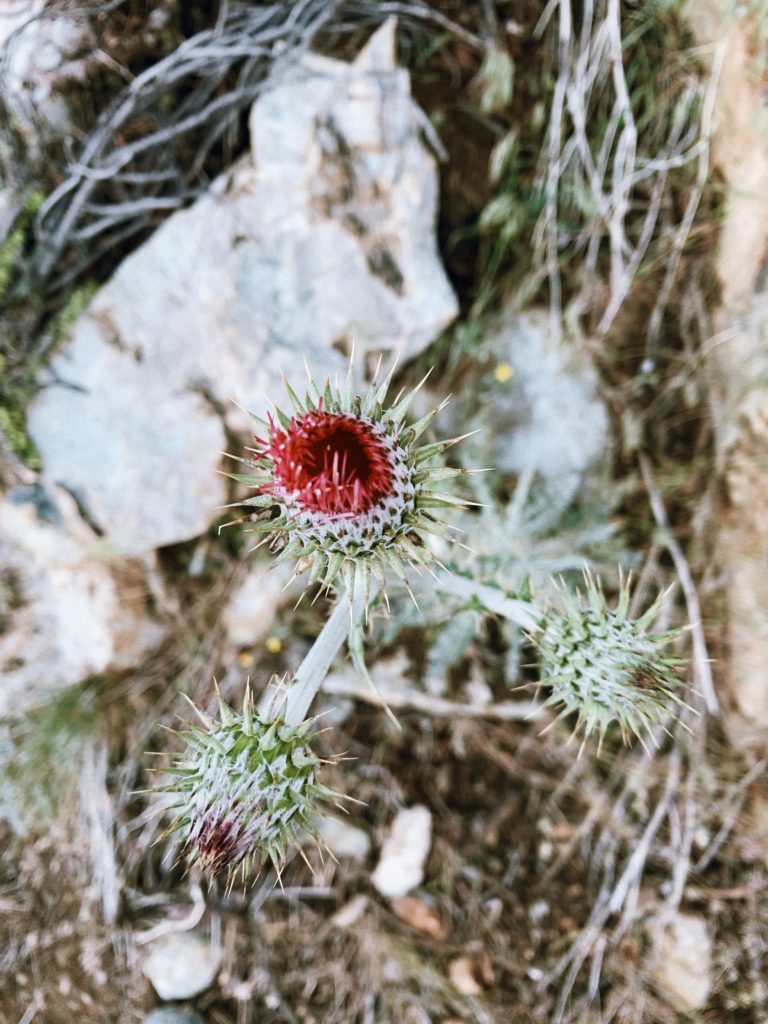 The rest of the day post-lunch goes by pretty quickly. Most of the elevation gain is done, so after a few miles it's down, down, down (down, down, down, down). At this point, I'm not of the opinion that downhill is much easier than uphill. Sure, it's less strenuous cardio, but it's often high stress on knees, ankles, and muscles (depending on how steep it is).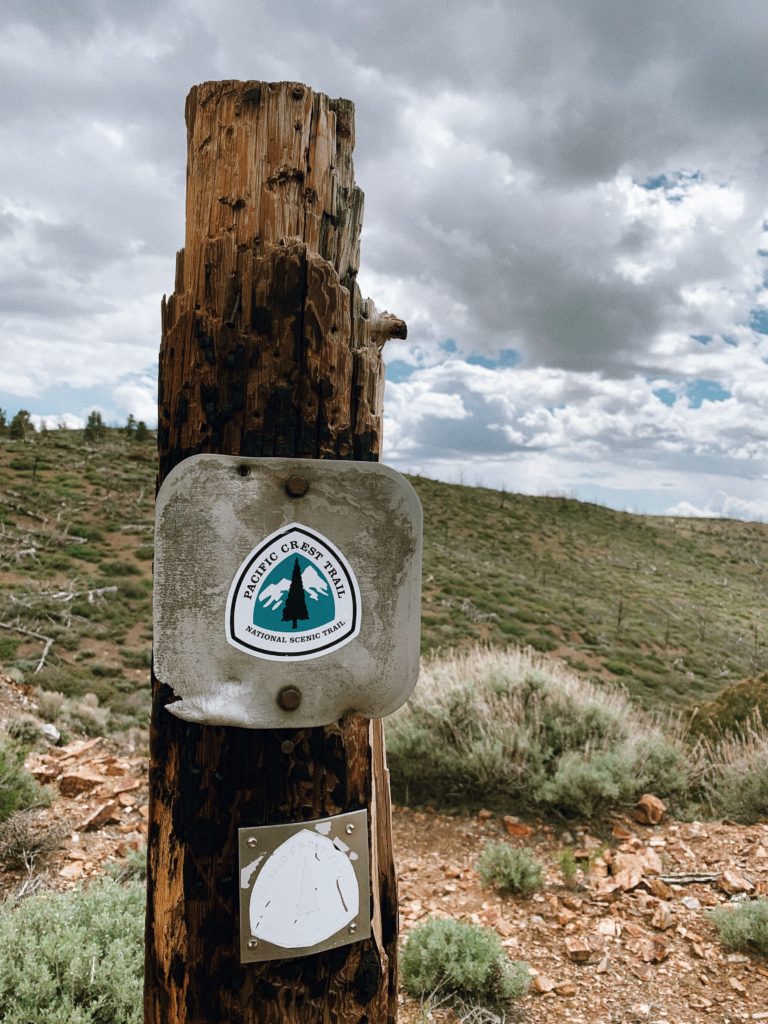 The evening is a showcase of color blocking: green mountains, rising white clouds, and somehow – blue sky. It's warm and buggy. It's as though overnight, the flies and gnats have woken up from their slumber and decided to make their presence known. They don't bother me too much though, minus that one bug that flew directly in front of my face as I hiked. Once I'm in camp today I get into my tent pretty early anyway – it's bug free. As I lay there, I reflect a little bit on how I only have nine (ok, 8.7) miles left to Kennedy Meadows (mile 702.2). How is it that I'm almost done with the desert? It really does feel like yesterday that I was just starting at the Mexican border, and here I am about to check off the entirety of the desert. What an unusual, incredible, unexpected, beautiful 702.2 miles it has been.