 Considering it's been almost a year since my last book post, I shouldn't waste any time here. Grab a hot cup of tea (or beverage of choice, there's no wrong answer here) and settle in. As per the last 3×5 | The Book Edition, I'm diving into three books I've read lately that I would highly recommend, and five that I've added to my "seriously want to read these" list. Let's just hope there's not another full year that passes between this book post and the next. Are you ready?
The Three I've Read
1. Talking To Strangers
(Malcolm Gladwell, Non-Fiction)
I've always enjoyed Malcolm Gladwell's books – they're each like think pieces expanded for an entire book. I was having a hard time trying to describe this book in my own words, so I'll let GoodReads give a quick overview: This book is "all about what happens when we encounter people we don't know, why it often goes awry, and what it says about us." Although not everyone will likely agree on Gladwell's take on all of this, I found myself really drawn in to this idea of how we as humans make sense of the unfamiliar. If you're looking for something to get your mind moving, I'd definitely recommend.
2. The Testaments
(Margaret Atwood, Fiction)
This is a follow up to Margaret Atwood's 1985 book,  The Handmaid's Tale. If you haven't read that yet, go do it and then move on to this one. In many ways, it's a disturbing book centered on a dystopian future, and yet The Testaments seems a little more hope filled than its predecessor. What really prompted me to read this book was an interest in getting some answers and conclusions after reading The Handmaids Tale. Some people hate on The Testaments because of just that – it provides too many answers that leave no room for wondering or searching or ambiguity. And, that's probably partially true. Regardless, it was an interesting read for me and I would still recommend.
3. Little Fires Everywhere
(Celeste Ng, Fiction)
Ooh, I really loved this one. It definitely has the classic element of a non-conformist character(s) dealing with this "ideal" life in the suburbs – something that often become a predictable story. Despite this, I thought the characters were really well developed and I got caught up in the story quickly. While not a heavy book in the way that The Testaments was, it is not just a silly, lighthearted read either. The author's website calls it a story "thattraces the intertwined fates of the picture-perfect Richardson family and the enigmatic mother and daughter who upend their lives." If you read it, I hope the beautiful storytelling sweeps you up as much as it did to me.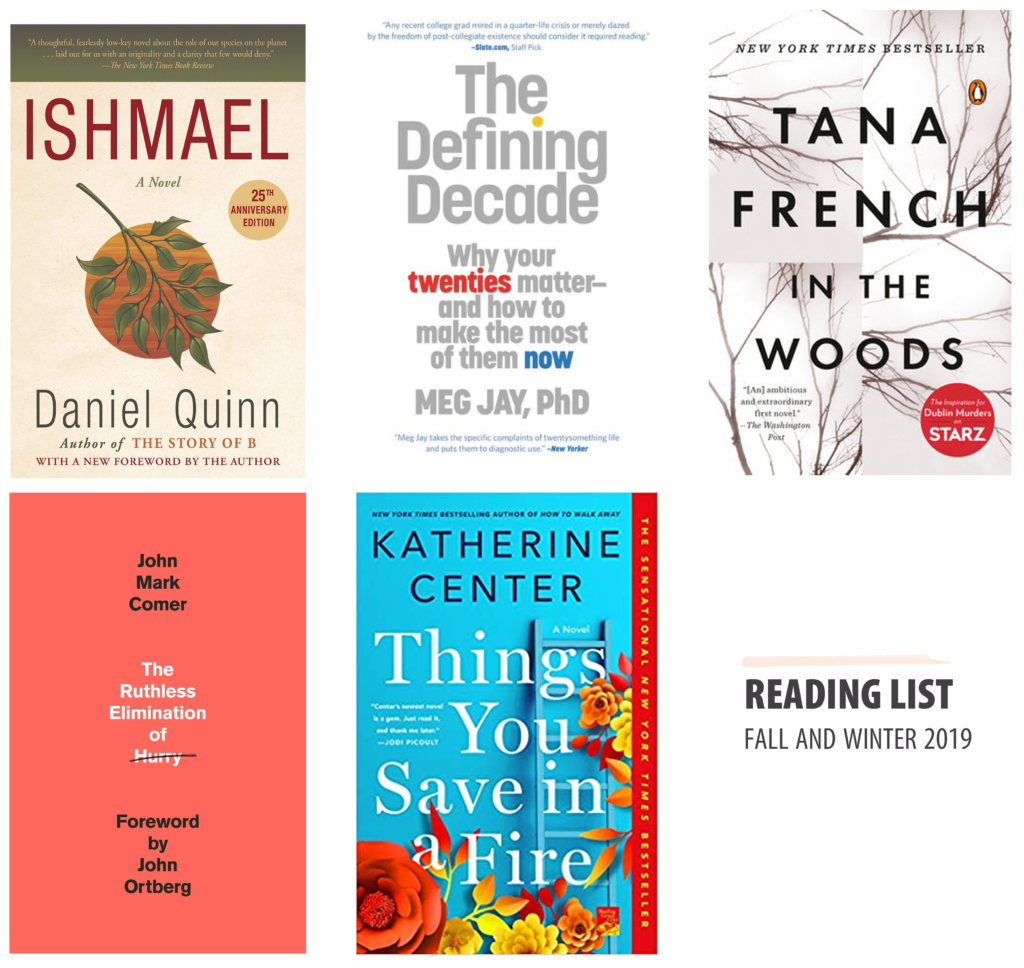 The Five I Want to Read
1. Ishmael
(Daniel Quinn, Fiction)
Recommended by a friend, this book is labeled a philosophical read. Its online description says it "examines the hidden cultural biases driving modern civilization and explores themes of ethics, sustainability, and global catastrophe". While that makes it sound a little ~heavy~, I think it's always nice to have these deeper type of books to intersperse between lighter page turners. Plus, when a book comes with high regard from a friend, its always worth checking out.
2. The Defining Decade
(Meg Jay, Non-Fiction)
Full disclosure, I got a chapter or two into this one before setting it aside in lieu of some other reads. I hope to read it completely, though, before the end of the year. My guess is that the rest of the book will probably play out as the first parts: both motivating and encouraging, as well as, honestly, annoying (think of someone nagging you for various "failures" in career, relationships, etc). For those who haven't heard of it, it's a book on "Why your 20's matter – and how to make the most of them." I'm interested to see how the rest of it plays out – on paper, at least, it sounds like it should have some inspiration for me.
3. In The Woods
(Tana French, Fiction)
A mystery felt appropriate for this time of year. Granted, by the time I get around to reading it, Halloween will be ~old news~ but I figured a complex, potentially spooky read was still in store for the season. Although I've watched a fair amount of crime shows (namely Criminal Minds), I don't usually like books that are too… I don't know, disturbing? This one – from 2007! –  basically seems to be a classic murder mystery story. I'm not sure where it'll fall on the spectrum of intrigue and mystery vs. slightly overwhelming emotionally type mystery, but it caught my attention.
4. The Ruthless Elimination of Hurry
(John Mark Comer, Non-Fiction)
As an avid advocate for rest and a deep dislike of this weird "hustle culture", the title alone caught my eye. It sounds like a guide book of sorts for simpler living amidst the chaos of our modern world. Count me in on this one.
5. Things You Save In A Fire
(Katherine Center, Fiction)
You had to know it was coming. A potentially cheesy, supposedly light read that can be breezed through without too much thought. I don't know about you, but I can't read too many serious (or heavy, or non-fiction, etc.) books without tossing in something light. I mean, it's described as a "heartfelt and healing tour-de-force about the strength of vulnerability, the nourishing magic of forgiveness, and the life-changing power of defining courage, at last, for yourself." Simple and breezy? Sounds like it. Witty and entertaining, too? I hope so.
Bonus Book
The Artist's Way
(Julia Cameron, Non-Fiction) 
Ok, ok, last one. I quoted a few things from this book here, and the bottom line is this: read this book. It's a twelve week workbook style piece that gives both inspiration, encouragement, and insight, along with tasks for the reader to complete. Its premise is artistic recovery – unblocking yourself, growing creative self confidence, and recognizing the fears/people/roadblocks in general that must be worked through in order to regain creativity. It's called "a spiritual path to higher creativity", but as the author herself points out, you can make of the spiritual aspect what you choose to make of it. I'm about ten weeks in, almost to the end, and although I haven't had any full blown epiphanies, I have found myself challenged (in the best kind of way), encouraged, and inspired. Go get a copy for yourself, seriously.
Final Thoughts
Reading any good books? Let me know! I'm always curious to hear what other people are loving. Check out the previous 3×5 book edition here.