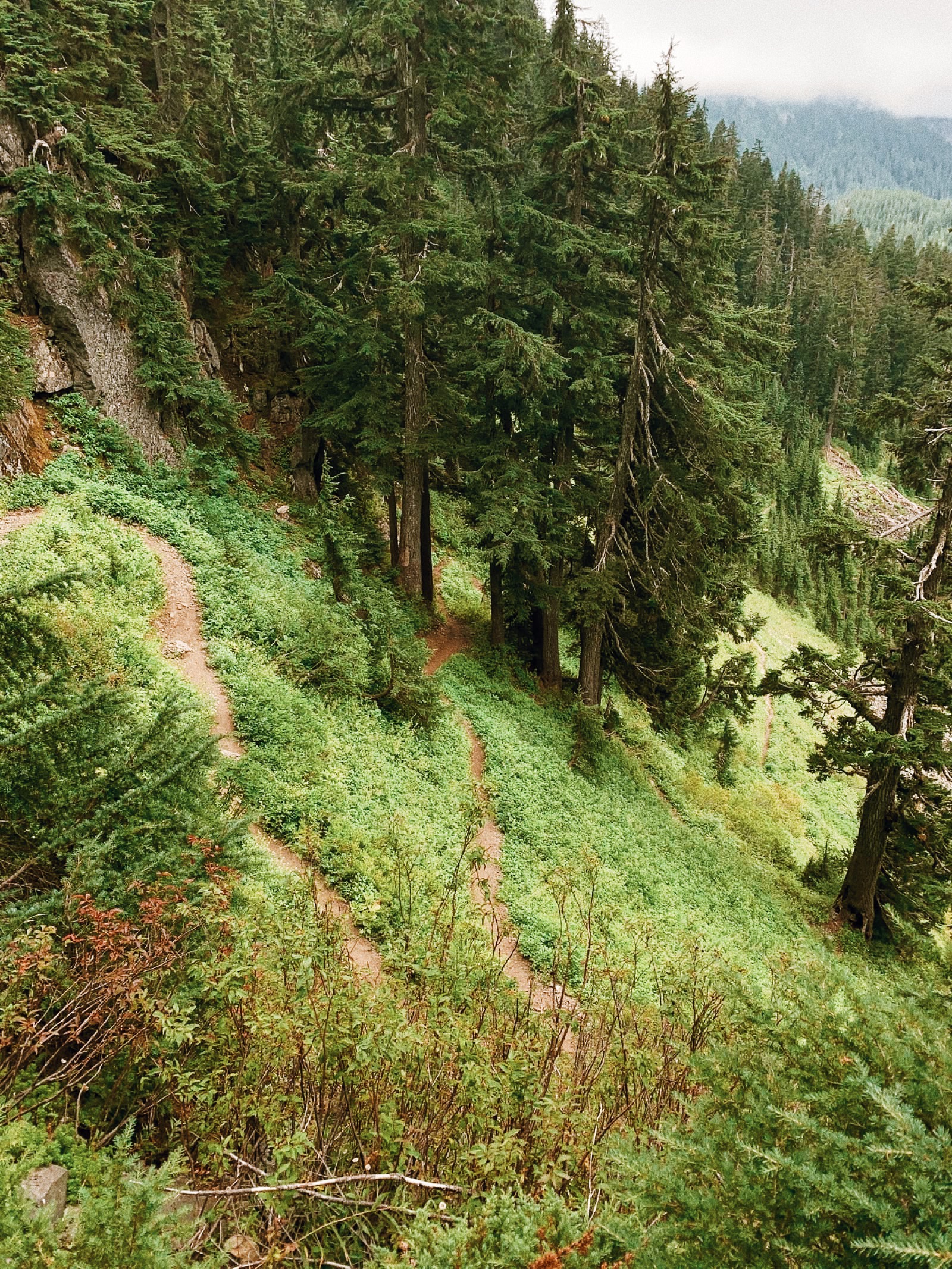 Ooh, welcome back to the PCT blogs! I was so fortunate to be able to do Section J at the beginning of September with my friend Skye. It's a 75 mile stretch from Stevens Pass to Snoqualmie Pass in Washington that we decided to take 5 days to do, and it was glorious. We ended up with the most dreamy five days one could ask for. It turned into one last hoorah – one more adventure before the weather turned, and I moved out of Washington, and summer ended. And wow, was it just about perfect.
Day 1 (51 Total)
Stevens Pass to Glacier Lake, 14 miles
796.9 Total PCT Miles

There's so much joy in being back on the PCT! It's only day one and already the trail is gorgeous – full of greens and purples and the deep blues of lakes. Shout out to my Uncle Jeff and Aunt Julie for being trail angels and schlepping us to Stevens Pass through the road work and delays. There's a moment where I wonder if we'll even be able to get up to the pass – a few brave runners leave their car to check out the line we're in, only to jog past us again minutes later, eyes wide as they shouted "It never ends!"

Thankfully, though, it does, and we make it to Stevens without any further problems. Skye and I start hiking just after 9:30. Above us, the sky looks much grayer and full of potential rain than the forecast stated, but we laugh it off and pretend the clouds aren't there. Everything is new! Everything is beautiful! Throughout the morning we come across a handful of who I presume to be PCT hikers. Some are chatty, but mostly it's pencil thin dudes who seem gaunt and grumpy. The day is full of lake after lake after lake; the trail completely lined by blueberries. I think Skye and I might have purple hands by the time this is over from all the berry picking we do. Take a few steps, grab some berries, walk a bit more, grab some berries. It's glorious. The weather stays mostly overcast and windy, and sometime after lunch we hear a random grumble of thunder, but then nothing. Oddly enough, I don't feel too anxious about the weather. Maybe my traumas in bad weather from last year are finally subsiding?!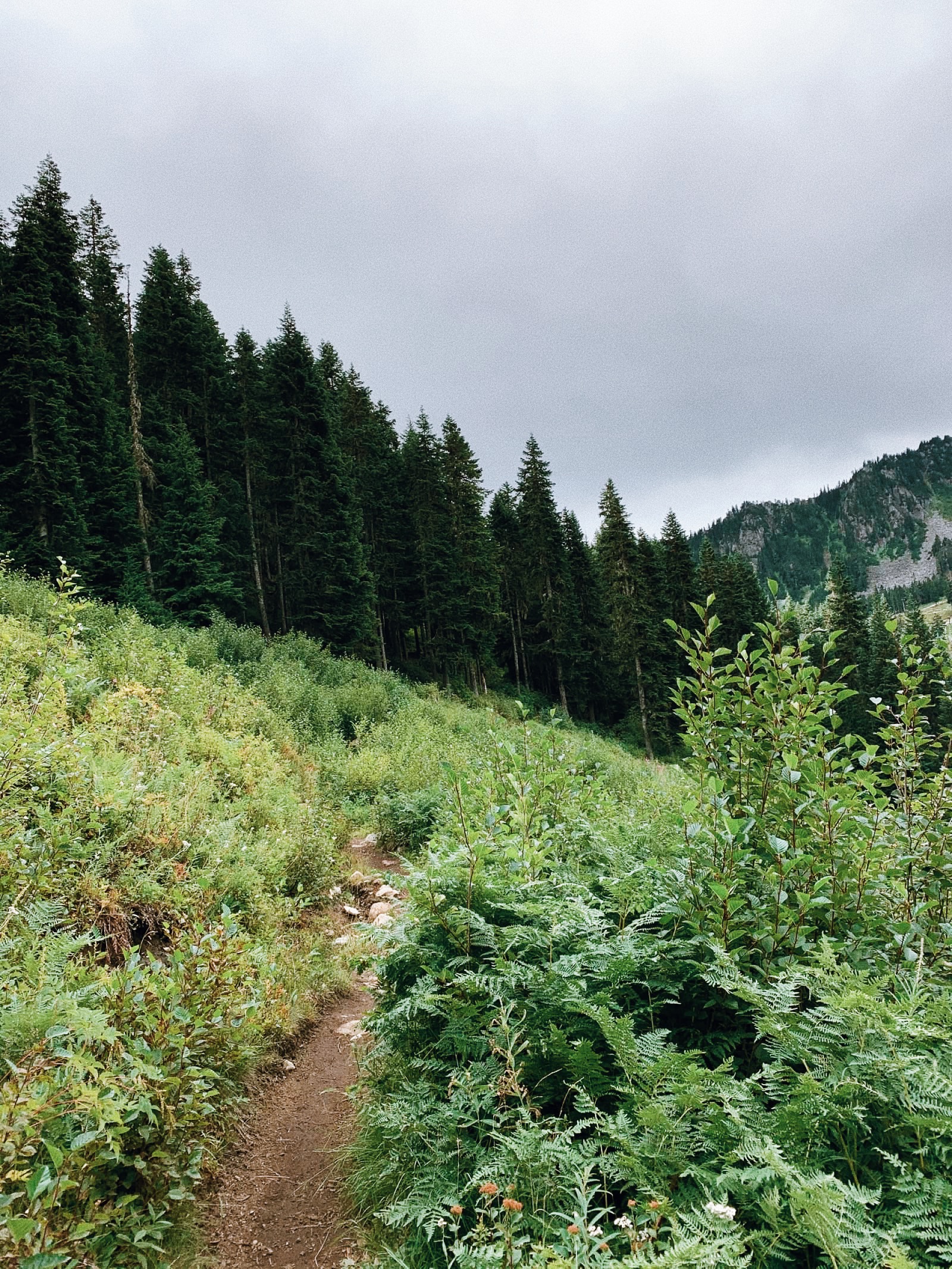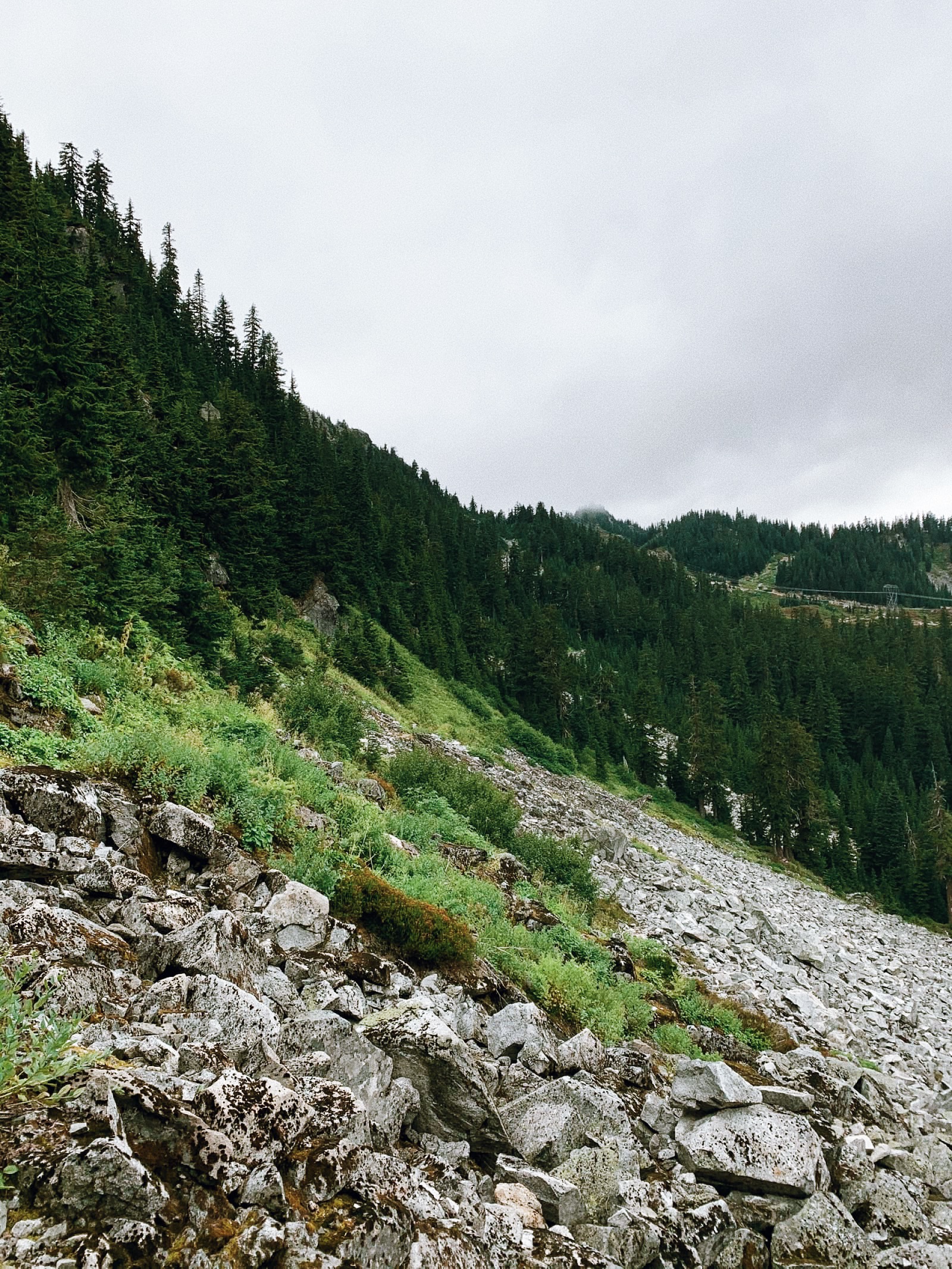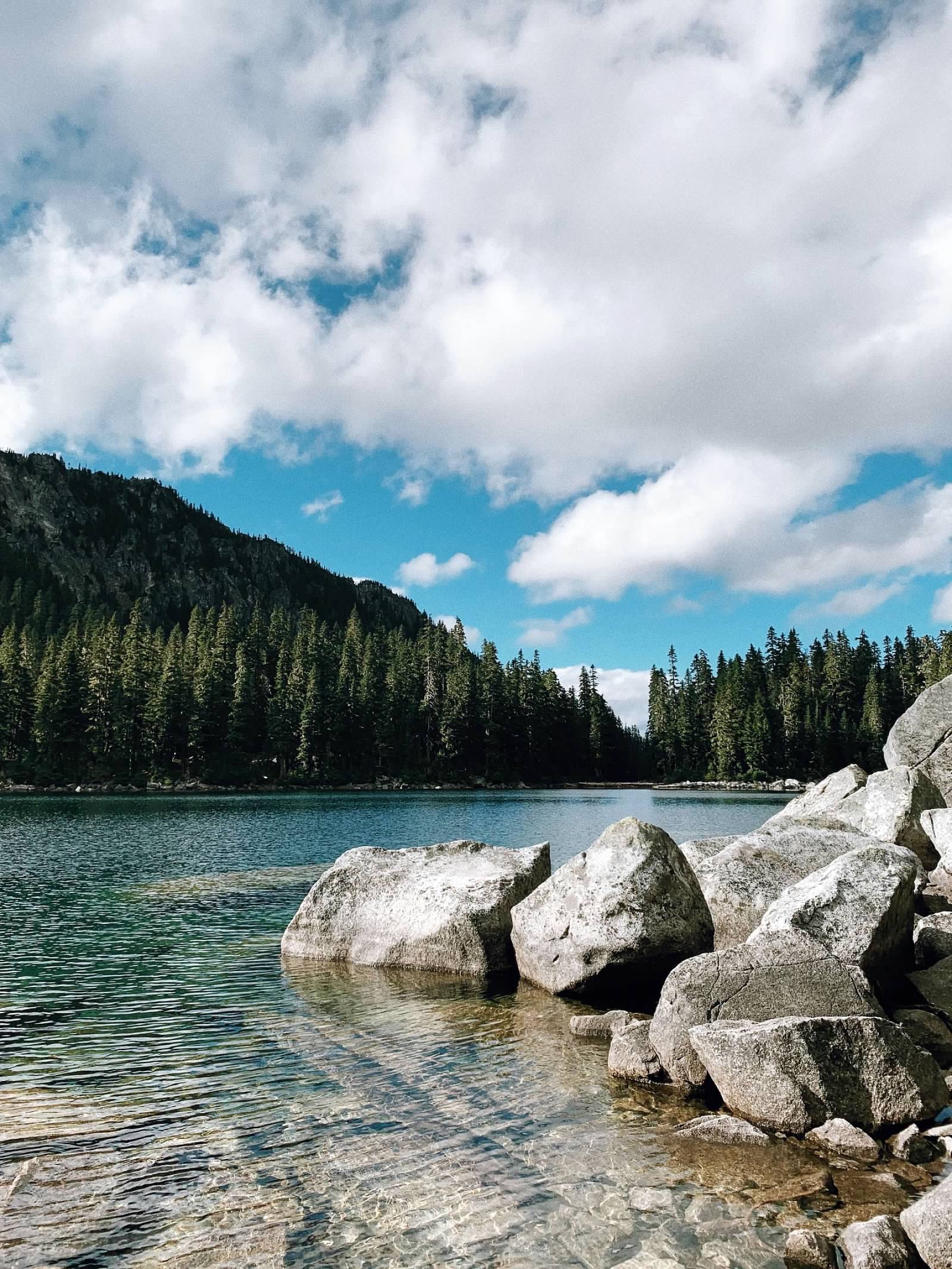 After 14 miles we decide to call it a day. We have no need to rush to Snoqualmie, and Glacier Lake is beautiful. The shoreline is filled with giant rocks, and while the sky starts to clear a little, I can't bring myself to jump in. Maybe my traumas in bad weather from last year are not fully subsiding after all. The thought of having wet hair for the next five days if the weather changes just isn't appealing. There are a handful of section hikers camped here – one doing Washington, one doing the same part as us, and then some others who have yet to surface from their tents all evening. The sun is glowy and golden, and the air fills with the sounds of fish jumping in the lake, their quiet splashing really the only noise because everyone around us crawls into their tents and tarps by 7:30pm (I love it).

It's fun to return to shorter days, without the expectation of having to crush huge miles, and it feels so good and natural to be back out here on the PCT.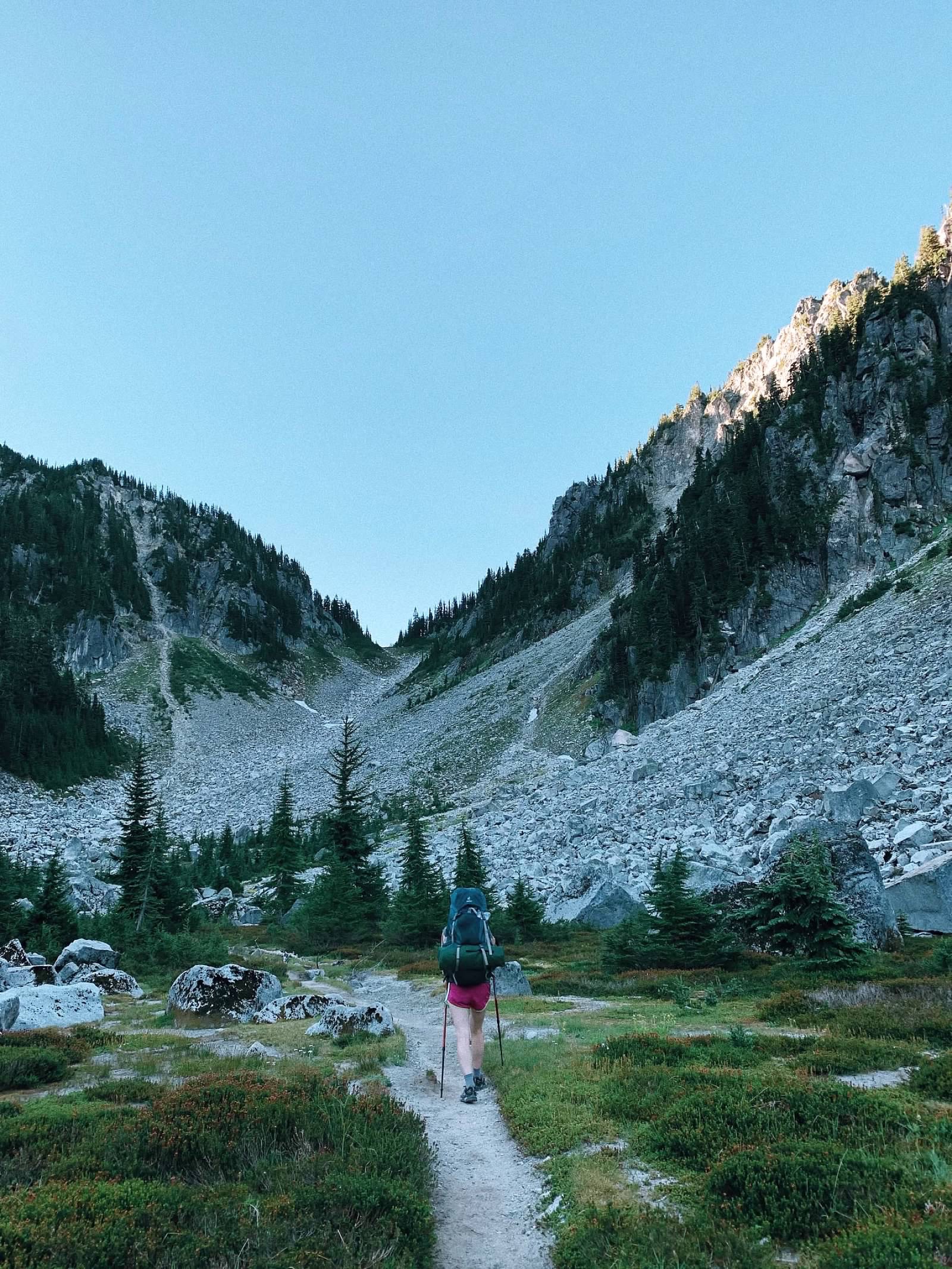 Day 2 (52 Total)
Glacier Lake to Deep Lake, 15.4 miles
812.3 Total PCT Miles
How refreshing to be hiking and not dread standing up in the morning! (Although I am a bit sore from my pack.) I'm determined to eat more food just for the fact that it will lighten my backpack. I am slow moving this first morning on trail, but that's ok. I boil water for breakfast and as the steam rises from my pot, I notice that it's already getting warm. Or, it's not cold at least. We are hiking by 7:20 after a pit stop at the toilet on the way out. A million times better than digging a hole. #JustGirlyThings

It's a beautiful, clear morning, and we wander through a valley with large rocks and some forest in the shade of the mountain before heading up. It feels like we're practically going backwards towards the lake but at last we start to veer away from it. Up and up, then down and down. We pass a few more PCT hikers and their is an air of exhaustion around most of them, which is not all too surprising. One man had an immaculate mustache which I imagine must have taken dedication.
Almost four miles in, we hit a lake. Grassy and pristine, but buggy. Plus it's not quite warm enough to swim yet this morning. Onward. We take a lunch break after 8 miles. It's early, but both Skye and I want to sit down. We eat by a gurgling stream but it's hot out in the open on the rocks, and our break is short. Later we cross over a massive rocky area with a web of tangled streams cascading through it (they aren't called the North Cascades for nothing, baby). After picking our way across the rocks, we finally cross the last section of water on four janky branches tied together with cords. After that it is a slog for 3ish miles uphill. Hot, often exposed, elevation gain. I was sweating so much my sunglasses kept sliding off my face. It kicked my butt, especially since I just haven't been backpacking this much since leaving the PCT. Oof.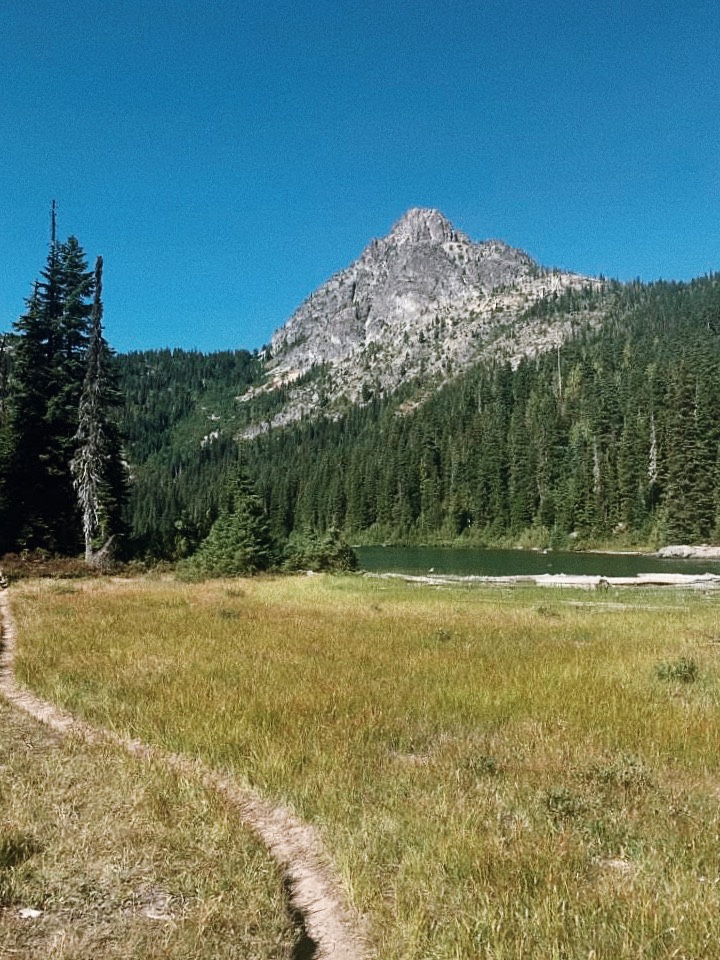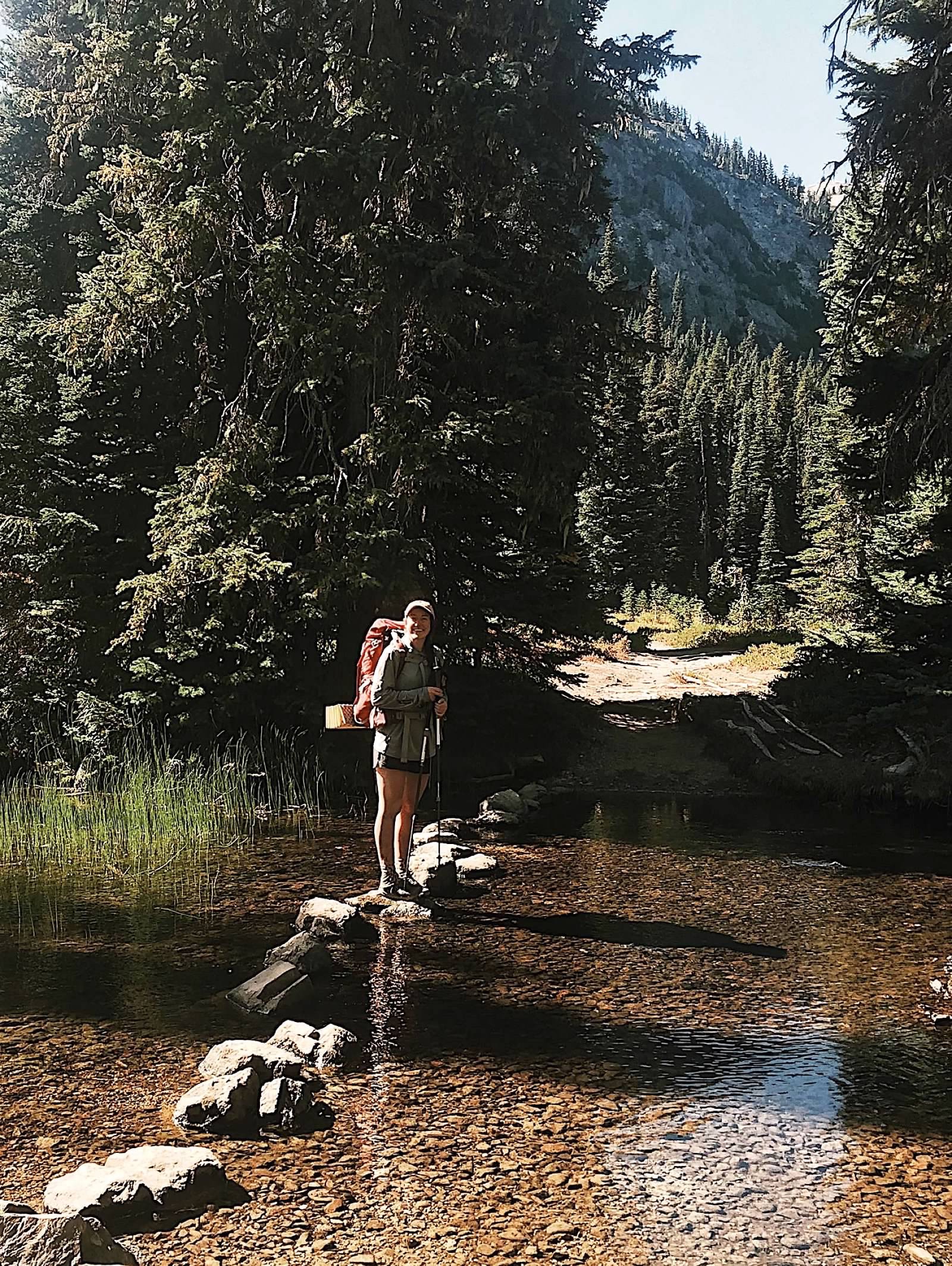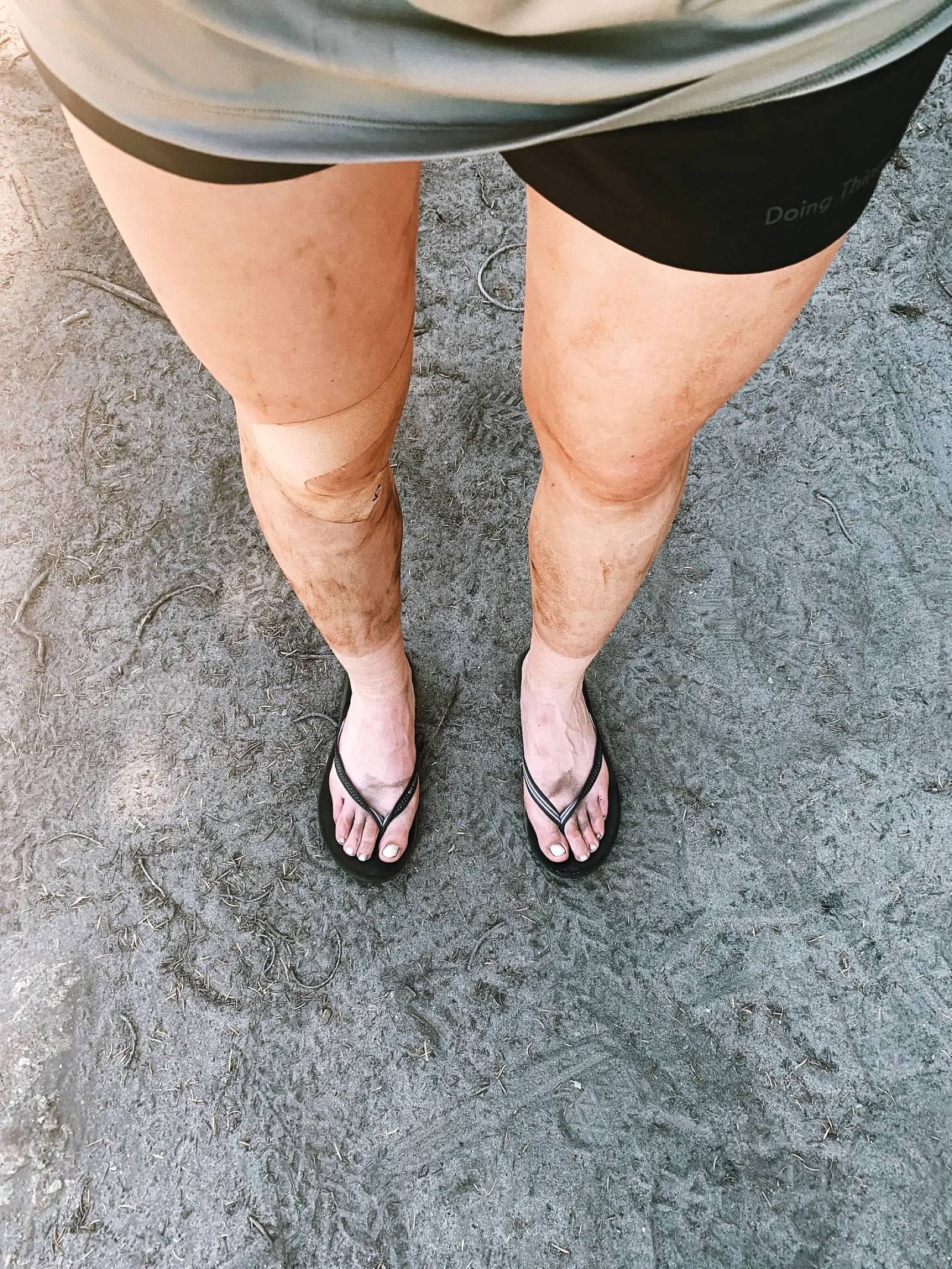 We then had a three mile descent down to our campsite. I wanted to fling myself off the mountain and into the lake below because it was so hot. I mean, at least it's not raining right? As seems to be my MO, my legs are absolutely caked in a combination of sweat, sunscreen, and dirt, and I'm pretty sure I can feel the prickliness of a heat rash. Or maybe I'm just paranoid after the trauma of having to get a shot in the butt in Idyllwild for last year's heat rash?!
When we reach the end of our descent, Skye and I find a sweet lakefront site and immediately go for a swim. The water is cool and refreshing and I want to float there forever, staring up at the endless blue above me. Of course, we later find some dead fish on the shoreline right where we were swimming but, as is my motto when I'm on trail, "It's probably fine." And it is. The sun is out. The bugs are not. All is well. And although I just said I live by the motto "It's probably fine," we collectively decide to put in the effort to get our water that night from the stream further away from where we're camped, not from the "there's dead fish on the shoreline" lake.

We're later joined by a guy we met the day before, he's chatty and we talk over dinner but Skye and I are tired and in bed by 8. He walks off to put his bear can somewhere an appropriate distance from his tent, muttering things like "Is this far enough away?" I'm like, "Yeah, yeah, dude, seems good," as if I'm not just going to haul mine into my tent and sleep with it (hello, perfect for elevating my feet at night). If  bear storage isn't required, I will keep my food close to me. Again: it's probably fine. ¯\_(ツ)_/¯

Oh, it's worth noting, today I crossed the 800 mile mark for my official PCT miles. Hooray! It's so good to be back on this narrow little ribbon of trail.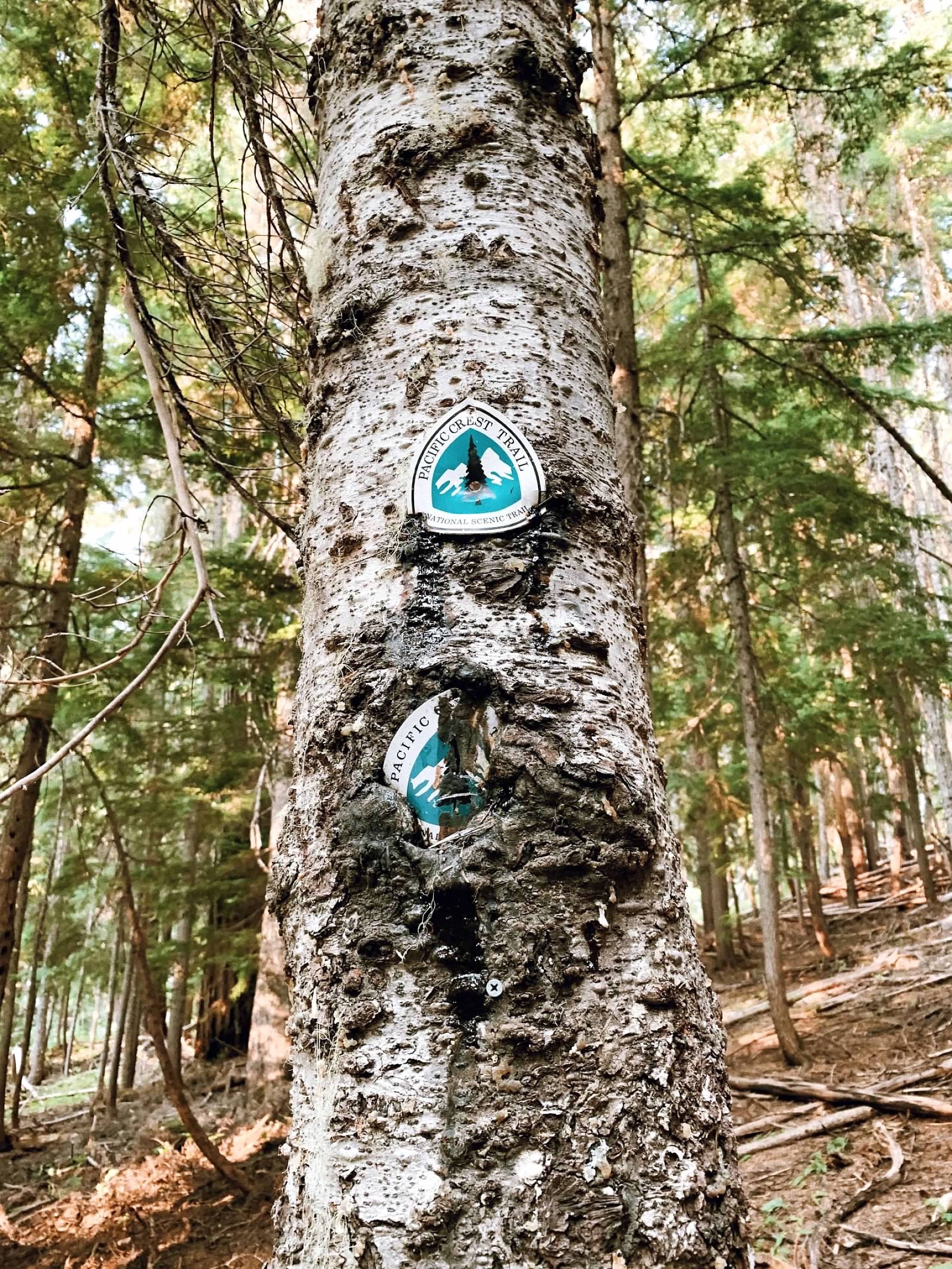 Day 3 (53 Total)
Deep Lake to Mile 232.7 SOBO (Pond/Lake), 15 miles
827.3 Total PCT Miles
Skye and I are up early again. Honestly, I'm surprised Skye keeps waking up early (Skye I know you're reading this – it's not you, it's your ability to sleep through literally anything). Maybe something's different on trail. The morning is slightly cooler than the previous days, but that makes it perfect for breakfast while curled in our sleeping bags. We stare out at the lake in front of us and eat some oatmeal in silence, savoring the last bites until at last we have no other option than to climb out of our sleeping bags and get ready to hike. As we leave our tent site in silence, we notice that the sky seems hazy… but it's hard to tell if it's actually hazy, or just the color of dawn. Eventually the smell hits us, though, and it's clear that it's not just the color of dawn. I halfheartedly wonder what's burning and how close it is to us.

Down down down we go all morning, but it's gentle enough to not really be painful. We pass a hiker here and there but mostly the trail is empty and quiet, and Skye and I lose ourselves in conversation. It makes me think of being on the PCT with Jet, when K2 told us "I've never heard anyone talk as much as the two of you have." As we hike, the light around us becomes orange and tinged with smoke, giving off the feel of an evening golden hour even though it's still just morning. Alongside the trail, colors are starting to turn from green to oranges and reds and yellows, a gentle reminder that we really are getting the last whispers of summer.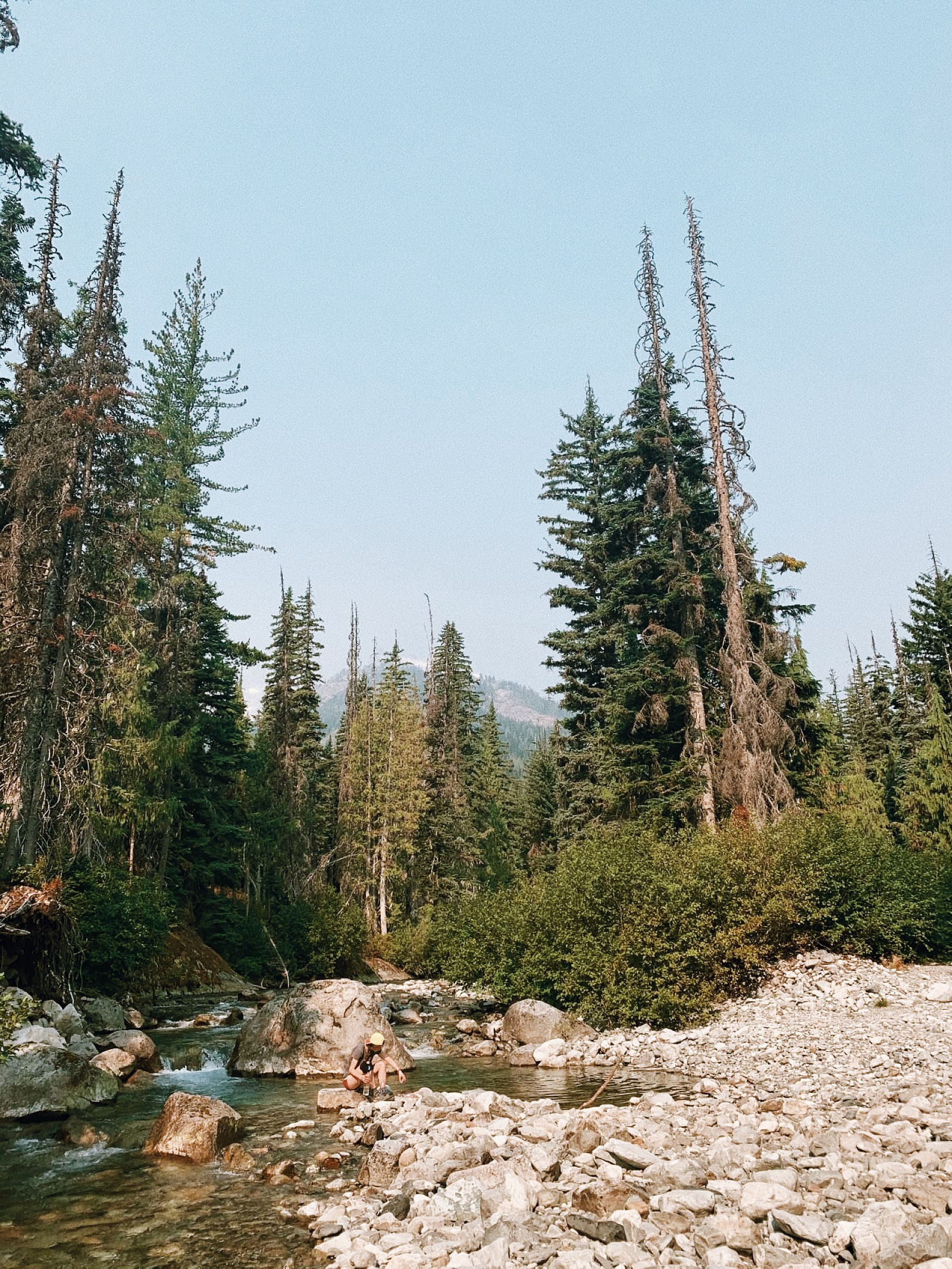 8 miles in we hit a river and Skye and I go for a swim. It's early, it's warm, and the water looks too good, with great pools around a large boulder (the picture above). It's cold, obviously, but worth it. I can't say I've ever really regretted a swim, and I am absolutely savoring this consistently nice weather. Above us, the sky continues to fill with more smoke. We dry in the sun, fill ourselves with snacks and our water bottles with the icy water, then begin the slow and steady and hot and dusty 5 miles upwards. We get occasional views but the now-thick smoke covers most of it. Finally, we sort of hit a top and stop for lunch. My foamie is unfurled and plopped down into the dust, and I settle ungracefully onto it, happy to be off my feet.

It's nice to have a long lunch, but it also makes getting up again a challenge. We stopped for about an hour, which was more than enough time to eat and ask myself why I brought so much dang food on this trip in the first place. Is my food bag growing?! The final three miles for our day post -lunch are absolutely beautiful, even if the three miles feels more like 7. Either way, they're epic, with sweeping views (smoke notwithstanding), big valleys sprinkled with boulders and barely there streams. It's quiet – no wind or water or sound really to speak of. Almost eerie, but it sure is pretty.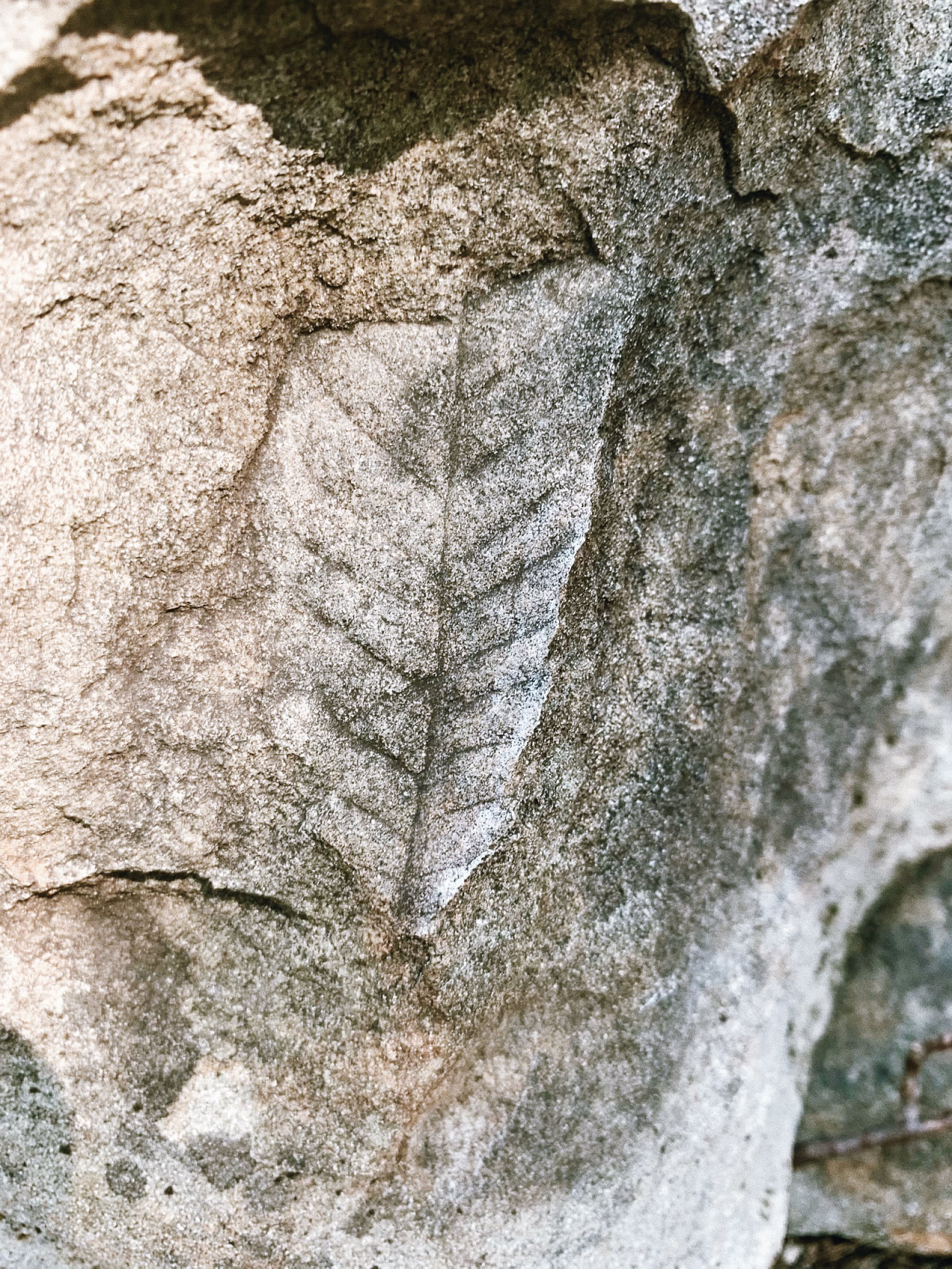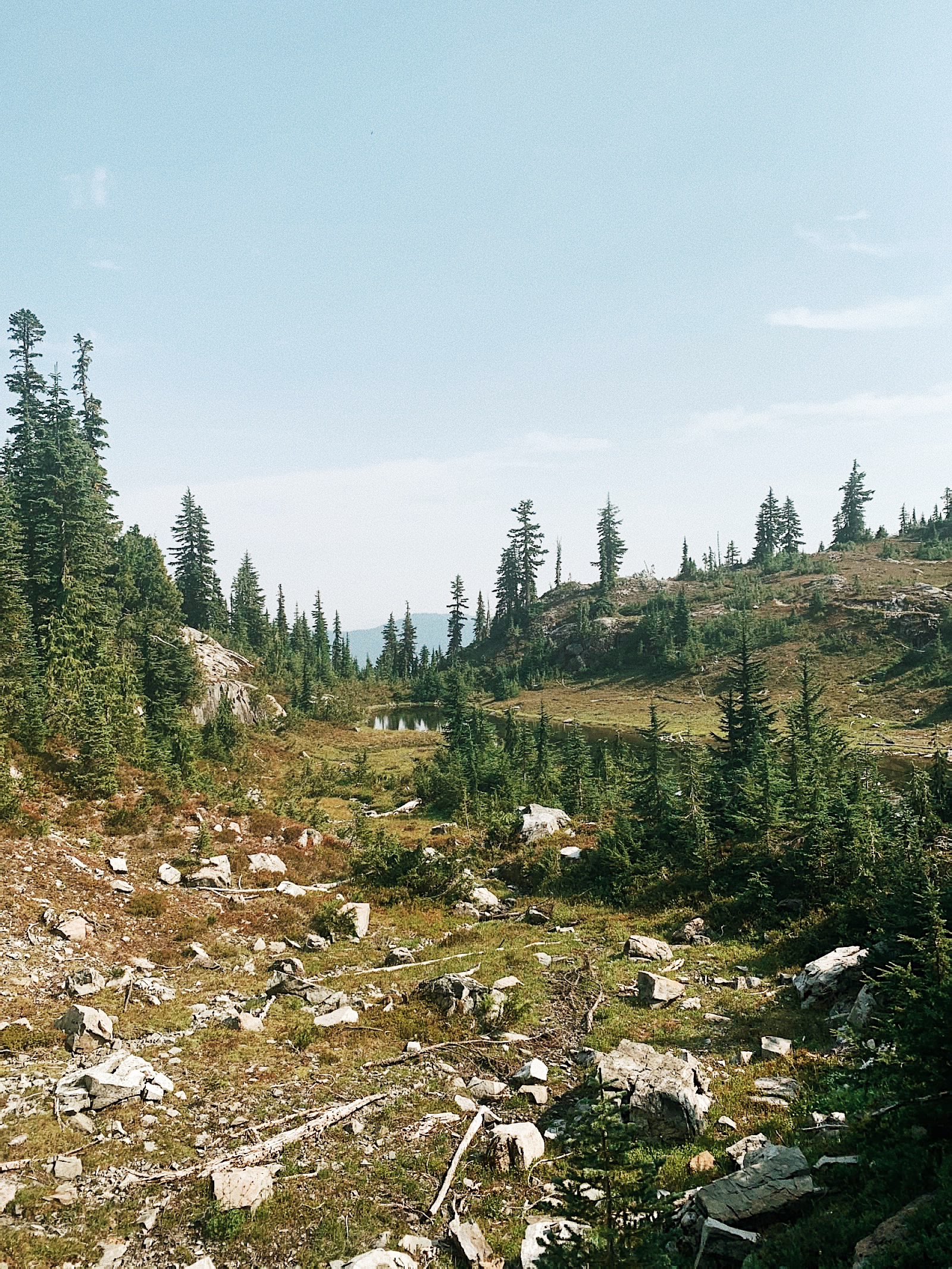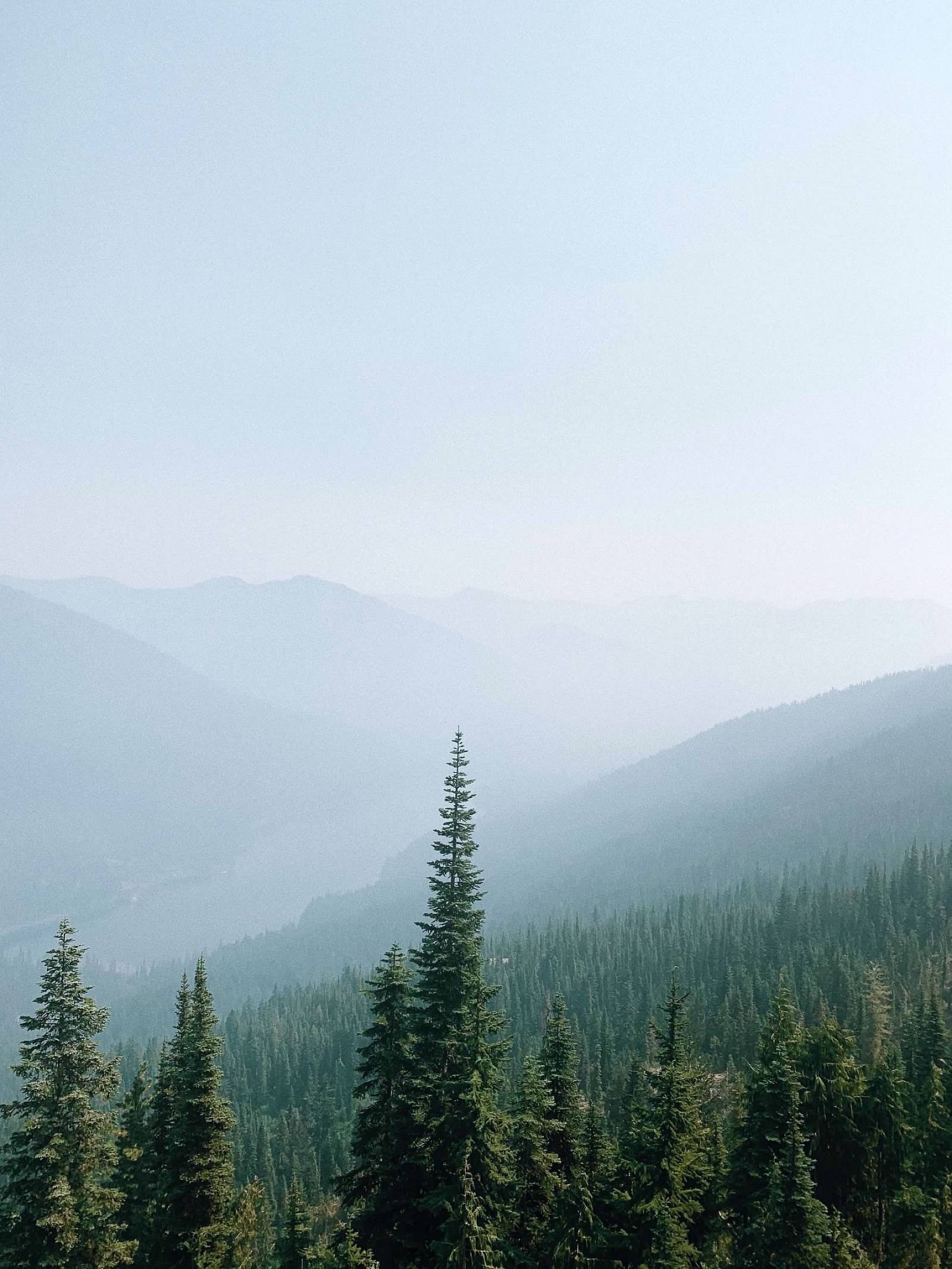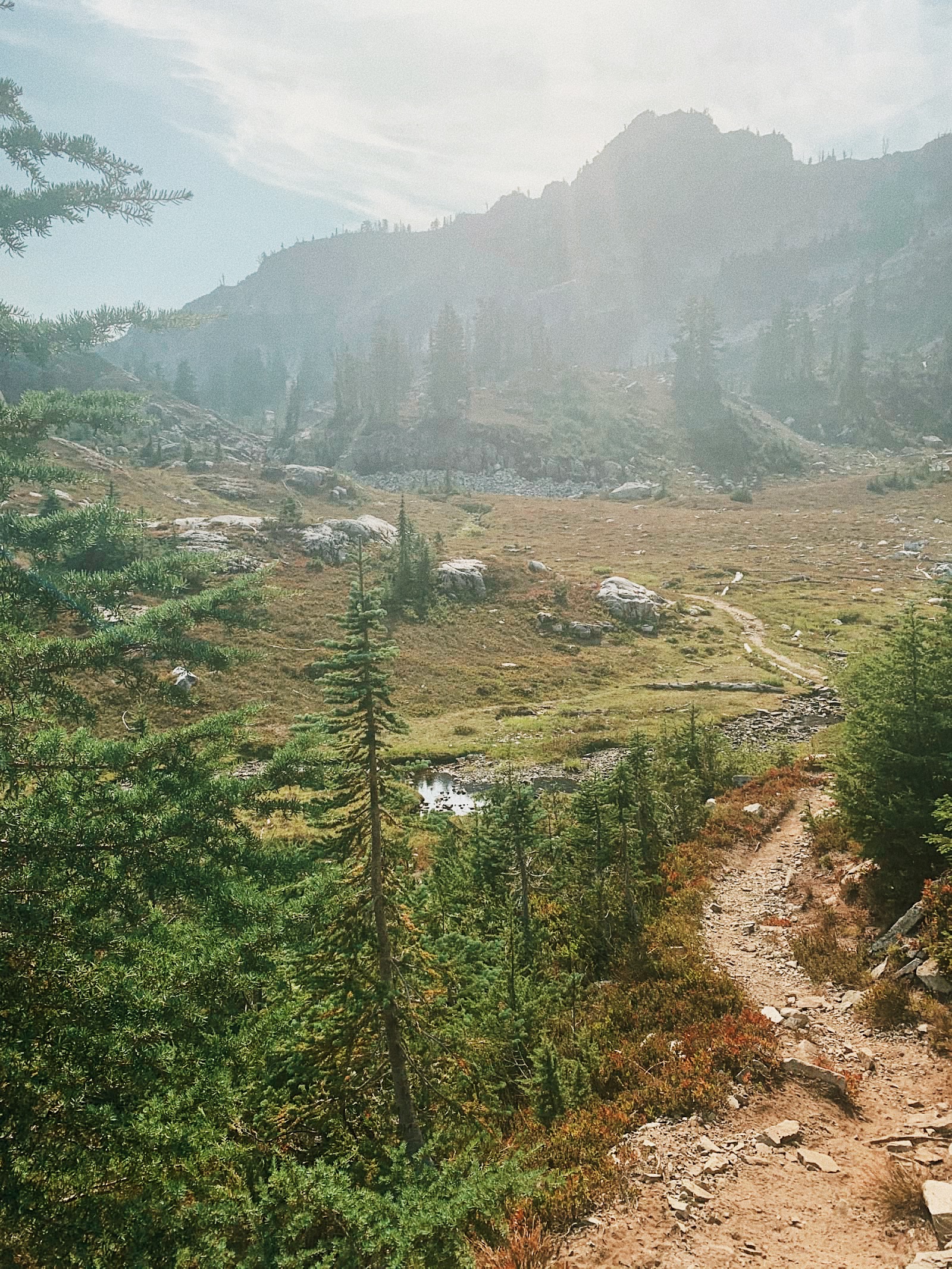 The three miles start to drag on. Dust swirling around my ankles. Sun hot overhead. Sort of a type 2 fun moment for me personally. But finally, water! Packs are thrown down and we all jump in, Skye and I slithering off a rock on the side of the lake. I feel like Gollum once my shoes are off and I have to make it into the water across all of the mud and rocks of the shoreline, crouching so I don't slip or impale my feet on something. The swimming is magical, though, and finally I feel less grumpy.
As the sun begins to dip beneath the surrounding mountains, the bugs begin to arrive, and while they're annoying, they're still hardly a problem. The evening remains hot and smoky, and we spend it eating and laughing, gear yard-saled across this large slab of lakeside rock. By 8pm I'm in bed, tired of swatting mosquitoes and also just tired. We're planning on a shorter day tomorrow, then 16 or 17 miles into Snoqualmie. It's all gone by fast. Out here I am un-anchored from time. There are meals and hiking and sleeping and swimming, the simplicity of natural rhythms and the steadiness of my feet carrying me from one place to another. It's weird to know that so soon so much is changing.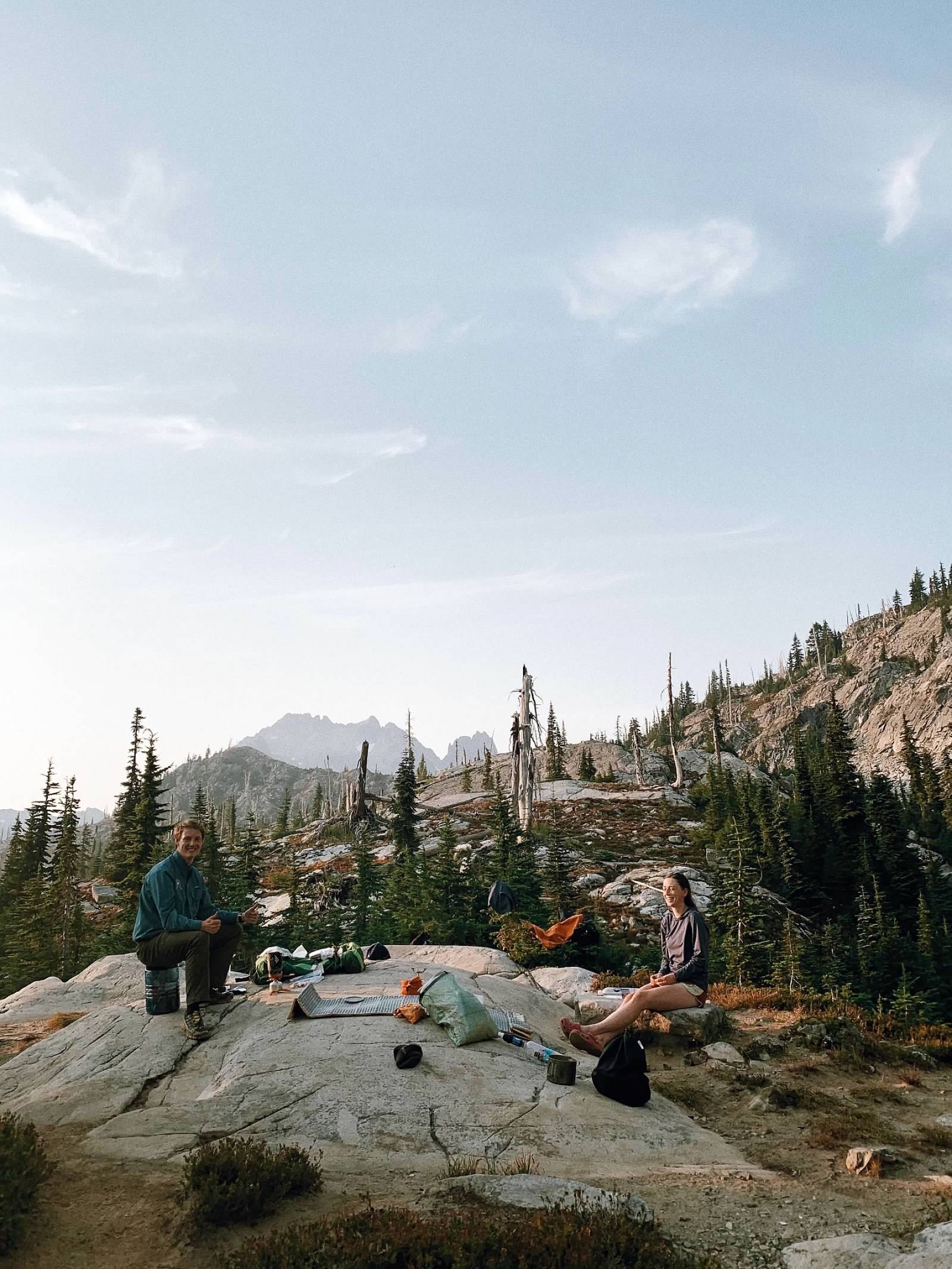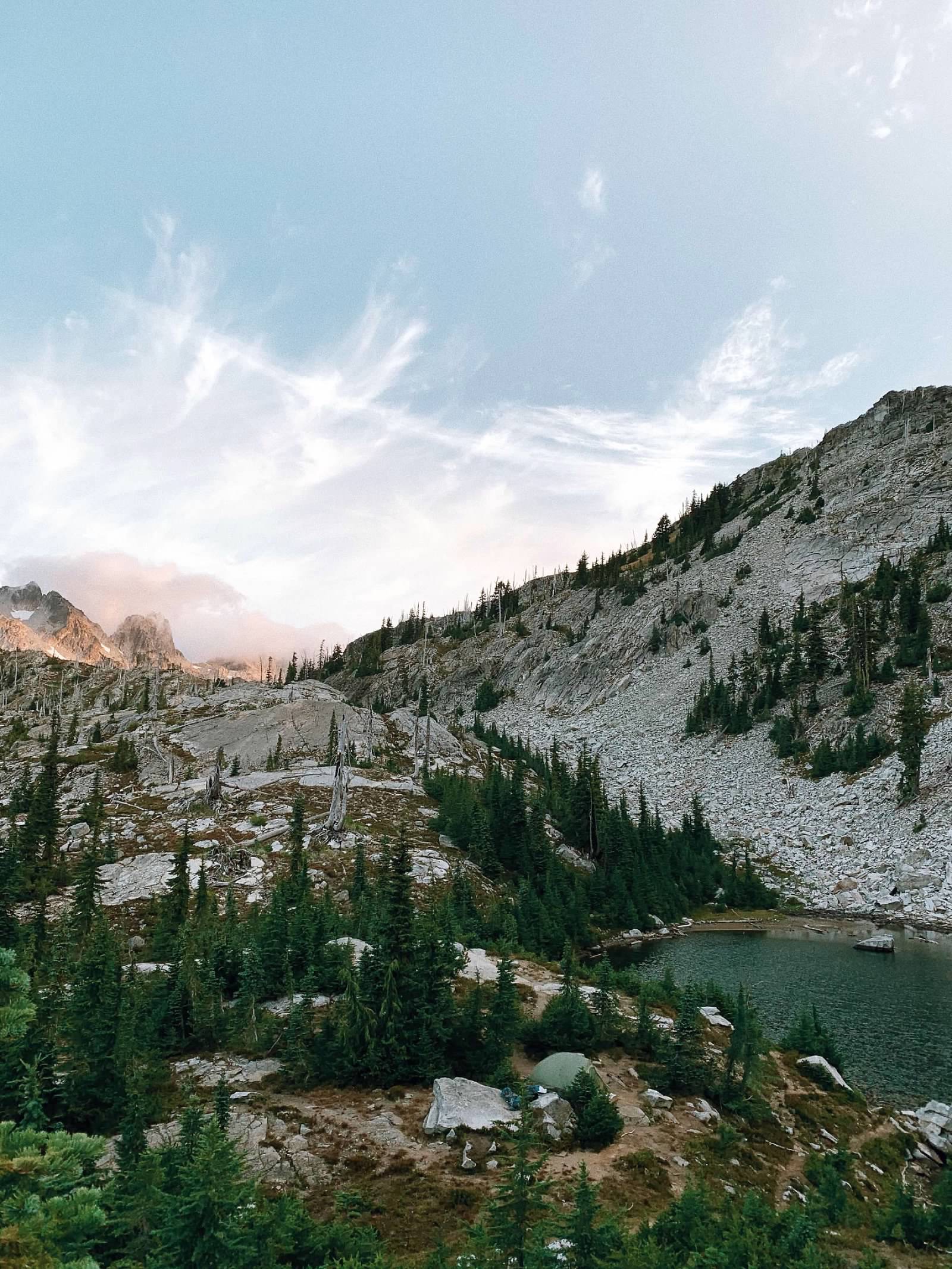 Day 4 (54 Total)
Mile 232.7 SOBO (Pond/Lake) to Spectacle Lake, 9.6 miles
836.9 Total PCT Miles
A sub ten mile day, and I am living for it. Our day starts with a buggy but beautiful sunrise in the mountains. We do five miles of descending, winding our way back and forth along sweeping switchbacks down into the woods until coming to a river where we take a long break. Then, it is four miles of up. Hot and sweaty and exposed up. This is a perfect example of Section J: up, down, up, down, up, down. You climb, you descend, you climb, you descend. There is nothing else. That being said, we're staying at another lake tonight which is also a perfect example of Section J. Lakes and rivers and streams and ponds and more lakes. Water and swimming in abundance. Today we're rewarded with Spectacle Lake, although it's packed. Like, insanely packed. Like, I can hardly pee anywhere packed. It's a little bizarre, especially after the relative solitude of the past couple days.
As we're hiking around the lake to look for a place to camp, I feel this sharp stinging on my calf, and look down to see a wasp mid ~attack~ on my leg. Wow, I had almost forgotten how much getting stung hurts. My leg is dusty and sweaty and I'm mostly just hoping the stinger isn't stuck in my leg. On the bright side, it's a great excuse to take a Benadryl tonight and pass the heck out. But until then, I enjoy the beauty of this massive lake. When we're not swimming, we're sprawled out on these giant warm rocks that jut out from the water. It's magical, this swimming and sitting and lounging and maybe getting burnt but feeling so happy and content.
Tomorrow will be our biggest day, with 17 miles to get to Snoqualmie. But today is worth it – smiles over miles, baby. Swimming and being slower and shorter days are a good reminder that backpacking doesn't always have to involve walking for almost every moment of daylight (and then some moments in the dark, too). It's like, holy crap there is so much time to hang out and just enjoy where I'm at when I'm only hiking 9 miles in a whole day! So good.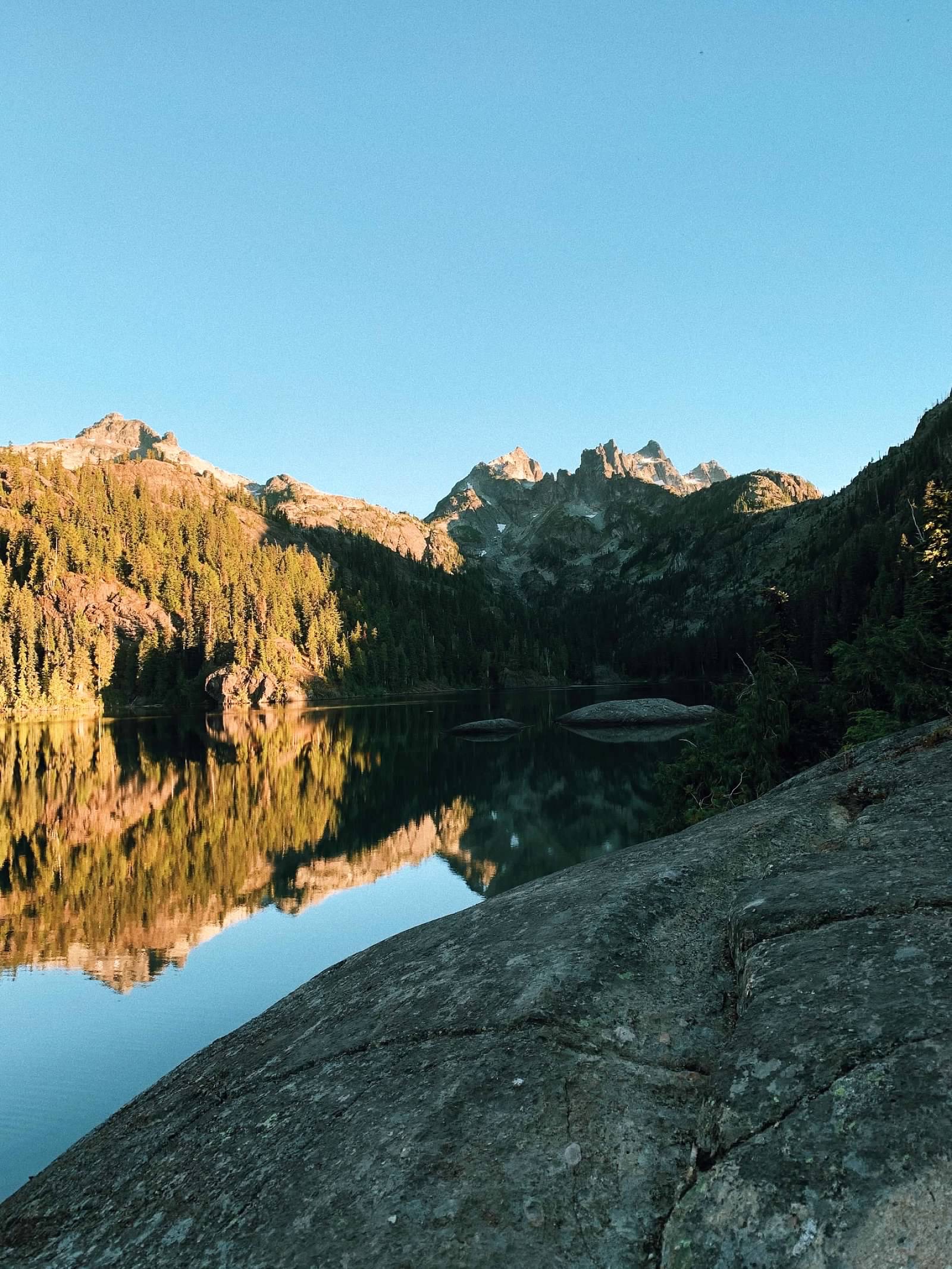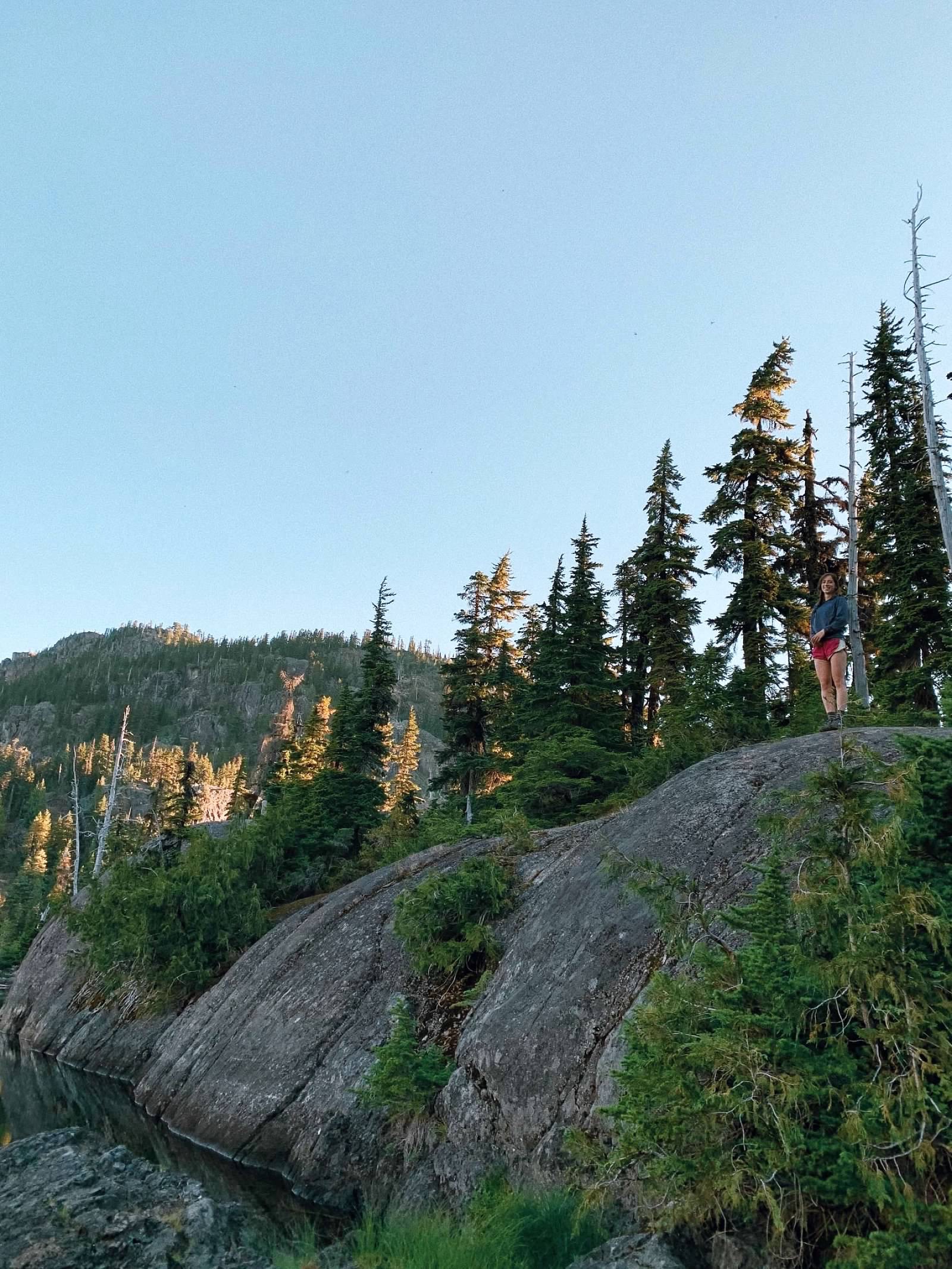 Day 5 (55 Total)
Spectacle Lake to Snoqualmie Pass, 17.1 miles
854 Total PCT Miles
Let me start with this: the climb back up to the PCT is a beyotch. I'm tired, and it's early, and it's sort of a 0 to 60 way to start the morning. It highlights the beauty of not doing this section as a part of a thru-hike though – who knows if I would have taken the time to descend down to the lake if I were thru hiking. Extra miles? Hard pass.
Still, it's a gorgeous morning. Soft, warm light filtering across the lake now below us as we climb. Clear blue skies above us. Eventually we begin to get views of Rainier, and it's almost shocking how awesome it looks from every turn and twist of the trail. The blueberries are also still out of this world. Occasionally whoever is hiking in front won't notice that the other person has stopped to gorge themselves on berries. One of us will keep walking on in conversation until, startled, turning around to find that we've been talking to ourselves for a minute while the other has a face full of blueberries and purple stains on their hands.
As we continue hiking towards Snoqualmie, we begin to pass either day hikers or hikers who are just beginning their backpacking trips. How do I know? I can smell the laundry detergent on their clothing. Honestly, I have to stop myself from taking a big creepy inhale each time we pass someone because fresh laundry smells so good right now.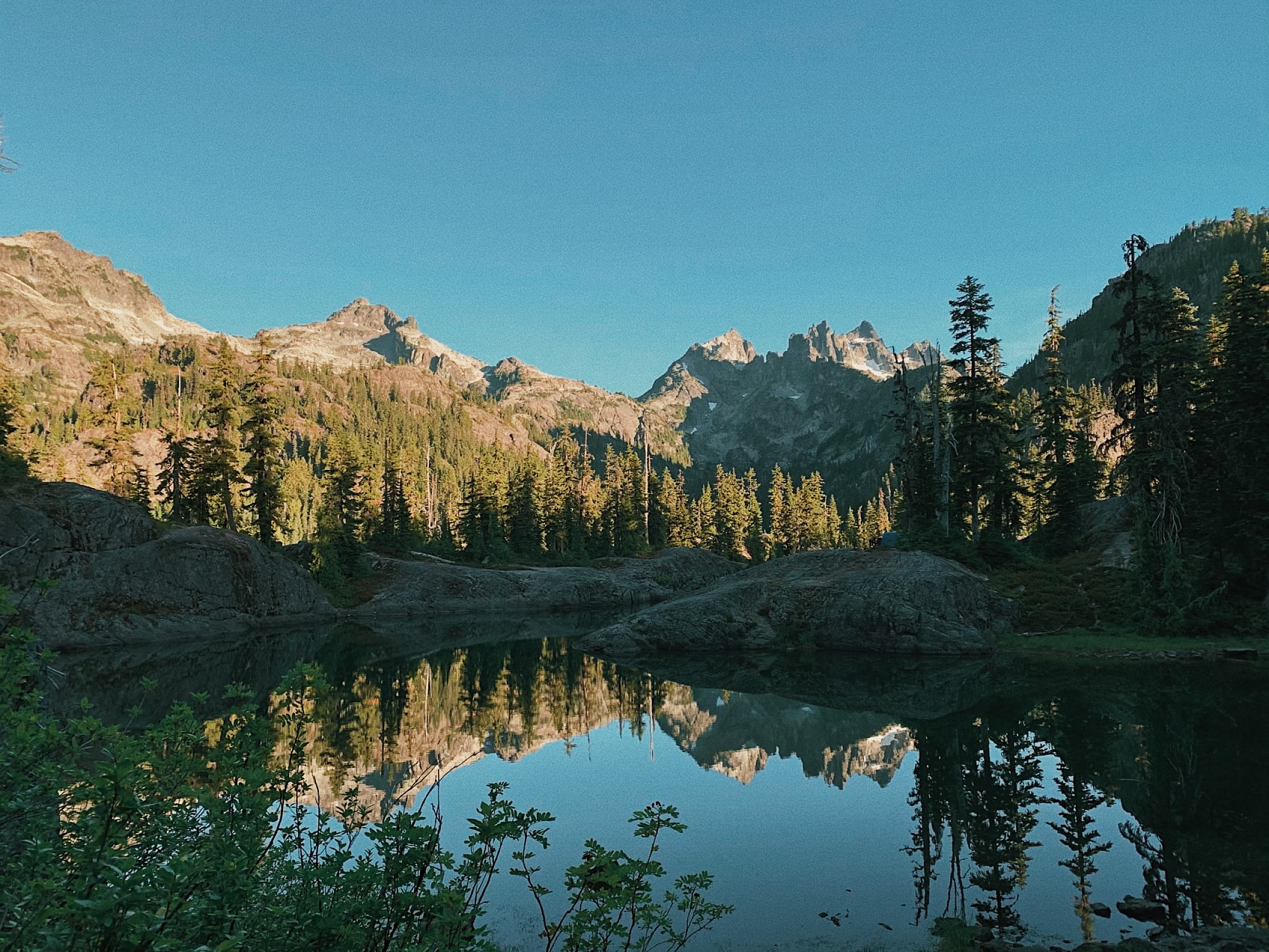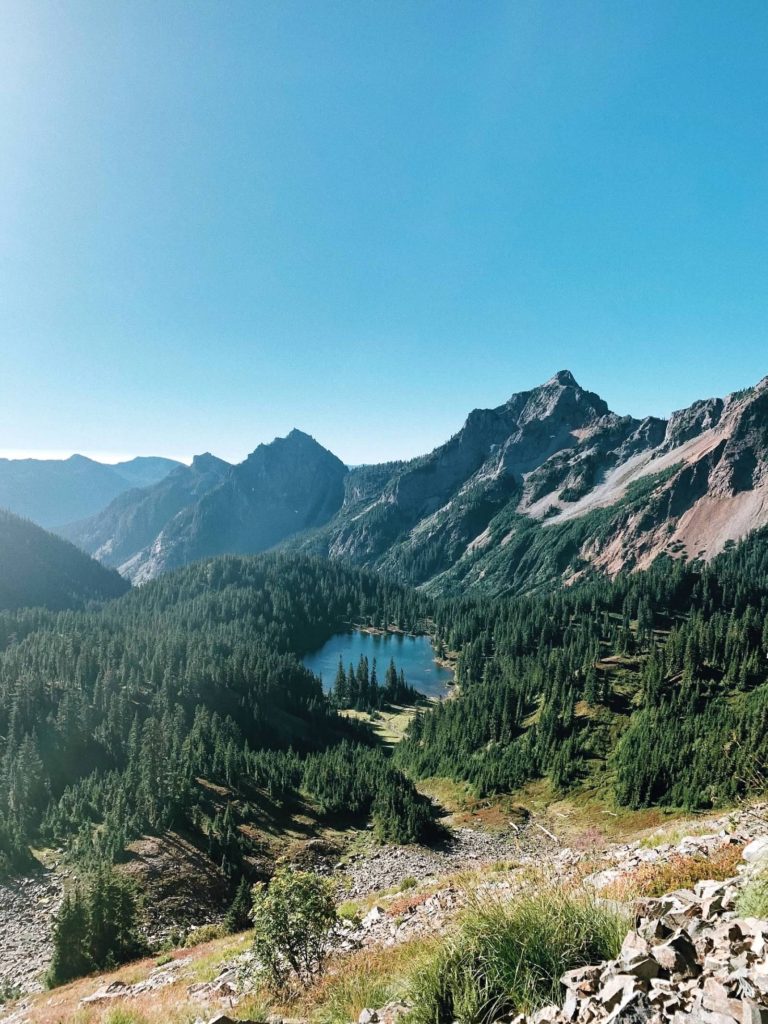 Just before lunch, I find myself rage hiking. I'm not even that angry, really, just pretty hot and tired of climbing. If you know, you know. Wouldn't say it's a sustainable method for hiking but it is pretty effective, because Skye and I crushed the final ascent up to another lake. We immediately drop our packs and fling off our shoes, hardly missing a step as we go straight into the water. And then poof, no more rage. It's strange to be this close to finishing the hike – I'm somehow both excited to finish this section, and sad that it's over so fast. Our lunch is long and drawn out. Neither of us really wants to get going.
We're on the clock, though, kind of – Skye's parents are dropping a car, and neither of us wants to get off the trail super late. Once our shoes are pulled back on, we remember we need to take an actual decent picture of the two of us out here. I hand my phone off to Scotty, the bear can guy, then look at Skye. "Should we embrace?" I ask her with a grin.  The cuffs of my hiking hoodie are crusty, I have water stains and dirt stains in random places all over my shirt, and we've been swimming every day but I can still smell myself. We both bust out laughing and throw our arms around the others shoulders. Then, we face the final few miles to the pass.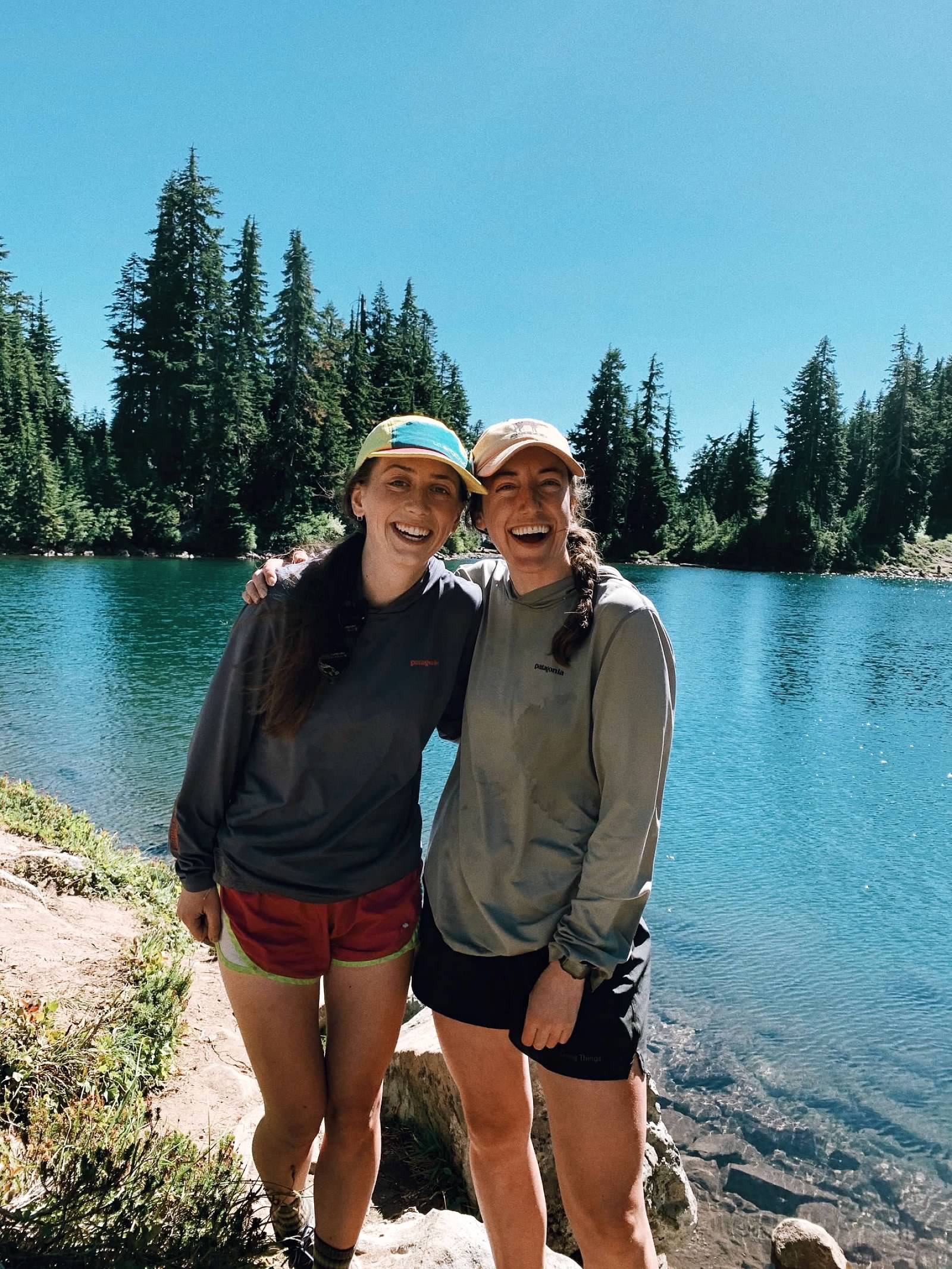 There's a collective loss of energy and sanity as we hit the final 2-3 miles before Snoqualmie. We start to take bets on how long it will take us to get to the parking lot. I do not win. At the parking lot, Skye's parents (and her dog Jasper) are waiting with cold drinks – I don't know if they know it but now they're officially trail angels. Skye and I load our packs into the car and just like that, Section J is over. It's a weird sensation to go from an average 3 miles an hour over the past 5 days to 75 miles an hour as we hurtle towards Seattle in the carpool lane, but even so, I couldn't have asked for a more perfect end to the summer, or a more perfect return to the PCT. Happy trails, indeed.