Summer vacation has begun, and I'm back on the PCT! Before leaving for the summer, I mentioned the blog to a few people at work who were curious about my hiking. In retrospect, I'm not sure how I feel about that because, like, can I write about having to dig holes to poop in or getting a steroid shot to the butt for heat rash (ah, 2019 memories!) and still look them in the eye when work starts up again?! HR, if you're reading this please know I am completely, absolutely, 100% stable and a total professional. Here we go.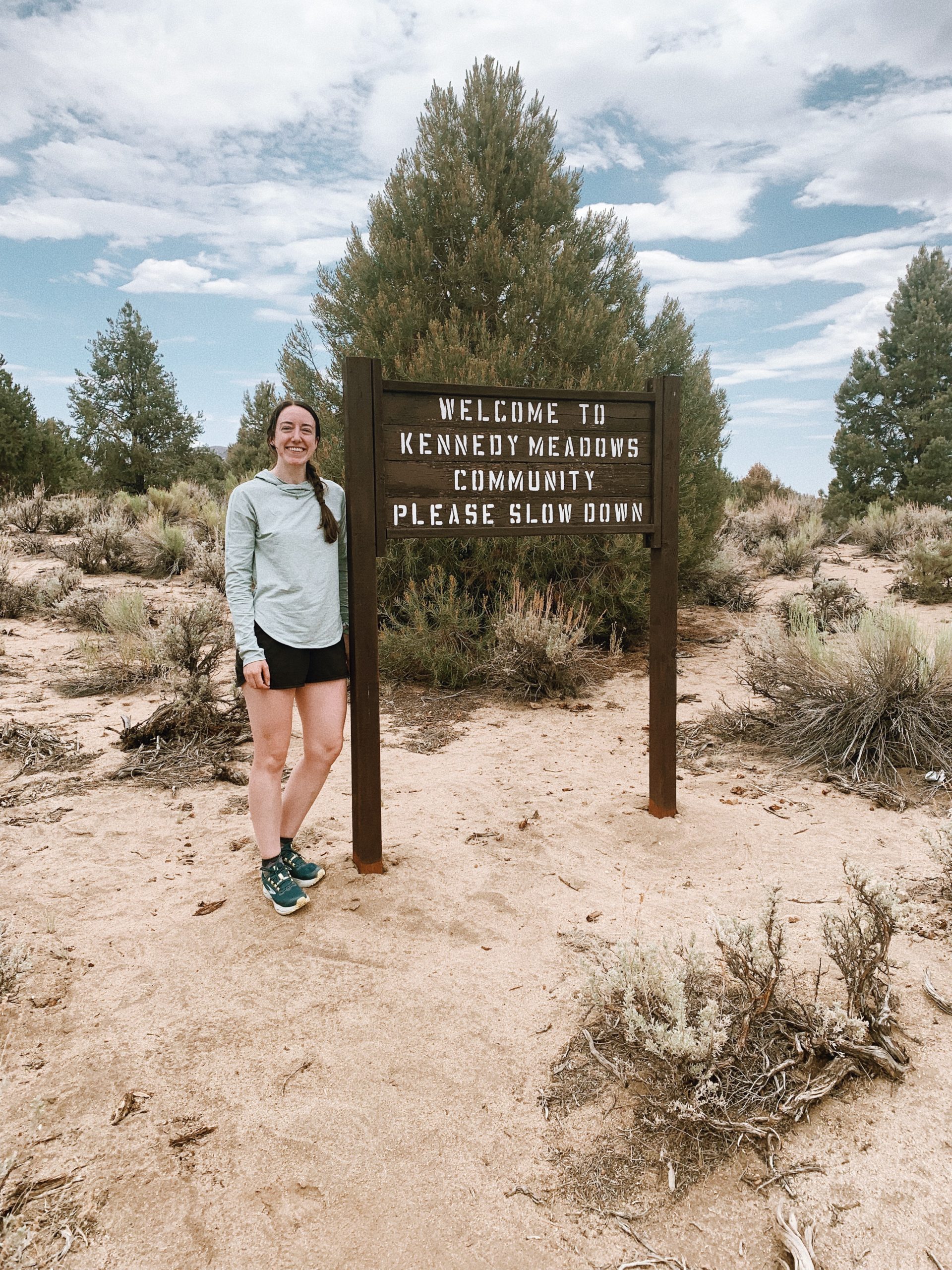 Day 1 (56 Total)
Kennedy Meadows to Mile 709.8, 7.6 miles
861.6 Total PCT Miles
I'm pretty sure I'd just fallen asleep when my eyes flick open at the sound of my alarm. This was not how I wanted to start my adventure, but at this point I'm just thankful I should still be able to start. At 7pm Tuesday night, I get a notice that my Wednesday flight has been cancelled and rescheduled for the next day. No no no. I worked so hard to get a ride from LAX to Kennedy Meadows! A friend's friend's housemate is driving me, and I need to be landing in California by 9am June 30 so I can have that ride.
It turns out there's a flight out of Eugene the next morning, so within an hour I am on the road from Bend, having frantically changed my ticket. Of course, as I'm leaving I run into my landlords…I look like a maniac because it's at least a billion degrees out and I'm frazzled and my pack is poorly packed and I wonder how crazy they think I am but it's fine. Everything's fine. Longtime friends in Eugene (thanks Kelley family, you're the best ever) let me stay with them that night, park my car at their house for a month, and give me a ride to the airport at a terrible early hour on the 30th so that I can fly out of Eugene instead of Redmond as planned. It is taking a whole village to get me to Kennedy Meadows so I can start hiking.
Anyway. I'm running on four hours of sleep today, and the flight down has got to be one of the most uncomfortable I've ever had. Did they make the seats even less cushioned in the past year?? But finally, finally, I land in LA and gather my backpack, noting thankfully that everything seems to have survived the flight. When we get to Kennedy Meadows a few hours later (thanks Sam!), the place feels almost eerily quiet, at least compared to the hype and noise of the last time I was here in 2019. As the car drives away and I pull on my backpack, I wonder how many days I will be alone out here. And then I start hiking.
Between the lack of sleep and flying and warm weather, I feel sort of blah after only 4 miles. Stop to filter water, eat a snack, sit for a minute. More hiking.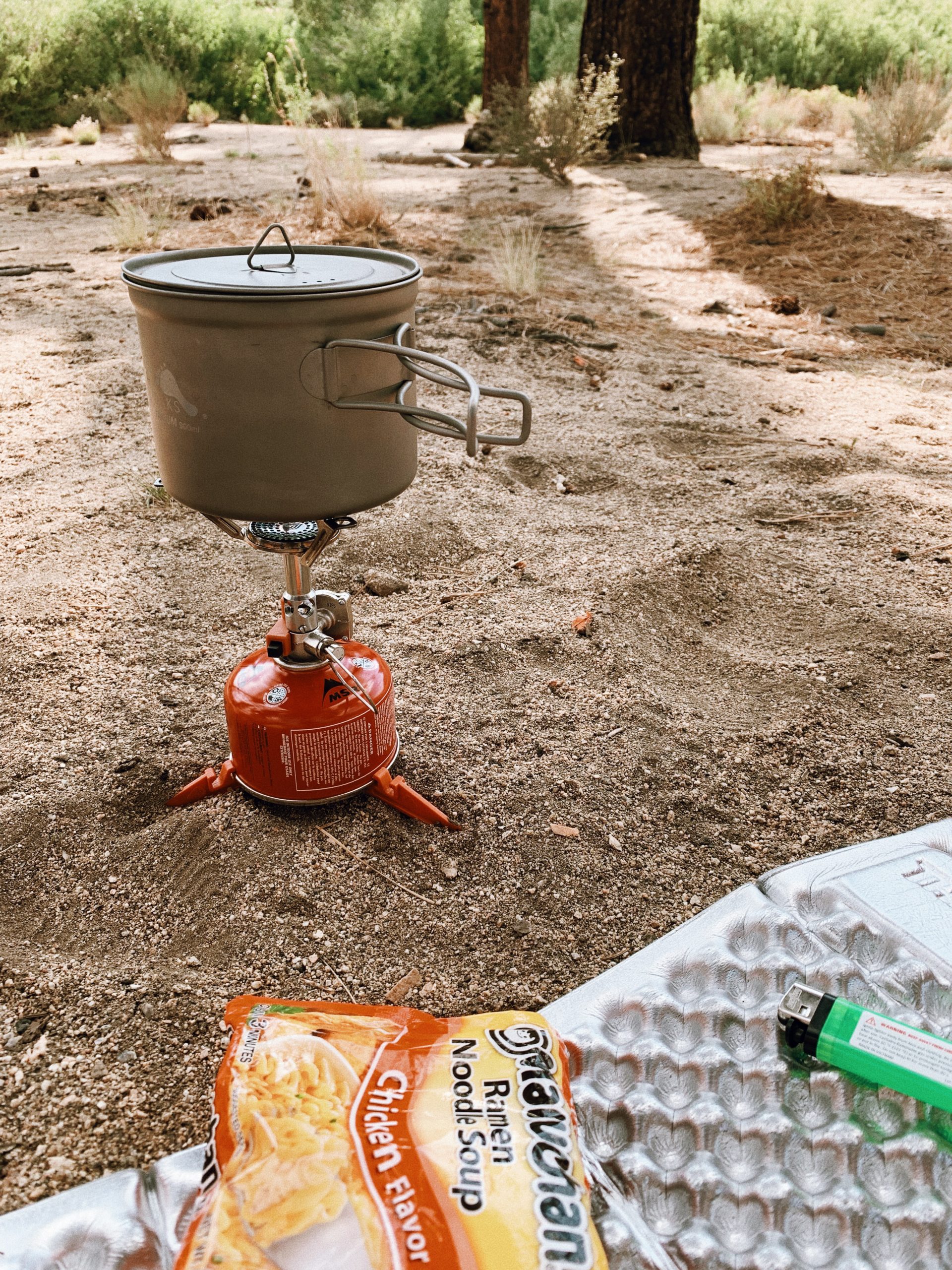 By 5pm I stop hiking, content to do just over 7 miles on this travel day. I set up my tent, put my flip flops on, and toss down my foamie to cook dinner. There's something like, a degree or two more depressing about eating ramen by yourself. What a difference from the desert, a constant sea of people and friends hiking along with each other. I don't mind the camping alone, but it will be very new if I spend the next EIGHT days doing that.
Anyways. It's just after 7 and I am in bed. The wind is just a nice breeze so far and I'm hoping it doesn't pick up. So far so good.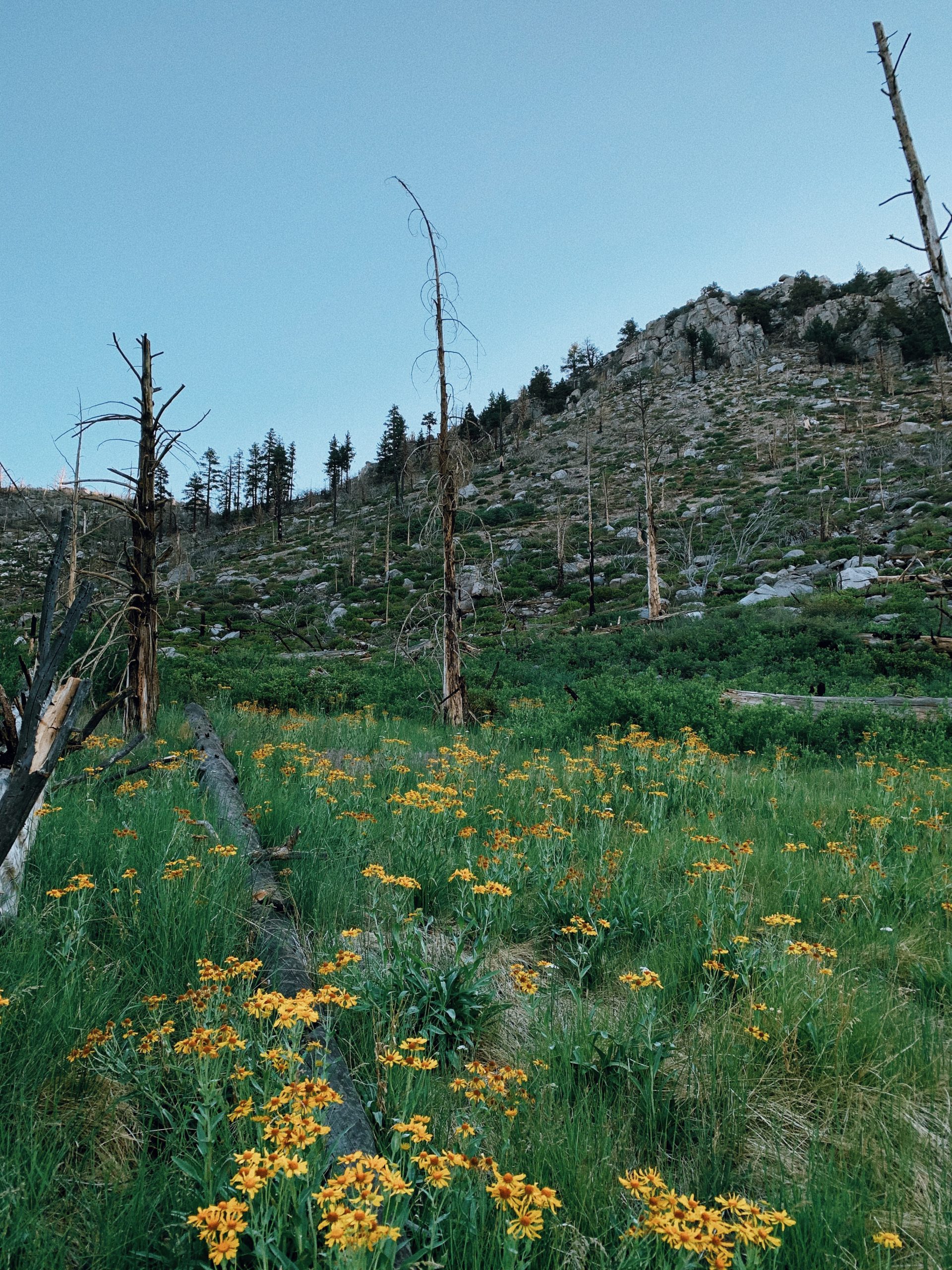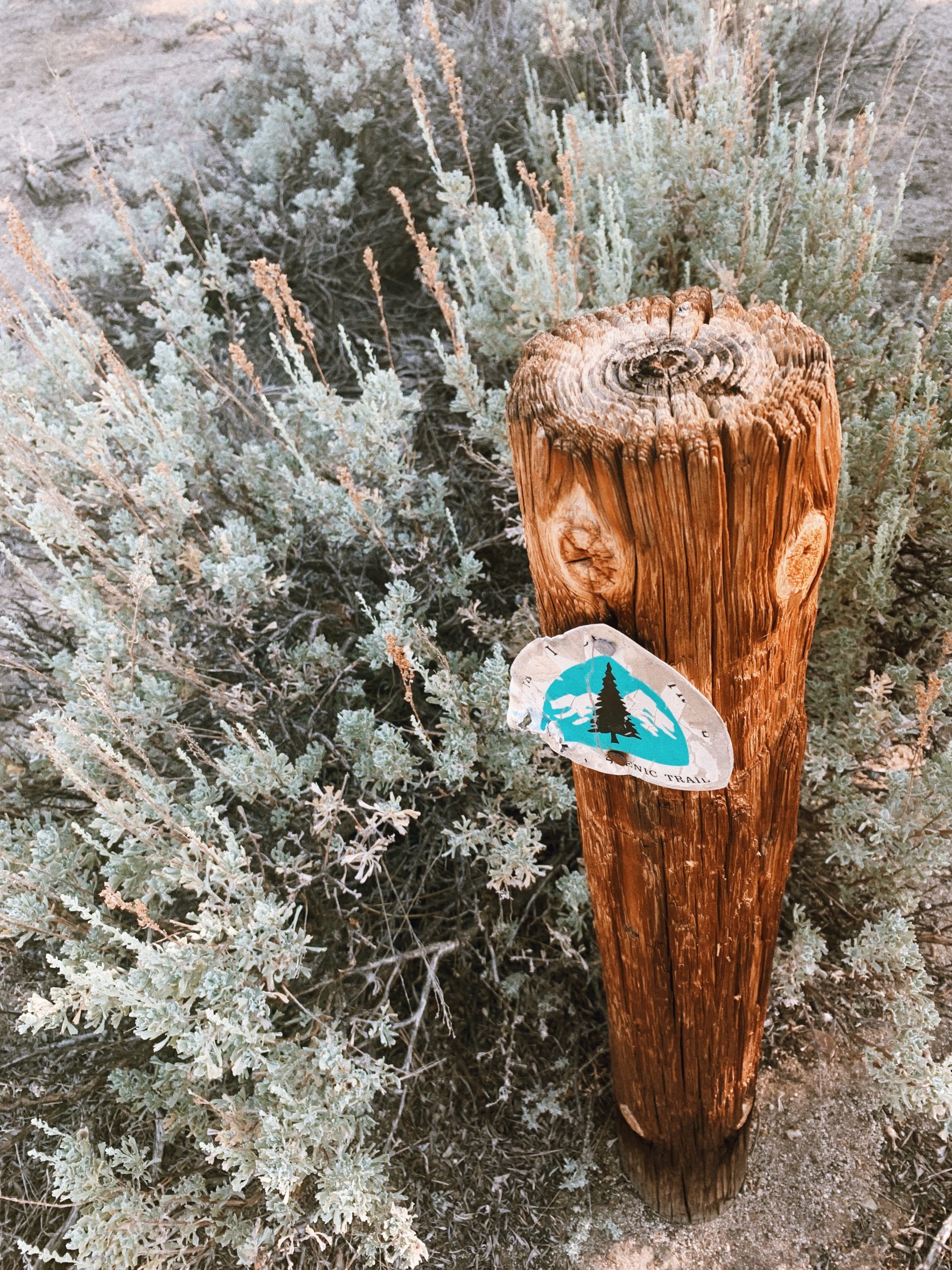 Day 2 (57 Total)
Mile 709.8 to Death Canyon Creek, 21.4 miles
883 Total PCT Miles
Today went something like this: hike, lounge, hike, lounge, hike, lounge. I'm out hiking a little bit past 6 this morning because I couldn't sleep and figured I might as well start moving. It's nice to hike in the coolness, anyways. While technically no longer in the desert, it's still hot out and feels very similar to the last part of the desert section.
After six miles, I come across the Kern River. Finding some shade, I flop down onto my foamie and hang out for a while – napping, snacking, drinking water. Eventually I'll have to filter more and judging by the number of animals I see upstream, it's going to taste like cow poop. Thought I had left the cow dung water back in the desert but obviously not.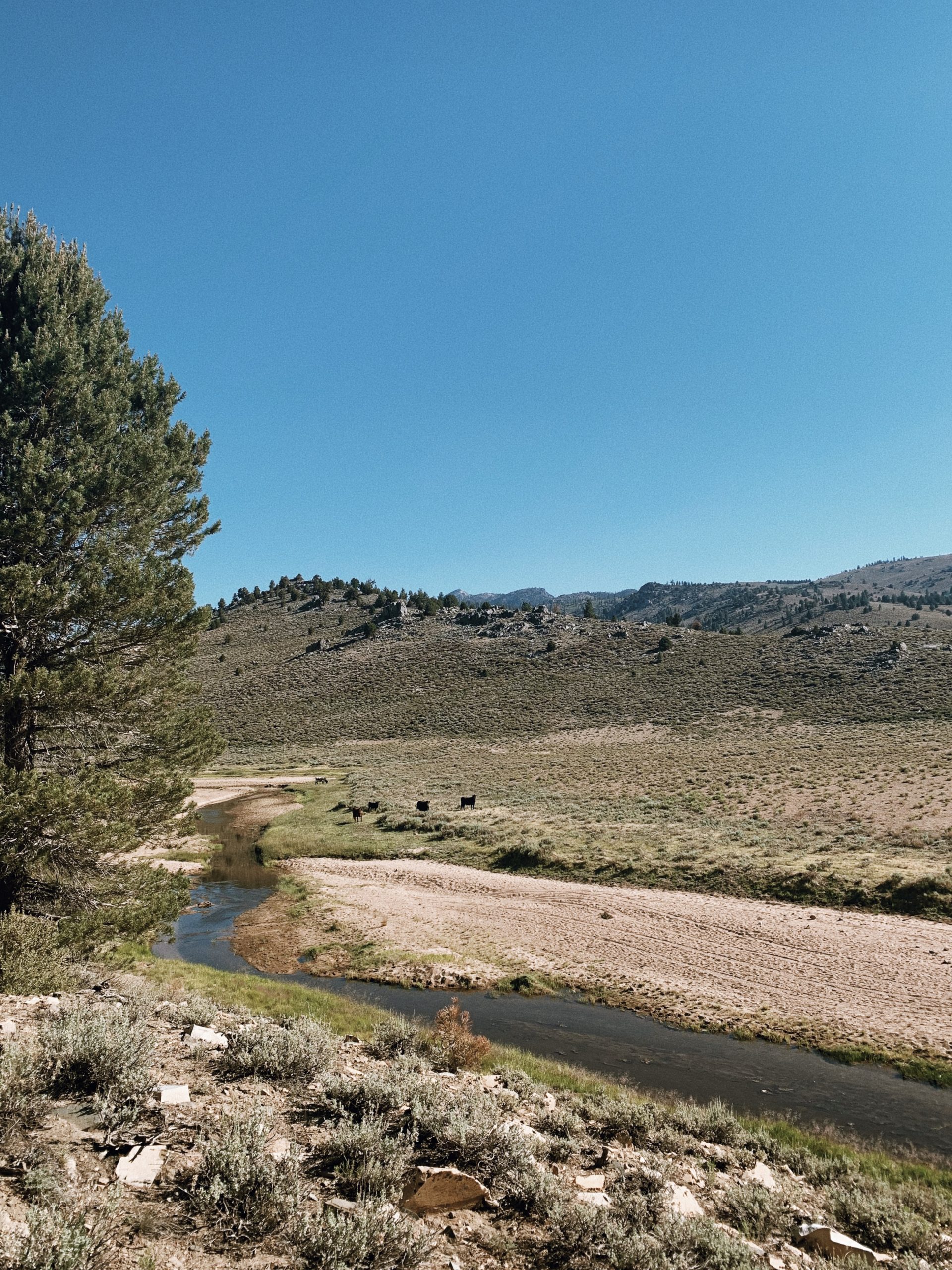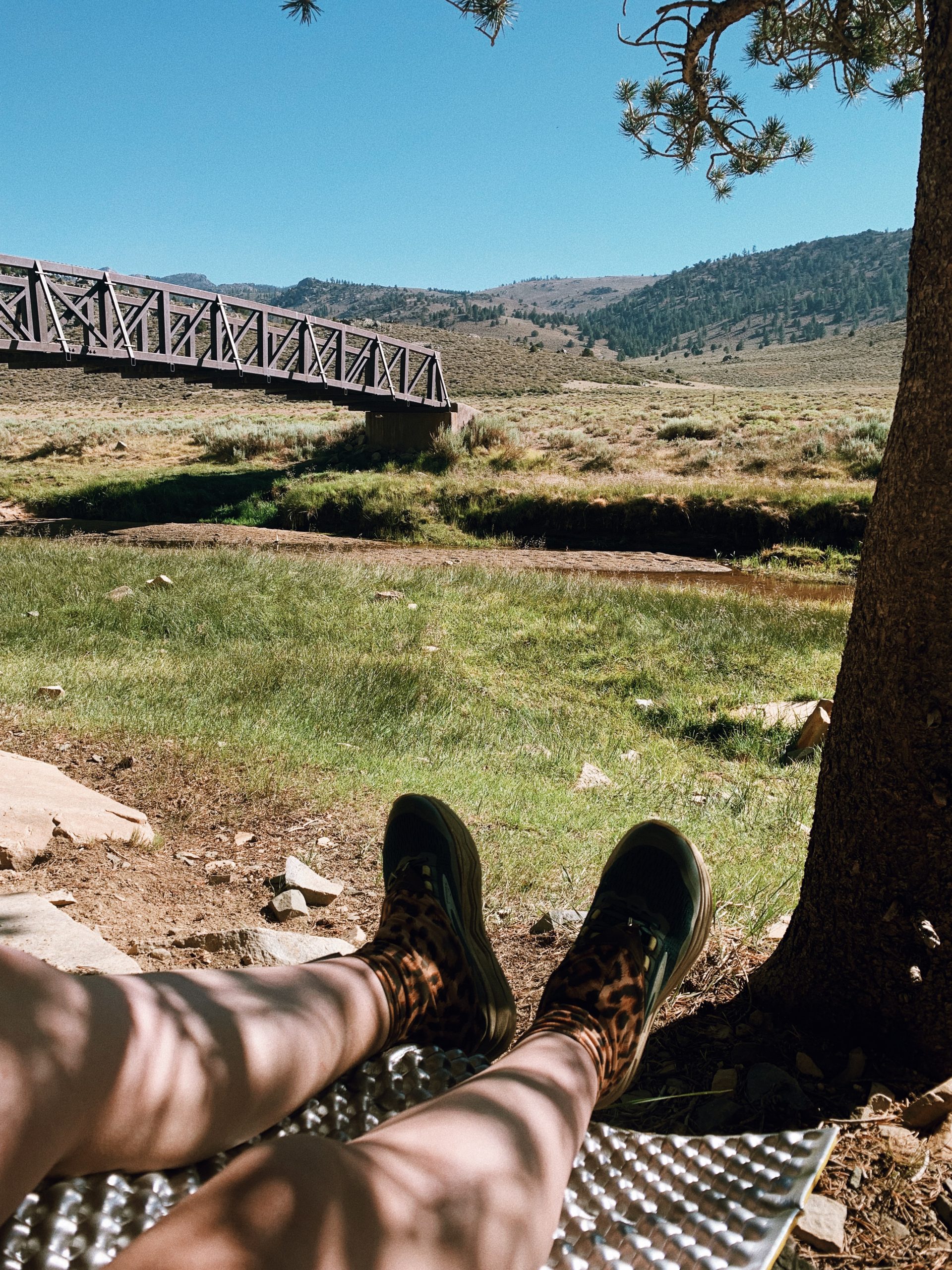 When it's time to start hiking (and climbing up), I'm struck by how dry everything still is. Almost every seasonal creek is either completely dry, or nothing more than a murky, stagnant puddle. Dry as a cigarette butt, Dave. I hike some more, take a long lunch, and then continue upwards. As I'm making my way uphill, I look around me and notice a hiker who looks like they are basically running uphill. A person! My guess, based on the size of their backpack that I am certain does not fit a required bear can, is that they are a thru hiker. And I'm right. I chat with the girl a bit, long enough for her to tell me her mountain lion story, and then she continues on. Can't wait to camp alone again tonight and stare at my tent ceiling thinking about mountain lions!!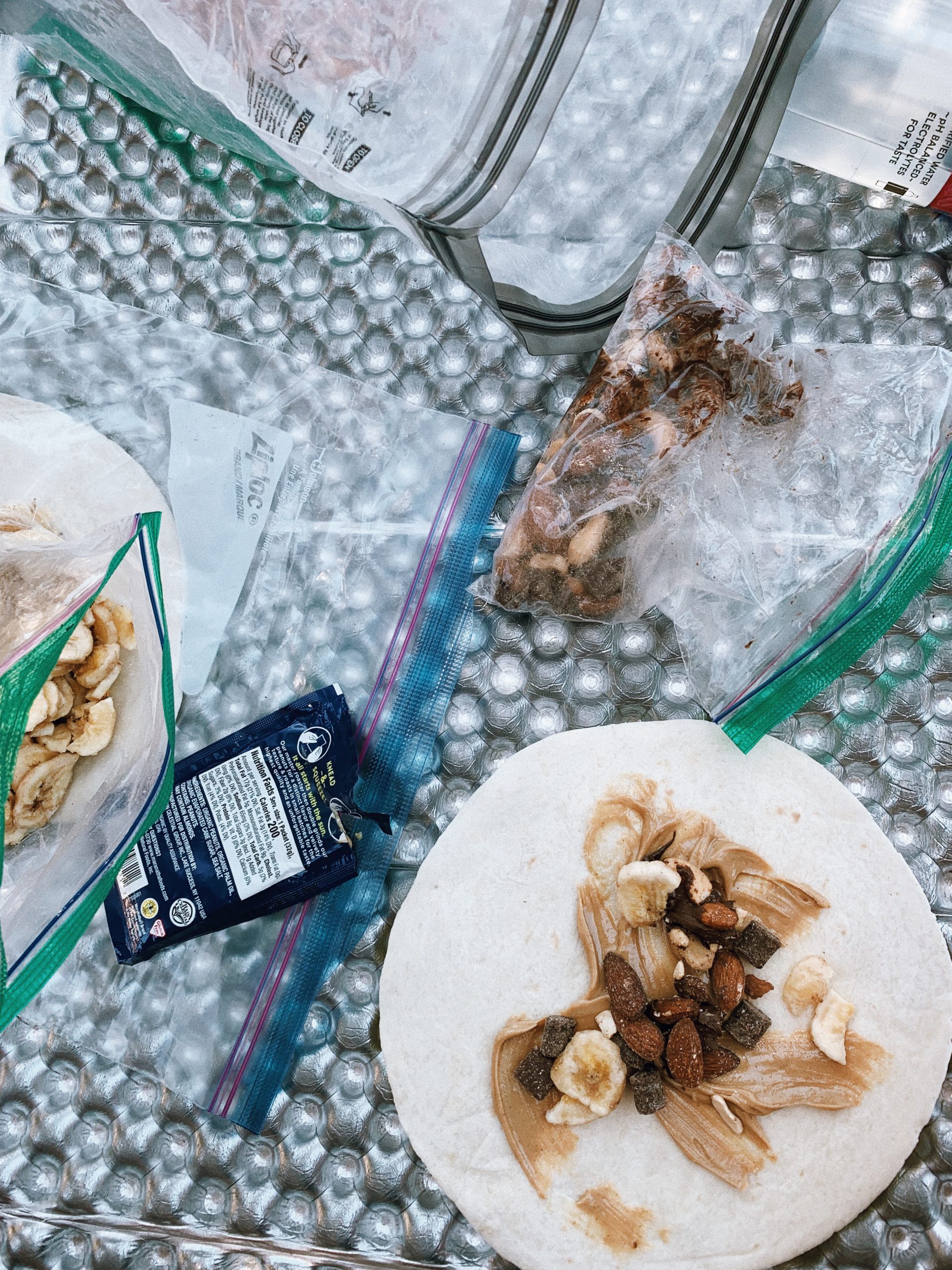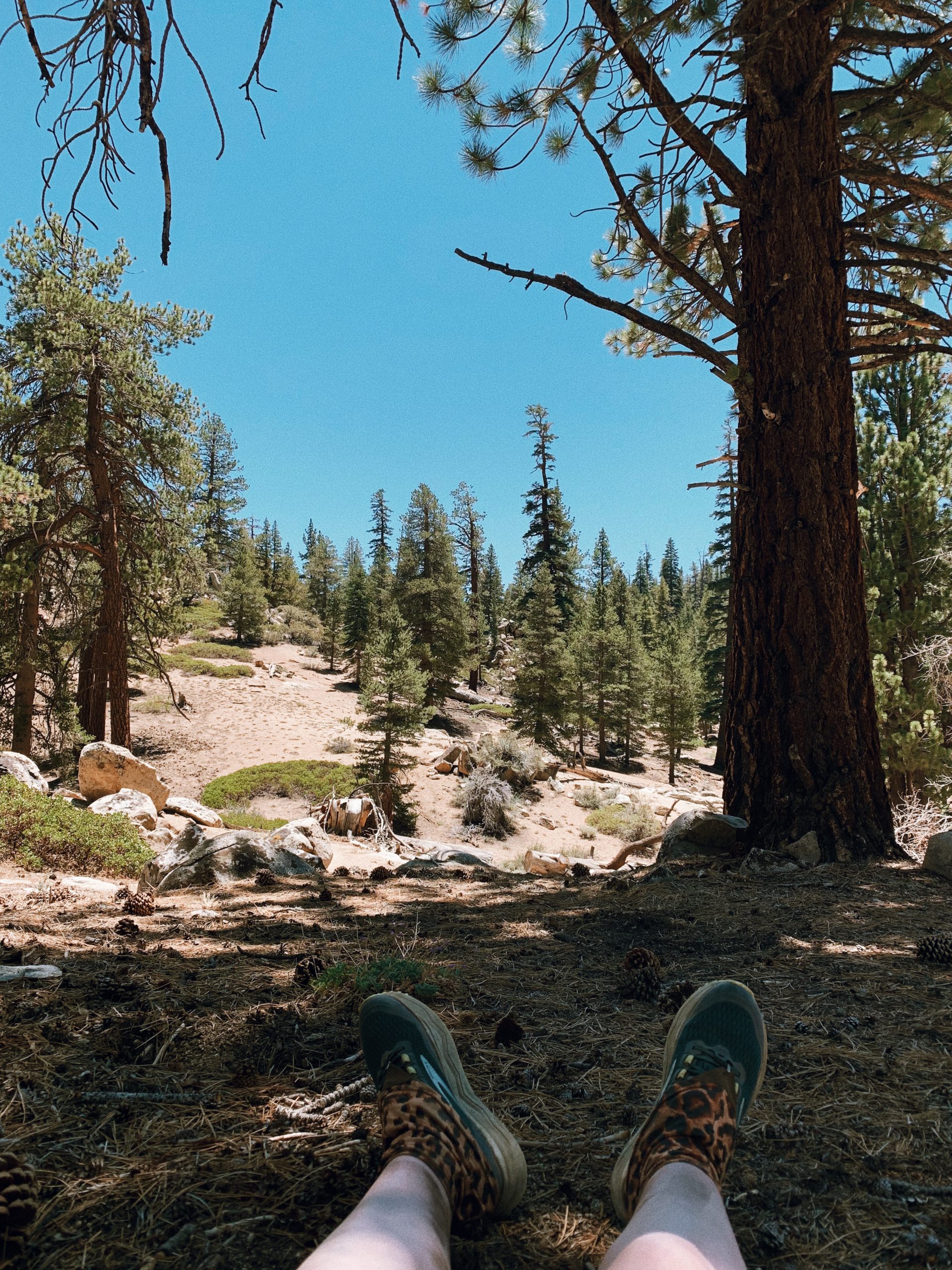 By 4 that evening, I made it to where I thought I wanted to camp. It's nearly impossible to get out of a thru hiker mindset though – why stop at 4pm when I could hike a couple more hours in this nice weather and get further along- so, noting that the next 6 miles are all downhill, I decide to keep hiking. The miles pass pretty quickly, and soon enough I'm at a tiny trickle of a stream and a flat enough spot to camp.
I'm just starting to set up my tent when the thru hiker from earlier comes down the trail. I have no idea where or how I passed her, but here we are. We eat dinner together and chat, and then by the time I'm getting ready to sleep, she tells me she's planning another ten miles for the night. As for me, I am absolutely going to bed so I wish her well with her night hiking and curl up in my sleeping bag. Goodnight.
Day 3 (58 Total)
Death Canyon Creek to Chicken Spring Lake, 20 miles
903 Total PCT Miles
Even despite a two hour lunch break, I still end up doing another 20 mile day. Oops, I may be going through this section faster than I'd planned. There was a lot of climbing today, and honestly it wasn't that exciting. Pretty hot and relatively boring.
But, then I get to Chicken Spring Lake and it's all worth it. The sun is shining, the water is cold, and I find a lovely flat spot looking out at the lake. After setting up my tent I go to filter water and take a swim. The area is actually quite full, a collection of section hikers and weekend warriors and probably a thru hiker somewhere.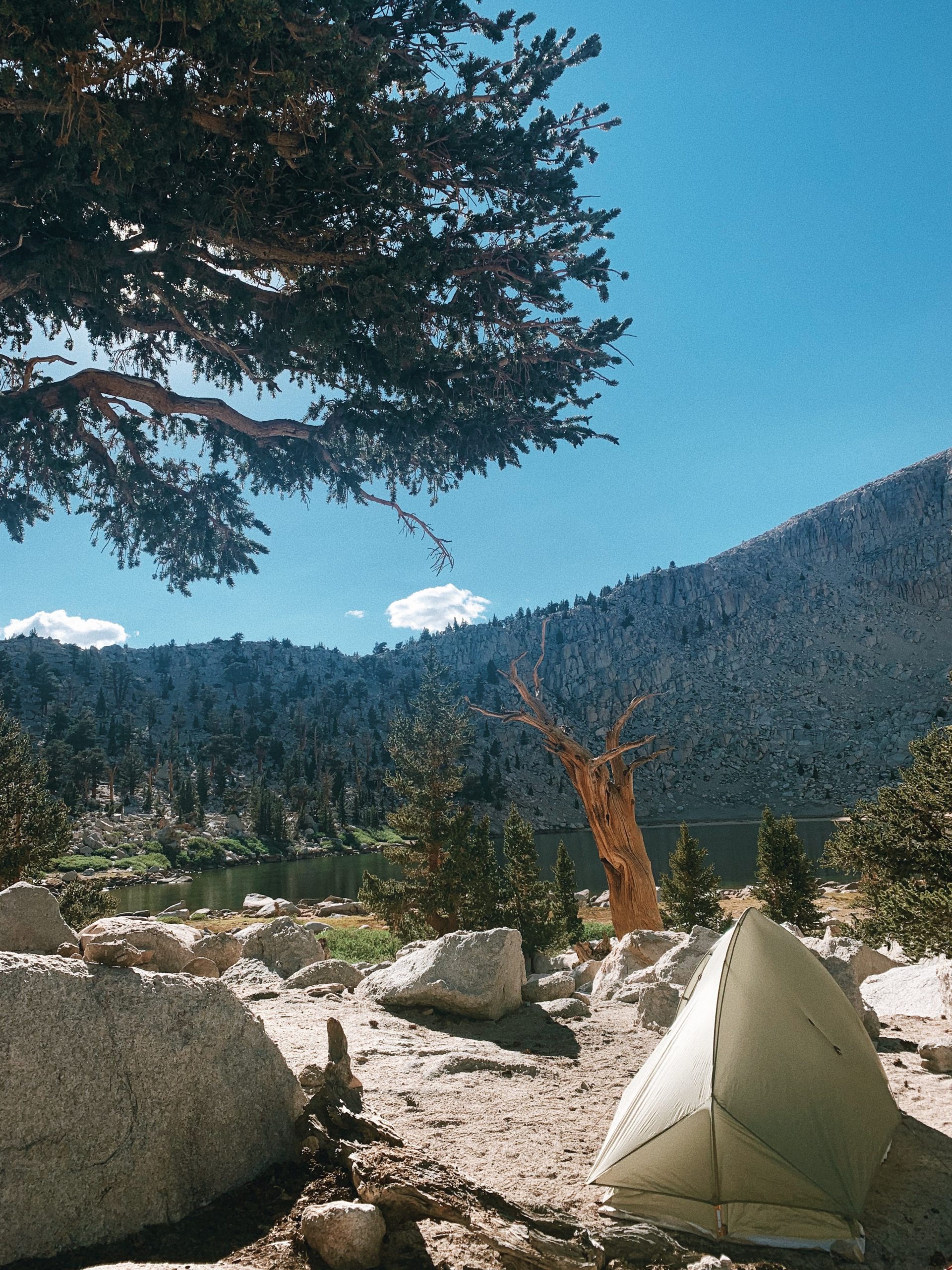 I'm camped next to a rather large group who tells me they come here every July 4th weekend. They ask me where I'm hiking and I explain what I'm doing; that I'll be on trail for most of July if possible. "I wish I could be as brave as you!" The middle aged woman tells me. I'm not sure that what I'm doing is really that brave, but ¯\_(ツ)_/¯
Later as I'm cooking, I hear the man from earlier call out "Miss July!!" I look up from my ramen and him and his wife are making their way over with a couple of tacos. "You're going to need fuel if you're hiking for all of July! Want some tacos?"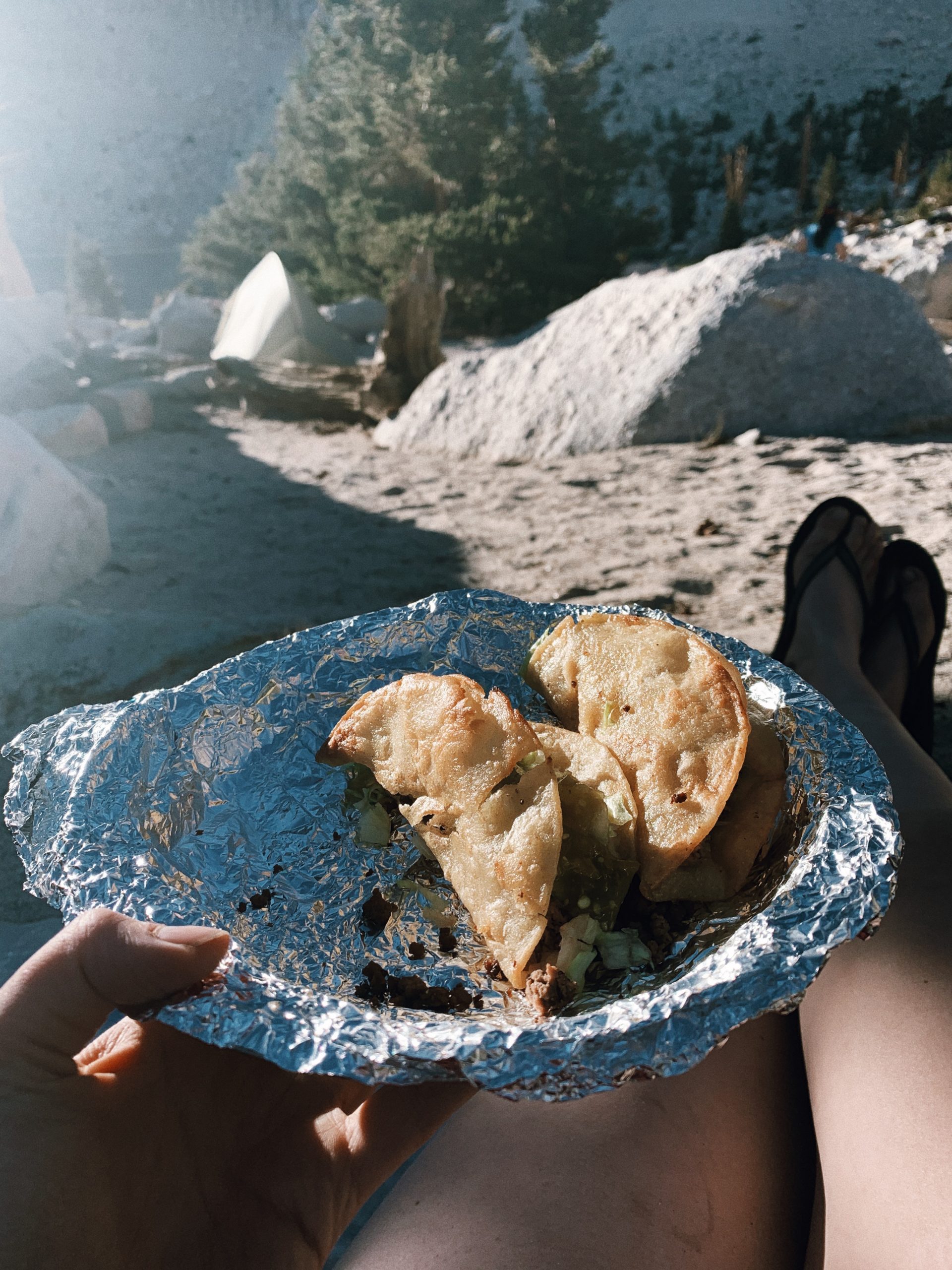 First of all, I'm impressed that they just whipped up tacos in the backcountry at 11,200 ft. I mean, this thing looks legit. Secondly, obviously I want some tacos. A much better offer than the guy who just invited me to smoke with him. What it is about me that gives of the "yes let's smoke a joint together" vibe?? So I eat the tacos (amazing), return the foil plate (because I do not want to carry it around for the next few days of hiking), and then start to get ready for bed as the sun makes its way behind the mountain.
That night, I'm in the middle of a deep sleep when I'm woken up by the guy from earlier yelling "Holy fuck, man, check out them stars!!" I just repeat to myself "they gave you tacos they gave you tacos they gave you tacos" so I don't get annoyed that this loud exclamation woke me up from the first deep sleep I've had on trail. Plus, I stick my head out of my tent to check out the stars since I'm awake anyway and, he's right. The stars are pretty epic, indeed.