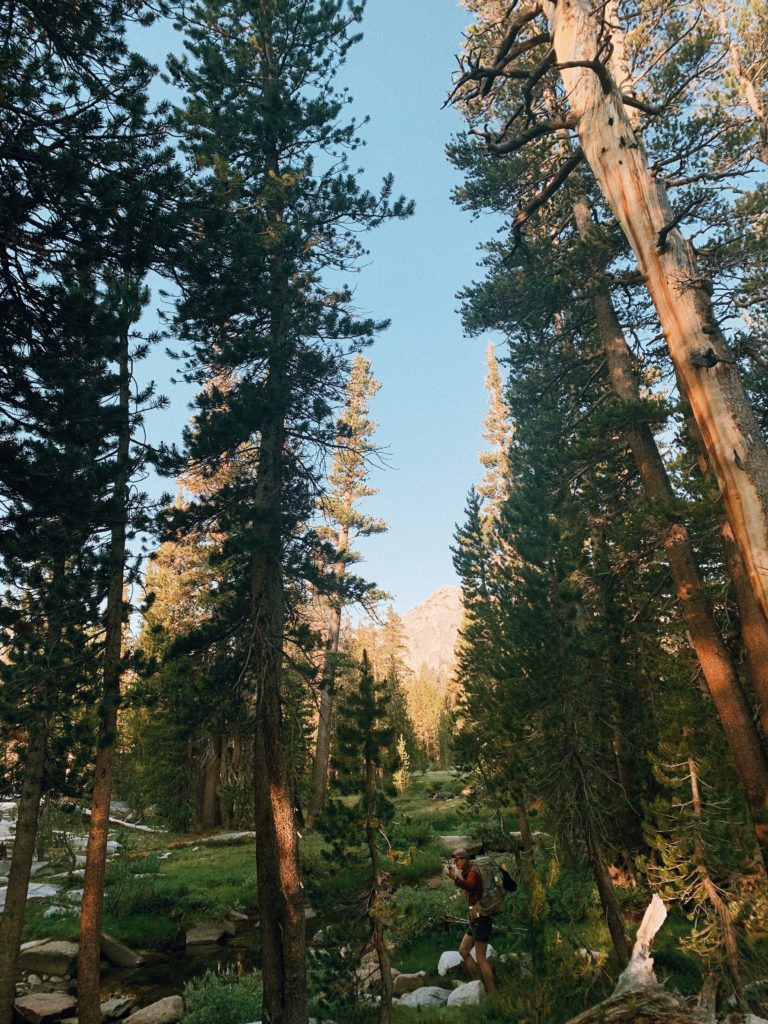 Day 11 (66 Total)
Bear Creek to South Fork Joaquin River, 16.7 miles (southbound)
994.9 Total PCT Miles
It's another early start for us, and after briefly chatting with the dad from the trio camped nearby, he tells us to stay safe and off we go. We rock hop across the stream, which is crazy as apparently it's usually quite the ordeal to get across this one. Fifteen or so minutes later, we're throwing our packs down to grab something (it's a tampon y'all) for Savannah's bloody nose.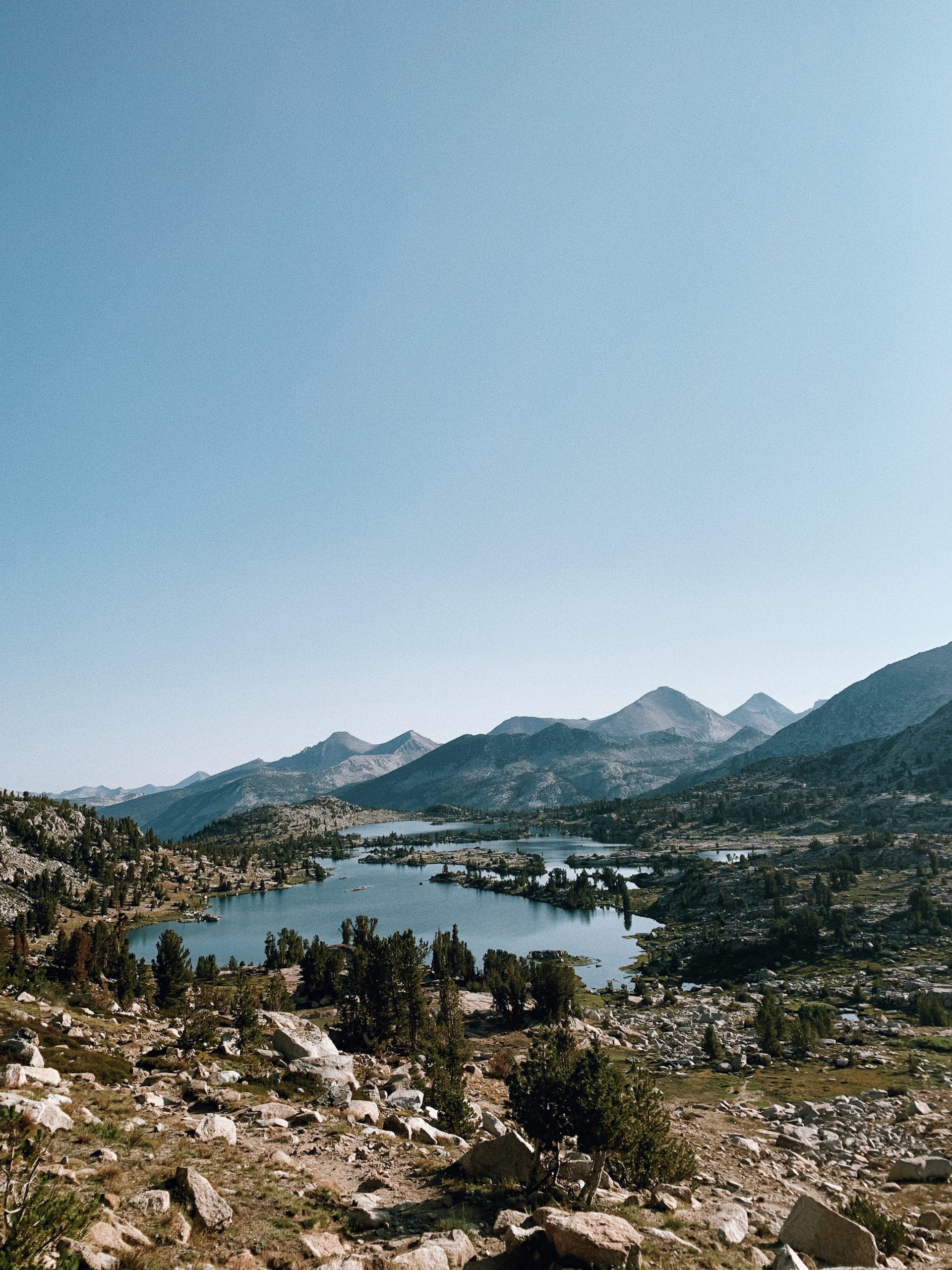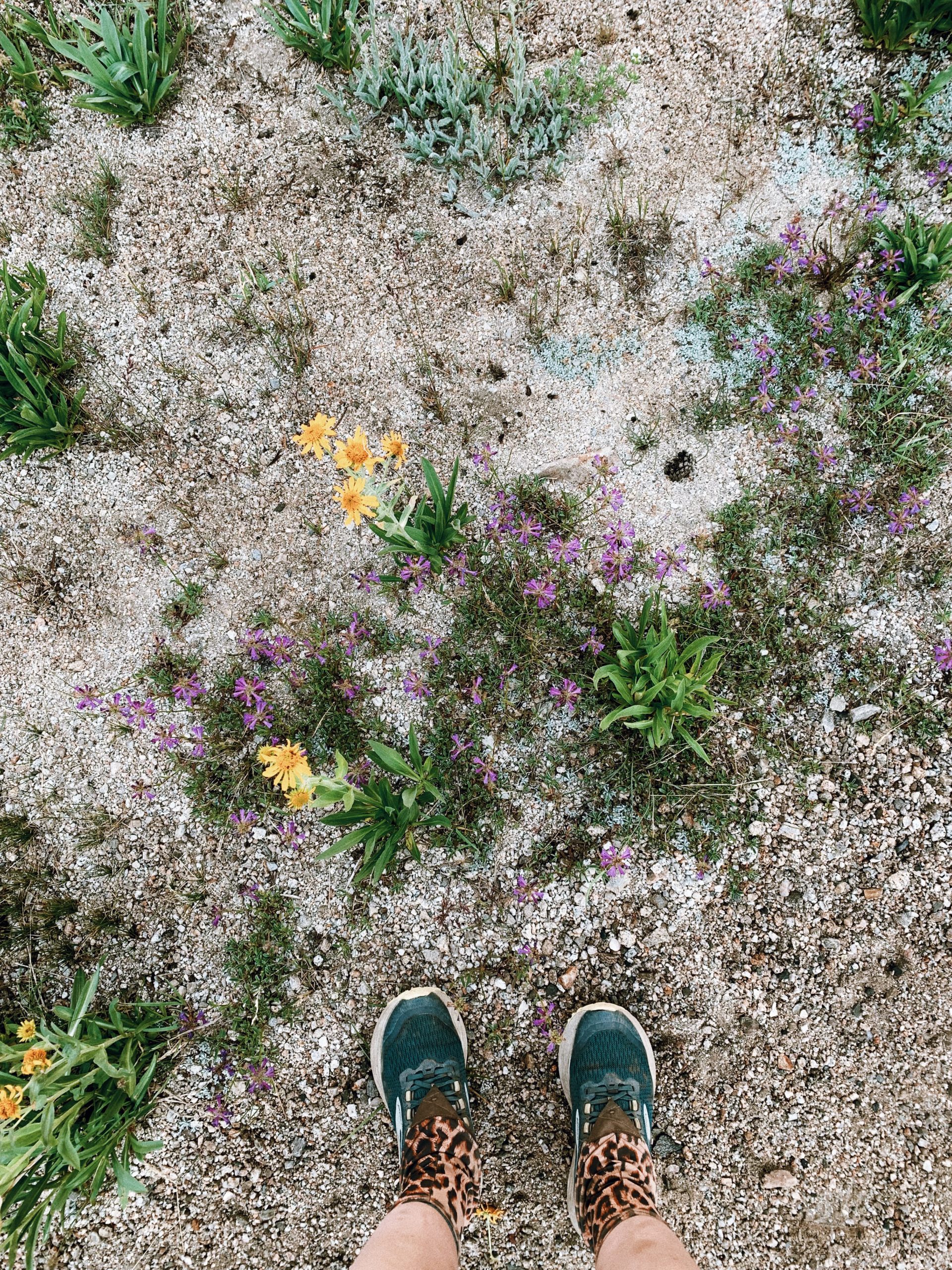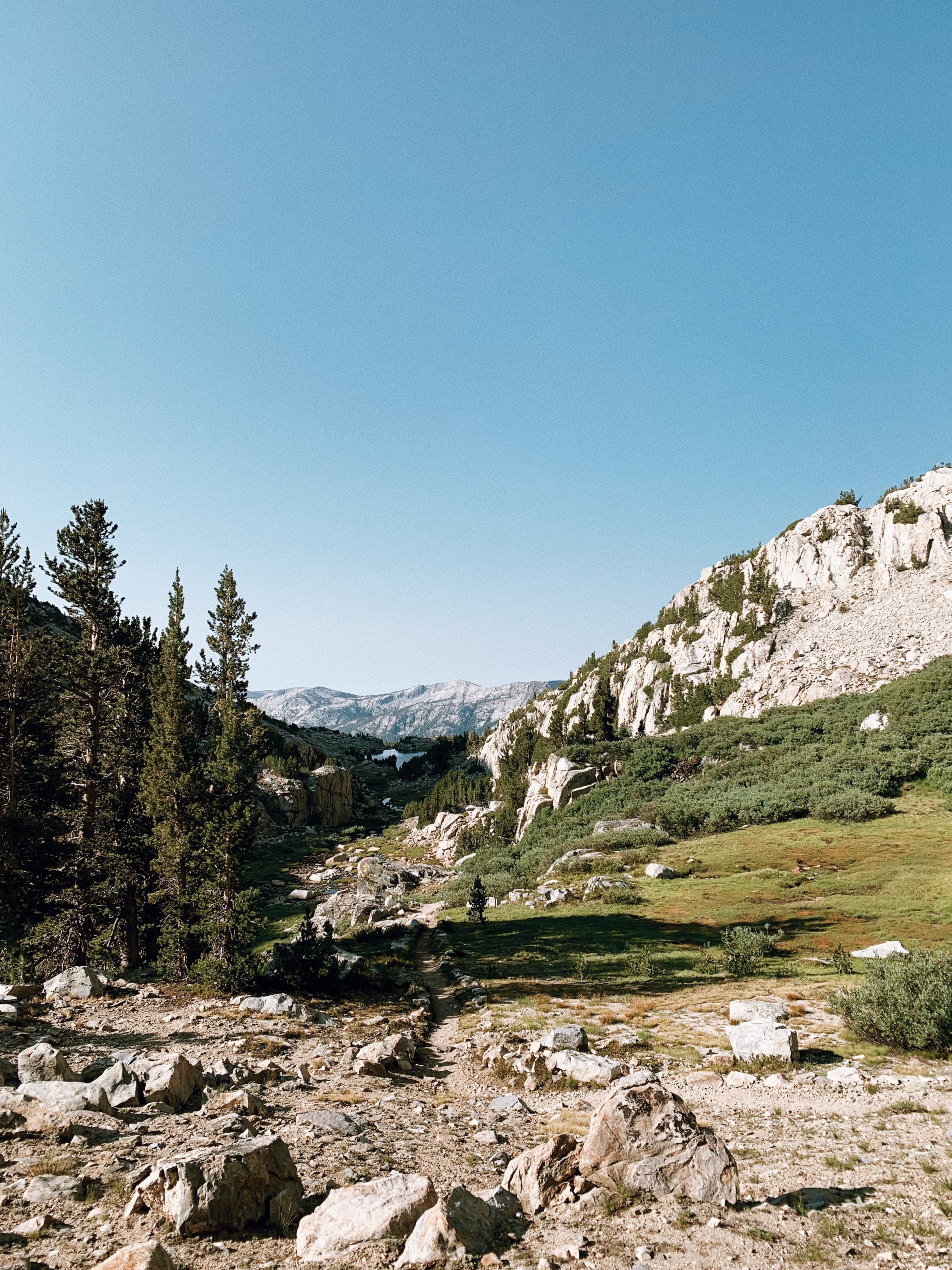 The hike up to Seldon Pass is generally pretty gradual, and with these views I have no complaints. We hike past open green meadows and patches of purple and yellow flowers, with every switchback giving us a better and better look at all of the lakes. As we're heading up, we run into one of the hikers I was on Mt. Whitney with. He says he's in the middle of a 24hr challenge (hike as many miles as possible in 24hrs) and honestly he looks like it. After a quick hello, he ambles away, rather leisurely if you ask me but I guess if you're trying to fit as many miles as you can into 24hrs they aren't all going to be fast.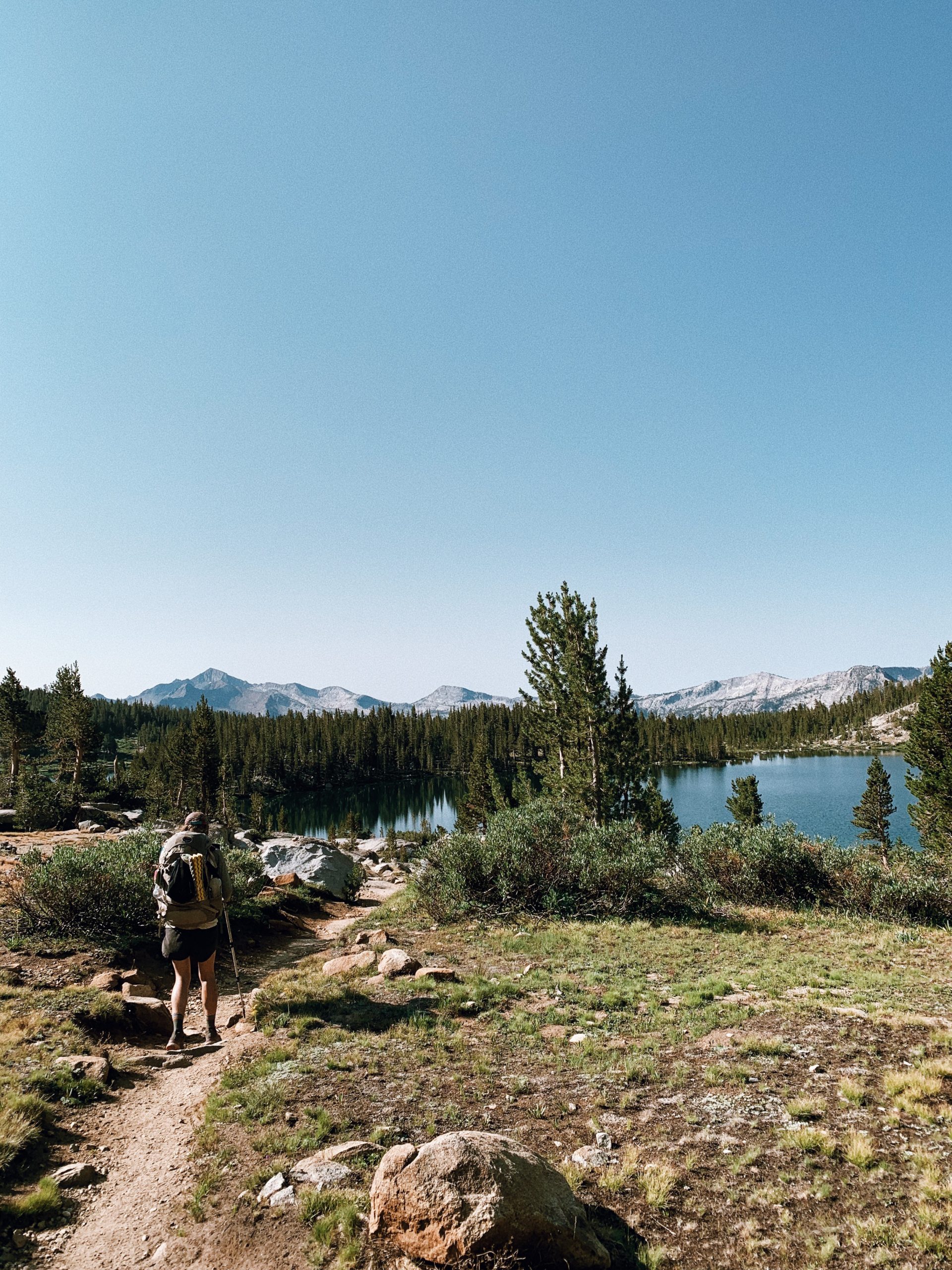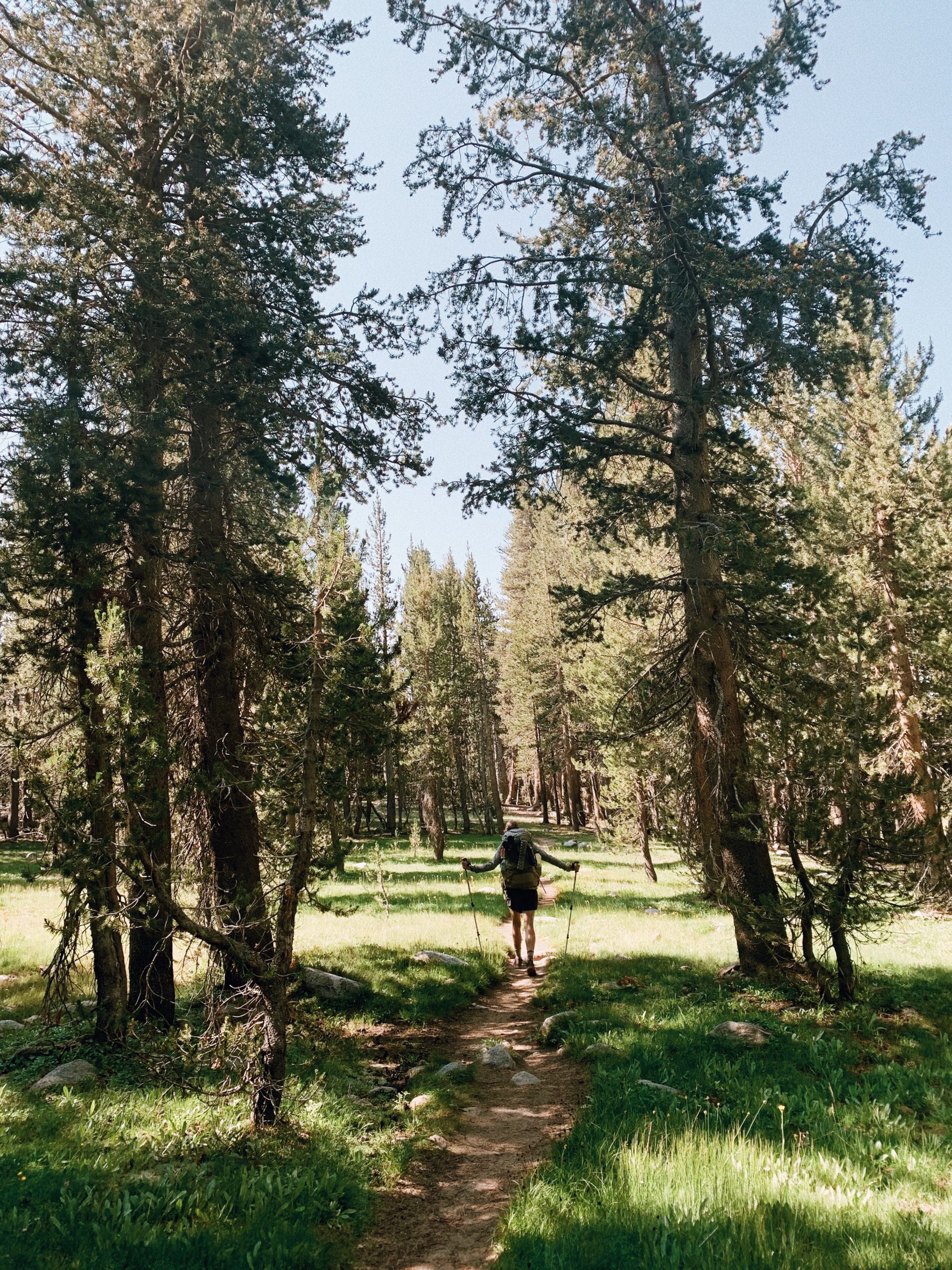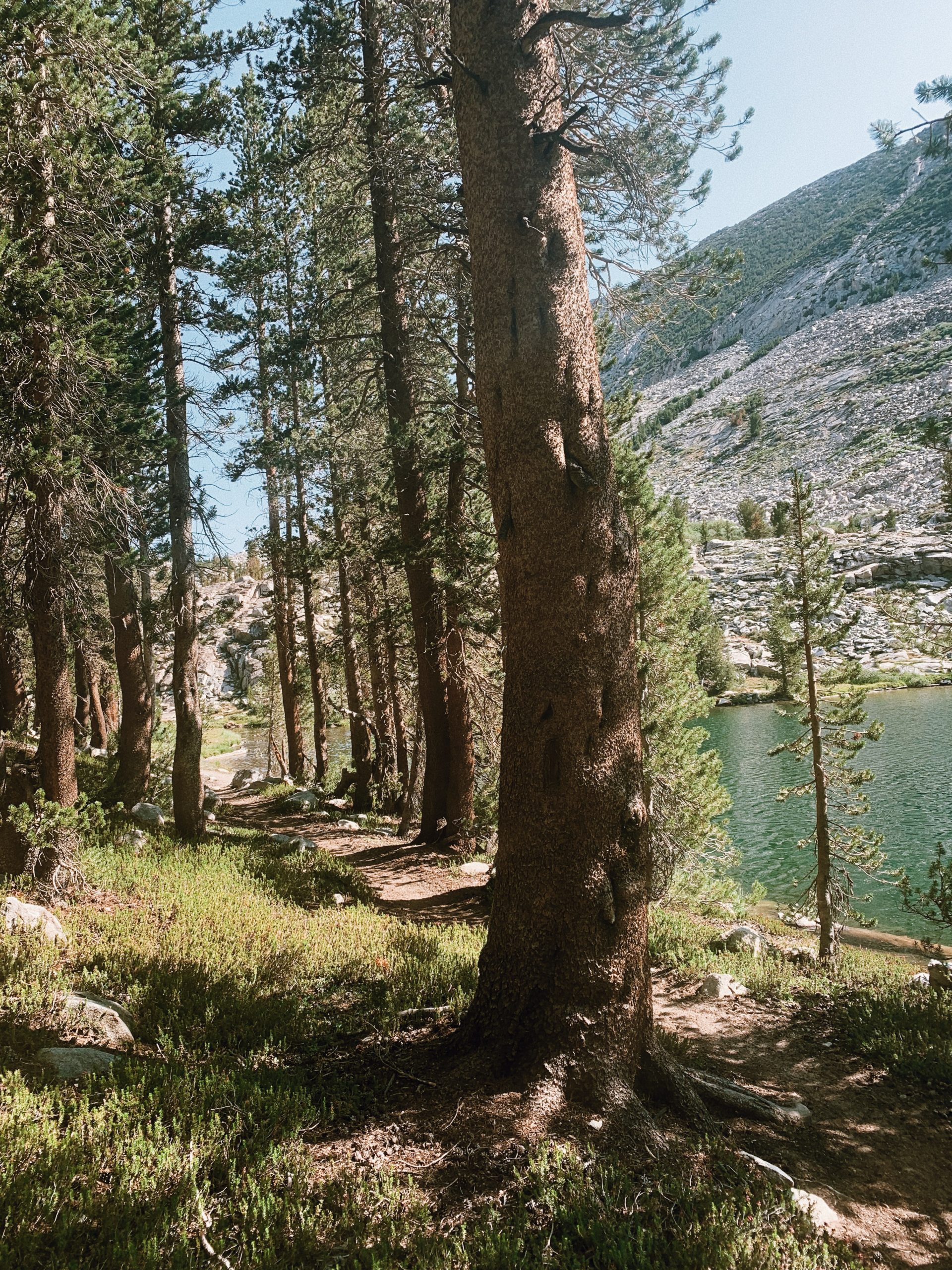 The trail begins to meander alongside the shores of a lake, and it doesn't take much for us to decide to swim. It's only 9am but already hot, of course, and we've spent a lot of time exposed above tree line. Jumping in and swimming around for a minute is possibly the best decision I've made all day. I mean, swimming in general has never been a bad decision thus far when hiking.
And then, more downhill. Down down down, a lot of exposed switchbacks. I pick some of the giant pine cones up with my trekking poles and then punt them into the woods. Anything to break up the monotony of a steady exposed descent. Savannah joins in, and then we start kicking a pinecone down the trail, taking turns launching it further ahead. This could possibly be why I end the day with so much debris in my shoes. Just a guess.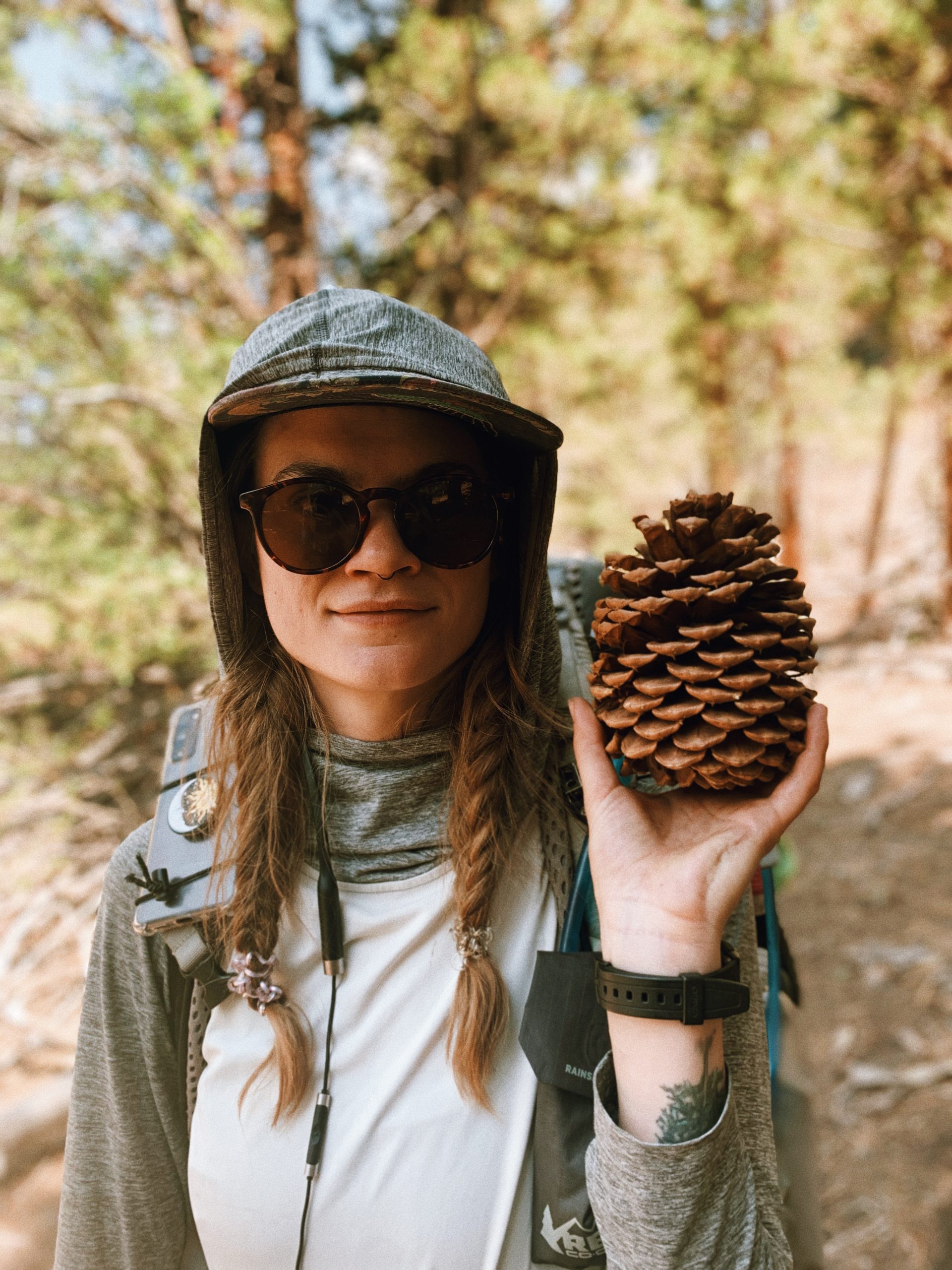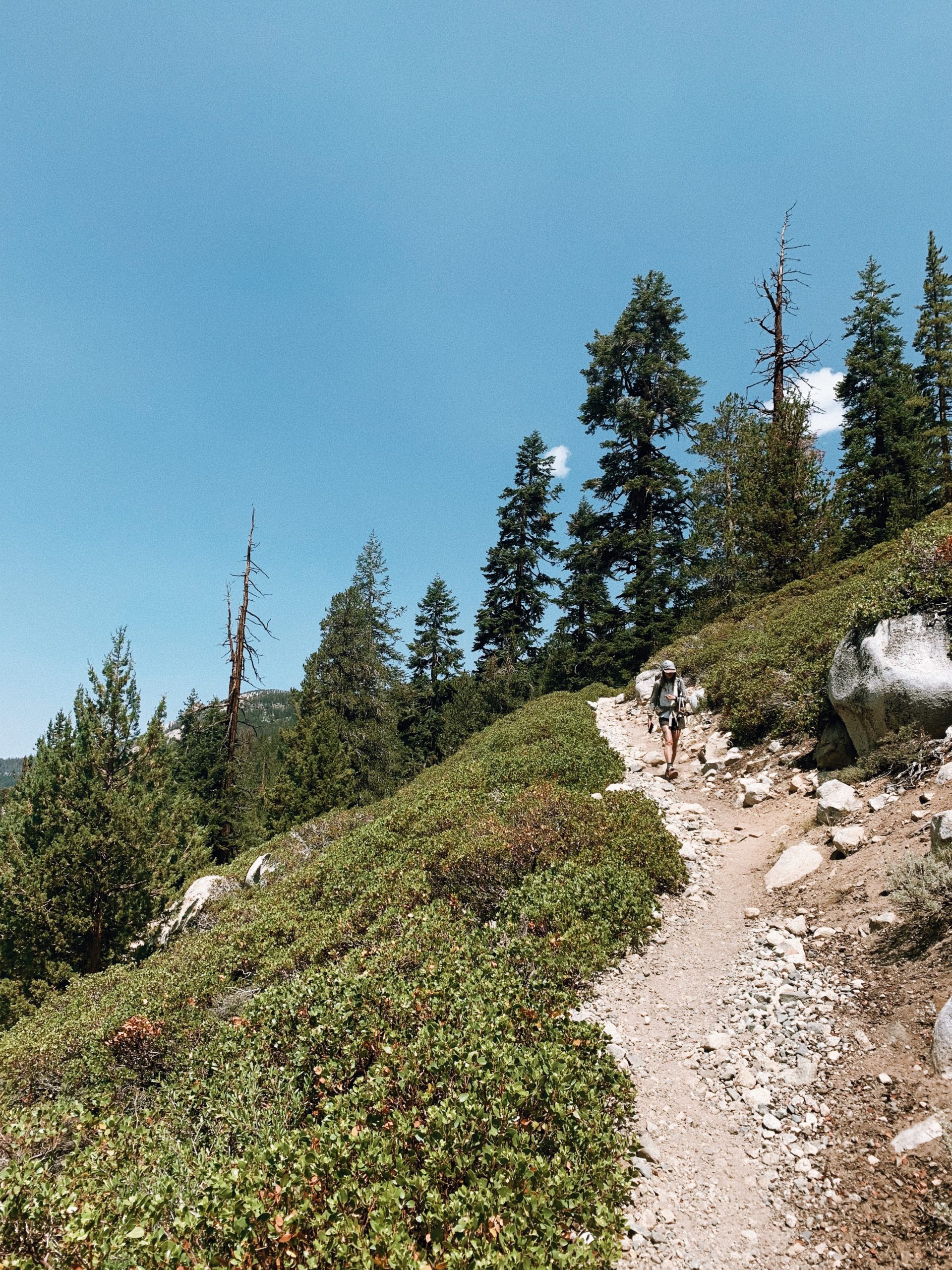 After what feels like a long morning, we arrive at Piute Creek. We can tell we're getting close because there seems to be a little bubble of people hiking away from the area, and they all are way too chipper to have been hiking in the sun – we assume they've just left water. And sure enough, within a minute or two we're at the water. Shoes kicked off, packs dropped, submerging ourselves in the icy pools. Again: immediate improvement to my mood and my body temperature. There's also a breeze, and no bugs, so lunch feels extra relaxing and cool.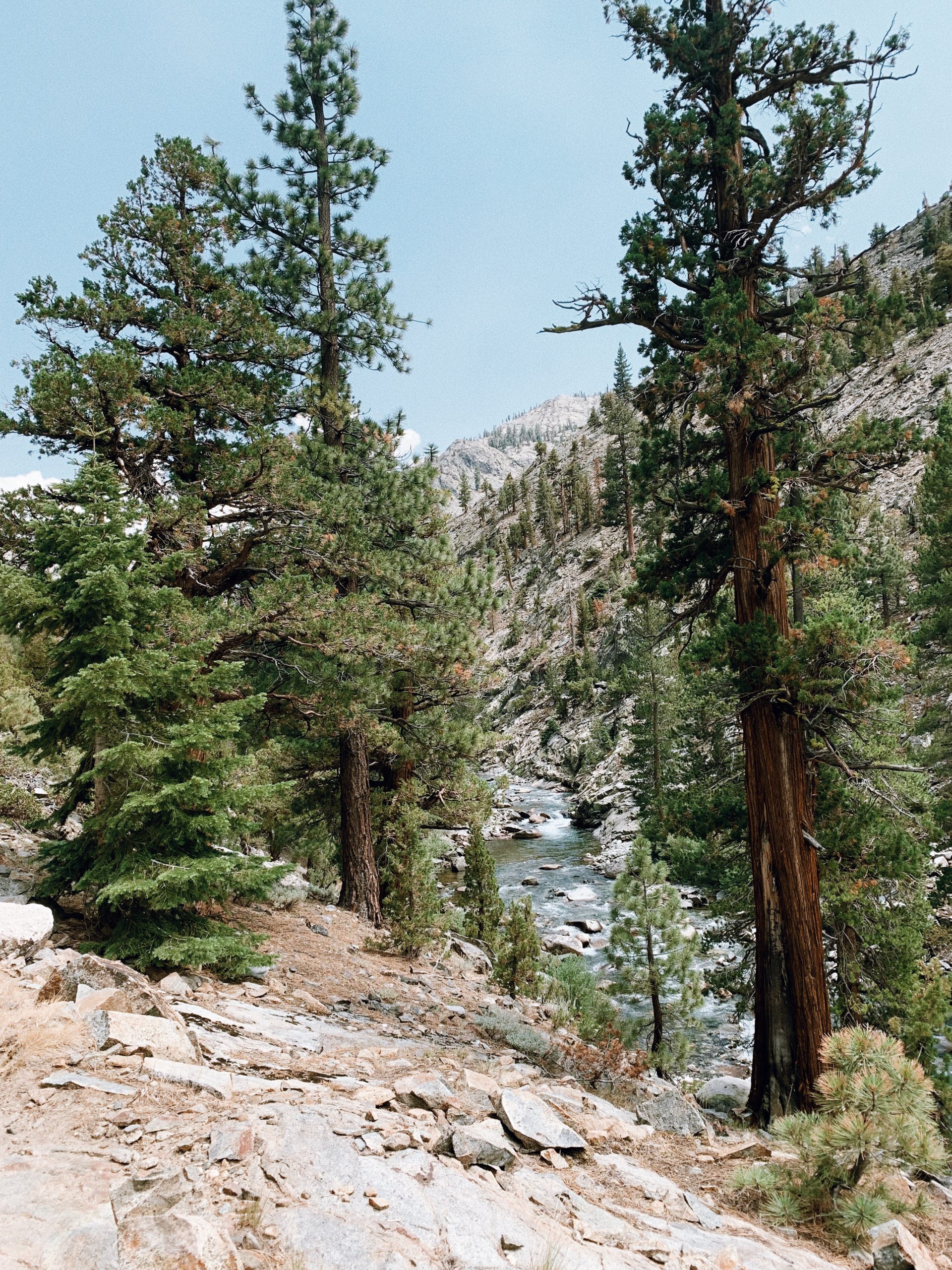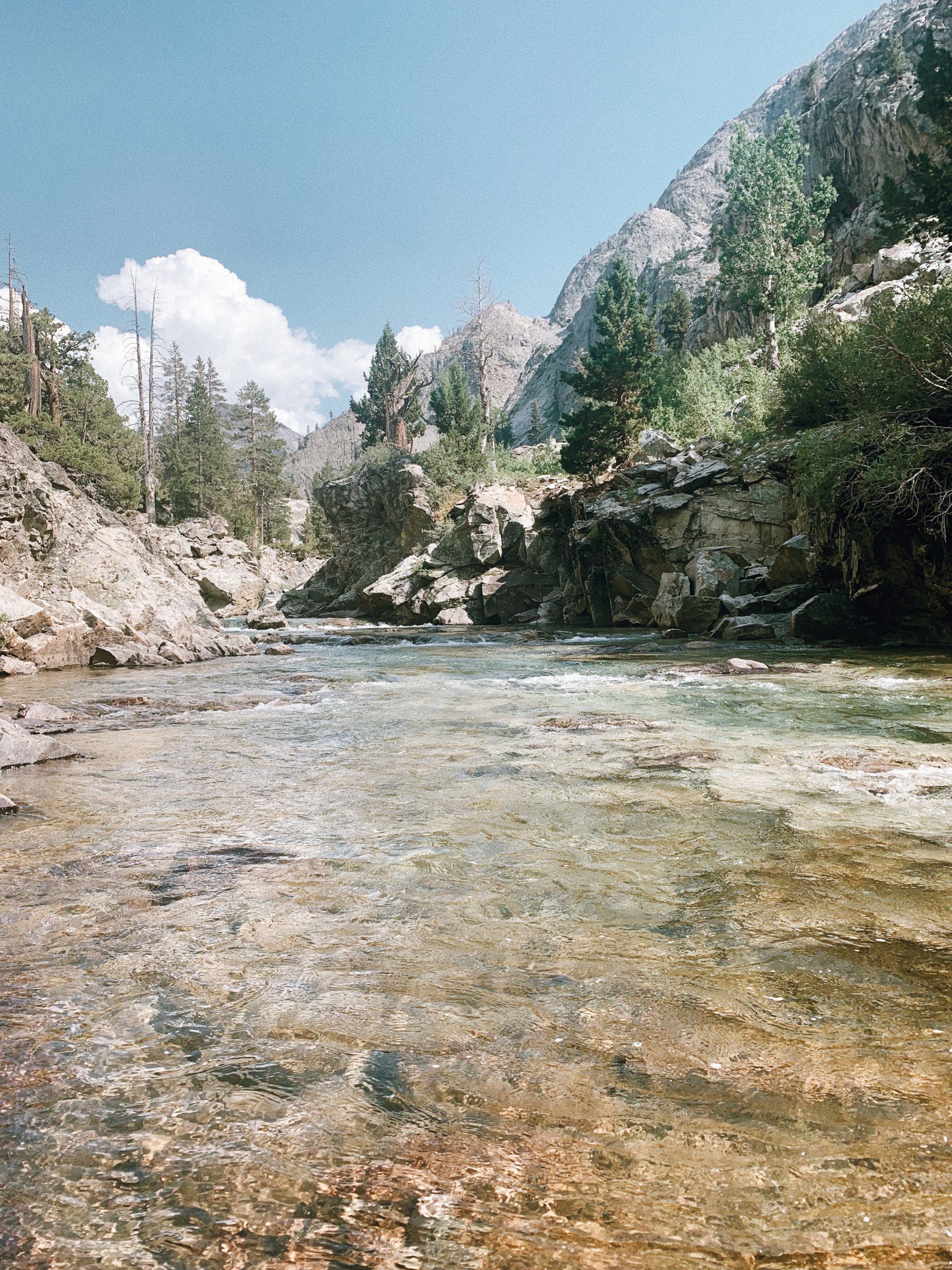 After lunch, we continue to follow water as we walk along the South Fork of the San Joaquin River. We stop for breaks alongside the water in the shade, and then end up calling it a day after a little more than 16 miles total. We end up camping just on the other side of a bridge with a warning about a large bear active in the vague area we're in. Somehow it's weirdly comforting that the sign is on the other side of the river, as if the bear would know where people are saying it's active and not cross over to where we are camped. Irrational? Yes. Even so, Savannah and I set our tents up close together and are extra careful about getting all our scented things into the bear cans and cooking away from our tents.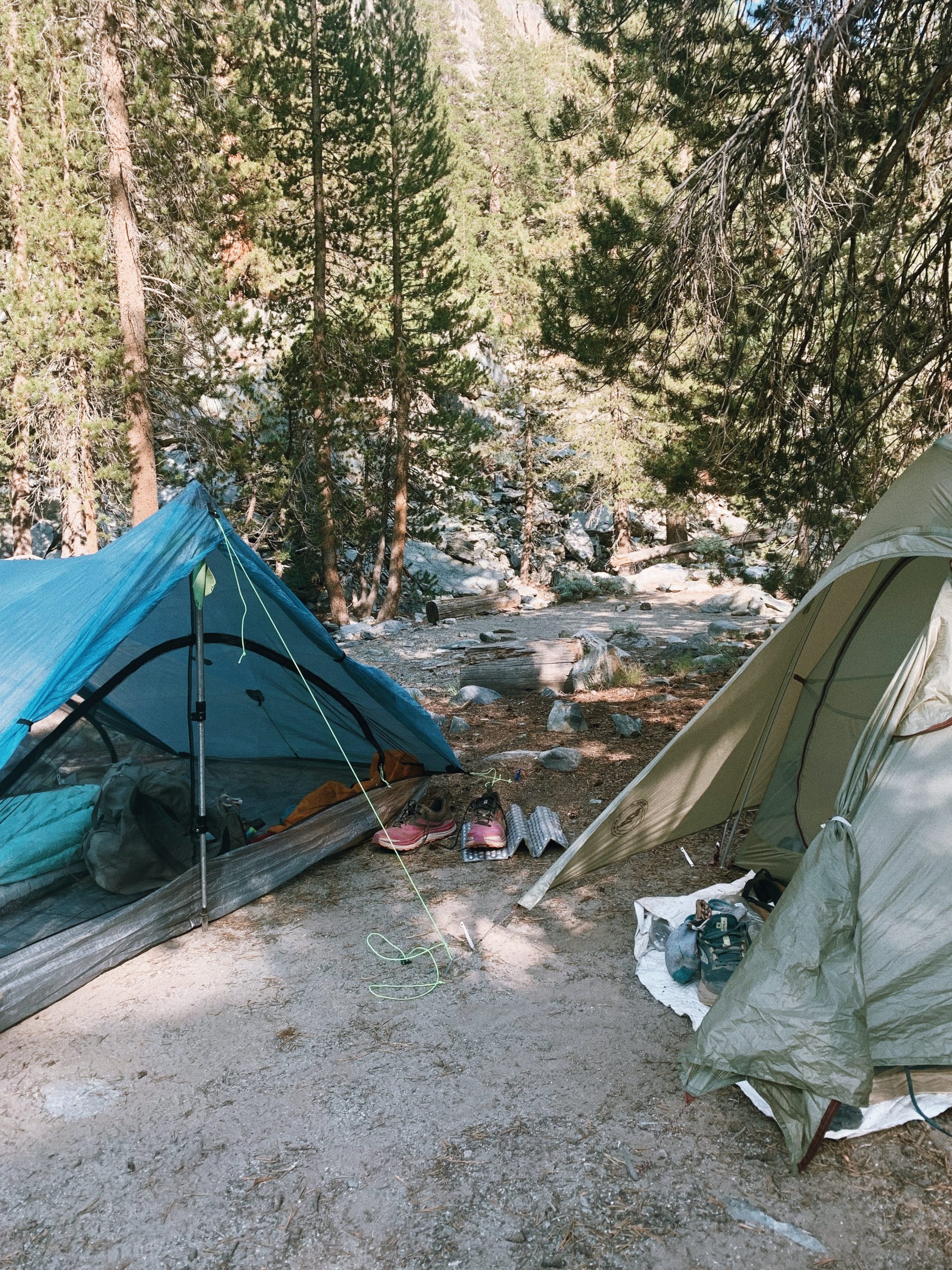 We eat dinner over by the trail and overlooking the water, people-watching the hikers that cruise by into the evening. There's a dad and his two sons that stop for water who we end up talking with for a while – the father joking that he's tired of hiking and his sons telling him to stop complaining, that he needs to keep going or they'll fall more behind. They're a comical trio, providing most of our evening entertainment before they trudge off onto the trail for their final few miles of the day.
Day 12 (67 Total)
South Fork Joaquin River to Mile 1818.6 SOBO, 17.4 miles (southbound)
1,012.3 Total PCT Miles
I'm impressed with how well I slept last night considering the whole bear warning sign across the water. Then again, between the other hikers who camped near us and the horses/mules on the other side of the river, I probably felt pretty secure.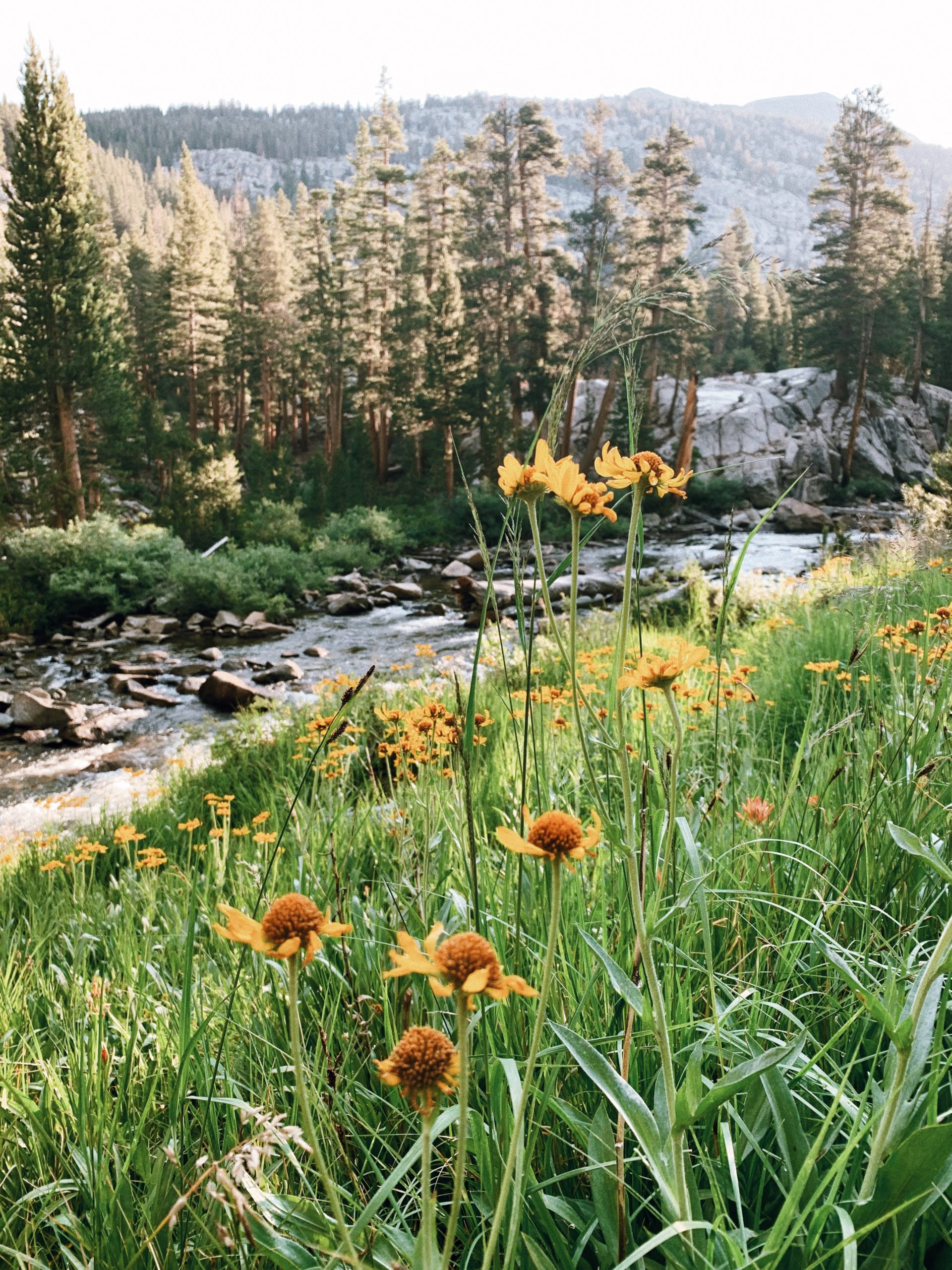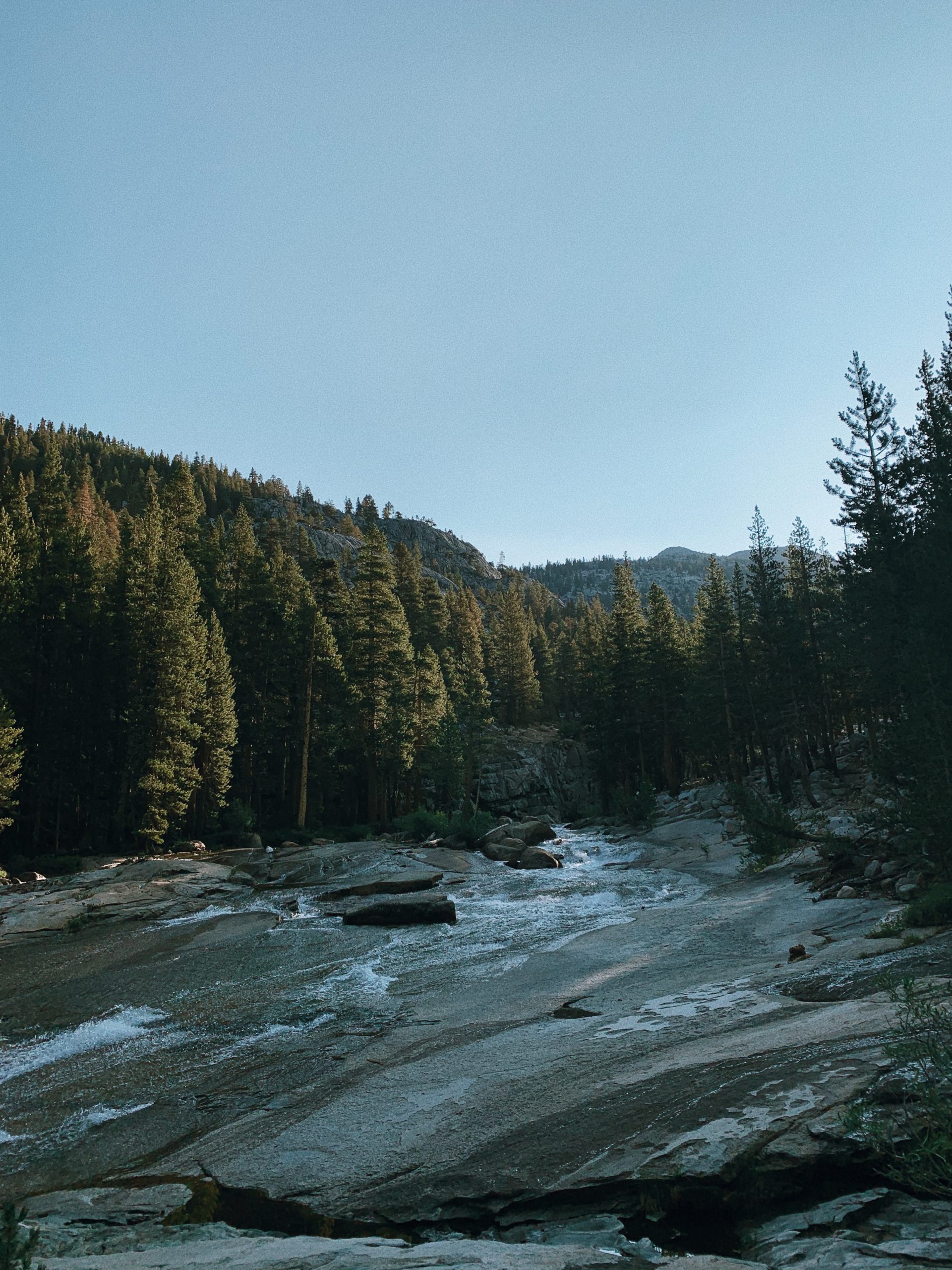 We hike up next to Evolution Creek during the first part of the morning. I'm not sure that pictures even do it justice – with the golden, glowy light shining through the trees toward the water, it's magical. A couple of miles in, I swap out my shoes for flip flops to cross the creek in cool, calf deep water, and after that, it is just quiet hiking – only the sounds of our feet on the soft path and the birds overhead; occasionally, the quiet rustle of deer just off trail and the gurgling of streams.
Later we see a little weasel trailside with blood on its chest, chomping away on some other small dead animal. It's fascinating to see, although later Savannah and I discuss how the weasel looked a bit perturbed that we were close to its breakfast, and ruminated on the fact that the only defense we would have had had it chosen to come after us would be attempting to drop kick the weasel back into the woods. Seemed like a feisty little guy so ~thankfully~ it didn't come to that.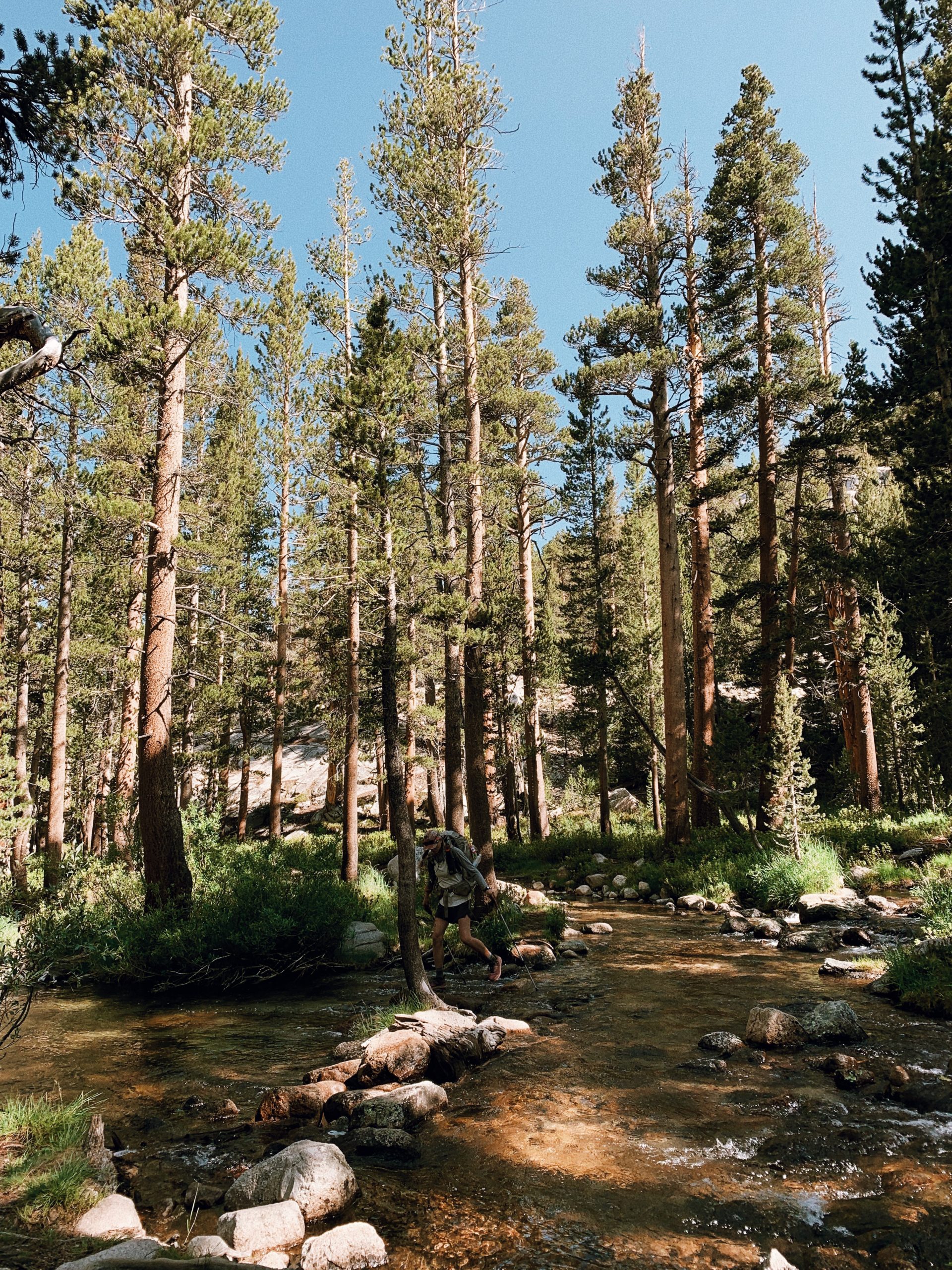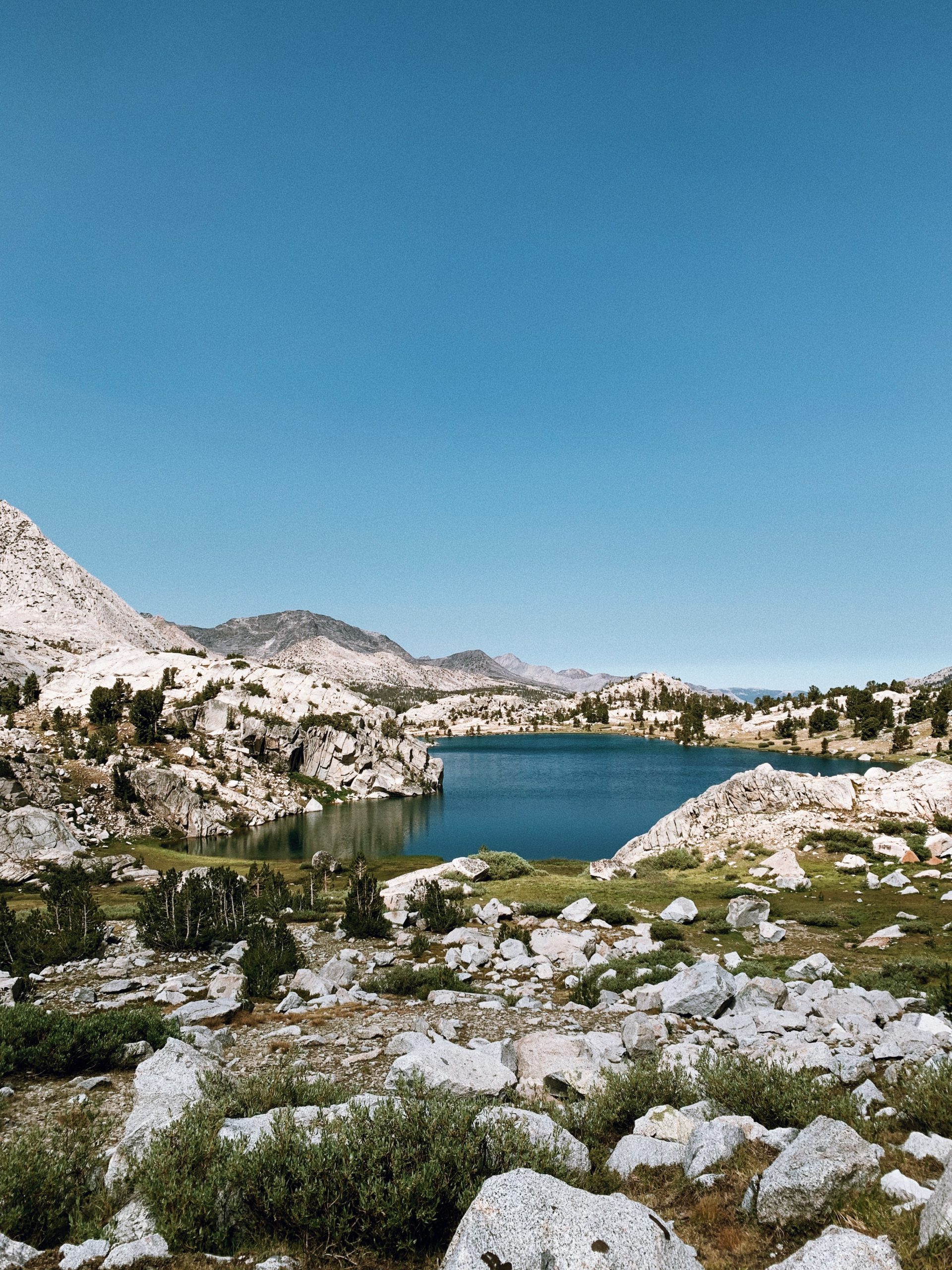 The climb up to Evolution Lake is steady, but goes by fast enough. Mostly, all I can feel is the sense of happiness to be here. There is blue sky overhead and no bugs and absolutely no bad views. How is this place real?! It makes me love the mountains even more; makes me thankful that I have the privilege of being IN the mountains; honored that I have cultivated the ability to be comfortable and at home in them. We dance down the trail because a day in the outdoors doesn't get much better than this. Four miles before Muir Pass, we pause for a sit down break, and I make myself a little 1000 mile marker. I did it! I've officially hiked 1,000 PCT miles since 2019. It feels like so much and so little at the same time, but worthy of celebrating, regardless. Two hikers walk by as we sit – hikers turned friends, really – and ask "1,000 miles for…." before trailing off. It's understandable. This isn't 1,000 miles NOBO, or SOBO. Just 1,000 miles for me.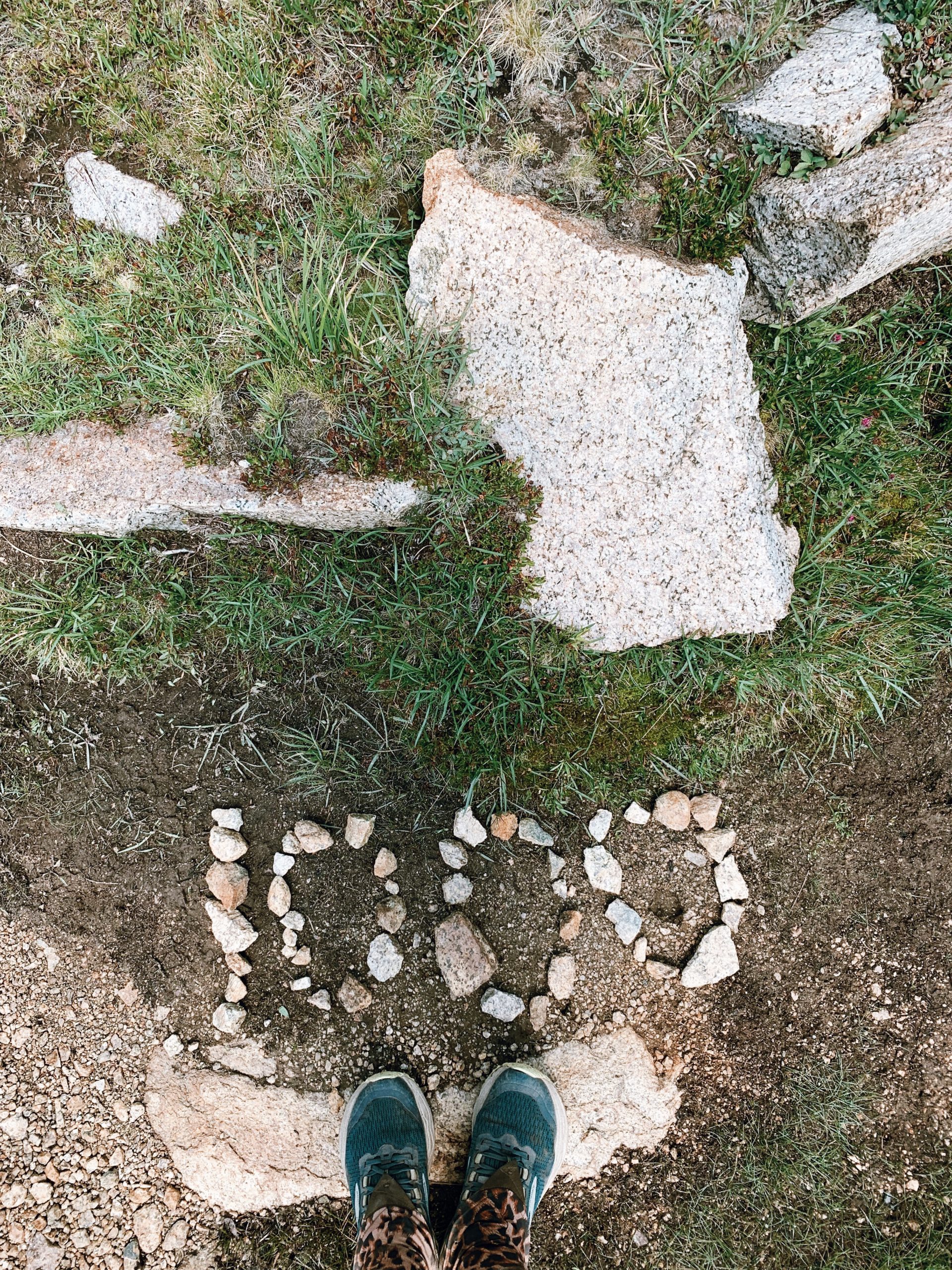 The break ends, I disassemble my mile marker, and we turn to face the last few miles to Muir Pass. Overall it's pretty gradual, perhaps the hardest part being that it is absolutely exposed so there is really no other option but heat and sun and, thankfully, the occasional soft breeze. Still, I would take this over an afternoon thunderstorm any day. Shortly before the pass, the trail curves around Wanda Lake. NOBO hikers had mentioned "swarms of black flies at Wanda" to us, but the funny thing about the trail grapevine is that it is most often wrong or at the very least exaggerated. This time is no different.
For starters, it's gnats, not black flies. And yeah, the gnats are…impressive. But it's not the "nightmare" that was described to us. Sure, I can see the actual black clouds of gnats on the shore of the lake, and then we begin to walk through them. This is no surprise to those that know me but I don't particularly love insects. I'm walking behind Savannah and her gray/white backpack is basically black from all the gnats hitching rides. I can feel them on me and have to stop looking down at my legs because it's a little too gross to me to actually acknowledge that there are tons of bugs just catching a lift right now on my body. I hike a little bit faster after that, and soon enough we are out of the gnat clouds. "Hey Wanda, you've got a little gnat sitch that you might want to get figured out," I say over my shoulder as we begin to leave the lake behind us.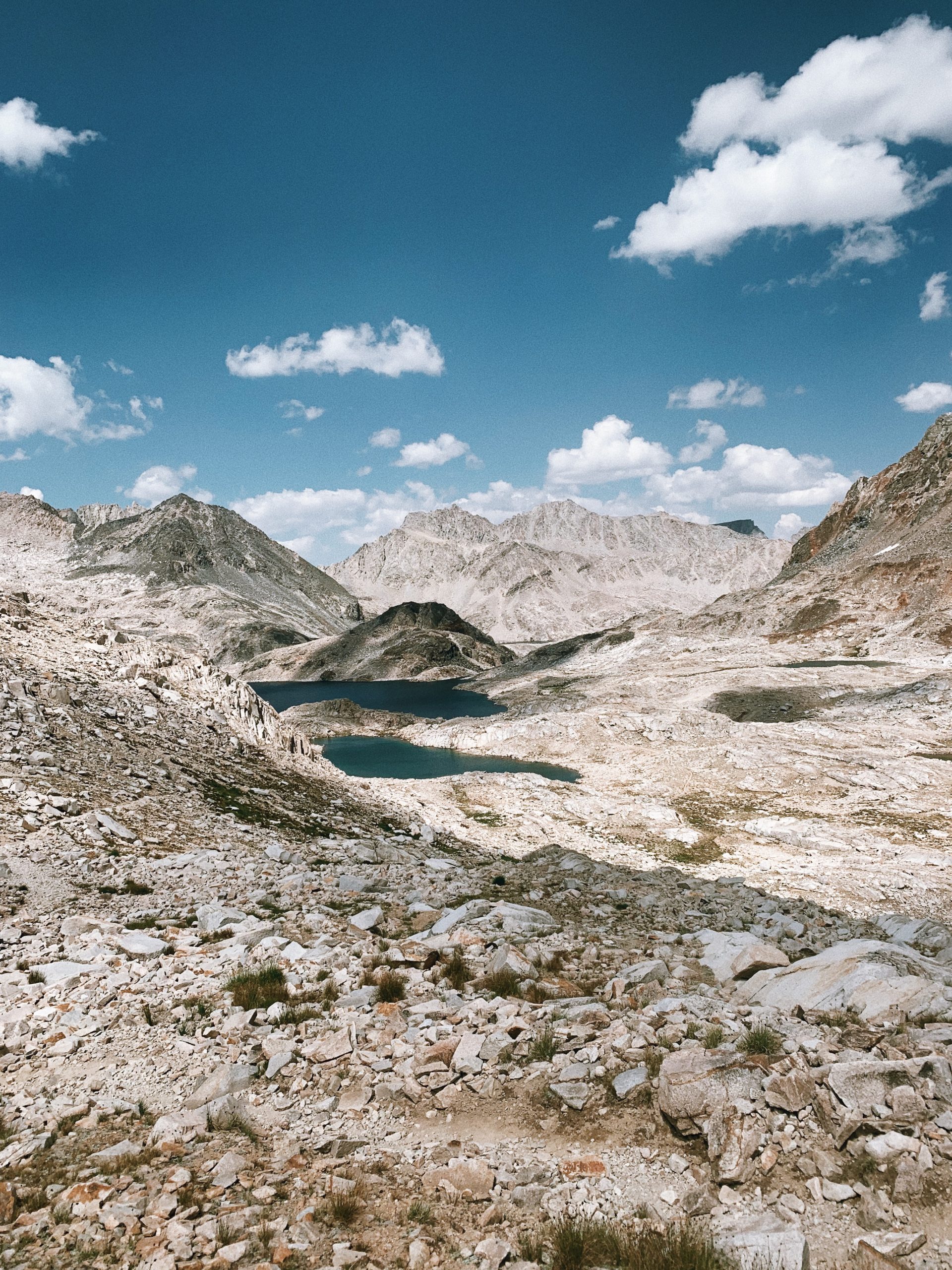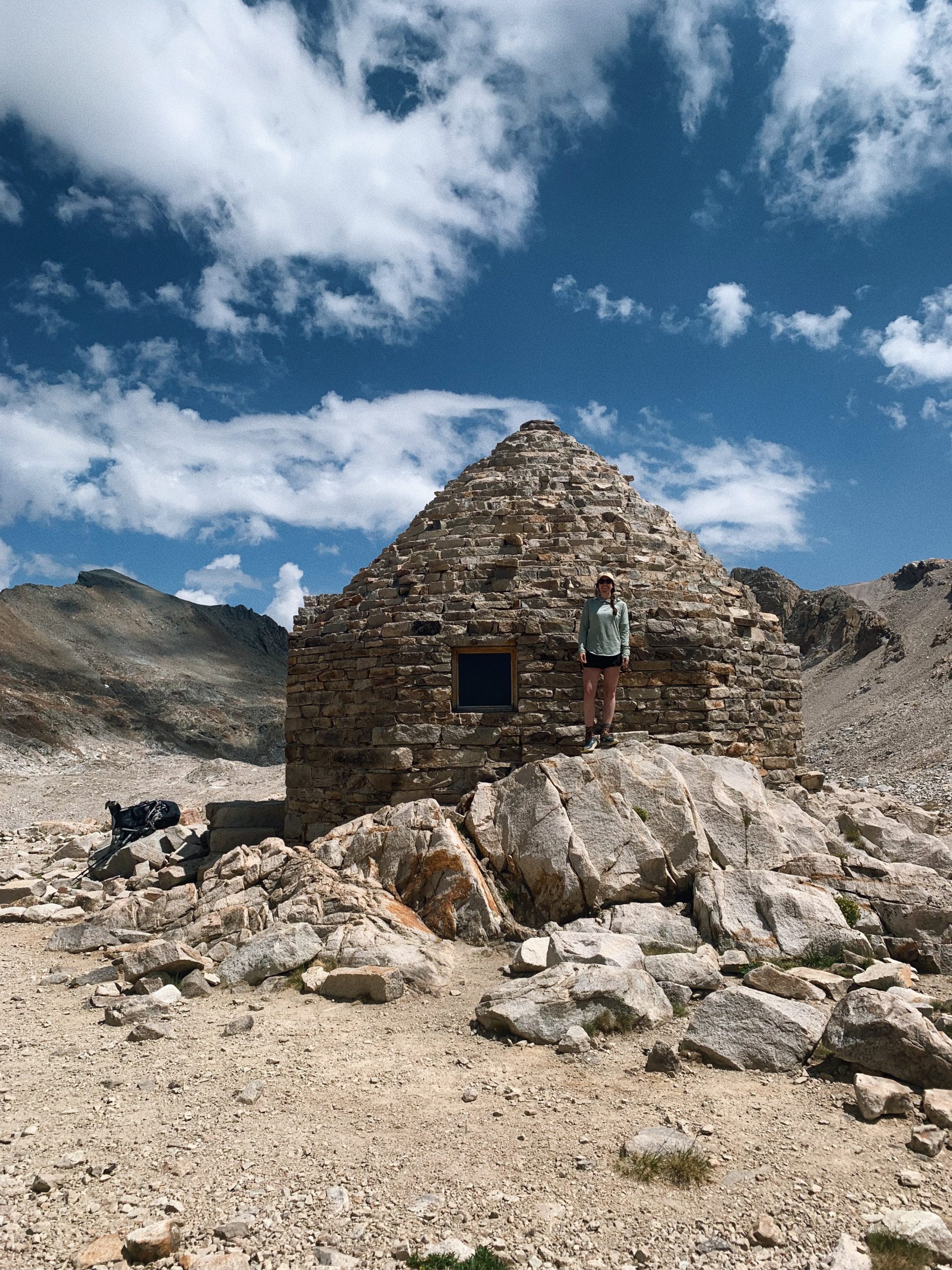 Muir Pass is all rock and big views and mostly clear skies. Also, wind. I do a little happy dance once I get to the top, and then Savannah and I end up eating lunch inside the shelter. It's not that the weather is bad at all; rather, it just feels a bit like relief to be inside. No sun, no wind, no elements. The day has been another where we are above tree line for the majority of time, and bodies just seem to get more tired when you're hiking with a lot of exposure all day.
As we sit inside, we end up chatting with the two other hikers in there – men in their fifties who turn out to be really cool guys. The four of us commiserate about the hiker grapevine, how misinformation gets passed along and people make things sound terrible. "We've been hearing about Wanda for days!" One of them says in response, his eyes comically wide. He throws his hands up in mock surprise before adding "Oh, it's just a nightmare! This whole thing is a nightmare!" We can't stop laughing. After this conversation, everything is "just a nightmare!" Beautiful waterfalls? Nightmare. A single mosquito? The bugs are a nightmare! Golden, glowy sunset? Whose idea was it to hike this trail, it's a nightmare!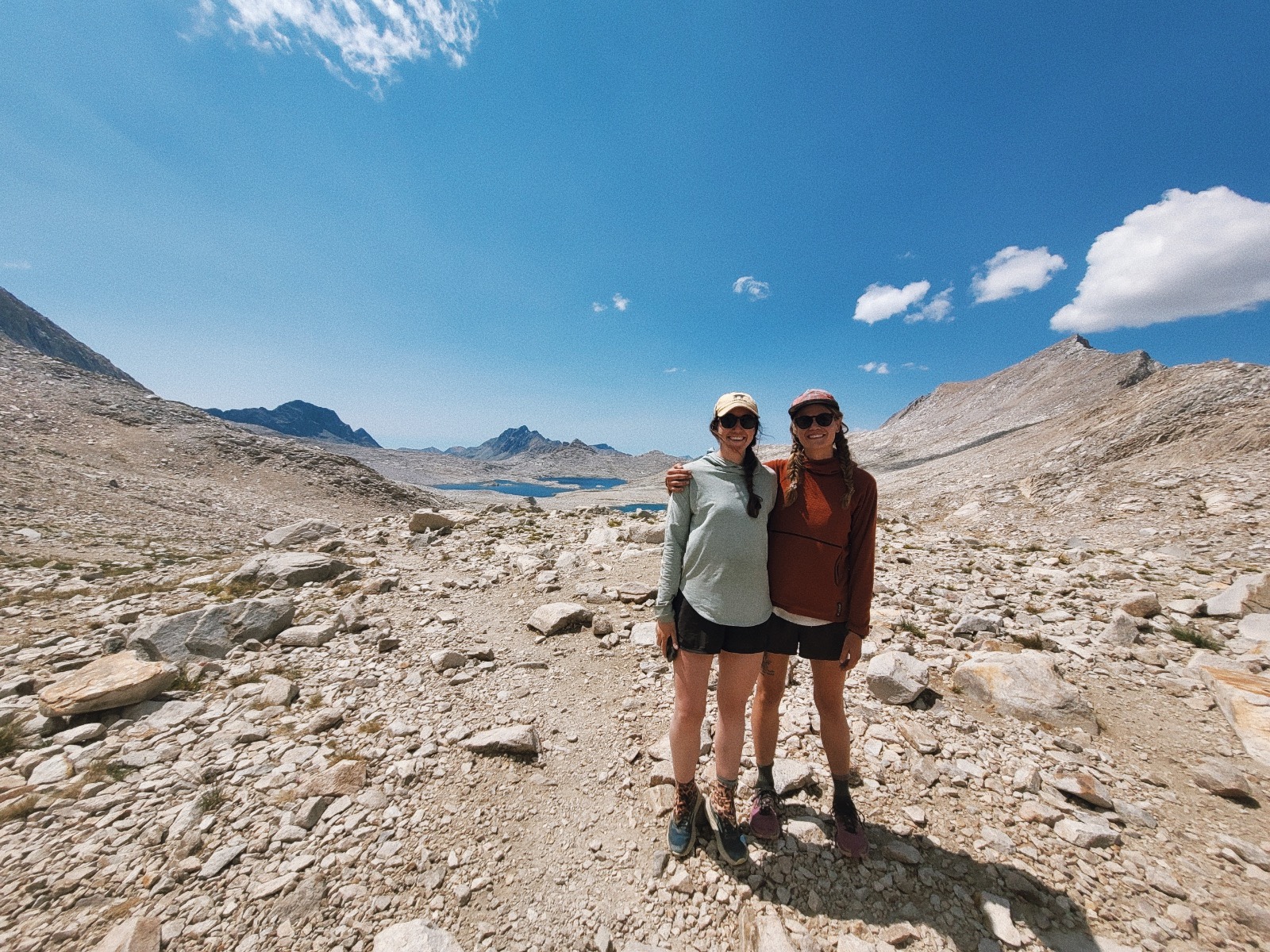 Eventually, the two guys make moves to leave and face the Wanda nightmare, and Savannah and I begin to descend southbound. Oh look, more incredible views and lakes and rocks. There's just no bad angle out here! After a little while of descending, though, I definitely start to feel sluggish between the heat and the sun and the day in general. By the time we get to the last lake we'll pass, I know I need to swim. It takes me maybe seven seconds from the time my pack is dropped to the point I get into the water. The water is cold and clear and I have it all to myself, and the novelty of this pristine alpine lake that is mine alone at this moment is not lost on me. I'm loving it so much I actually swim around a little bit because apparently I am impervious to cold water. By the time I get out, I am cleaner and cooler and ready to finish the last couple of miles for the day.
We are camped by 5pm at this beautiful spot with a small little trail leading down to a glorious creek and waterfall. Considering we gained nearly 5,000 ft of elevation and descended around 2,000 ft, it was a good sized day of hiking. We're happy to be done early enough so we can soak our feet and sit on rocks by the water and enjoy the soft evening sunshine. Big day, but perhaps one of the best yet. (And to clarify, I did not set up my tent beneath a halfway fallen tree. I assure you, that's just the angle.)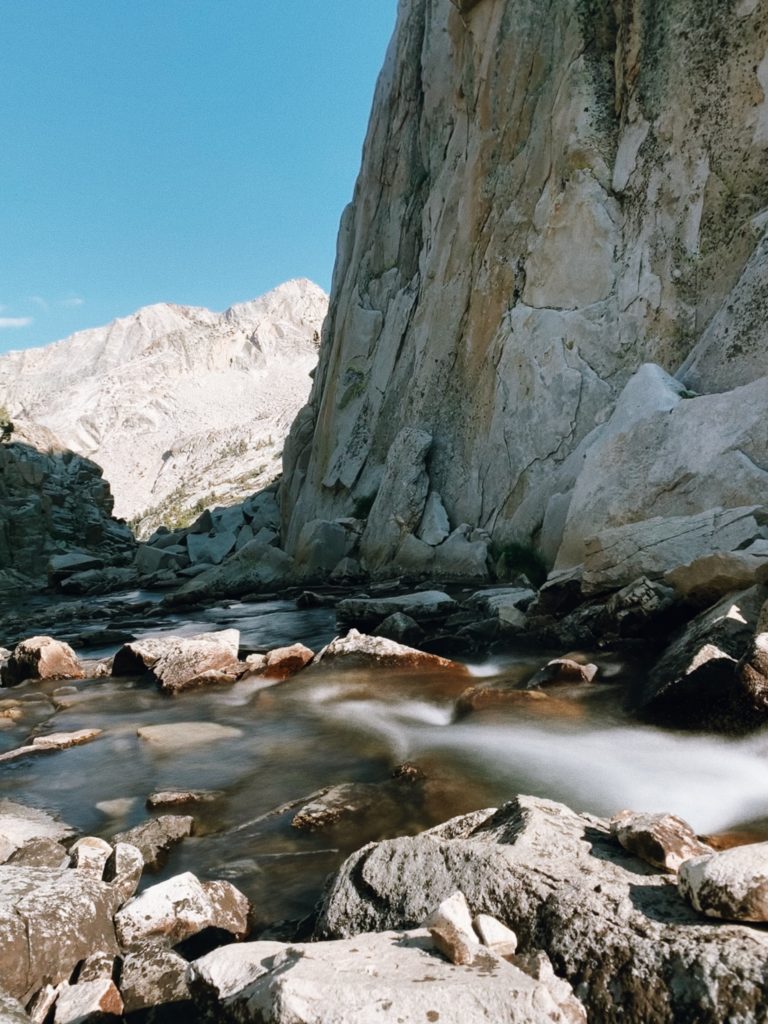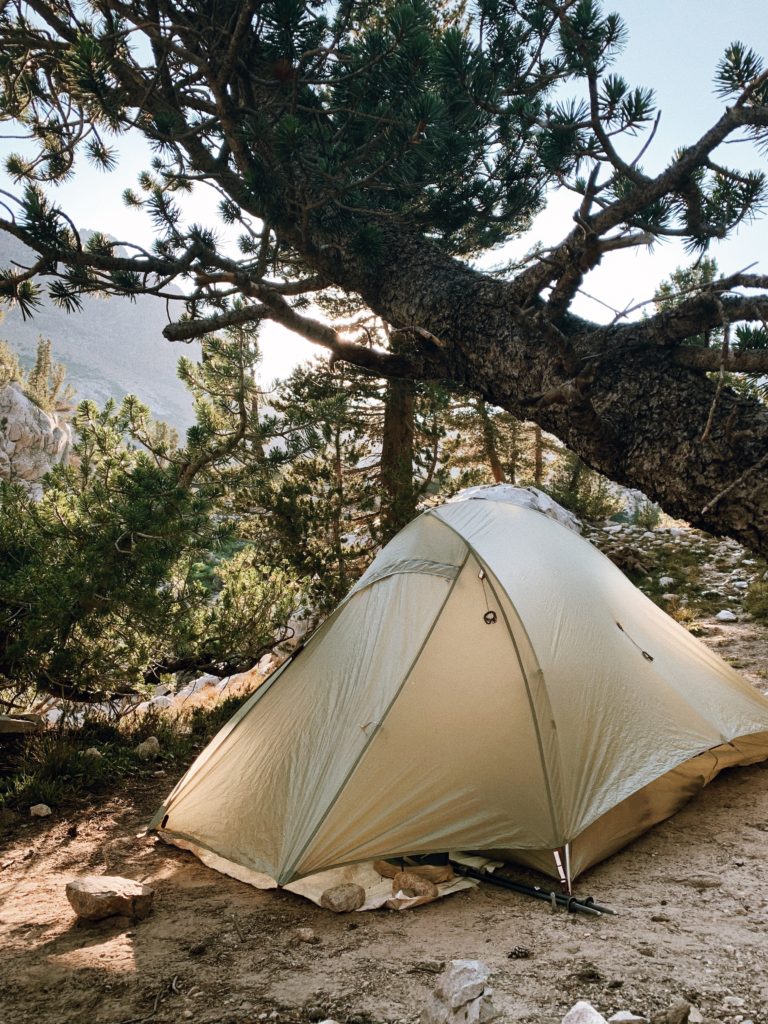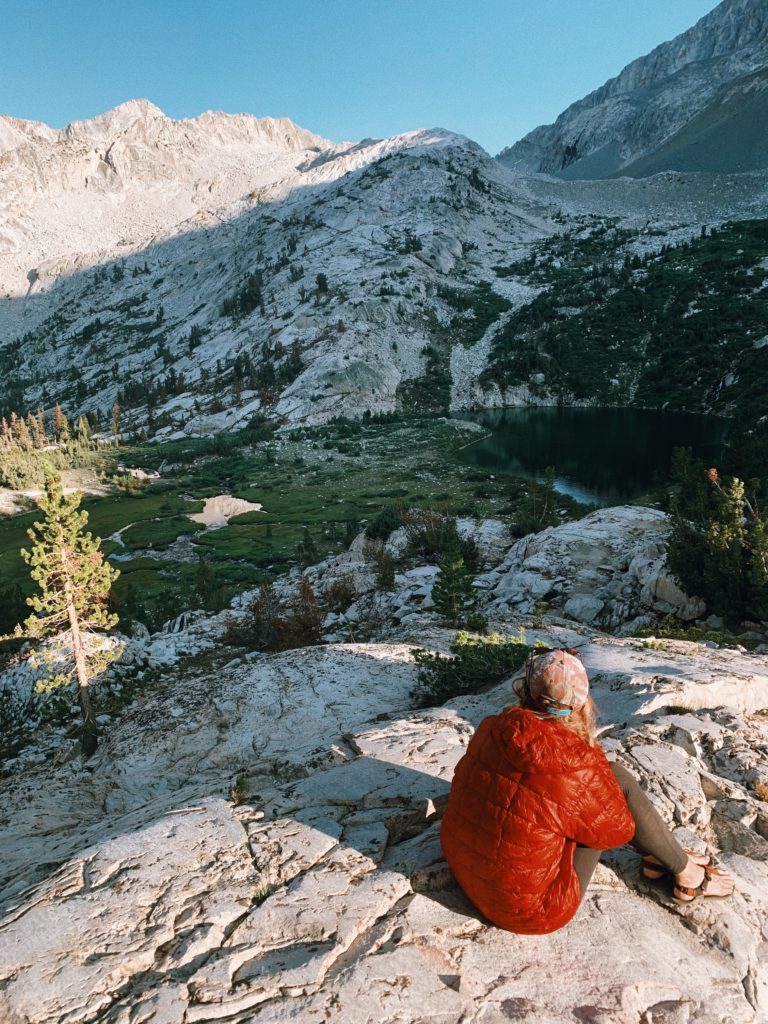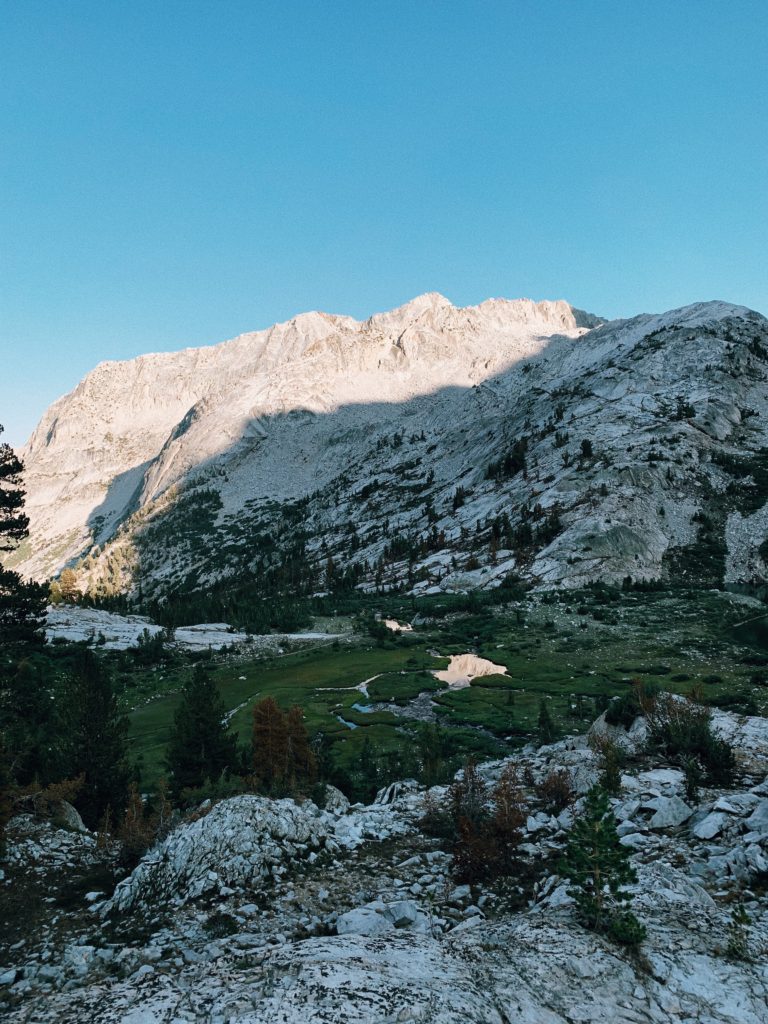 Day 13 (68 Total)
Mile 1818.6 SOBO to Bishop Pass, 4 PCT Miles + 13.5 Non-PCT Miles
1,016.3 Total PCT Miles
It's an early start today (I mean, are we even surprised?). Yesterday might have been one of the best days on this chunk of trail, but this morning certainly rivals that. The mountains are glowy and the waterfalls are tumbling loudly next to trail and the sunrise is quiet and peaceful and glorious, all of it making me wish mornings in the mountains could last forever. There are only four miles until we turn off the PCT to go over Bishop Pass into town, and each one feels special. Also, the trees this morning look extra massive. That is all.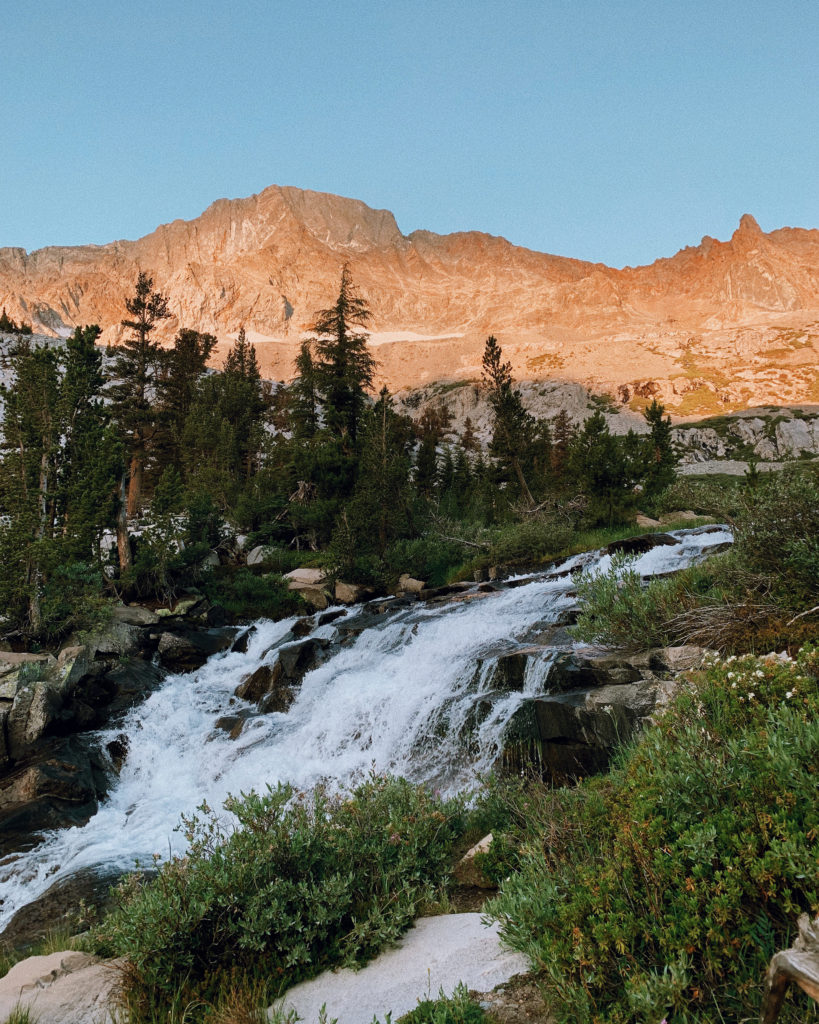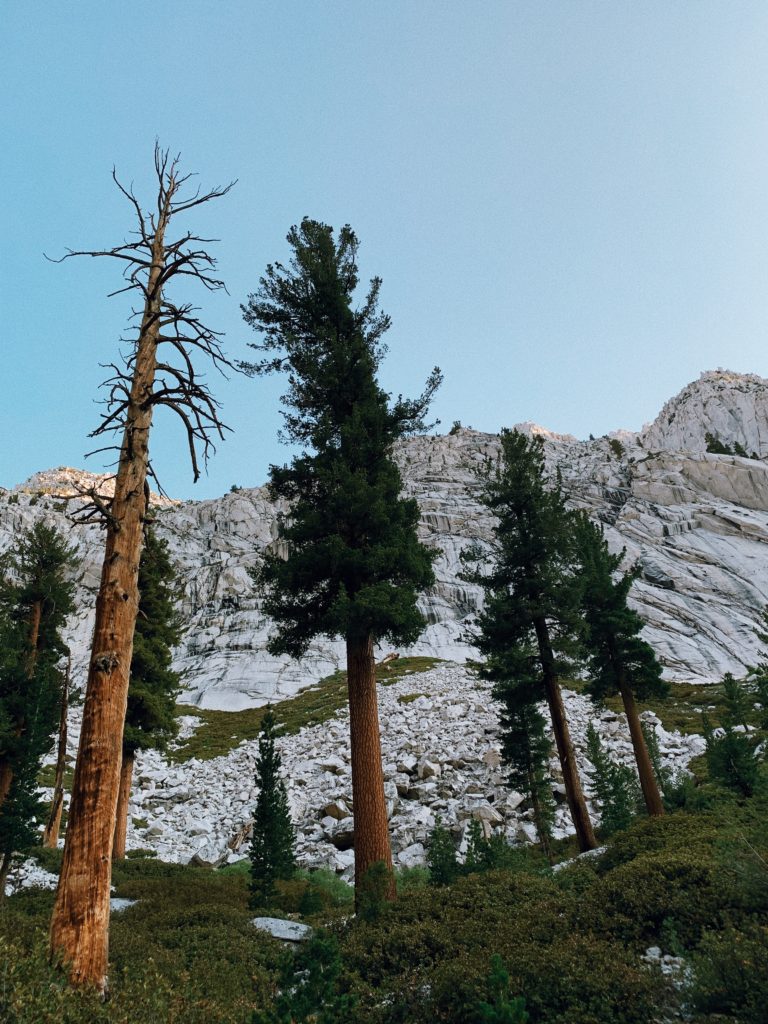 The hard work begins once we turn off the PCT and head up towards Bishop Pass. We're basically on the Stairmaster for the next 6 miles, and the overview of what today will be is as follows: Camp at 10,400 ft. Descend to around 8,800 ft. Climb back up to 11,900 ft. End by descending back down again to around 9,500 ft. Alrighty then. Up we go.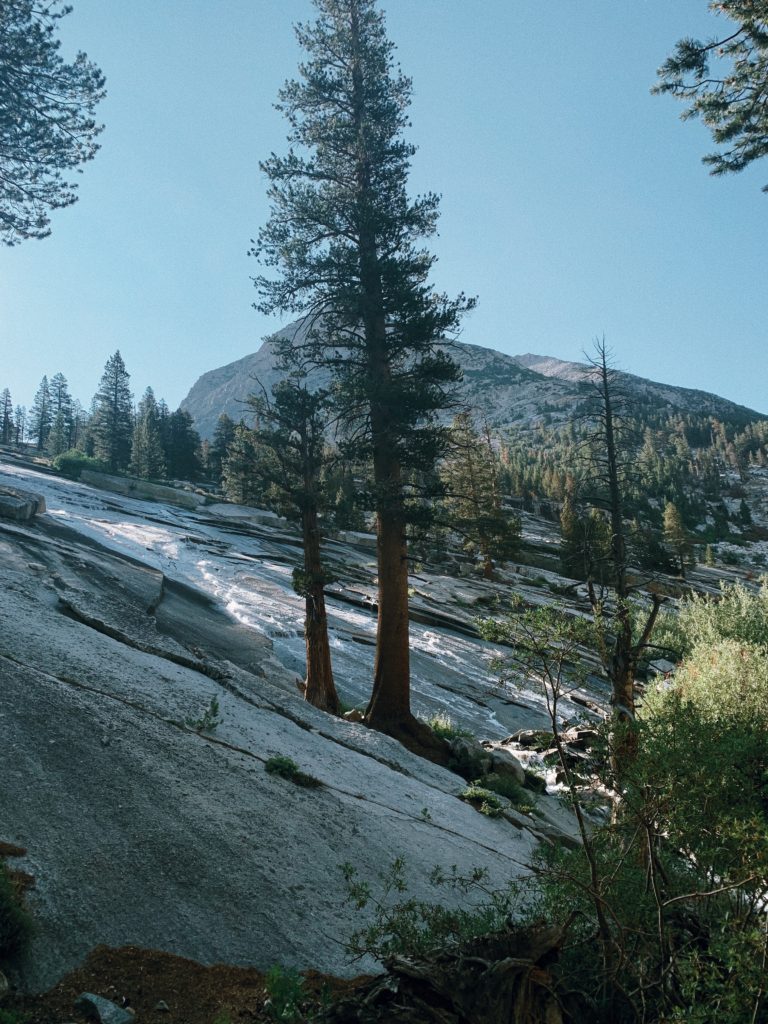 As we begin to near the top of the pass, I notice a few switchbacks ahead the bright pinwheel attached to the backpack of At Home (or Athome? AtHome? I have more questions!), who is hiking with Spice Rack (again, Spicerack? SpiceRack?) We met them briefly yesterday before Muir Pass, and it's a nice surprise to see them again. They're also headed into town to resupply, so once we hit the pass and begin descending, we leapfrog with them so many times it's impossible to keep track. We stop, and they pass us. Then they will stop and we hike past them. And so it goes, back and forth, down the mountain, until eventually we arrive at the trailhead what I imagine is just a few minutes behind them.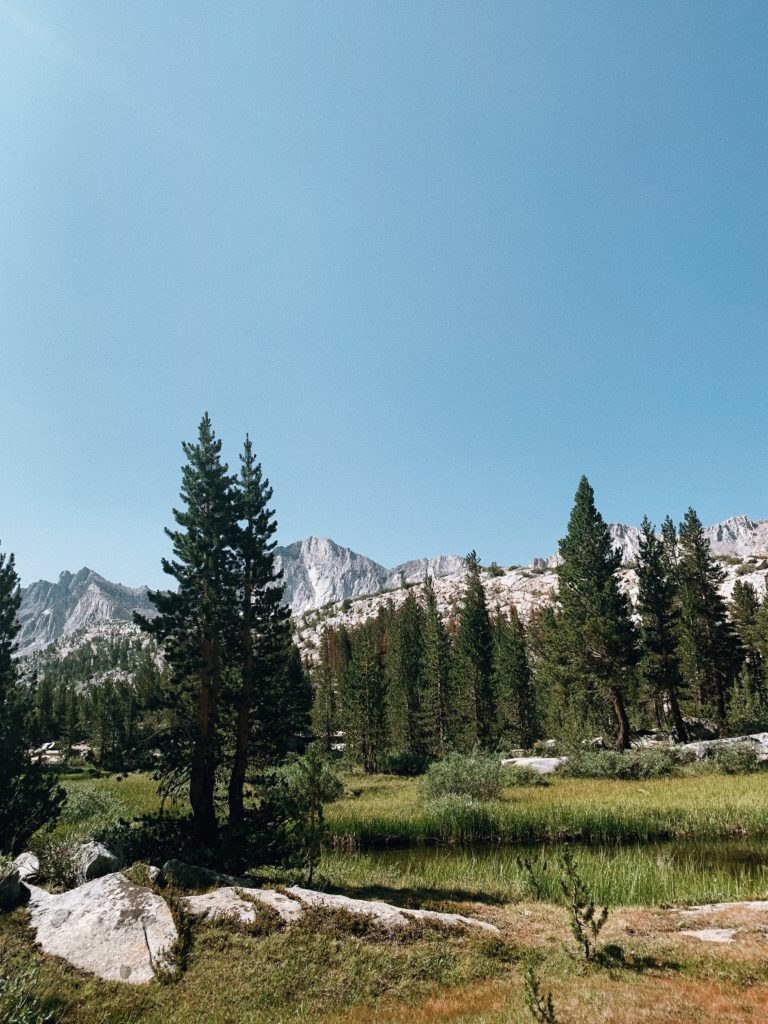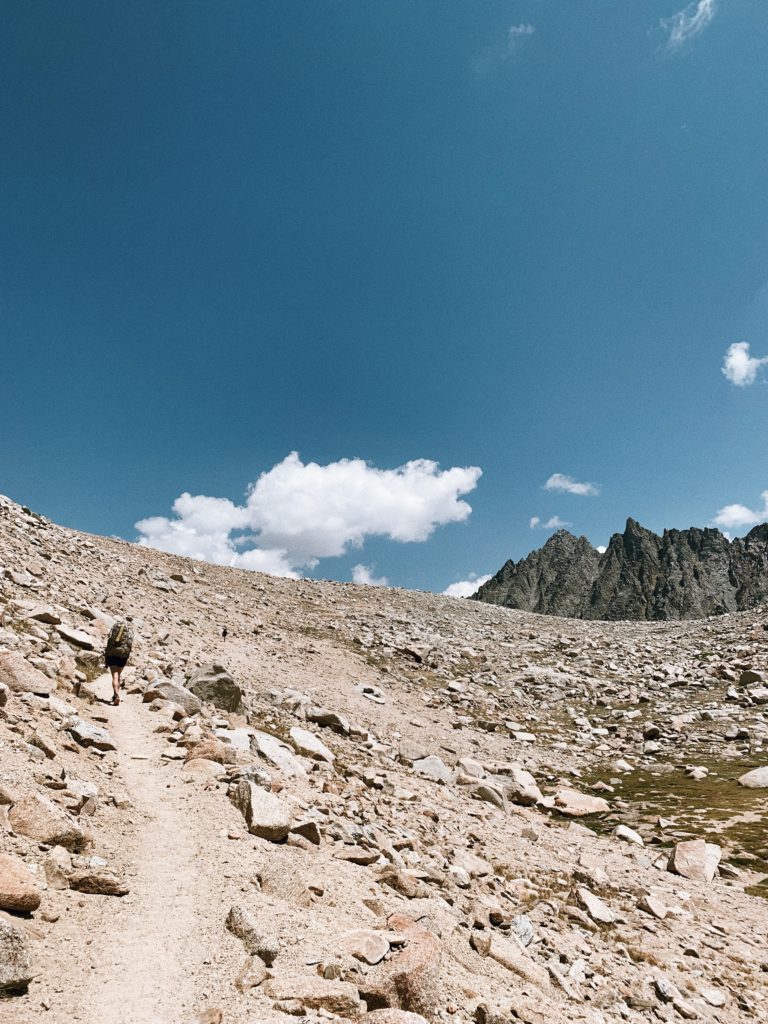 Once at the trailhead, it is time to schmooze try and get a ride into town. I find Spice Rack and At Home sitting on the curb at the parking lot exit and flop myself down onto the ground next to them. Every time a car approaches to leave, there are musings on whether they'll stop. "Ooh, a truck's coming. This has to be it." Spoiler: the truck wasn't it (they weren't going to town anyway). A man in a completely empty Subaru gives us a pity wave with the one hand that isn't holding what looks like the best sandwich on the face of the planet. I think I'm ready for some town food.
It doesn't take long before a man who introduces himself as David wanders over with his dog. Spice Rack and At Home start chatting with him, and before you know it, we are squeezing four hikers, four backpacks, and the dog into David's 4Runner. Dirty hikers can't be choosers. As seems to be the case when we get rides from men named David (I rode in the back of a different David's van into Wrightwood in 2019, mildly less creepy than it sounds), we bomb down the mountain, eventually rolling up the windows because the air rushing in is both too loud and also making it impossible for me to keep my eyes open. And my eyes already hurt. Despite the sunglasses and hat and sun hoody, it has been so bright and reflective today on trail (and the previous days above tree line) that I feel like I'm somehow still squinting.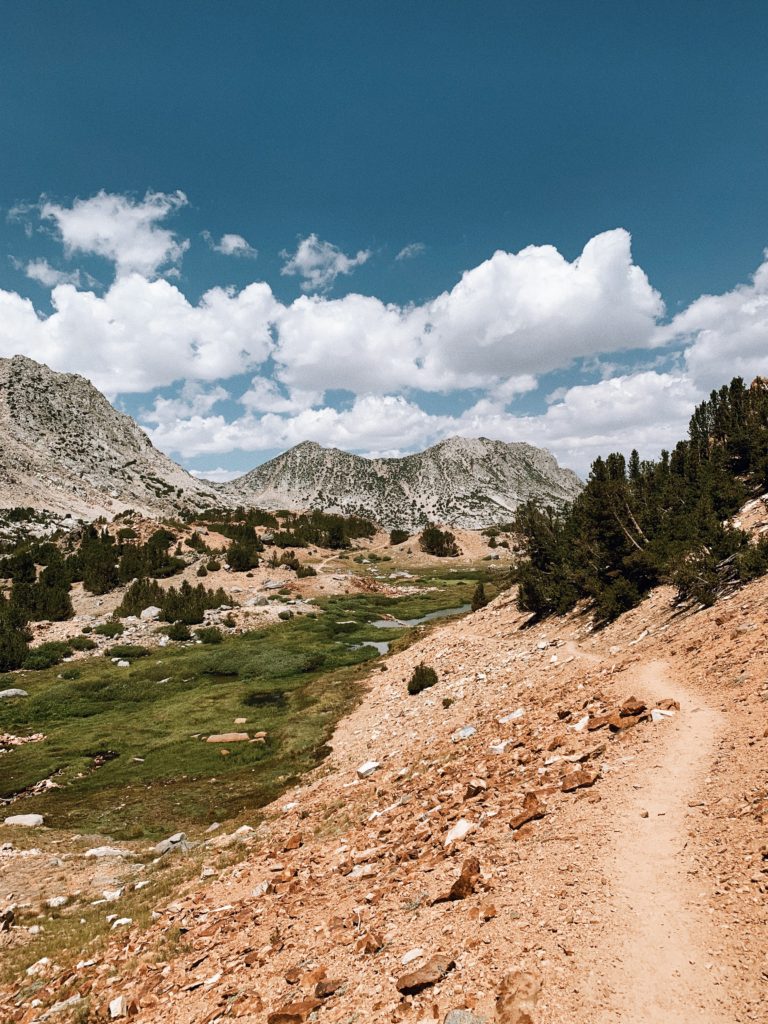 David drops us off at the Taco Bell parking lot in Bishop. Stepping out of the car feels like what I would imagine it would be to crawl into an oven set to broil. It was hot in the mountains. It is roasting here in town. Savannah and I make our way to the hotel we stayed in the night before hiking and get assigned to the exact same room as if we'd never left. I guess we live in room 125 now. Ah, home sweet home! Once in the room, I am essentially paralyzed by the air conditioning. Being inside feels good, like suddenly my body doesn't have to work that hard to stay regulated between sun or wind or heat or walking. It can just exist for a minute.
But as always when you get into town, there are moves to be made that require peeling myself off the floor of the hotel room. Laundry, food…a shower. As we're coming back from the laundry room, we spot someone else in the hiker tuxedo (rain gear). Turns out At Home and Spice Rack have also landed at this hotel, and they kindly offer to pick up something for us from the grocery store if we need (all I want is a honeycrisp apple and a banana). As for Savannah and I, we still haven't eaten since our arrival and naturally we end up at a local Mexican restaurant that serves us burritos the size of small babies, non-stop baskets of chips, and a margarita.
Later we will have to explode our packs and do a little reorganizing. Later we will have to resupply and decide if we should wait out a predicted storm or not. Later we will sit again on the floor of room 125 sorting food and charging electronics and getting ourselves ready to go out on trail again. But that's later. And as all know, anything that falls under the "later" category is a problem for future me.