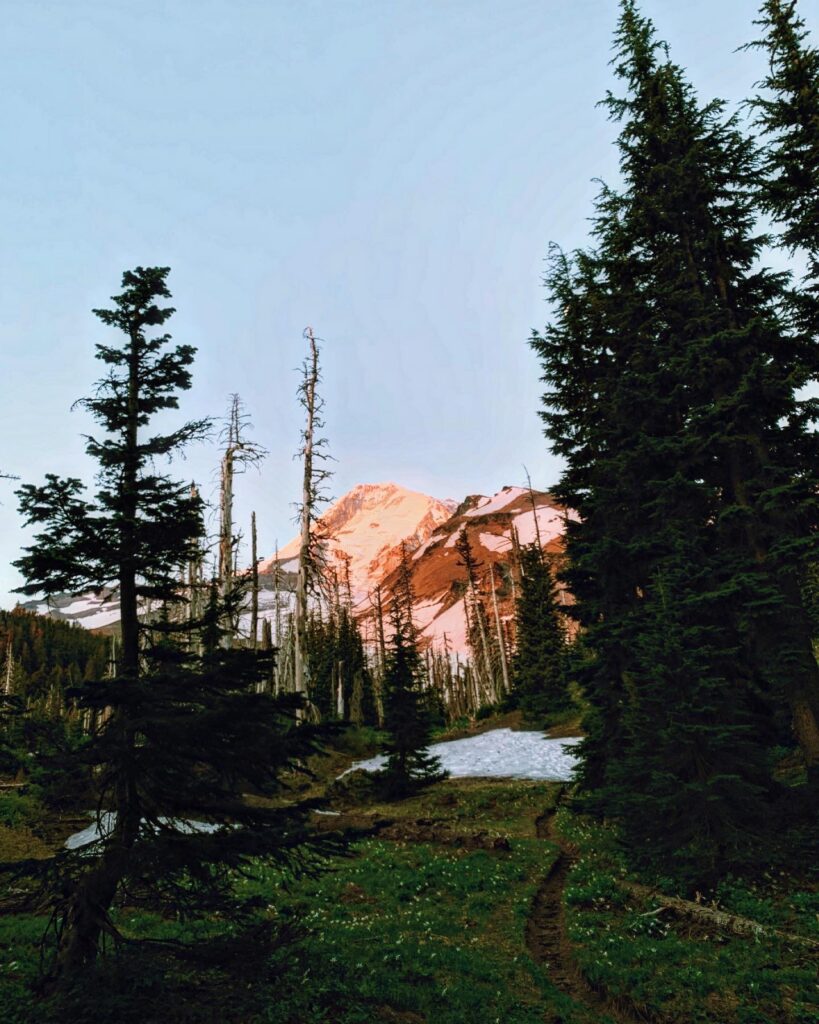 Welcome back to more writing about my time in the outdoors! With a switch in my job, I no longer have the entire summer off (yes this is tragic and no I don't want to talk about it) – but thankfully, I got to snag a few days away to do the Timberline Trail with my friend Aleia. The trail is a 41 mile loop around Mt. Hood and it was just about as insanely beautiful as you'd guess. Shall we?
Day 1
Timberline Lodge to just before Ramona Falls, 10 miles
On our way out of Bend, we grab enough iced coffee to literally sustain us for a drive to Alaska, and then spend the rest of the time in the car catching up and listening to good music and enjoying the sunny morning. Once at Timberline Lodge, we decide to sort out some food and gear so we're not doubled up on anything, and then we get to start walking. There is a small amount of anxiety as we try to find the trail buried as it is beneath snow and all the groms getting in some July laps (have I mentioned how much of a scene Hood is in July?! 10/10 people watching), but eventually we find it and begin hiking, passing beneath the lifts and then into the trees.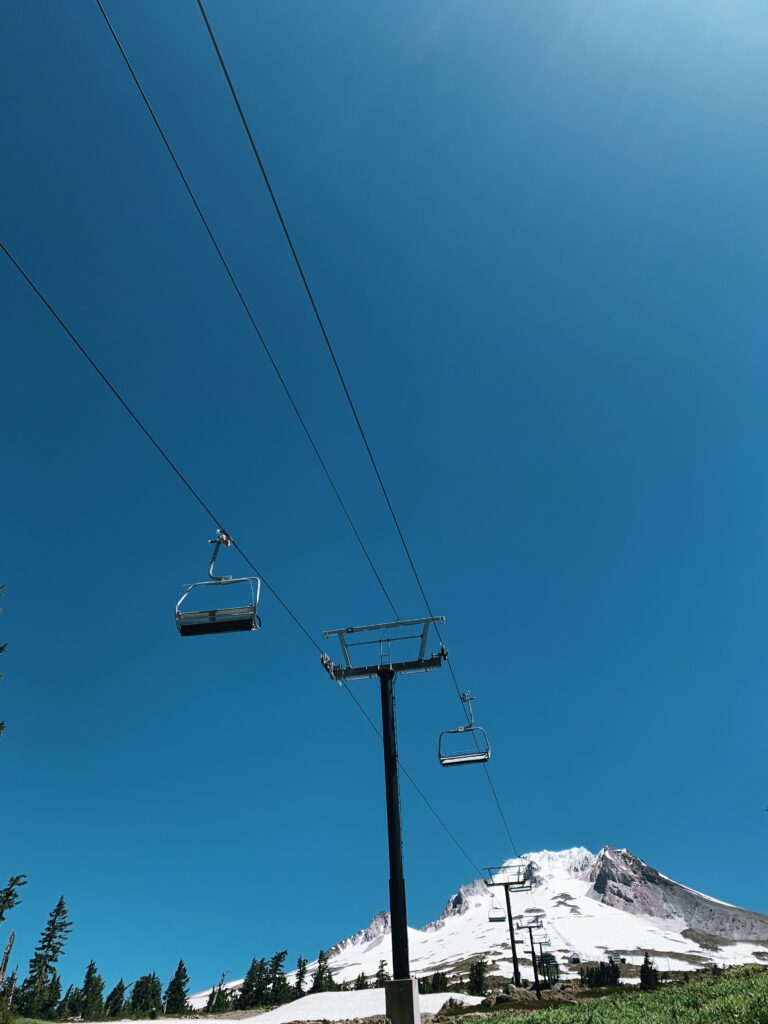 The first couple of miles are slow – not because of the snow, or even really because of how fast we're walking, but instead because we seem to stop every two feet for one of us to take pictures or both of us to go "Woah, look at this!" It is at one of those moments where we have stopped to take in just another sweeping view of Hood when not one but two different men take it upon themselves to inform us about the dangers of high water and excessive snow ahead. One of them also so generously gifts us with an entire informational session on what a snow bridge is!! ~Classic~ Look man, I'm all about helpful trail beta. That's cool. But the lecture? With no actual helpful trail beta? We didn't ask.
The trail meanders on and off snow for most of the afternoon, turning slushy as the day continues but easy to follow, nonetheless. I want to mention how rad the views of Hood are, but that will start to seem redundant. The views of Hood are, you know, the point of a trail that wraps itself in a circle around the base of the mountain.
We pause for lunch, interuppted only by a hiker who notices my Mazama hat and asks if I've tried the bakery there (ha, boy have I), and a trio of dudes who announce that they're already tired but "bro, I'll roll down this mountain if I have to." There is a good chunk of descending through the woods to end the day. Around us, the light is soft as it streams through the layers of trees above us, and these insanely bright rhododendrons line the trail around us. Hiking feels easy, and I'm happy to be back with my feet on a trail. The day passes quickly – a wash of blue sky and water and views, views, views – then turns into one of those evenings that lends itself to slowness and to sitting. The weather is nice, bugs are mercifully non-existent, we are alone at our tent site. So we sit and take it in.
For maybe the first time ever, I'm carrying a bear can in an area where it's not required. Who even am I? And that's on last summer's minor bear trauma. The girl who used to sleep with her feet propped up on her food bag? Don't even know her anymore! Ha, just kidding, turns out I'm still unbothered because I will be sleeping curled up with a bag of jalapeño chips that didn't fit in the bear can. It's probably fine. ¯\_(ツ)_/¯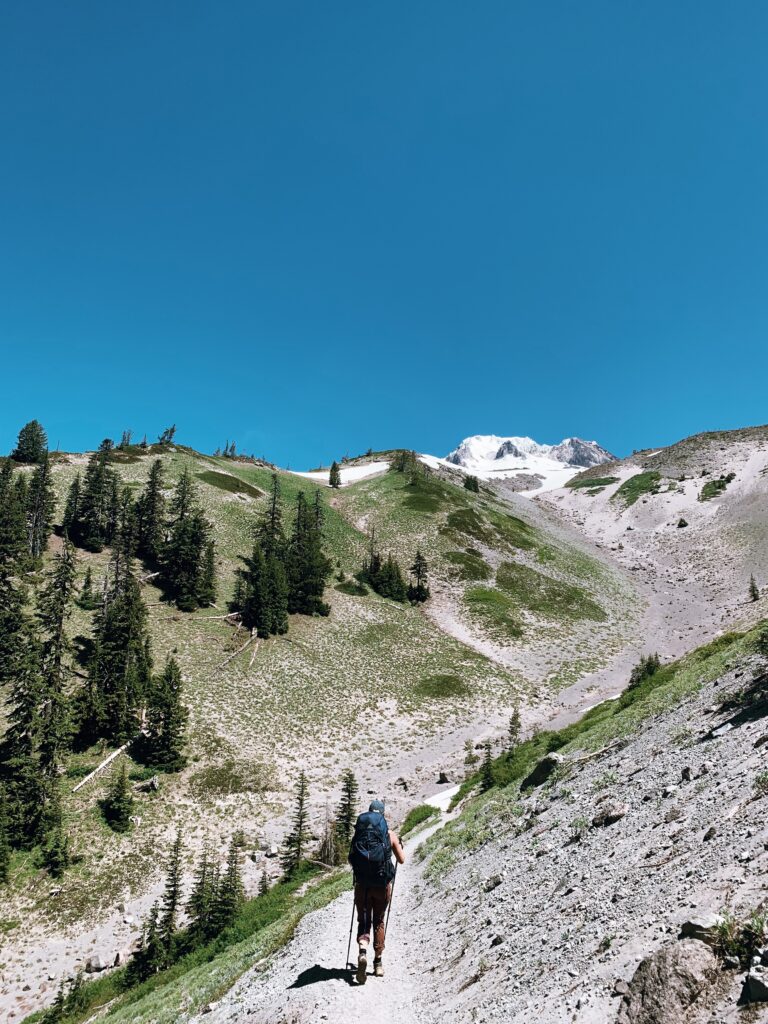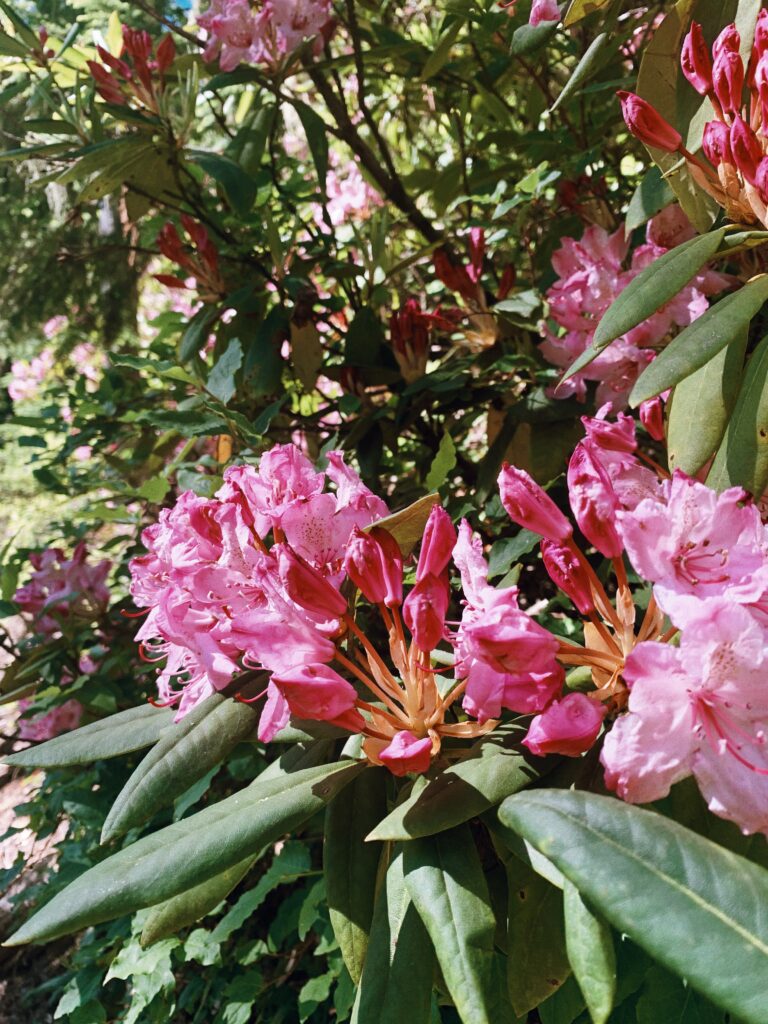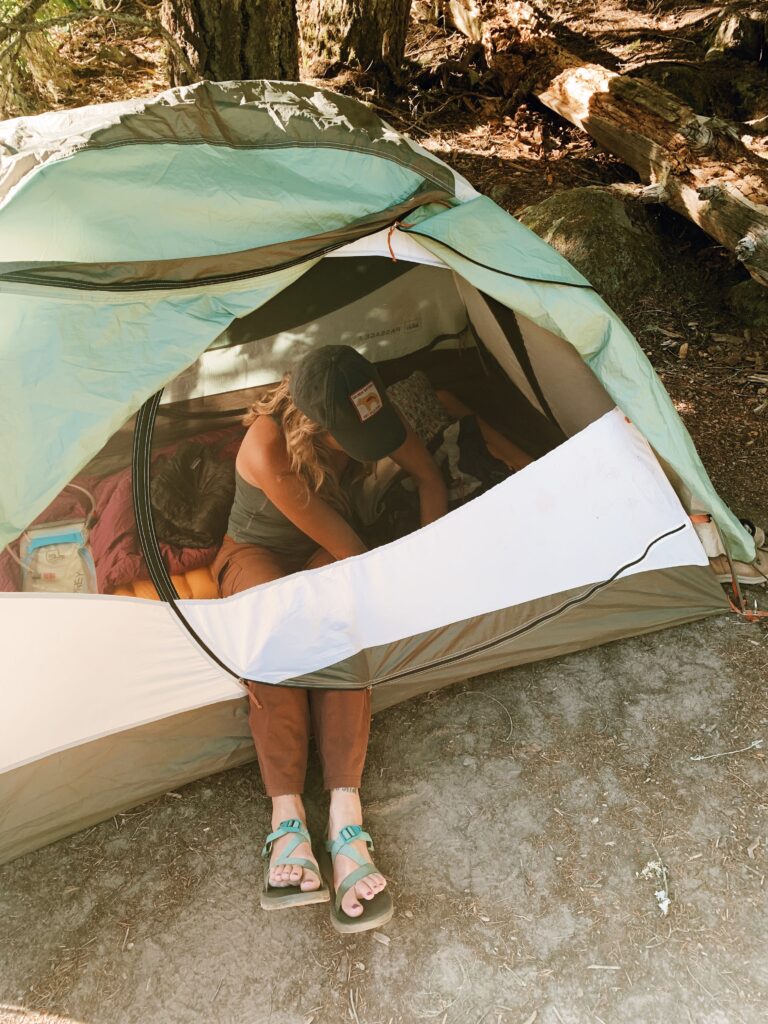 Day 2
Just before Ramona Falls to Elk Cove, 12 miles (+ 2 bonus miles)
I do not sleep all that well last night, but I'm not surprised. I almost never do my first night back on a trail. Getting up and going this morning is not hard though. There are still no bugs, and it never really cooled down much, so there's no shock to the system upon crawling out of my sleeping bag. Aleia and I cruise through the morning, past Ramona Falls and alongside a gurgling stream that, honestly, will make you believe in fairies. It looks that magical. Eventually, though, we leave the stream behind and begin a section of ups, followed by downs, followed by more ups, and then more downs, before popping out of the woods with full views of Hood.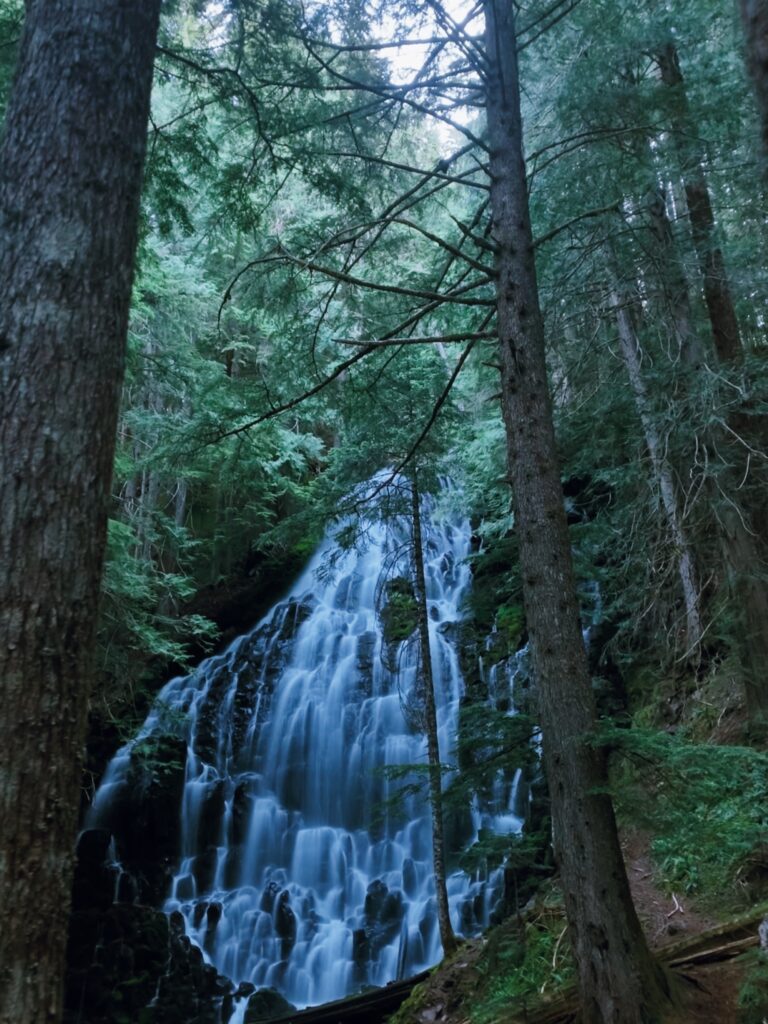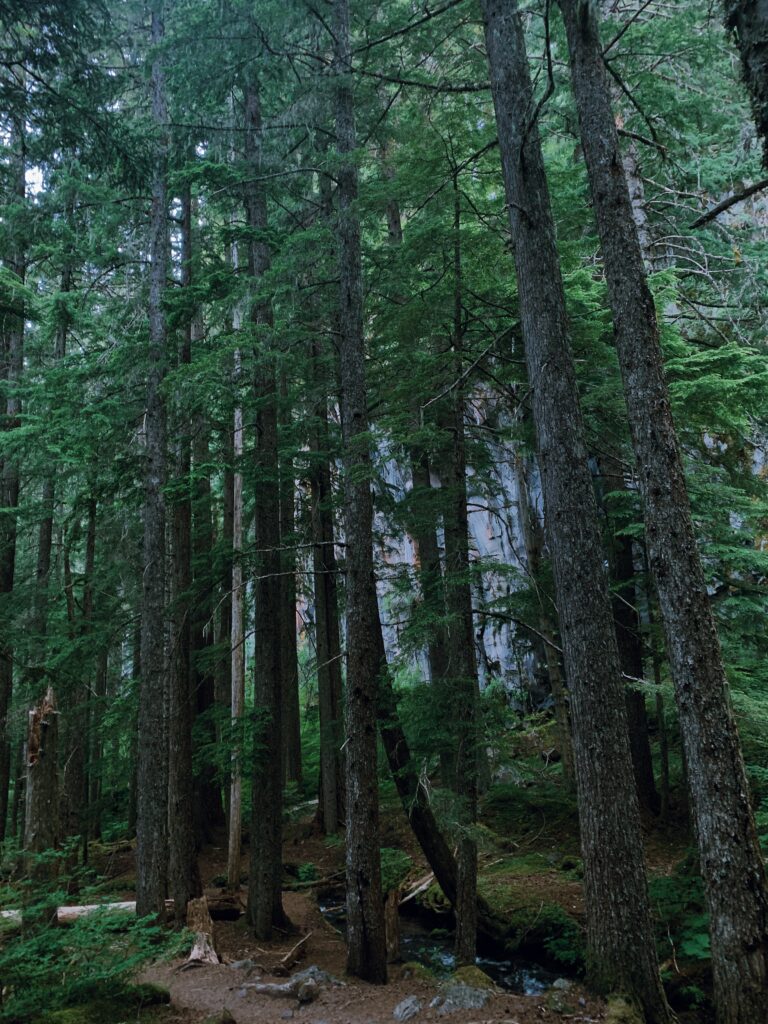 It isn't until a little while later that we happen to stop to take some pictures, and Aleia checks our track on the map.
"Oh, uh, we're actually not even on the right trail anymore," she says, laughing lightly.
Which…is kind of odd, given that we've been pretty aware of any merging of trails and turns we're supposed to take. We've seen nothing. We begin to backtrack – thankfully not too far – and ten minutes later check the map again.
"We literally just passed it again," Aleia tells me, sounding confused. We turn around and walk the opposite way, sure that we'll sort ourselves out this time.
"Ok somehow we walked by the turn again."
So we backtrack. Again. This time we check every few feet. And then, we're standing at where the trail supposedly is. There's no way. All we can see is snow, the ground in front of us filled with it all the way to where the hillside drops off straight into the roaring creek. No footprints. No sign. But then, as we're staring at the snow and the clump of trees, I notice it. The tiny edge of a wooden sign noting the Timberline Trail, barely peaking out through the snow.
"This'll be fun."
It's the first major section of snow we've encountered that has required any amount of navigating, and the beginning of the obstacle course that will consume our entire afternoon and early evening. After picking our way across the slope (I tell myself "don't look down" at least 17 times), we cross the stream before running into a trail runner who is doing the loop in the opposite direction as we are. It's nice to get some information on what lies ahead without a lecture on the dangers of the wilderness, and Aleia and I leave the conversation feeling good about the snow/water crossings/trail ahead. Everything sounds passable.
The rest of the day goes like that: over downed trees, off trail, detouring, checking our track, following the spirit guide footprints of the trail runner. I don't take many photos, given that it's marginally harder to hold my phone as I'm straddling a fallen tree on the middle of a snow slope. Trail runners on the snow are…slightly less than ideal, and I find myself slipping and sliding around, but thankfully the runout on any snow slopes we're on isn't too bad, so I'm not too worried (It's probably fine). Every time we see clear trail and get to step off the snow, though, I want to hit the ground and kiss the dirt. Land! The snow is slow, and I feel like I'm stomping over it by the end of the day.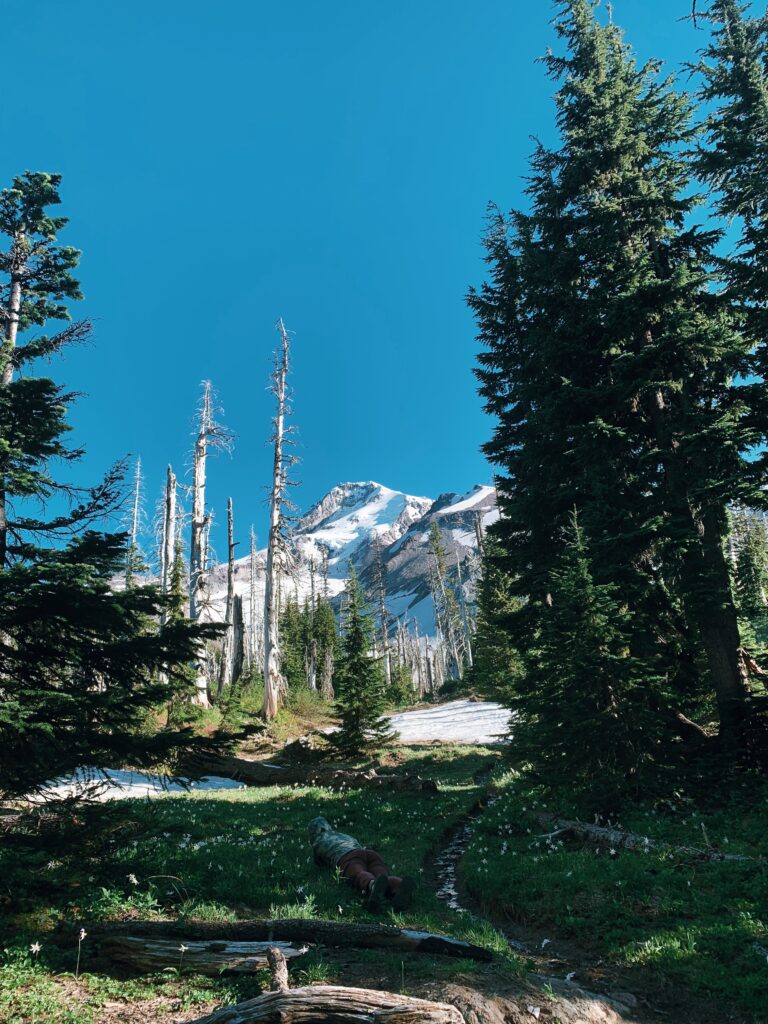 Our evening is a blur of setting up tents, cooking, filtering water, staring at Mt. Hood. The bugs are not worthy of a nuclear meltdown, but… pretty close. Now that I'm in my sleeping bag I will absolutely not be leaving. I already have a mosquito bite that is now the size of a half dollar located directly in the middle of my forehead and a giant bruise on my butt from getting slapped by a tree on a snow slope. Or was that from when I slipped and slid off the trail? Hard to say. Just girly things! Day two done and in the books.
Day 3
Elk Cove to Newton Creek, 12 miles
The basketball sized rock beneath my foot just gave out and I am suddenly scrambling forward. The floor is lava – scree, sand, loose rock, all a part of this massive washout we are currently navigating. I just watched three different large rocks slide out from beneath Aleia.
"Well, I kind of feel like crying," she says as she looks back at me, and all I can do is nod my head because…same. We are both trying to make our way down toward Elliot Creek, but it is really quite hard when I am one loose rock (and they're all loose rocks) away from riding a boulder straight off the edge and into the water. But I'm getting ahead of myself.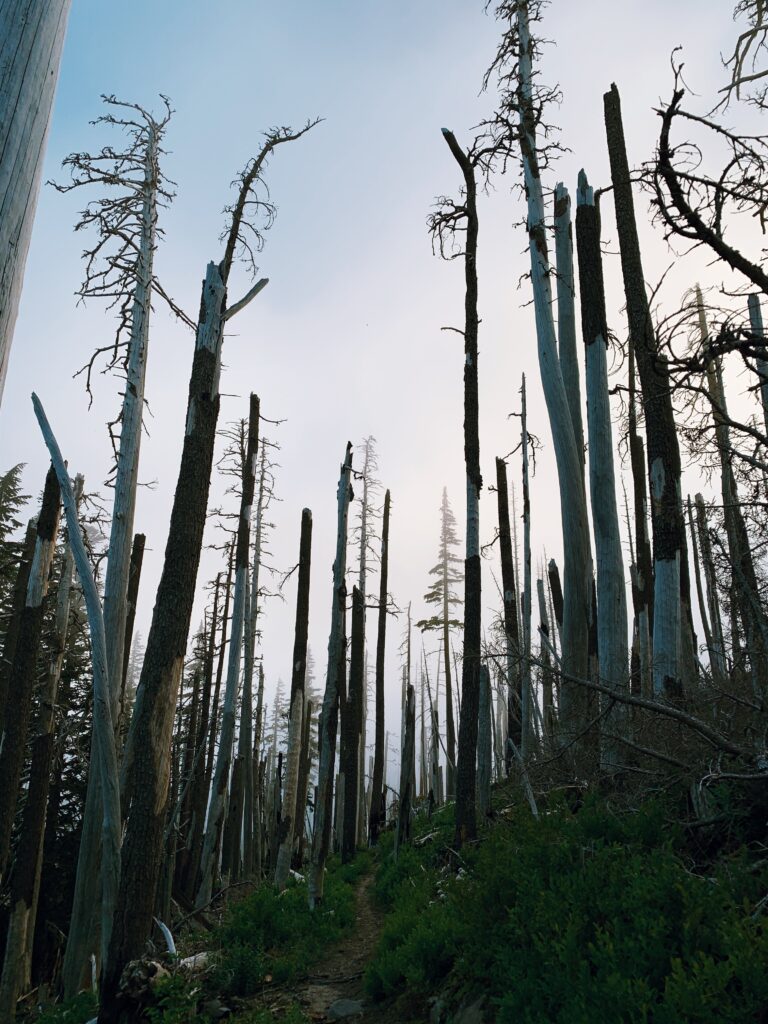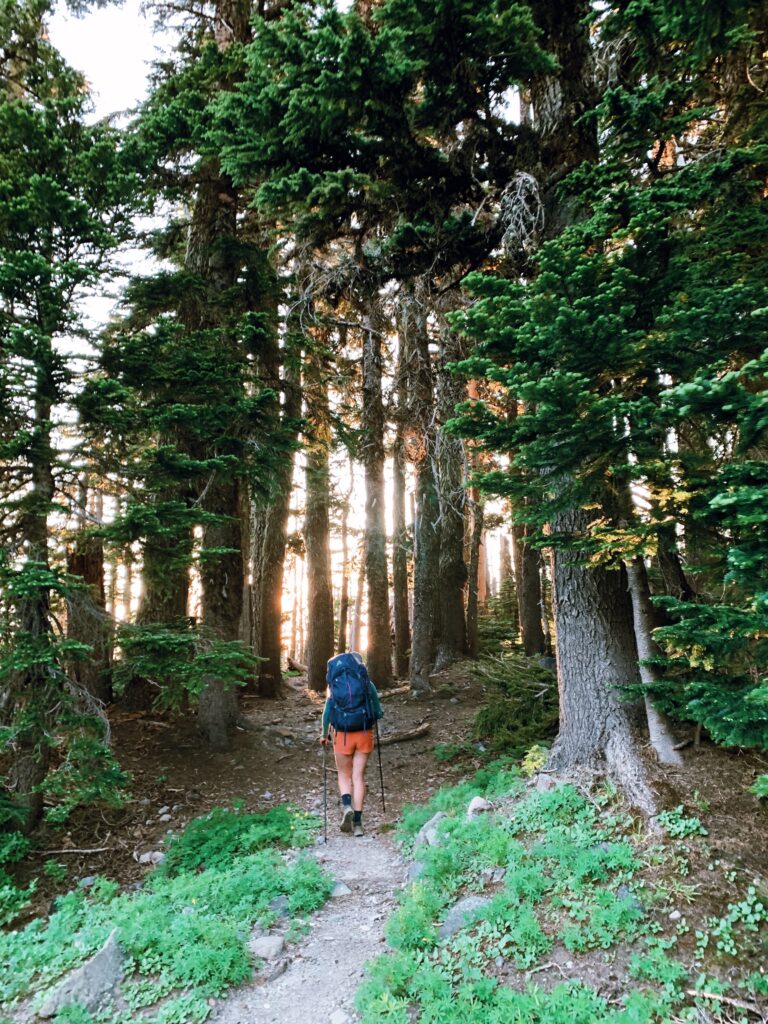 Day three starts buggy. From the second we pop out of our tents they are everywhere, a billion little rage-inducing needles. They go for the jugular, and we find ourselves manically throwing together our things so we can start hiking. It isn't long before we hit our first crossing of the day at Coe Creek, and while it takes a little bit of time to check it out, ultimately we rock hop across and continue on with dry feet. I'm not sure if I should thank the early morning, or the fact that there's not as much snow melt right now, for the relatively easy crossing. Whichever it is, I'll take it.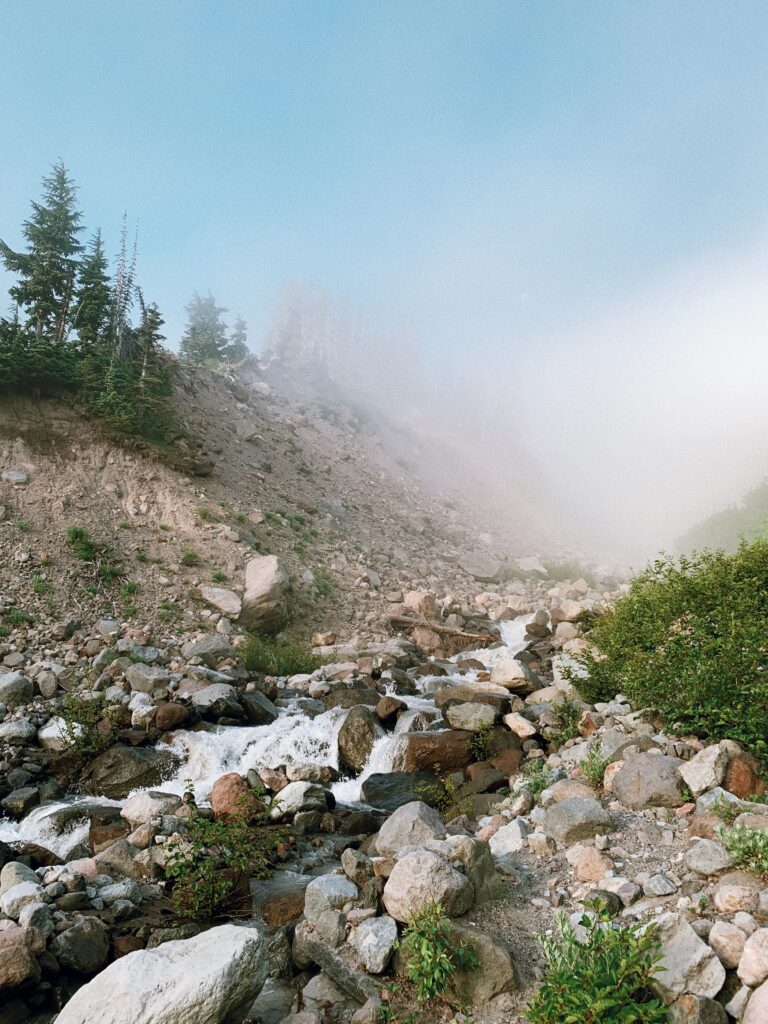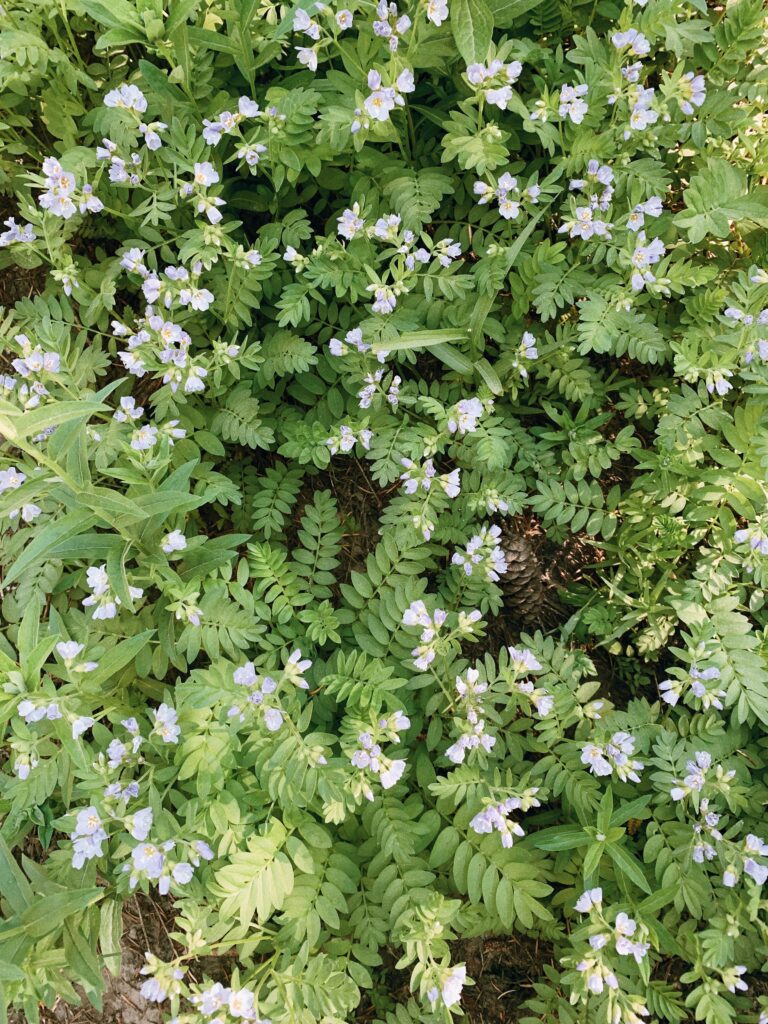 However, getting relatively easy crossings due to the snow not being melted out means we continue to have snow covering the trail. Most is unproblematic, although there is one large patch icy enough that we pull out micro spikes, and another we climb all the way around to avoid, given that a fall would probably result in death or dismemberment or something much less dramatic but still inconvenient.
We know we've reached the washout above Elliot Creek because the trail just ends. We've been descending down these sweeping switchbacks in the trees and as we start to surface out of them, the trail disappears into nothingness. As does the entire hillside. And thus begins our scramble/slide/fall/clinging to rocks descent to the creek. By the time I am at the water's edge, my legs are legitimately shaking – not from muscle exertion but because I honestly was like 50/50 whether I'd make it down here in one piece.
Crossing Elliot Creek feels 10x easier than just getting down to the water. The creek is milky and reaches my mid thigh, but it only takes about 5 steps to get across, so despite the quickly moving current, I decide that I'd do that a hundred times before you could convince me to do anything on the washout again. Once we scramble up and out of the washout, we pause to collect ourselves, and as we do, two large rocks come tumbling down unprompted from the far side we just came down. This entire place feels like it could give way. So we climb, happy to tackle the ascent because the ground is free of snow and it is solid beneath our feet.
Above tree line, we realize we're starving and settle into a sliver of shade next to a large boulder, just across from the rock shelter. It's the wrong move, as apparently we are taking lunch on the front steps of an aggro chipmunk's home. We name him Elliot after the creek because he is the worst, and as we begin to eat, we half expect him to launch himself at us as. What do you even do with a manic chipmunk? All that comes to mind is punting him into the ether, but even then, I imagine him returning for revenge. Shooing away his charges gets so annoying that we finally shove what we can of our food back in our packs, and walk – tortillas in hand – another quarter of a mile up the trail to a tiny tree providing some shade. Yay, lunch, sans Elliot.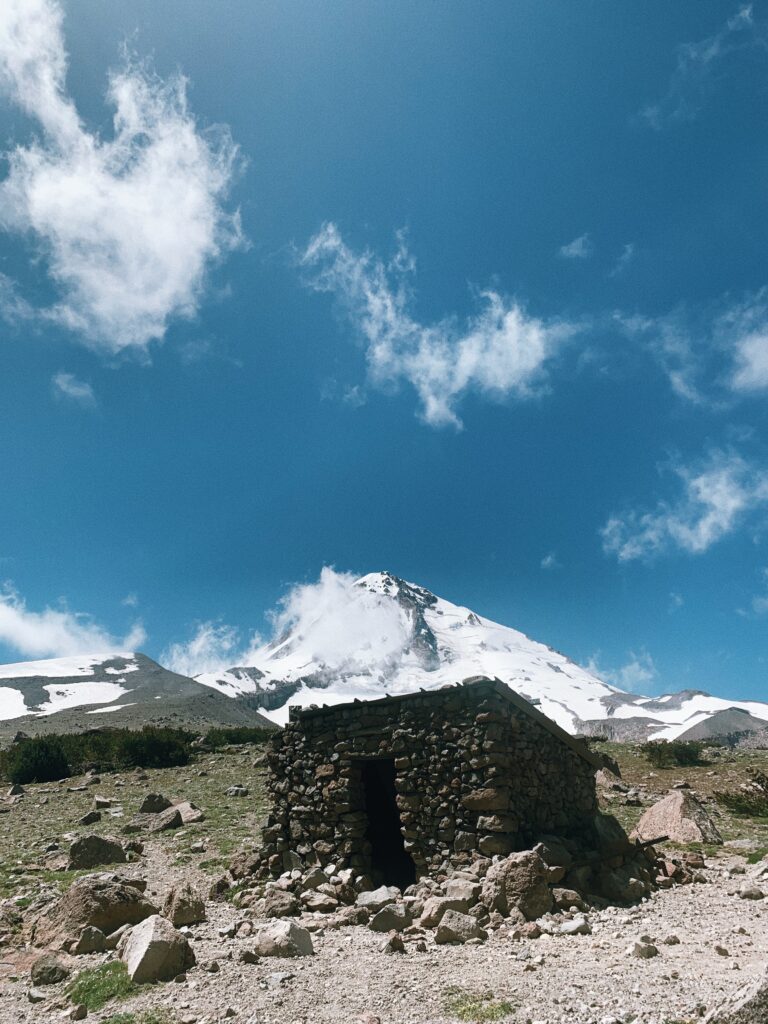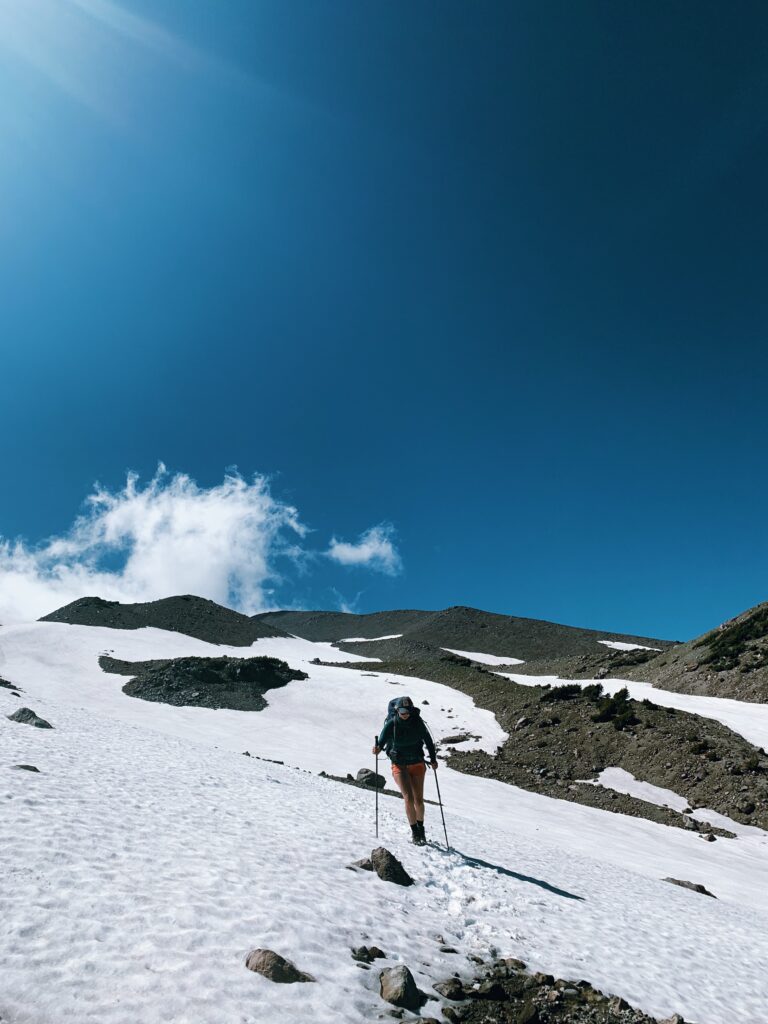 Post lunch looks something like this: some gentle climbing, sweet views of the North side of Hood, and longer patches of snow. We almost frolic across these snow fields, given that they feel way less scary than going down a crumbling washout. After hardly seeing anyone all day, we also finally pass some other backpackers heading in the opposite direction. They ask how much snow is ahead and we're like…oh, buddy. A lot.
We, on the other hand, are just about done with the larger portions of snow, and the trail gets drier as we descend into the early evening. There is one last crossing that stands between us and the end of our day. We almost don't do it, opting to face it first thing in the morning, but a nice man who has just scrambled down and through the river points out where he came down through this washout. We are wary after what we did this morning but he says there is a primo campsite, and that is hard to resist.
One final crossing for the day and one last scramble. I get to the top and simply fling myself into the bushes, not trusting the rocks on the exposed hillside. A tiny moment of bush whacking and then camp. The man was right – this spot is worth it. Protected from the wind, flat surface, gurgling seasonal stream. We sit and eat mac & cheese (Annie's, duh) and watch, through the trees, dust flying down the corridor through which the river flows. I'm so sleepy that I fall asleep almost immediately once I crawl into my tent.
Day 4
Newton Creek To Timberline Lodge, 7 Miles
No matter how long or short the backpacking trip I'm on has been, town day (or boat day, @ Beyond Malibu) will always put some extra pep in my step. We have just seven miles to get back to the car. I mean, the weather simply could not be better if it tried. The wildflowers are blooming, the trail is dry, the two decently large water crossings we have are over quickly, and we are happy to be walking. Soon enough we begin to pass beneath chairlifts again and civilization feels like it's right around the corner.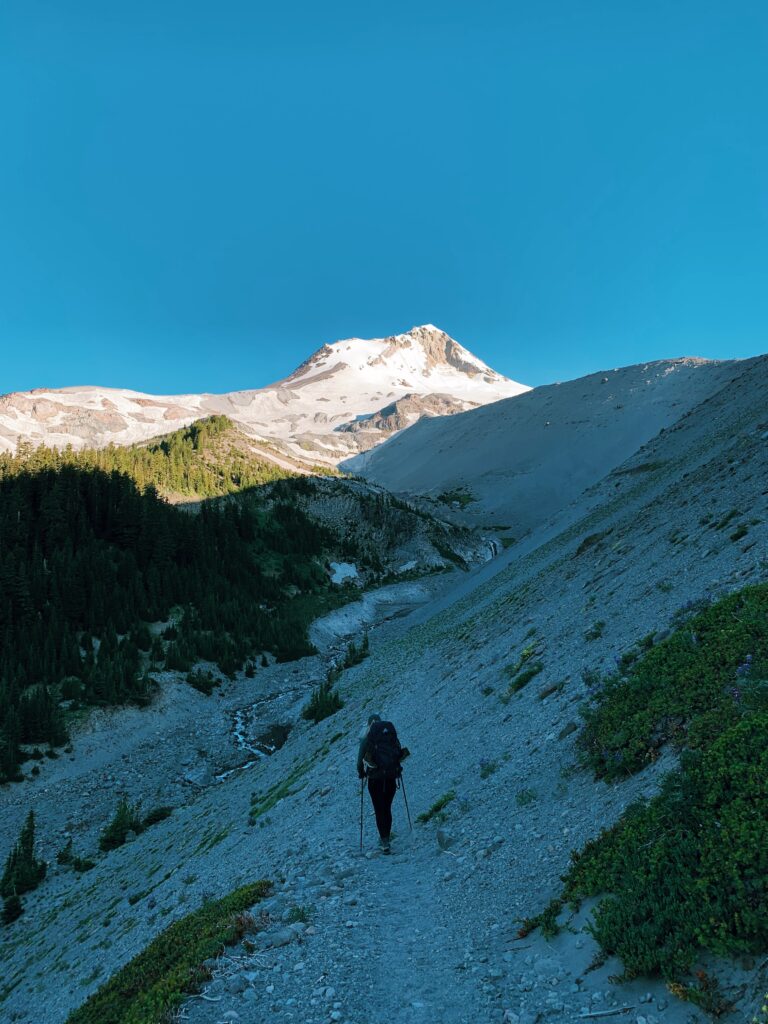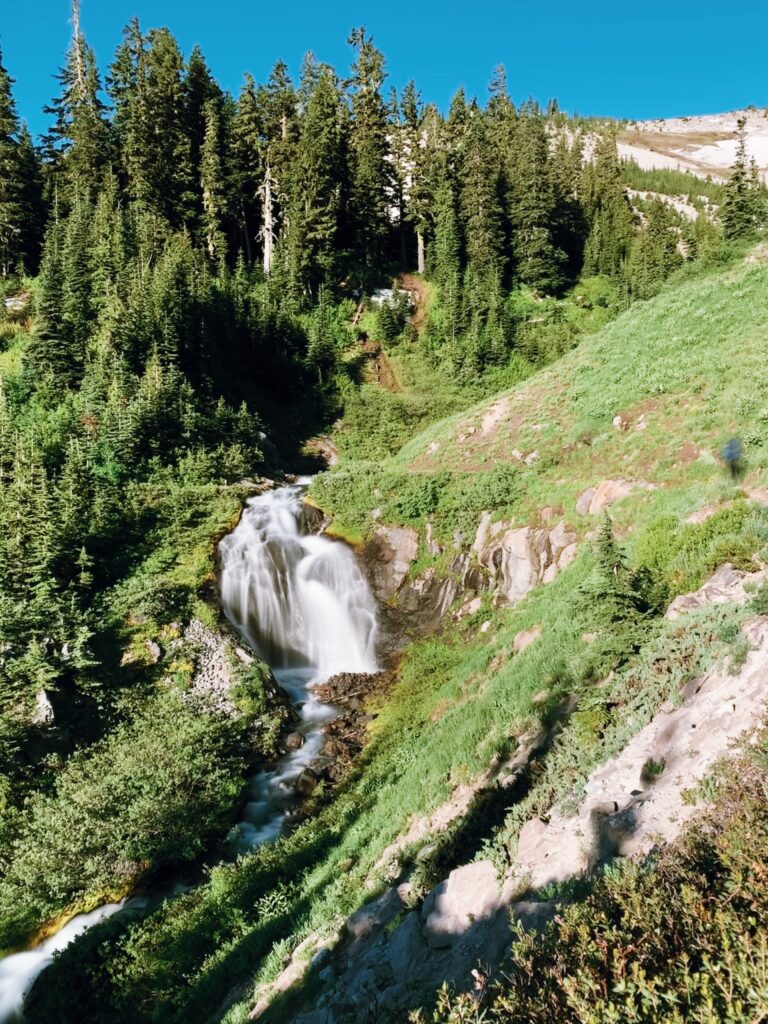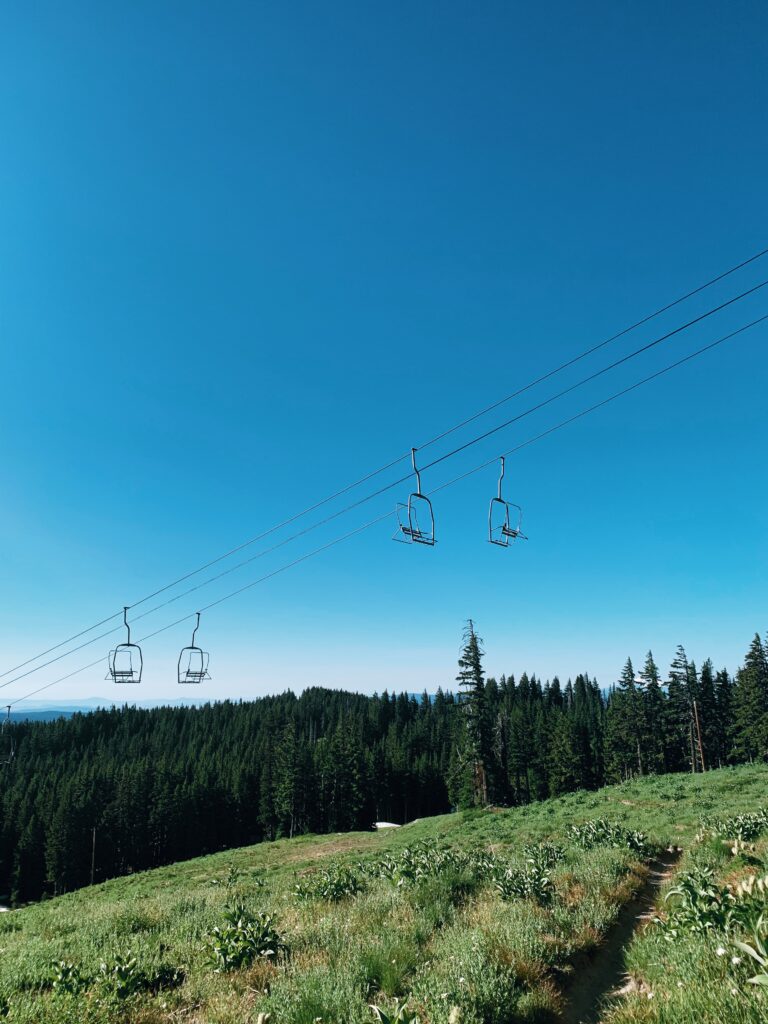 One of our last obstacles for this trip is a water crossing that is labeled by an official sign telling us this is a "violent glacial stream." It's not exactly what we want to hear as we approach water, but (you know what I'm about to say) it's probably fine. Thankfully, it's not the stream itself that is a challenge but rather getting back up away from the river bed and on the trail again. Oh, loose rocks, good to see you again! I take a step back and then start running up the bank. Staying put for too long means sliding back down. We're laughing because it's funny to watch – this moving in molasses, two steps forward one step back, slow motion running uphill – and we're also laughing because like, make it stop! Grant us compact trail, we're begging you!
We get it, eventually. The more distance we put between us and the water, the more the trail returns to it's usual dry packed dirt, with only a couple of sandy, slog-y sections. The Timberline Lodge comes into view shortly after, but as is always the case, we're still a mile or two away from the parking lot. This is, in my humble opinion, the worst part of any trip. You might as well be done. But you're not. And you kind of just want to be there already, while at the same time kind of secretly hoping the trail actually never ends and you get to stay out here for longer. It ends though, as it always does, and we step into a parking lot that is still buzzing with ski bums and racing groms. I spot one man with a laptop perched on a small standing desk next to his car, headphones on and very obviously in a Zoom meeting. We love to see it.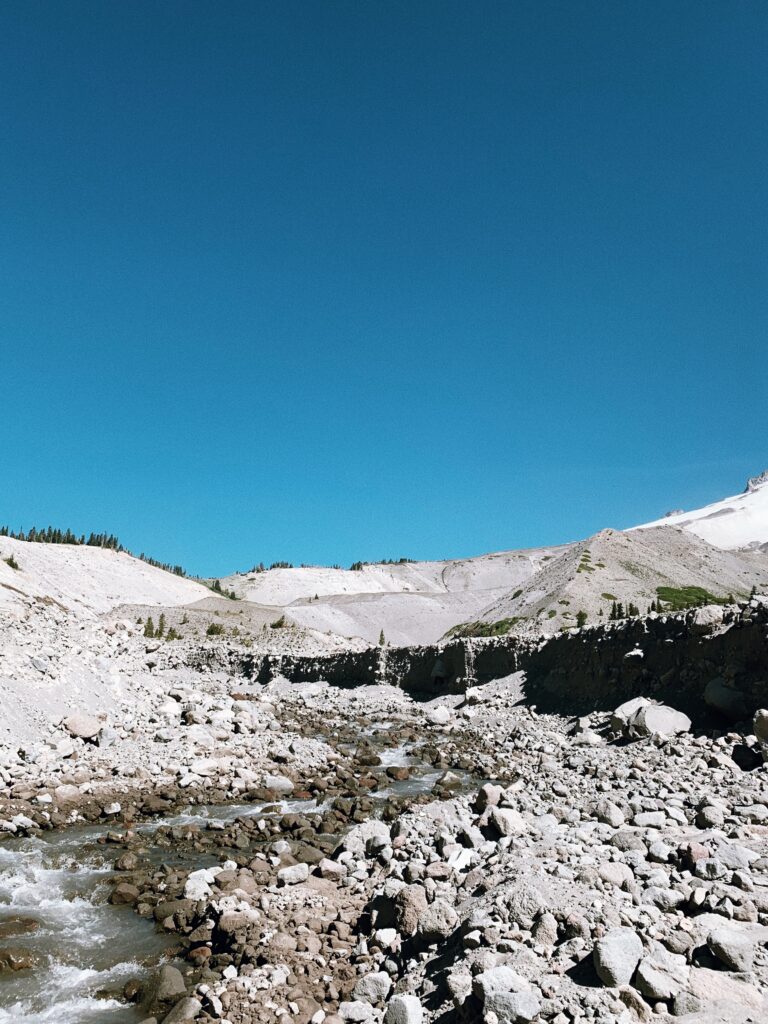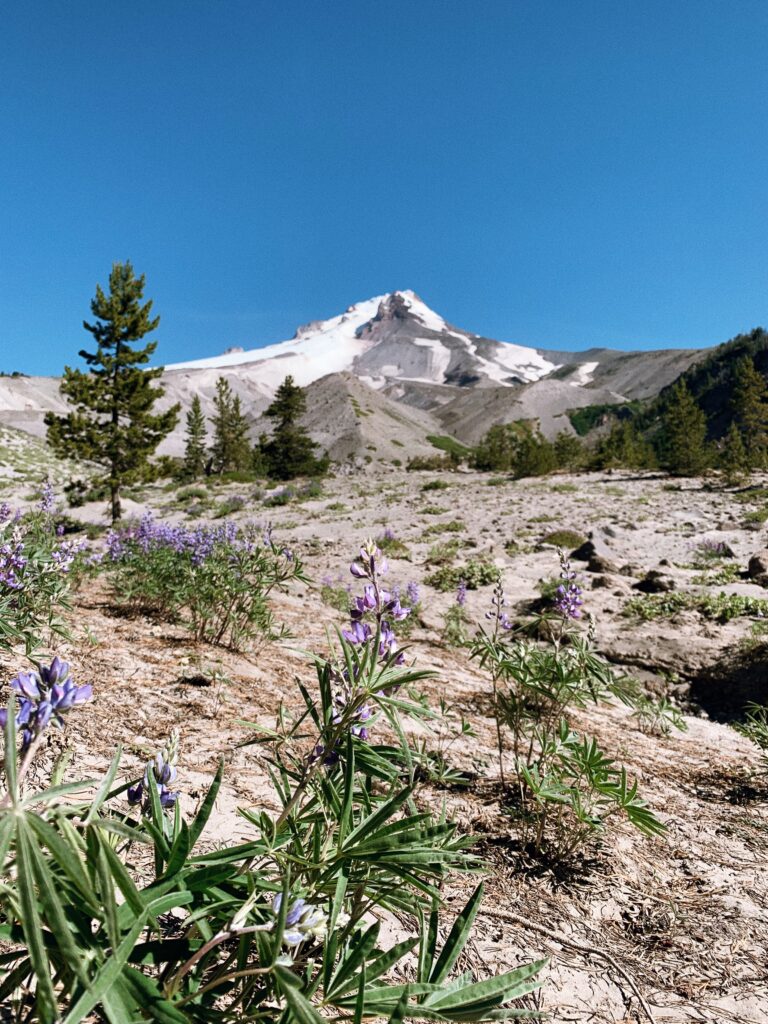 Back at the car, dirty socks are peeled off and snacks that were left behind are now cracked open. Once again even the slow miles have gone by too quickly. As per usual, though, I feel an abundance of gratitude for a healthy body and beautiful trails and friends who embrace adventure. And…that's a wrap.