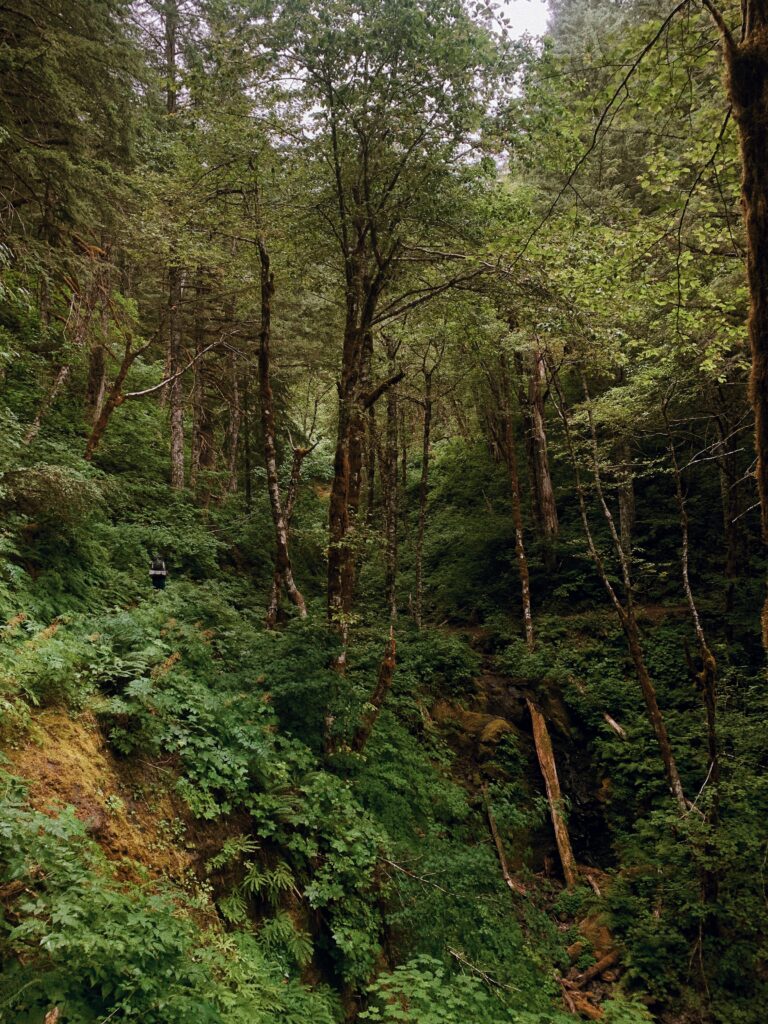 And we're back! I always feel lucky when I get to spend a chunk of time back on the Pacific Crest Trail, and this time is no different. My past hikes have often started solo, occasionally joined by a friend or making friends along the way (like when I first started the PCT in 2019), but this time I'm beginning with my boyfriend Kellen. Let the PCT adventures continue!
Day 1 (72 Total)
Bridge of the Gods to Mile 2155.7 (NOBO), 6 Miles
1,064.1 Total PCT Miles
Leaving home for trail always brings about the same set of feelings. For some reason I'm nervous, even though I have enough miles under my feet to not be, and I'm excited, and I can't stop triple checking all the little pieces of gear that I'm paranoid about forgetting (ok, yes, the tent stakes are still in the same pocket they were in 12 minutes ago when I checked for the third time).
Our friends Gabe and Sienna are giving us a ride to the trailhead and joining us for the first night, so when they pull into the driveway all I can do is shove my pack into the car and trust I've checked enough times to not be missing anything. It's a beautiful morning and a beautiful drive over, clear blue sky above us. As we get closer to Cascade Locks, we begin to pass wineries and roadside berry stands. "Wait why are we going hiking, again?" Someone says as we pass another winery. Instead, after pulling into the last parking spot at the trailhead and gathering our things, setting out over the iconic Bridge of the Gods trying not to look down (Sienna took the photo looking down through the bridge because I simply could not)…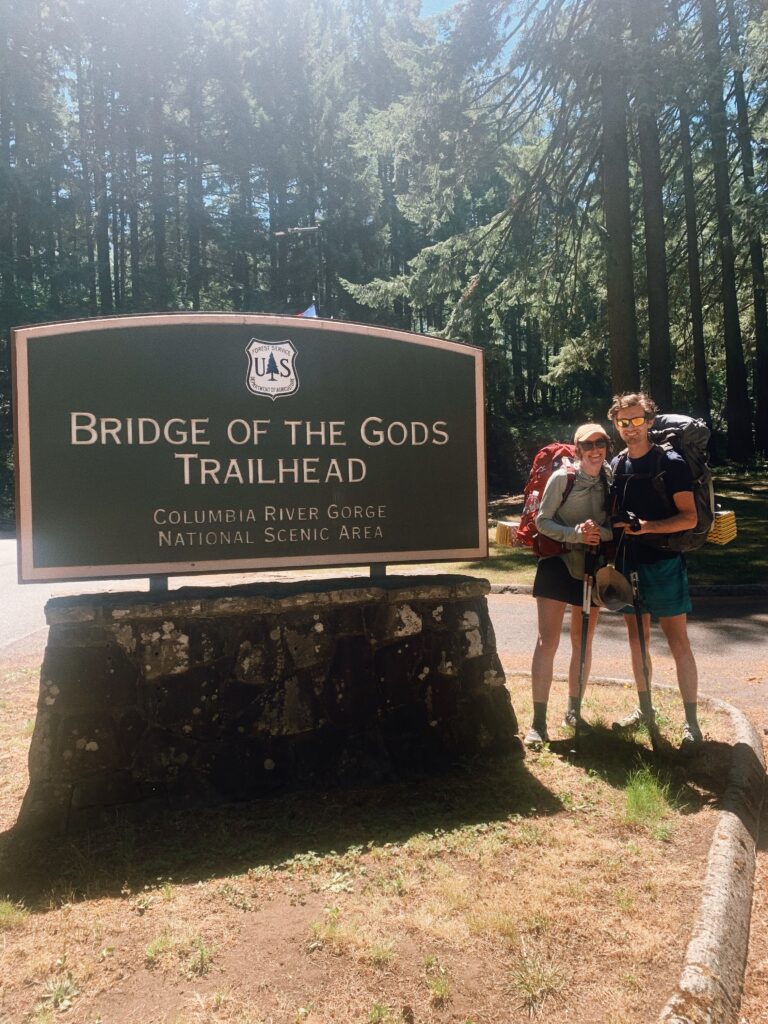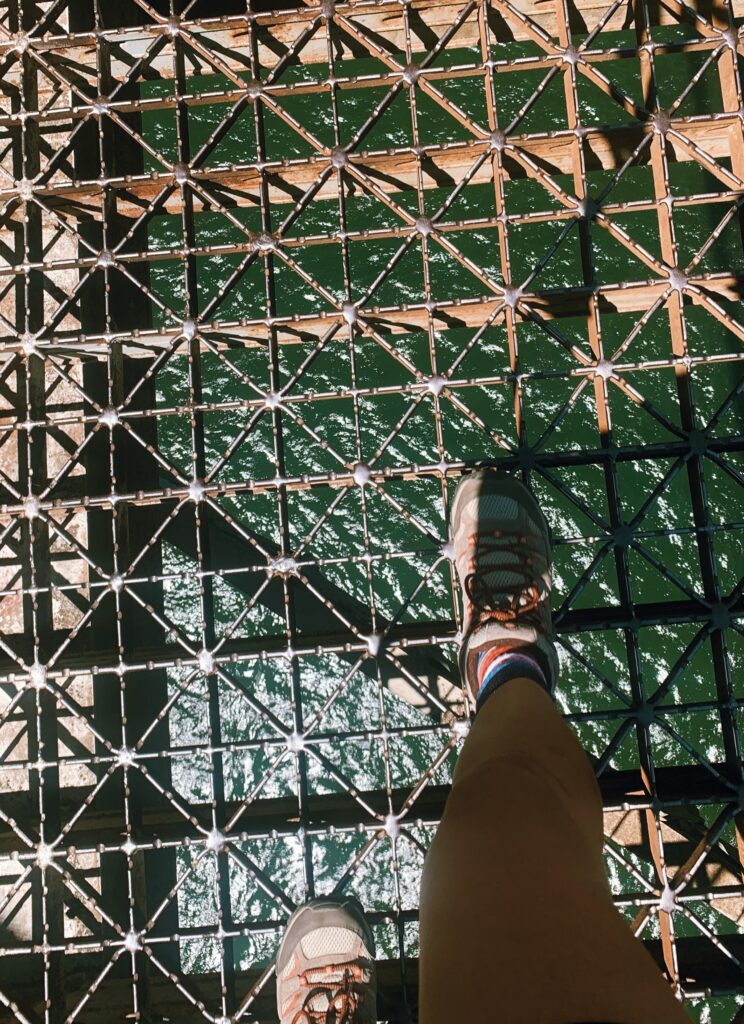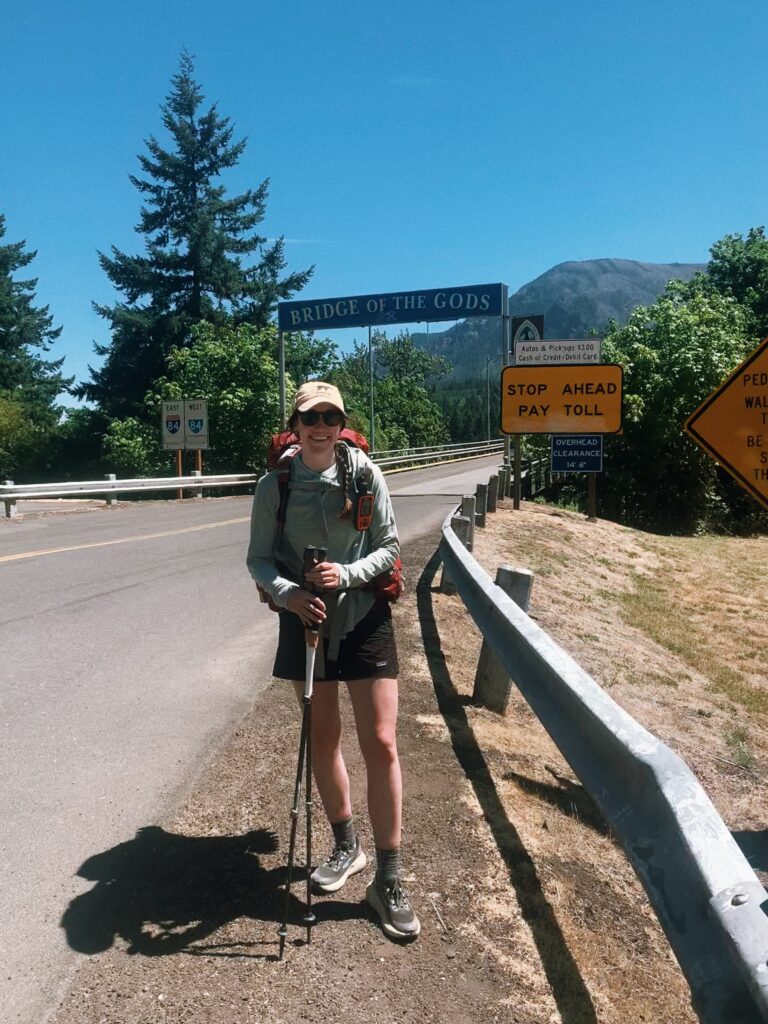 Instead, we are walking through a heat wave. This heat advisory has been cast for the whole weekend, and I swear I feel every single degree of it. With temperatures hovering somewhere in the mid 90's, the climb up and away from the Bridge of the Gods in Cascade Locks is like slogging through molasses. Thankfully, a majority of the miles were within a shaded green tunnel, shielding us if not from the heat and humidity of the plants then at least from the direct sun.
A couple of miles in, after getting a late afternoon start on the trail following our drive up from Bend, we stop for a break and snacks at a tumbling creek. My entire back is wet with sweat, and a woman sitting trail side starts bombarding me with questions about her navigation app before I can fling my things to the ground. Patience patience patience I hum to myself, hoping my micro-steps towards the stream will help convey that I do not know how to solve all of her technology problems (I told her all I know!) and would really like to sit down.
After what feels like an eternity, I finally break from the conversation and make my way over to the water, plopping down on a rock after sliding my backpack off. I start drinking from my liter of electrolytes and approximately 1.7 seconds later my bottle is empty, as if I've gone and shotgunned it. Hot. It's so hot. And dry. Surprisingly dry. After this flowing stream, we may cross another dribble or two of water, but otherwise it looks like we'll be crossing reliable water in 8-11 mile intervals.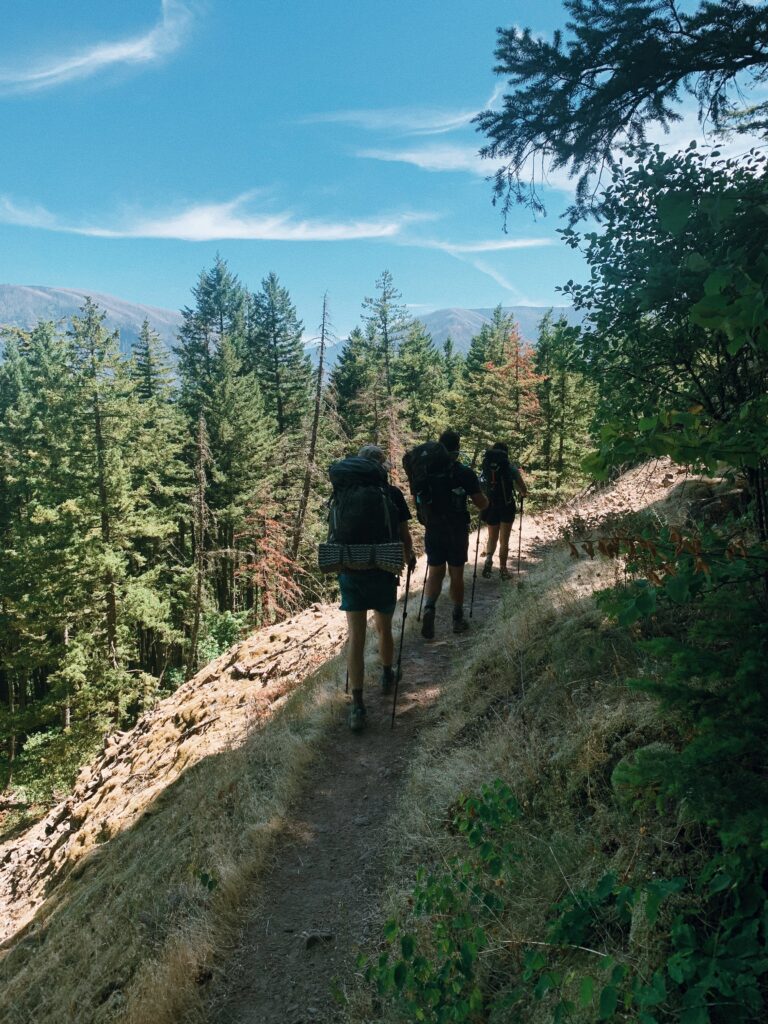 That, however, is a logistic for future Kathryn and Kellen. For now, the four of us set out from the creek to charge up the final 1.1 miles to where we'll be camping for the night. Our evening is a blur of setting up and eating, lounging around and chatting, then swatting halfheartedly at the bugs that eventually make an appearance before diving into our tents.
We are so thankful for Gabe and Sienna's graciousness in getting us here and joining us for an afternoon/evening of, quite frankly, type-two fun.
Day 2 (73 Total)
Mile 2155.7 (NOBO) to Mile 2170, 14.3 Miles
1,078.4 Total PCT Miles
The soft sound of my phone alarm hits my ears, and I'd say it wakes me up immediately but that would imply that I was asleep when in fact I'm actually not even sure I slept at all. If I did, it certainly wasn't well. For the first time probably ever, including all 702.2 miles of the Southern California desert, I do not even take my sleeping bag out of its stuff sack. It cools down what feels like a whopping total of half a degree, so I lay out my sleeping bag liner on top of my foamie and call it good. The forest we're camped in is muggy, too. With the clouds that rolled in last night, there was not much relief from the heat.
That said, we're hiking by 6:30 am and I'm already dripping in sweat. We are paying our entrance fees into the mountains on this section by climbing through a green tunnel, up and up and up on a trail crowded by thick tangles of plants and trees and vegetation. Eventually though, we surface out of the woods and get our first mountain views (peep Mt. Hood and then Mt. St. Helens in the distance).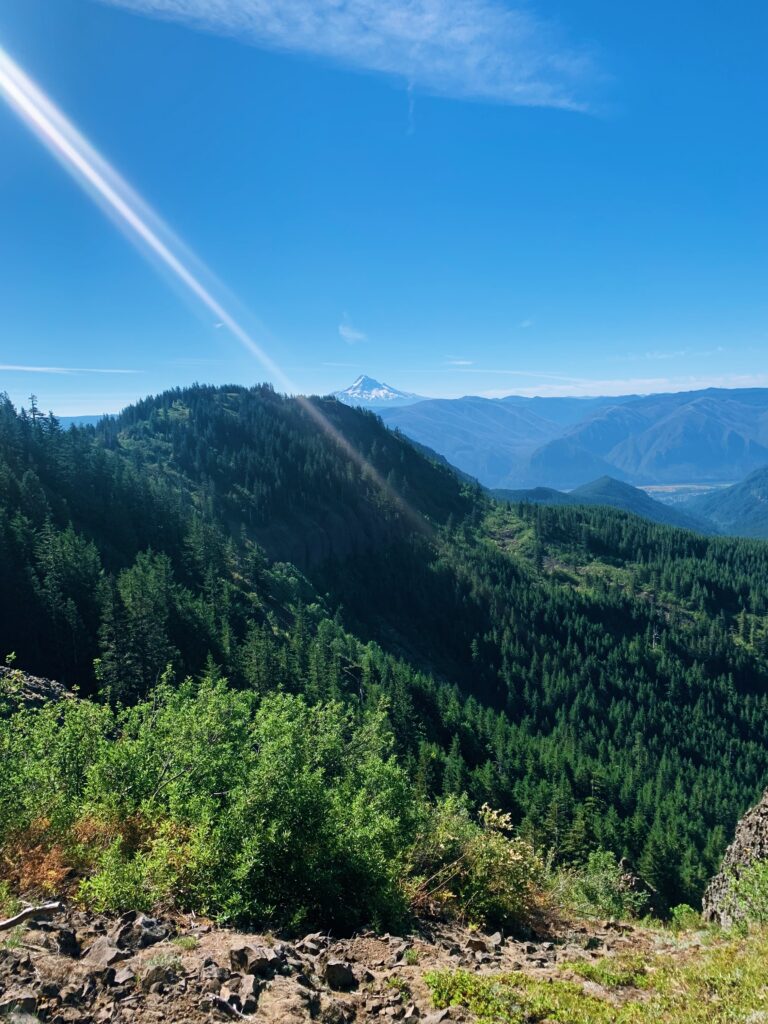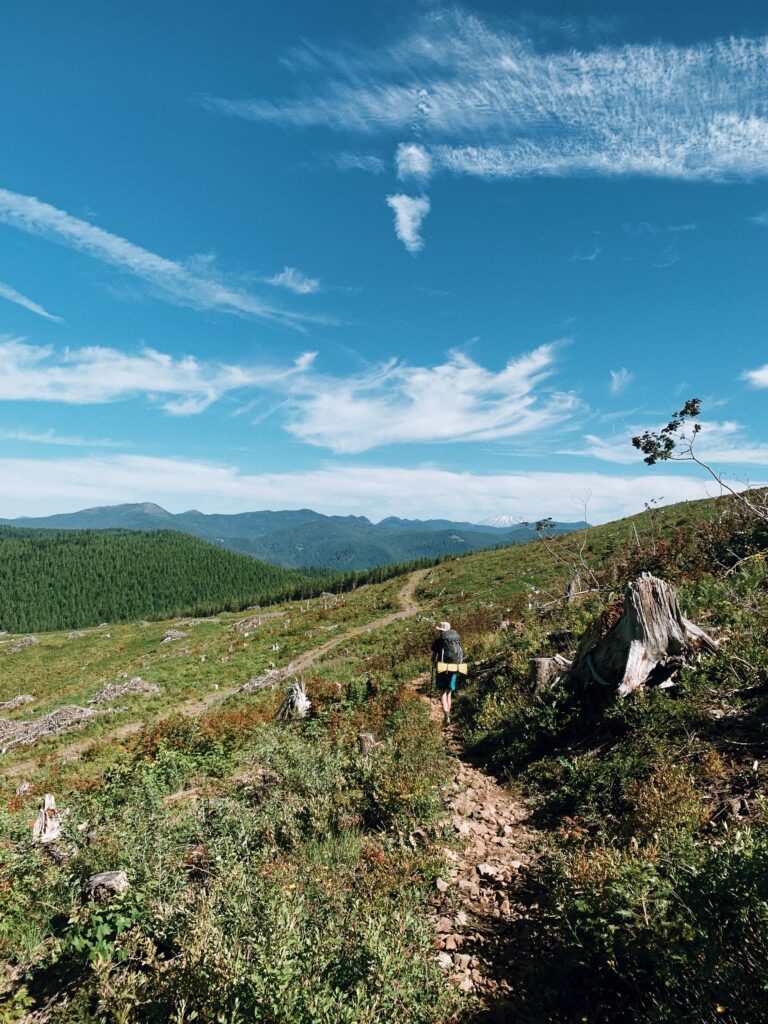 Up until lunch, it goes like this: occasional glimpses of mountains and then more dense forest, walking through a sea of green until eventually stopping by a large stream to eat lunch. We plop down onto the rocks at the waters edge, pulling out our stoves and food and relishing the soft breeze coming off the stream. I'm not usually one for cooked lunches unless I know I'll be dry camping (camping without a water source nearby), but we're uncertain of the bug situation ahead and figure we might as well give it a try.
So we cook, and eat, and sit. Filter water. Sit more. Then, as always, we must walk again.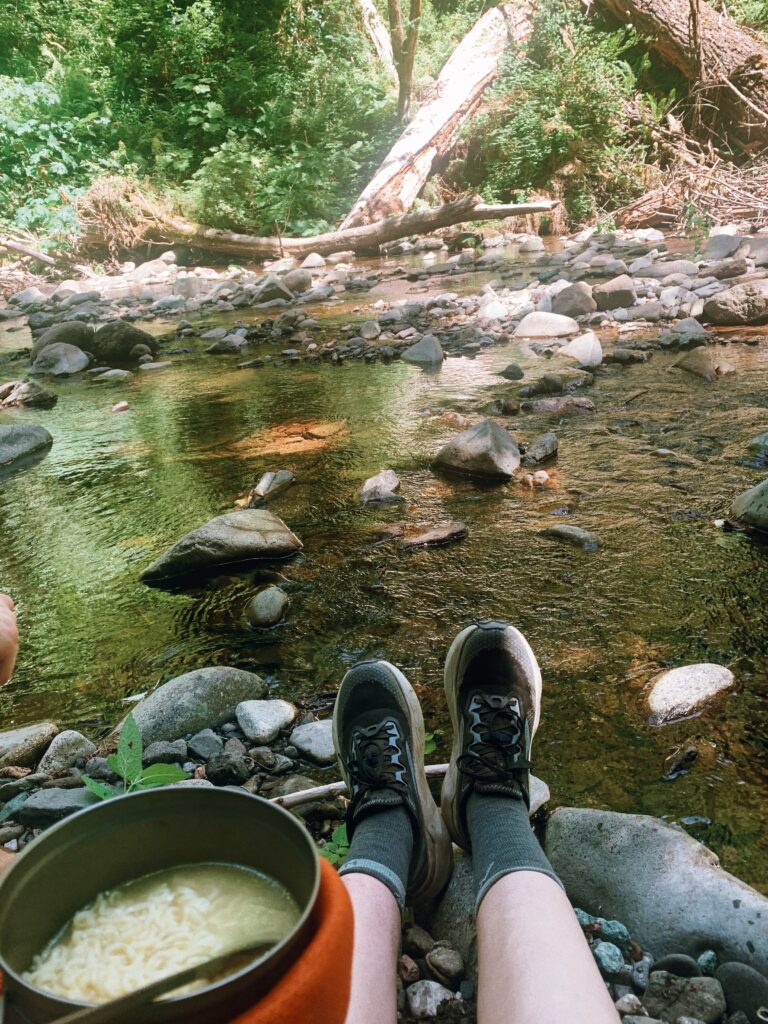 The afternoon is both short and long. Short because we don't have many miles left, having done more than half before lunch (post-lunch miles tend to be my slowest or hardest so it's nice to structure days like this).
Long because Kellen and I seem to slog through our final miles for the day, slowed by the heat that has zapped any and all energy from us. Despite our slowness, though, we arrive at camp early. Since there's no rush to where we'll do our resupply at Trout Lake, and it's still a billion degrees, we choose to not add any extra miles and instead set up our tent in the shade, sprawling inside for a nap. Quickly, the white noise from the stream we are camped near lulls us to sleep.
Later that evening, we make wraps for dinner and sit by the water, staring out at the mossy rocks. It's not long before the woods begin to get dark, the sun dipping behind the surrounding mountains and the dense trees overhead filtering out remaining light. Bedtime, it is.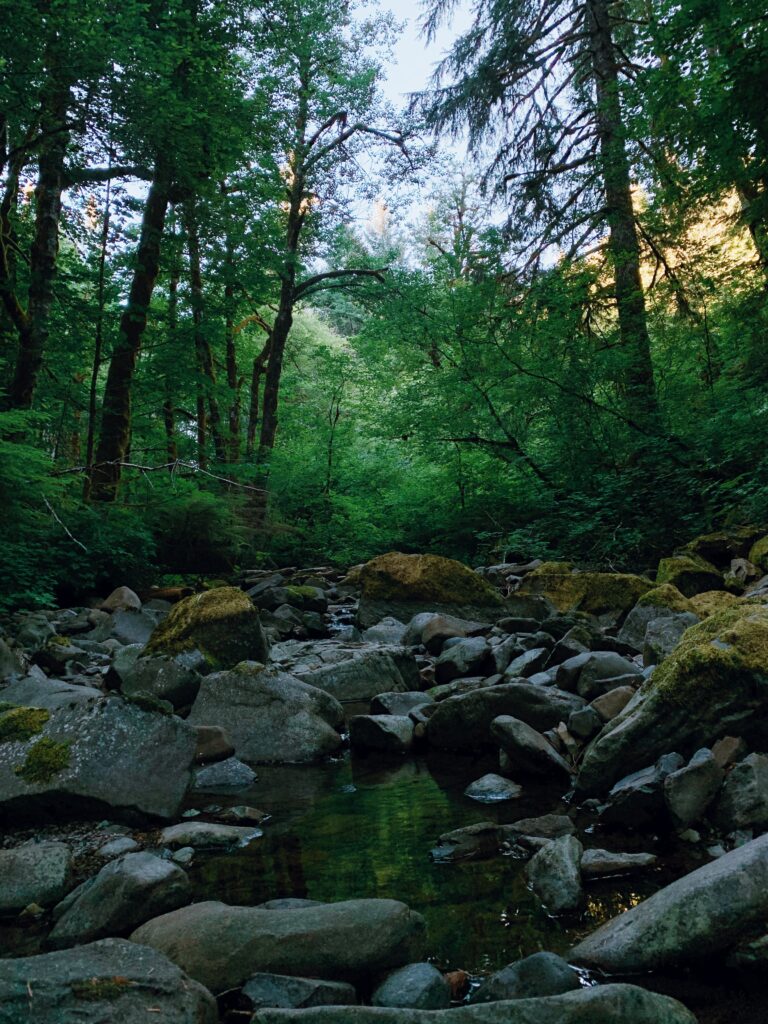 Day 3 (74 Total)
Mile 2170 NOBO to Mile 2188.4, 18.4 Miles
1,096.8 Total PCT Miles
This weather is giving me whiplash. When the alarm goes off and I unzip the fly to get a peek outside, my bleary eyes take in the light fog drifting between the trees and mist drifting down from the sky, everything damp. Weird flex after two 95 degree days but OK. Even when the mist turns to rain for a time, it's actually quite comfortable, so there's no complaints from us. Especially because we start off the morning by immediately climbing again. Up and up through more lush green.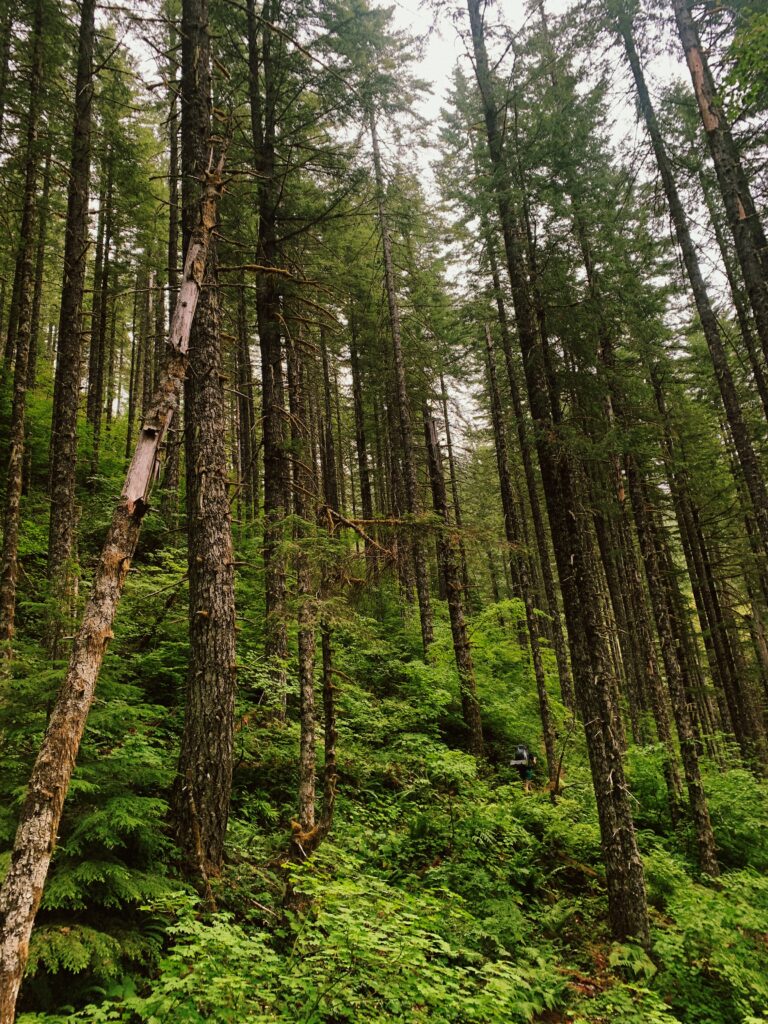 Even with the elevation gain, our morning is fairly cruisy. We climb and shake water from the trail side plants that begin to soak us and step over slugs and play "I spy" and then suddenly we are descending again. Nine miles after we started hiking today, we end up at Trout Creek where we stop for our first break. Overhead, the sky still looks like it's threatening to pour. It's quiet by the water despite its proximity to a narrow gravel road and the handful of very obvious day hikers we've seen. Graffiti on the bridge, too, points to our closeness to civilization. We'll cross a paved road in the next three miles and it always strikes me as funny, these sections of trail that feel so ~wild~ or remote but then a couple of miles later you're like…oh. I could literally have driven here. Regardless, Trout Creek is a pleasant stop to sit for a few minutes, filter more water, and shove some dried pineapple in my mouth before continuing on.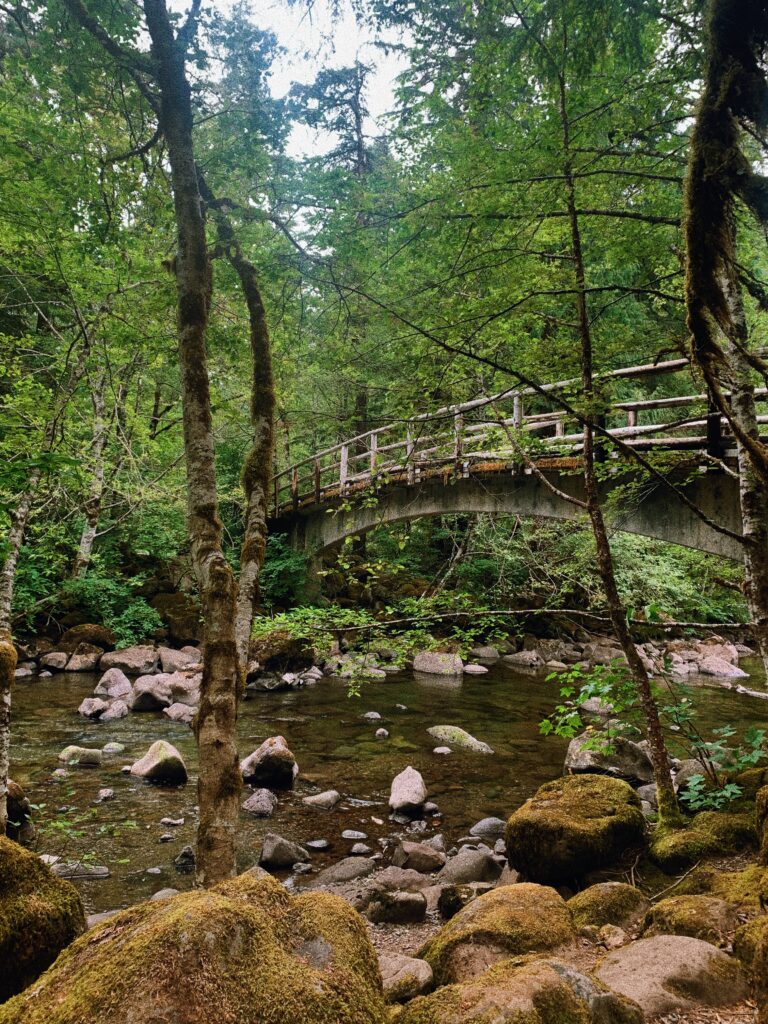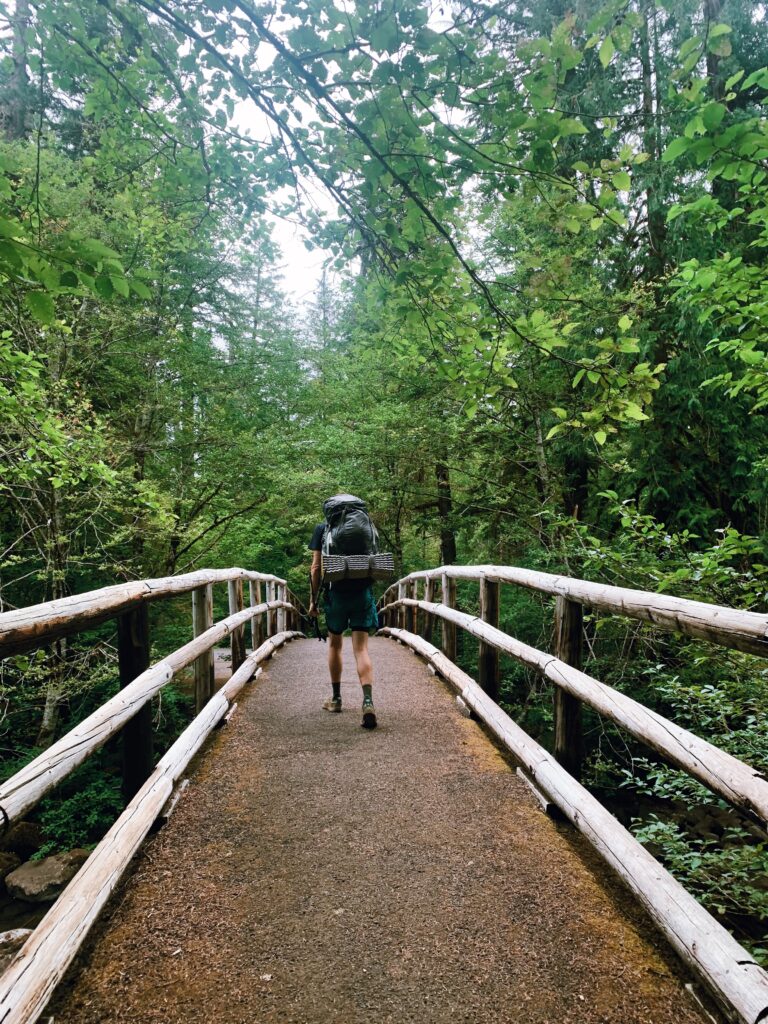 From there, we cross a forest service road and walk the beautifully flat and soft (and if I'm being honest, perhaps a little boring) three miles to Wind River. By now the sky has lightened. Bursts of sun poke through the clouds for a few seconds at a time, and while it's not enough to fling myself into the water (because it looks like a perfect place to swim), it is enough to peel off my damp socks and lay them on the rocks next to my shoes to dry out a bit. And that's a win.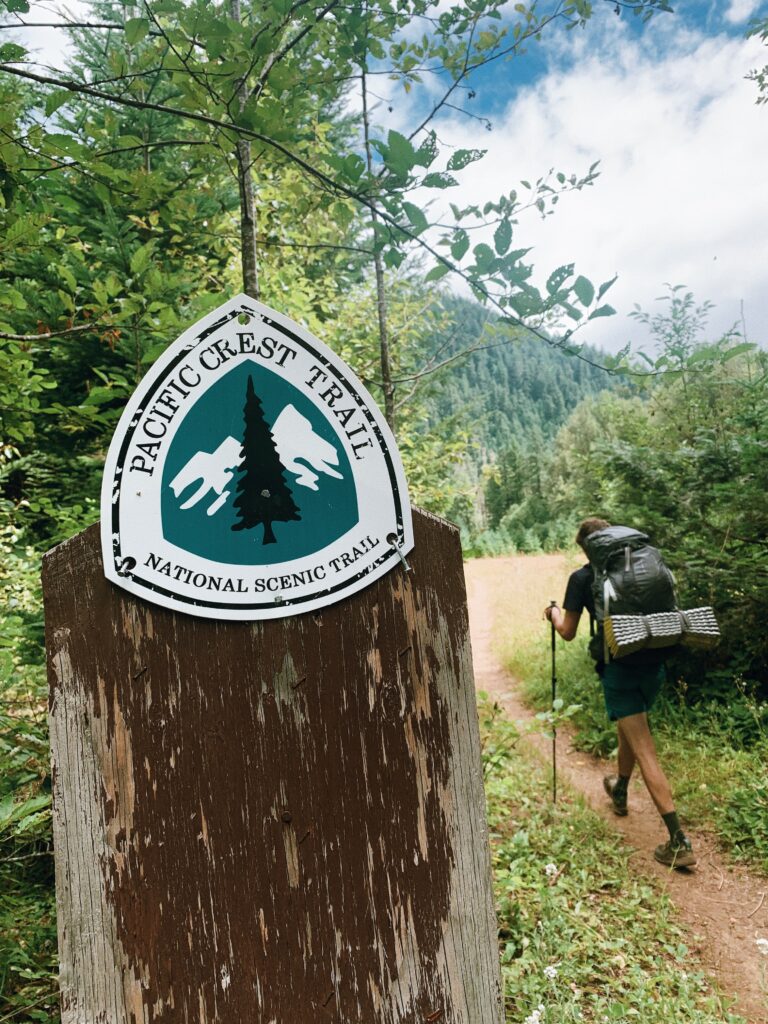 Lunchtime follows, the familiar sounds of cooking filling the air. Water hitting the pot. The hiss of stoves being turned on and the bubbling of boiling water. We dump the noodles from Annie's Mac and Cheese in and place the lids on our pots, checking the status way too often but we are hungry and Annie's Mac and Cheese is, in my humble opinion, an elite backpacking food. In a devastating turn of events, I have added too much water to my pot and my lunch is slightly too watery but God does give his toughest soldiers the hardest battles so I eat it anyway, content to sit on the rocky beach and finish my food, watching the river flow.
We also camel up, filling ourselves with water so that for the 3 miles to Panther Creek (our next source), we can carry next to nothing. Going light on water is not always a luxury you get to have so it's nice to take advantage of the opportunity. Shortly before arriving at the next creek, we cross a dusty road and pause, pulling out my phone to check Guthook (technically the app – a navigation/water source/etc app – is called Far Out now but it used to be Guthook and so that seems to be all I can remember to call it).
The road leads to a full service campground which means just one thing to us: pit toilets. And pit toilets are (almost always) treasures on the trail. The detour down the gravel forest service road is a quarter of a mile but every step is worth it. If you think I'm being dramatic, then I imagine you may have never had to dig a hole in the woods so that you can poop in it. I've backpacked enough that it's not a big deal and can even be quite enjoyable (you don't get alpine views like this in public bathrooms, I'll tell ya that). I've also backpacked enough that pit toilets can be a fun luxury in the midst of the digging. And, it's a terrific choice. On a scale of "would rather die than wait out a rainstorm in there" and "would gladly spend an afternoon avoiding terrible weather in there" (scroll through this post for that story), this one gets a resounding yes to the latter.
ANYWAYS, now that I've spent two hundred words on pooping, we leave the campground and make our way back to the trail and the final 3.6 miles for our day – all of which are up. We'd heard there was a piped spring .6 miles into the climb, so we skip filling our bottles at the large creek by the campground and plan to stop there. It'll be the last source before camping and with all of the elevation gain, even .6 miles without being loaded down by water will feel good. I'm just hoping this piped spring hasn't dried out.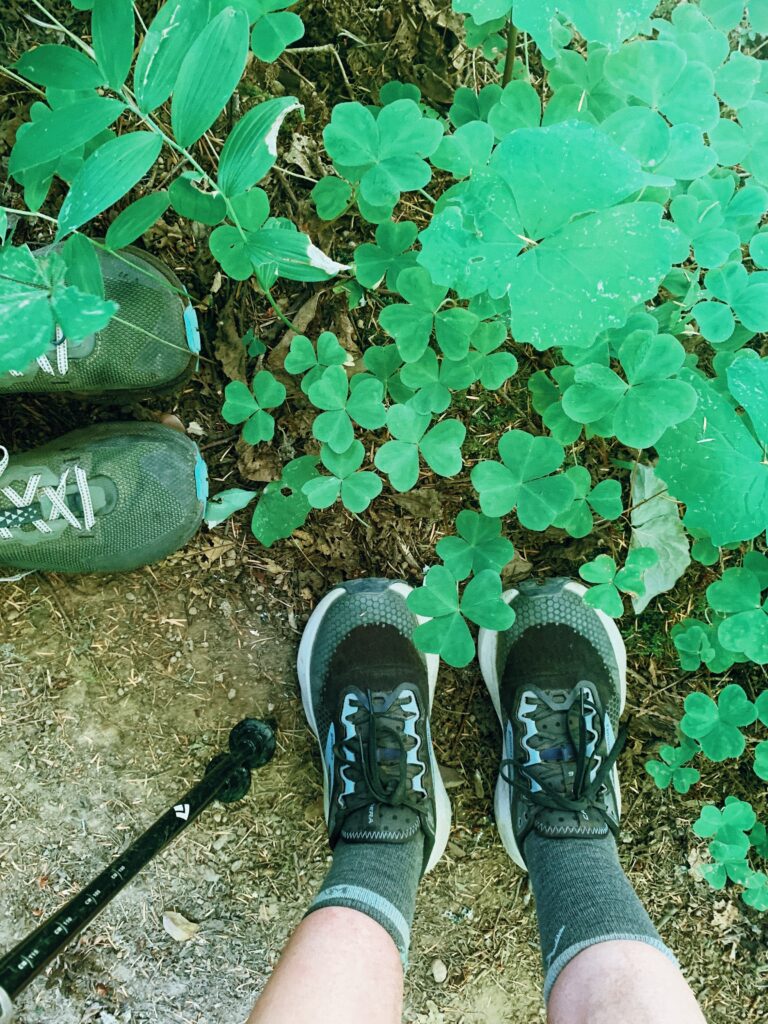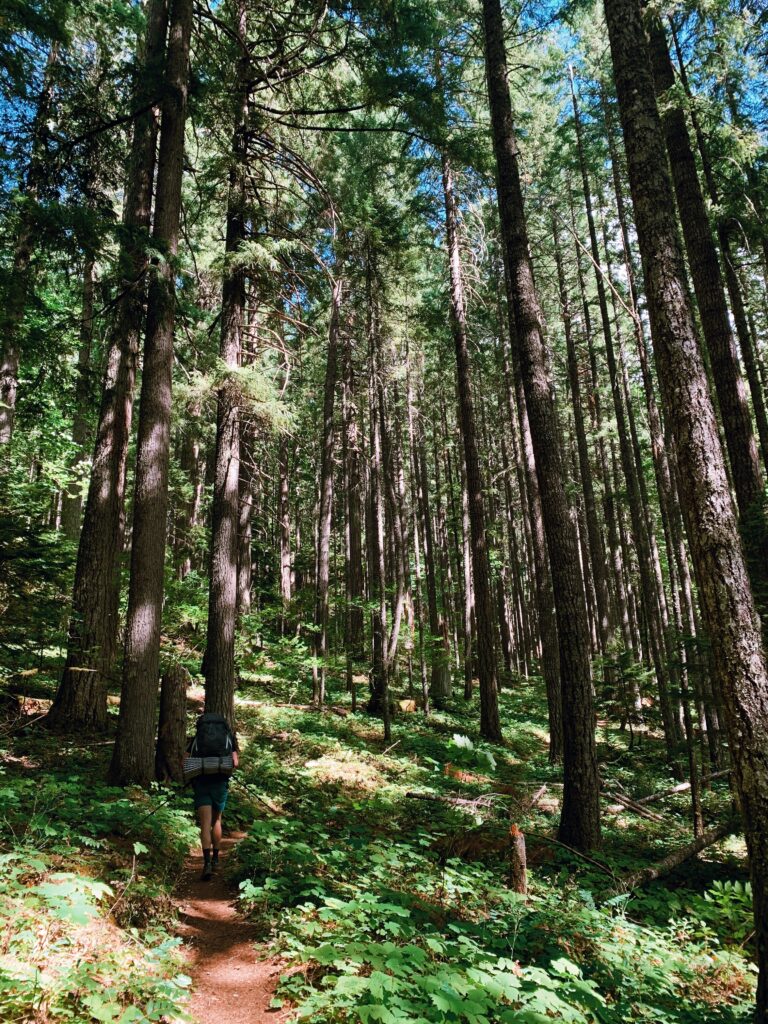 We cross the bridge over the stream, giving one last glance at all the water, and then we are climbing. Where are the switchbacks?! Usually the PCT meanders up or down in swooping, "wet spaghetti noodle randomly stuck to a wall" turns. At times it is infuriating. At times, I would kill for it. Right now is one of those times. It feels like we are going straight up, the trail stretching off in the distance until it seemingly fades into the light. We begin to approach the .6 mile mark, and my eyes squint, ears straining for sounds of flowing water. I pause. "You hear that?" I ask over my shoulder to Kellen. Water water water, the piped spring isn't dry, happy water dance. The climbing only gets harder once we filter water and are once again loaded up with our bottles, but it's hard to be annoyed about it when the trail is still remarkably gorgeous. Each (rare) switchback or curve brings a slight change, the topographystill lush and green even as the specific vegetation and view varies so greatly.
Finally, when my feet are sure they do not want to walk any more today and my stomach begins growling, we arrive. We're stopping at a tent site tucked into the woods beside an old forest service road that looks as though it rarely sees use. Above us, the light is filtering softly through the trees and a cool breeze is already wafting around us. We drop our bags to the ground and go about setting up the tent. Small miracles abound – flat ground to set up on, soft dirt for the tent stakes to slide into, no bugs to swat, the heat dissipating to allow me to put on clean sleep leggings and my puffy jacket, an evening beautiful enough to flop down onto our foamies and eat our dinner wraps before crawling into the tent and knocking out.
Day three, in the books.