 As usual, grab a hot cup of tea (or beverage of choice, there's no wrong answer here) and settle in for my early spring 2020 reading list. As per the last 3×5 | The Book Edition, I'm diving into three books I've read lately that I would highly recommend, and five that I've added to my "seriously want to read these" list. Plus, I'll recap the books from the last edition that I was going to read.
One final note: so far this year I've read about four books a month. Even so, I'm going to stick with the 3×5 format for these posts for now (although hopefully increase their frequency) because sometimes there are books that I don't find worth recommending, and on the flip side, my "want to read" list is always growing.
The Three I've Read
1. A Thousand Splendid Suns
(Khaled Hosseini, Fiction)
I read this in February, and will say that if you're looking for an uplifting, feel good read in the midst of the current state of the world, this is probably not it. The story is a mother-daughter story of sorts, but it is set in Afghanistan, amidst the turbulence of the past thirty years. There is strength and beauty as we follow along the lives of two generations of women and the characters that surround them, but also a lot (a lotttttttt) of sadness and violence. That being said, despite the heaviness of the subject matter, I was completely engrossed. The storytelling drew me in. It was not a perfect book but it was a good one, and I liked it enough to recommend it.
2. Know My Name
(Chanel Miller, Non-Fiction)
I read this one in March, and again: heavy subject matter that is written powerfully and honestly, making it worthwhile to forge ahead in reading. In Know My Name, Chanel Miller writes to reclaim her identity (she was originally known to the public after the Brock Turner sexual assault only as "Emily Doe" – the unknown woman who was assaulted) and tell her story – the trauma but also, the triumph. So, weighty subject matter? Of course. Impactful? Absolutely.
3. The Good Way: A Himalayan Journey
(Julie Libby-Tate, Non-Fiction)
A woman's solo journey into the mountains? Count me in. While this book didn't exactly end up where I had anticipated, I enjoyed the flow it had and got caught up in the adventure. In it, Julie tells of her trek through the Himalayan mountains as a 19 year old. She writes of the landscape, the trekking itself, her experiences in faith, the people around her, and her struggle with an eating disorder. I was pretty easily swept up into this one, and although I read it before we were all confined to our homes, I imagine you might find it to be the perfect read to get your adventure fix in until we can all go out again.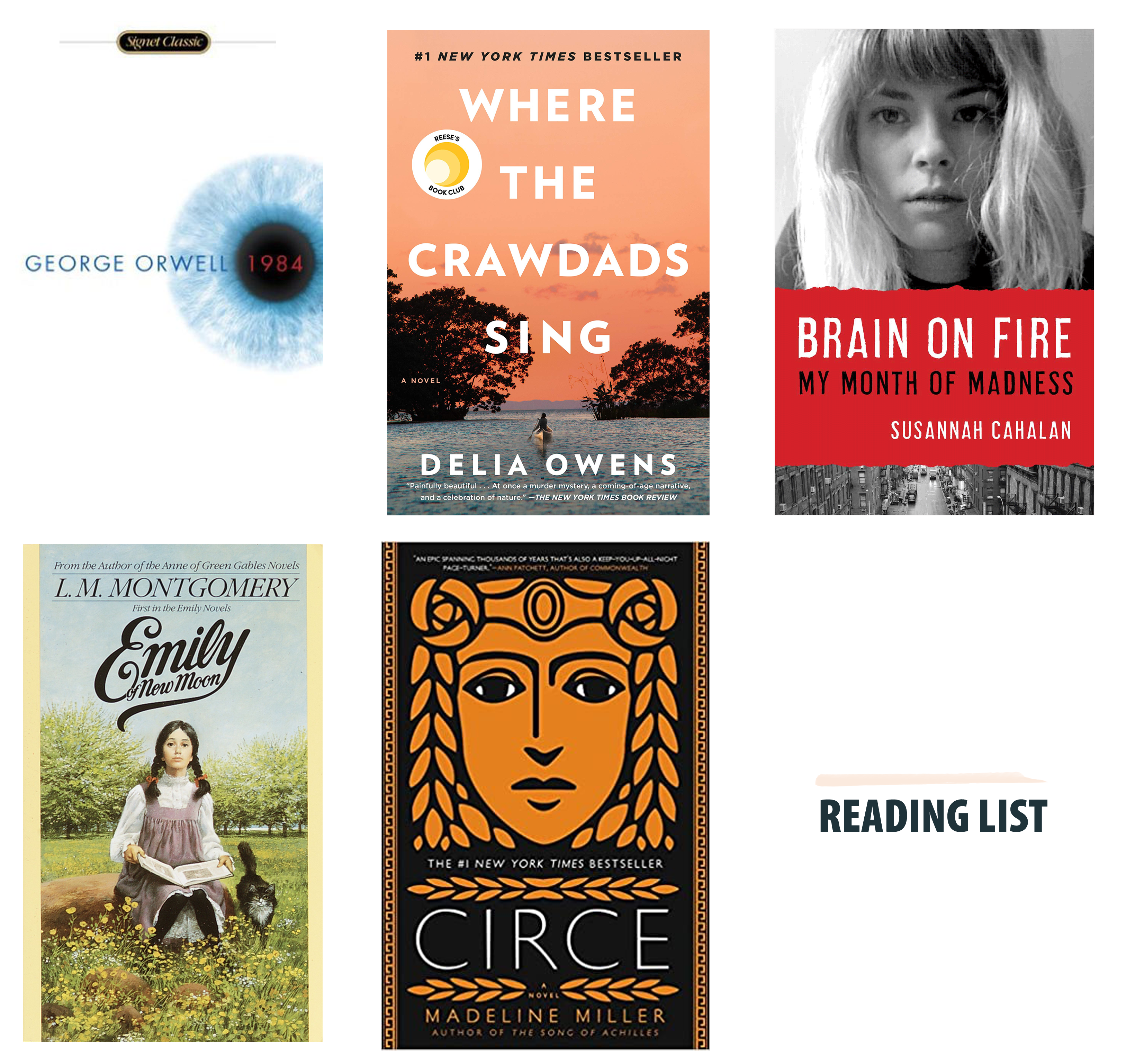 The Five I'd Like To Read
1. 1984
(George Orwell, Fiction)
Somehow I made it out of high school and college without ever reading this. I'm not sure how that happened, but here we are. Written about the imagined future, it centers on a world that has fallen victim to wars, government overreach, over surveillance, etc etc. There's something about reading a classic dystopian novel that feels fitting right about now.
2. Where the Crawdads Sing
(Delia Owens, Fiction)
I have heard rave after rave about this book, and somehow it has taken this long for me to put it on my list to read. The book's description says it is "at once an exquisite ode to the natural world, a heartbreaking coming-of-age story, and a surprising tale of possible murder." It sounds like the perfect type of book to get completely swept up in. Consider me intrigued.
3. Brain on Fire: My Month of Madness
(Susannah Cahalan, Non-Fiction)
This book is a memoir detailing the authors struggle with a rare autoimmune disease of the brain. As seems to be the usual for me, it's not a new book but I saw the cover when browsing in a bookstore over Christmas, and it's been on my list to read ever since. I find myself equally interested in reading about the medical aspects and the personal journey aspects.
4. Emily of New Moon
(L.M. Montgomery, Fiction)
I rarely reread books unless the authors name is Brené Brown (Brené I love you). HOWEVER, there's been a few older books I've reread the last few years – the Wrinkle in Time series, for one, and Anne of Green Gables, as another example. There's something rather calming and sweet about a well loved classic, and also something just kind of fun. Emily of New Moon is about an orphan girl growing up on Prince Edward Island (apparently a lot of orphan girls on Prince Edward Island in L.M. Montgomery's world…ha!).
5. Circe
(Madeline Miller, Fiction)
Labeled as sort of mythical, fantasy-fiction, this isn't a book I would normally go for. However, it's been sitting in my room ever since my Grandma handed it off to me with a non-committal "You take this, I have no idea what's happening in the story anymore." Since I have it, I figured I may as well give it a chance. It's highly rated, at least, so it might be worth it. I'll update you all on the next 3×5 with the verdict.
Lightning Round: Recapped
(Super) quick thoughts on the books I wanted to read from the last 3×5: The Book Edition.
Ishmael: Still haven't read yet!
The Defining Decade: Couldn't force my way through it (this is rare). Came across as preachy to me.
In the Woods: Entertaining, and I flew through it, but still rather predictable and not totally satisfying.
The Ruthless Elimination of Hurry: Oof. This one was as good as I imagined it would be. It's really had me refocusing on slowing down, and all of the practices (simplicity, rest, etc) that go along with it. Would recommend.
Things You Save In A Fire: This was cute. Not too much brain power required, and it was an easy read. You can pretty much see the general ending from a mile away but that doesn't mean it was bad.
Read any good books lately? Let me know! I always love to hear what other people have on their "just read" or "to be read" lists.